Sidi Larbi Cherkaoui & Woodkid « I Will Fall For You »
Der belgische Choreograf Sidi Larbi Cherkaoui & der Musikkünstler und Regisseur Yoann Lemoine (Woodkid) haben einen Tanzfilm um Yoanns musikalisches Alter Ego Woodkids Song "Land of all" aus der Filmmusik zu Desierto veröffentlicht, einem mexikanischen Thriller von 2015 unter der Regie von Jonas Cuaron mit Gael García Bernal in der Hauptrolle.
Verschlungene Körper tanzen in der Dunkelheit
Dies ist das erste Mal, dass Woodkid und Cherkaoui zusammen arbeiten. Der Film, bei dem beide Künstler gemeinsam Regie führen und der von Iconoclast produziert wird, zeigt ein Duett zwischen Drew Jacoby und Matt Foley vom Royal Ballet Flanders, das auf Cherkaouis 2015 entstandener Ballettkreation "Fall" basiert.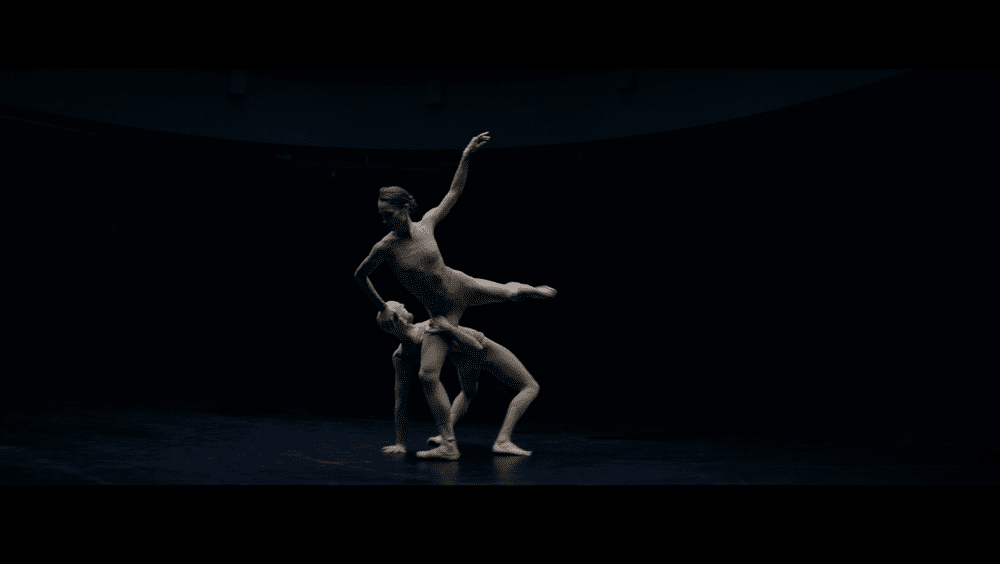 Photo: designcollector.net
Directed by Sidi Larbi Cherkaoui & Yoann Lemoine
Choreography Sidi Larbi Cherkaoui
Music « Land of All » by Woodkid
Performed by Drew Jacoby & Matt Foley
Assistant Choreographers: Jason Kittelberger @ Acacia Schachte
Produced by Sidi Larbi Cherkaoui, Eastman, Ballet Vlaanderen, Iconoclast
Director of Photography: Nicolas Loir Steadycam: Loic Andrieu Assistant Director: Antoine Poulet Producer: Roman Pichon Herrera Production Manager: François Larpin Line Producer: Maximilien Rivolet Production Assistant: Géraldine Sence Production Designer: Nina Labbé Lead man: Clara Labbé
Stylist: Azza Youssif Hair and Makeup: Willie Grosset Chief
Electrician: Quentin Ameziane
Key Grip: Mathieu Jourdain
1st Camera Assistant: Vincent Toubel
2nd Camera Assistant: Camille Gaborit
Location Manager: Jean-Baptiste Mouette
Location Manager Assistant: Denis Bourgeois
Grip: Pascal Rossignol, Charlotte Pochard
Electrician: Serge Bastien, Benjamin Moreau, Alice Bencteux, Raphaël Jamot, Alice Cordié
Postproducer: Sandrine De Monte, David Lezaun
Editor: Fred Olszak Olszewski
Colorist: Bertrand Duval Flame
Artist: Sébastien Aubert
---
Special thanks to Elephant de Paname & Justin Morin, Olivier Aldeano & Opéra de Paris
Music « Land of All » by Woodkid from original picture score « Desierto » Direted by Jonas Cuaron
(p) & (c) 2016 CG Cinema under exclusive licence to Green United Music
---
Sidi Larbi Cherkaoui (born 1976) is a Belgian dancer and choreographer. He has made over 50 choreographic pieces and received two Laurence Olivier Award for Best New Dance Production, three Ballet Tanz awards for best choreographer (2008, 2011, 2017) and the KAIROS Prize (2009).
Sidi Larbi Cherkaoui (* 10. März1976 in Antwerpen) ist ein Tänzer und Choreographflämisch-marokkanischer Abstammung. Cherkaouis Choreographien verwenden Elemente aus vielen Kulturen, Religionen und Kunststilen zugleich. Die gemeinsame Basis dieser Vielfalt ist für ihn die Bewegung. Er hat über 50 choreographische Stücke geschaffen und erhielt zwei Olivier Pris für die beste neue Tanzproduktion, drei BallettTanz Preise (2008, 2011, 2017) und den KAIROS-Preis (2009).
Woodkid (* 16. März 1983 in Lyon; bürgerlich Yoann Lemoine) ist ein französischer Musiker und Regisseur, der bei dem 2007 gegründeten, französischen Plattenlabel Green United Music unter Vertrag steht. Woodkids Musik lässt sich den Genres Indie und Rock zuordnen. Als Regisseur drehte er unter anderem die Musikvideos zu den Liedern Faut-il, faut-il pas ? (2009) von Nolwenn Leroy, Teenage Dream (2010) von Katy Perry, Back to December (2010) von Taylor Swift und Born to Die (2011) von Lana Del Rey.
Die Single Iron wurde 2011 für den Trailer von Assassin's Creed: Revelations verwendet. Der Chefdesigner von Dior Homme und Kris van Assche ließ sich Ende 2011 für seine Entwürfe von dem in Schwarz-weiß gehaltenen Iron-Musikvideo inspirieren, benannte die Dior-Kollektion Herbst/Winter 2012–13 für Herren A Soldier on My Own und wählte Iron als Hintergrundmusik für die Modenschau der Kollektion Ende Januar 2012 in Paris.