Indem er Körper, Architektur und Natur in Fragmente zerlegt, erfindet Jonas Bjerre-Poulsen die ihn umgebenden Formen als leuchtende Bilder neu und schafft intime und rätselhafte Gegenüberstellungen, die den Betrachter einladen, noch einmal hinzuschauen und sich vorzustellen, was hinter dem Rahmen liegt.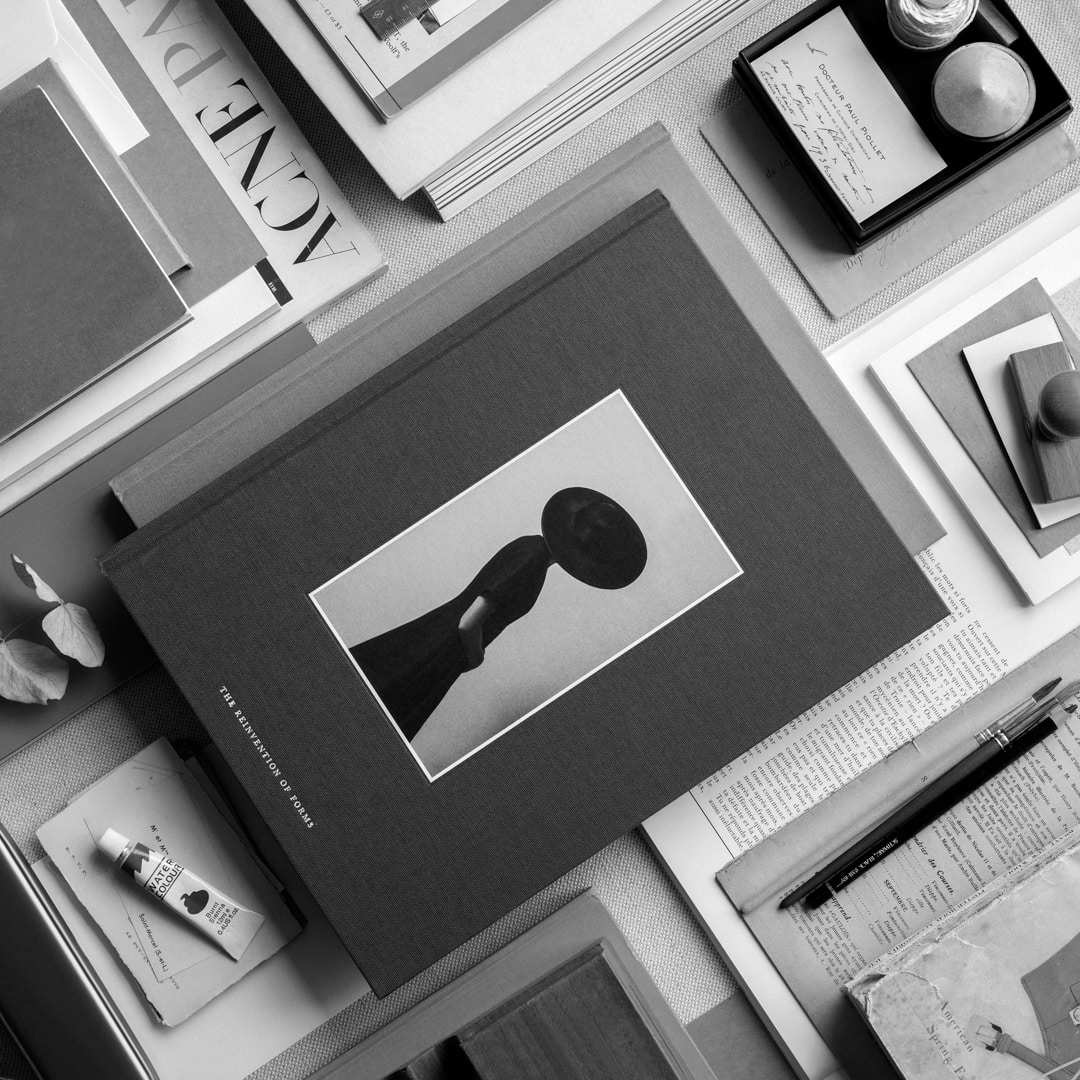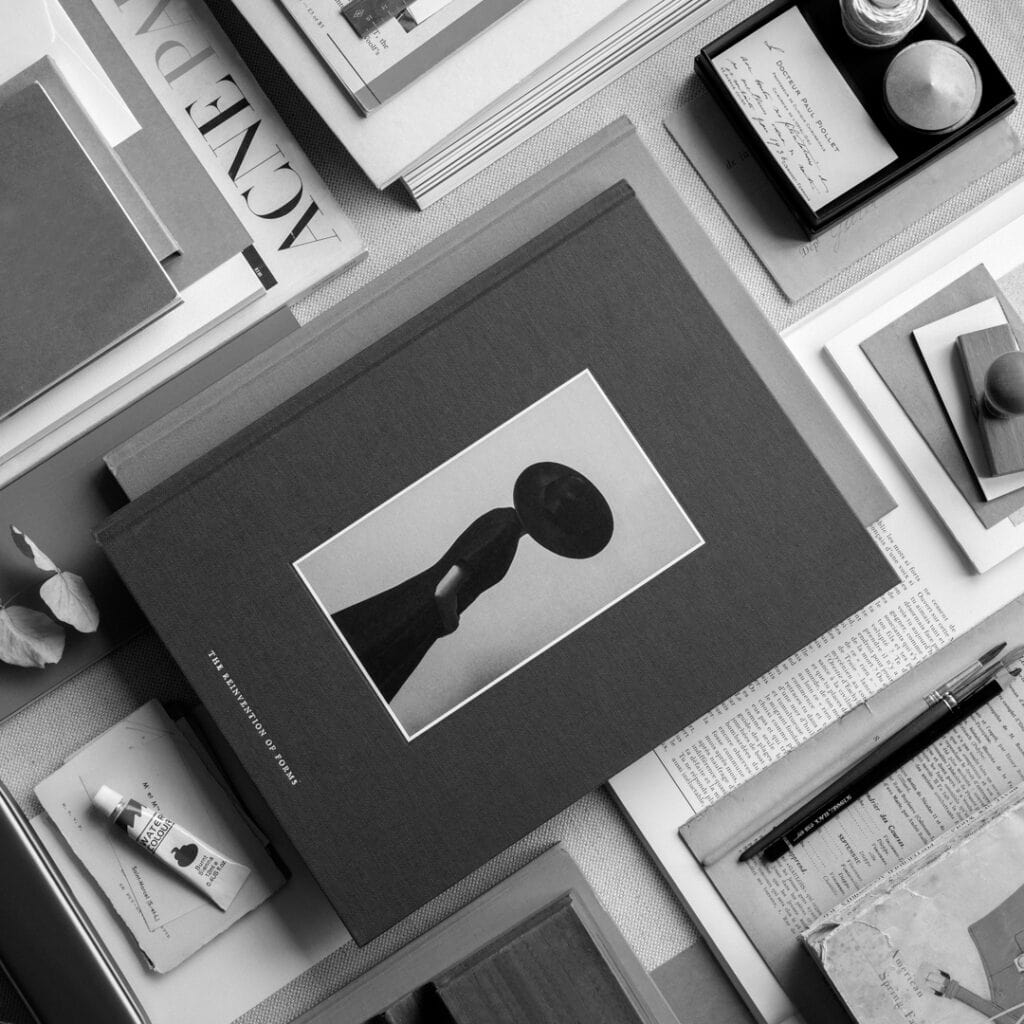 Die erste Monografie des dänischen Fotografen Jonas Bjerre-Poulsen präsentiert eine beeindruckende Sammlung seiner kinematischen Kompositionen. Der gelernte Architekt bringt sein Verständnis für Taktilität, Minimalismus und Details zum Ausdruck, indem er seine Stillleben-Serie um ein wiederkehrendes Motiv aus kugelförmigen Formen gruppiert und jedes Bild in exquisiten Schwarz-Weiß-Tonalitäten wiedergibt.
Neben der faszinierenden Ästhetik des fotografischen Werks enthält THE REINVENTION OF FORMS auch Interpretationen von Bjerre-Poulsens Praxis durch seine engen Freunde und Mitarbeiter, darunter eine Einführung des bahnbrechenden finnischen Architekten Juhani Pallasmaa und eine kurze fiktive Geschichte des preisgekrönten dänischen Autors Thomas Rydahl.
Details zum Buch
Offsetdruck in Tritone. Hardcover und Leineneinband in italienischem Textil. Mit Leinenfaden gebunden. Geprägtes Kippbild auf Vorder- und Rückseite mit geprägtem Titel in weißer Folie. Das Buch wird mit einem Schwarz-Weiß-Druck in limitierter Auflage von 32 x 24 cm (ungerahmt/unsigniert) handverpackt und ist in zwei Farben erhältlich. Erste Auflage limitiert auf 1.400 Exemplare.
Fotograf: Jonas Bjerre-Poulsen
Design-Direktor: Christian Møller Andersen
Editor: John Clifford Burns
Einführung: Juhani Pallasmaa
Autoren: Thomas Rydahl & Charles Shafaieh
Herausgeber: Étui Editions
Format: 250 x 330 x 15 mm
Seiten: 134 Seiten + Cover
ISBN: 978-87-972550-0-1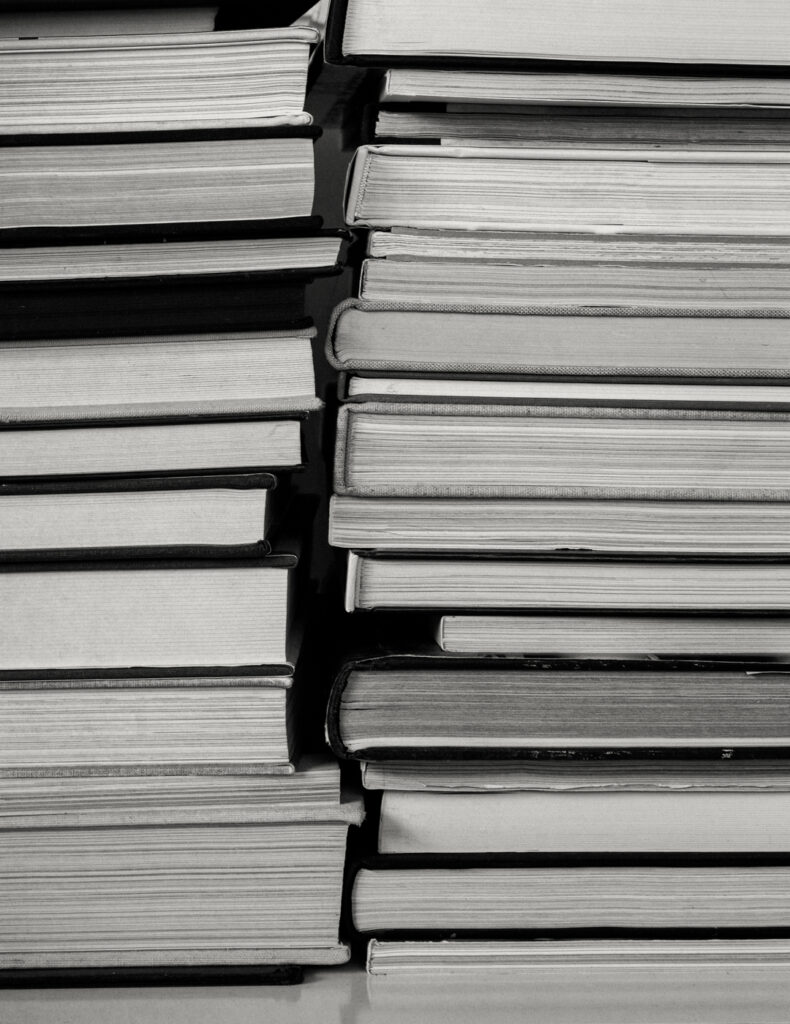 Über Étui Editions, Herausgeber
Étui Editions ist ein in Kopenhagen ansässiger Verlag, der durchdachte und elegant gestaltete Publikationen über Architektur, Fotografie, Kunst und Mode herausgibt.
"Bei Étui Editions werden wir von einer tiefen Wertschätzung des gedruckten Mediums angetrieben. Wir glauben, dass Print eine reichhaltige, multisensorische Erfahrung ist, bei der alles, vom Material über das Layout bis hin zur Reihenfolge, eine ebenso wichtige Rolle spielt. Wir streben danach, unauslöschliche, haptische Erfahrungen durch visuelles und schriftliches Storytelling zu schaffen – immersive Erzählungen, die die Augen und die Hände ansprechen."
Die häufig missverstandenen Prozesse der Wahrnehmung sowie das autonome Zusammenspiel von Sinnen und Verstand kommen einem beim Betrachten der Fotografien von Jonas Bjerre-Poulsen in den Sinn. Die eng geschnittenen und gepaarten Bilder erscheinen zunächst als einzelne Details, aber sie beginnen sich in Landschaften, Welten und Universen zu verwandeln.


Auszug Einleitung
Geschrieben von Juhani Pallasmaa
Q&A | JONAS BJERRE-POULSEN
Ein auszugsweises Interview mit dem dänischen Fotografen Jonas Bjerre-Poulsen für THE REINVENTION OF FORMS (in englischer Sprache):
Q — Why do spherical shapes interest you?
As a young student of architecture, I was working for a Danish modernist designer that was obsessed with the idea of the sphere and its perfect geometry. And then, I guess it's like when you're about to have a child and you suddenly see all the people with strollers and small babies, I just suddenly saw spherical elements everywhere. It went from something very physical and practical—something I implemented into design and architecture—to something that was broader, more philosophical. An image that could be used to understand life.
Q — How so?
Architects, designers and artists have always created variations of spherical structures and motifs that have stood out as iconic. It's a timeless shape. But the sphere also appeals to people all over the world regardless of cultural preferences. It's a strong symbol that defines the most intimate of spaces; the womb, relationships between people, and that between man and God. The philosopher Peter Sloterdijk also uses the sphere as a symbol of social and cultural spheres and describes how fragments of spheres interact in bubbles and foam.
Q — So, spheres are also a law of nature?
In nature, gravity and force make many things into spheres, such as bubbles, water droplets, the sun and atoms. The balance of spheres is what makes nature predictable and mathematical. Geometry is an abstract system of formalization that makes sense to us—squares, triangles, circles. This understanding is incorporated into how we physically construct and mentally understand the world.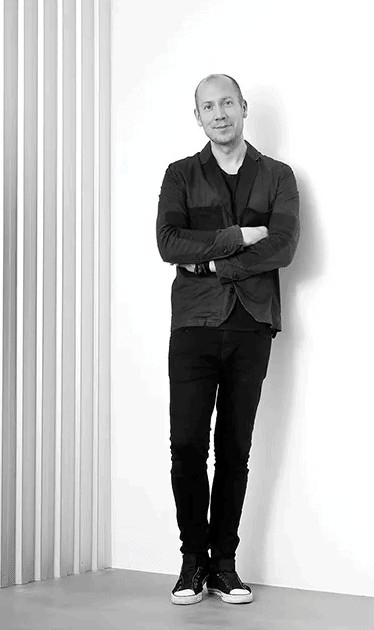 Über Jonas Bjerre-Poulsen
Jonas Bjerre-Poulsen ist Architekt, Art Director und Fotograf und lebt in Kopenhagen. Er teilt seine Leidenschaft für die Phänomenologie – das philosophische Studium der menschlichen Erfahrung – mit Kunden, die von etablierten Designmarken bis hin zu internationalen Zeitschriften reichen. Ausgebildet an der Royal Danish Academy of Fine Arts in Kopenhagen, mischt Jonas Bjerre-Poulsen seine räumliche Sensibilität und sein Verständnis für Formen mit konzeptionellen Gedanken und Visionen, die kreative Projekte zum Leben erwecken. "Ich habe eine starke Berufung für die Schaffung von durchdachten Projekten, die sich auf eine unaufdringliche, raffinierte Weise abheben. Für mich geht es vor allem um Ausgewogenheit. Ein Gleichgewicht zwischen Reichtum und Zurückhaltung, zwischen Ordnung und Komplexität. Minimalismus, der weich wird, und visuelle Materie, die haptische Qualitäten annimmt", so Bjerre-Poulsen über seine Arbeit, die mit zahlreichen internationalen Preisen ausgezeichnet wurde.
Q&A | Thomas Rydahl
Ein auszugsweises Interview mit dem renommierten dänischen Autor Thomas Rydahl über seinen Beitrag zu THE REINVENTION OF FORMS (in englischer Sprache):
Q — In your own words, what is the primary message of the book?
However hard we may try, it is not possible to reinvent a form. With this in mind, THE REINVENTION OF FORMS seeks to reveal familiar compositions in new, often surprising ways. Viewing everyday shapes, such as a body, a ball or a leaf, in a different light can lead us to question everything we see and experience, allowing us to appreciate the familiar over and over again.
Q — What is your short story about?
From a secular perspective, my story follows the journey of a nameless protagonist who sets out to repair his father's old watch one evening. His quest lands him in Ljubljana, the capital city of Slovenia, where he believes the watch shop is located. Parallel to this tale lies an intricate, almost transcendental narrative that slowly unfolds itself to the reader. We watch as the protagonist is drawn deeper and deeper into a timeline which exists, seemingly, outside of both space and time. And yet, as the protagonist emerges on the other side, unsuccessful
Q — Could you say a few words on circularity, and how it relates to your story?
When writing the story, I decided to experiment with the many patterns of classical form; one of which includes the principle of circularity. This also proved to be an interesting way to play with Jonas' photographs – which evoke a sensation of disoriented wonder, something akin to becoming lost in a mirror cabinet and emerging from the same place you came in. Lastly, I felt inspired by the strange stagnation of contemporary life; observing as societies around the world are shut down and subsequently opened up, almost as if life has been paused, rewound, and set in motion again.
---
Ausstellung | Alium Art Gallery
Anlässlich der Veröffentlichung von THE REINVENTION OF FORMS wurde eine Reihe von Kunstwerken in limitierter Auflage von Jonas Bjerre-Poulsen zusammen mit dem neuen Buch in der Kunstgalerie ALIUM in Kopenhagen ausgestellt. Die Ausstellung zeigt eine sorgfältig ausgewählte Auswahl von Fotografien aus dem Buch, das exklusiv über ALIUM verkauft wird.
Photo credits @jonasbjerrepoulsen