The New Raw, Interview: Nora Palzenberger
From trash to treasure: Panos Sakkas and Foteini Setaki from the Dutch research and design studio The New Raw use 3D printing to turn plastic waste into beautiful and functional objects. The two architects spoke to THE Stylemate about collaborating with robots, using waste as a raw material and their vision of a future without wastefulness.
What do you see that I don't when you spot trash on the beach or along the roadside?
Panos Sakkas & Foteini Setaki: Plastic waste is everywhere, in our cities, nature and oceans. This is a constant reminder that plastic pollution is the result of a design failure, where plastic packaging is used for seconds and then thrown away. For us, this material becomes the inspiration for sustainable objects and products that carry with them stories and messages. It is our mission to transform plastic waste into a valuable material that is kept, reused or recycled and not easily and instantly thrown away.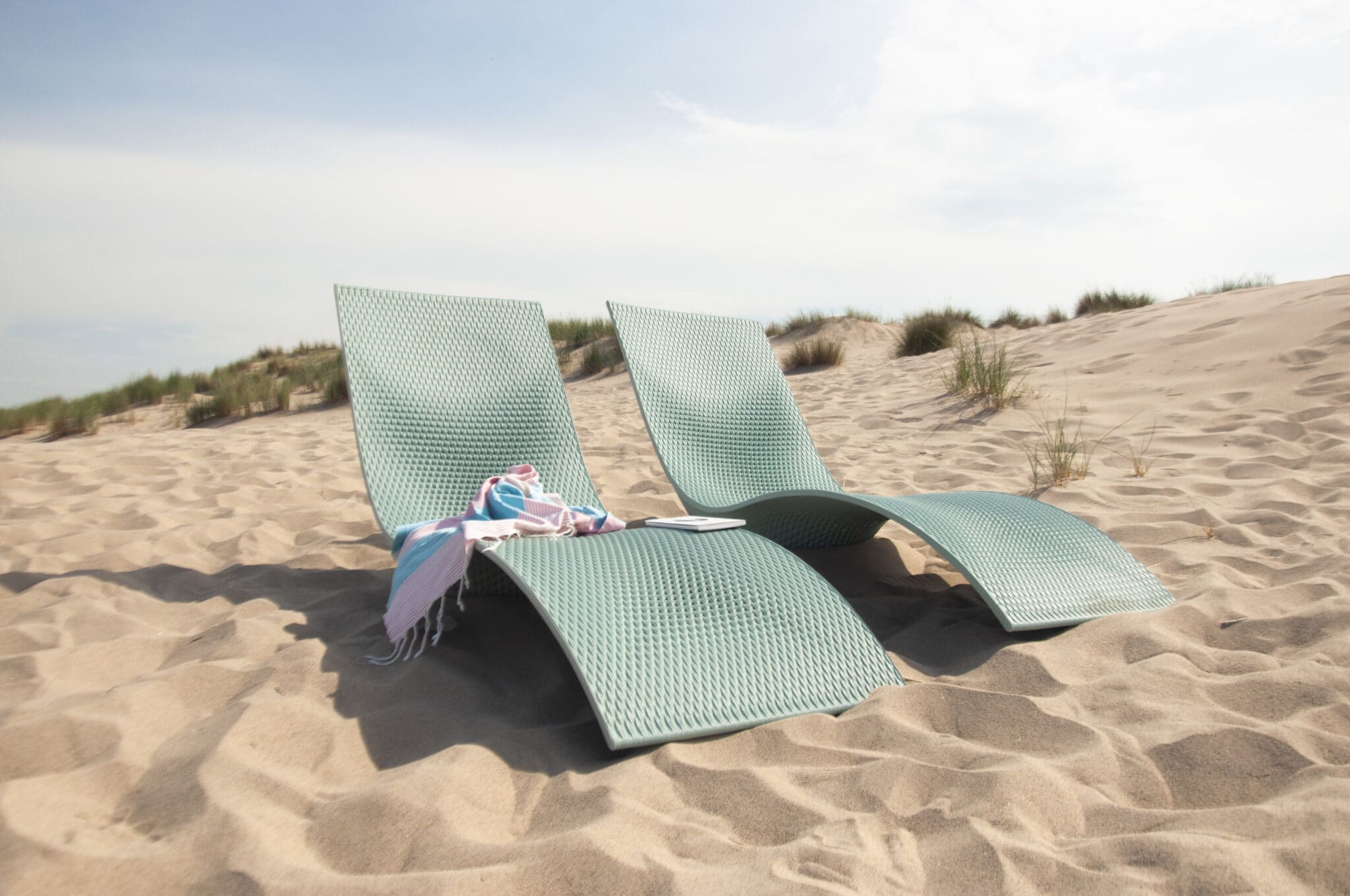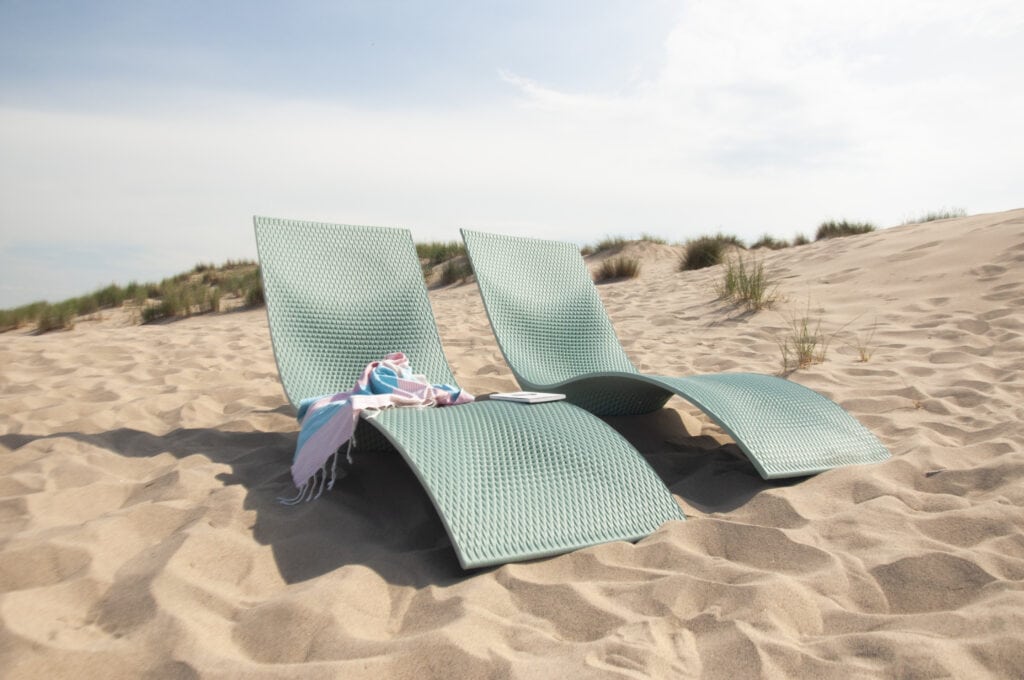 What do you answer to someone who considers you to be modern alchemists?
We strongly believe that seeing waste as a raw material will become the new norm; and sustainability and circularity will be the default features of all design products. What some people call alchemy, we call crafting plastic waste with robots!
Do you remember your motive and the moment you decided to work with recycled materials instead of new ones?
Yes, it was the moment that The New Raw was born. Plastic is a versatile material and plastic waste is in great abundance! Being Greek and living in the Netherlands, we could see how two different cultures use and manage this material, and this is what inspired us to do something about the problem of plastic pollution. The question was how to bring it new life. For the transformation of plastic waste into a new raw material, we employed digital craftsmanship. We have been working on this since 2015.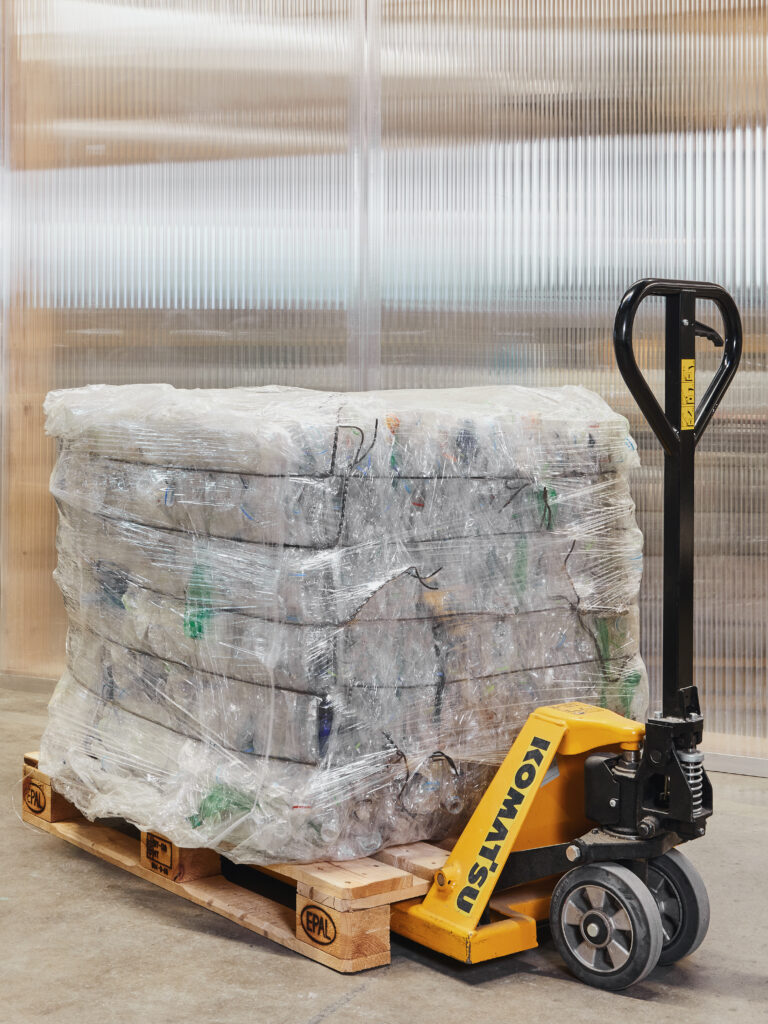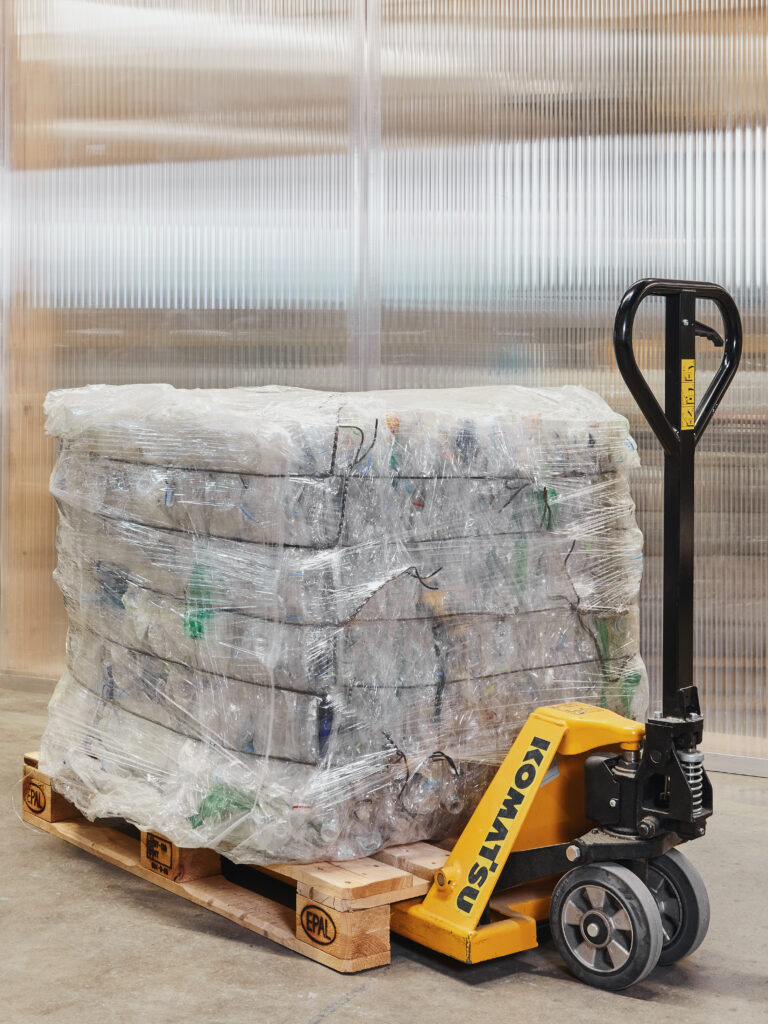 What is the aesthetic value of plastic waste?
We work on transforming plastic waste into something new by crafting it with robots. There is definitely an aesthetic value in plastic waste, and we work on expanding the possibilities of how we can use plastic waste, and make creations that it's hard to believe are made from a waste material. When the recycled plastic enters the 3D printing process it turns into a different material with distinctive properties. Similar to rings in wood or the swirls of marble, the orientation and proportions of our 3D printed lines define the behaviour of the material and provide its distinctive ornaments. We love working with plastic waste as if it were a natural material inheriting imperfect and non-homogenous qualities.
For your collection The Elements, you took marine plastic, transformed it into beach furniture and put it back on the beach again. What is your message behind this design approach?
Living in urban regions, we tend to forget about our dependence on the sea that is related to food and oxygen supply. With The Elements, we wanted to give new life to plastics collected from the sea and provide useful and functional objects with a strong storytelling value. In the case of The Elements, the design draws its formal inspiration from elements that we often find or experience by the sea, such as the carcasses of marine organisms, saltation patterns on the sand and the waves. Their sculptural forms consist of soft and/ or wavy surfaces that smoothly surround the user and offer a pleasant experience. Our goal was to create objects that seem to be almost natural because of their shape, textures, and colour.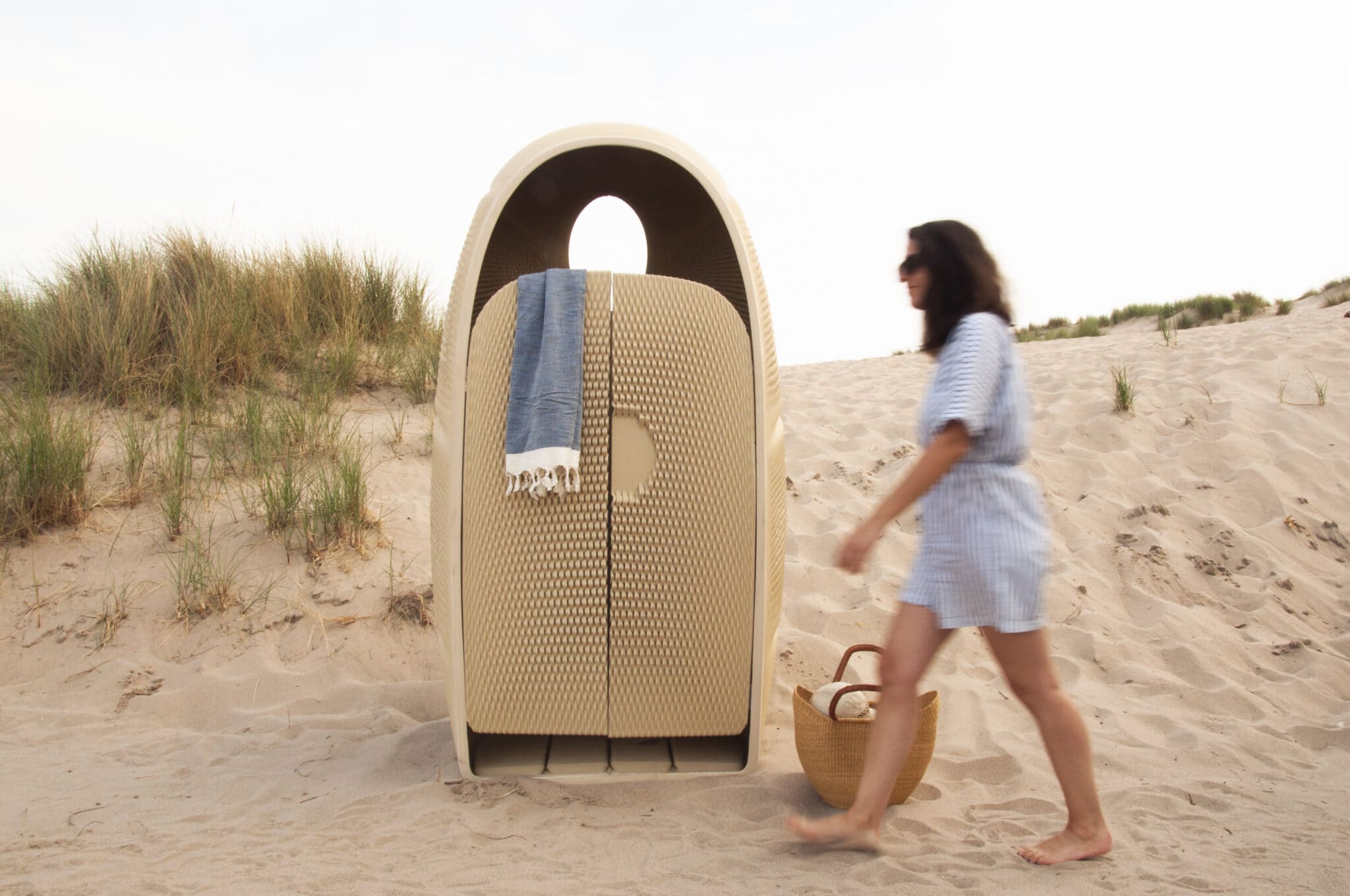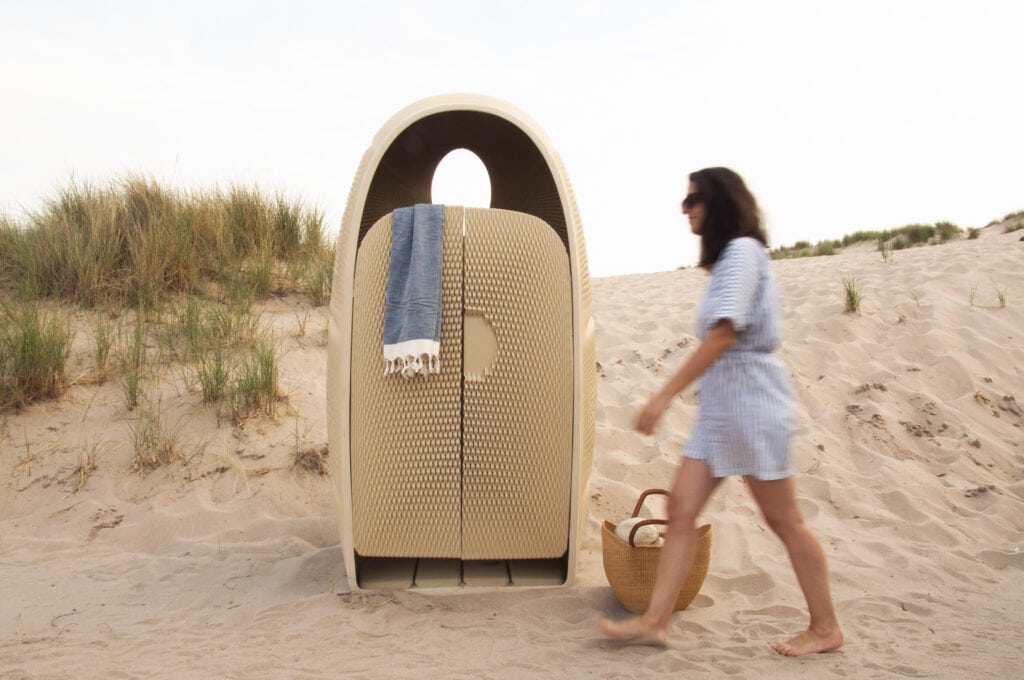 For the production of the beach furniture, you used 720 kg of plastic waste. What was the biggest challenge in the design process?
Making a series of products that would seamlessly integrate into the natural sea landscape and provide climatic comfort under the hot sun. Our designs were based on observations of living organisms and patterns formed on the sand and water surface of the coastal areas, and transferring those into our design language and production technique. Choosing and mastering the material is part of our creative process. In recent years, we are happy to have joined forces with local partners and suppliers to assist us on this quest. Since 2015, the number of companies and initiatives that focus on marine plastic pollution has significantly increased!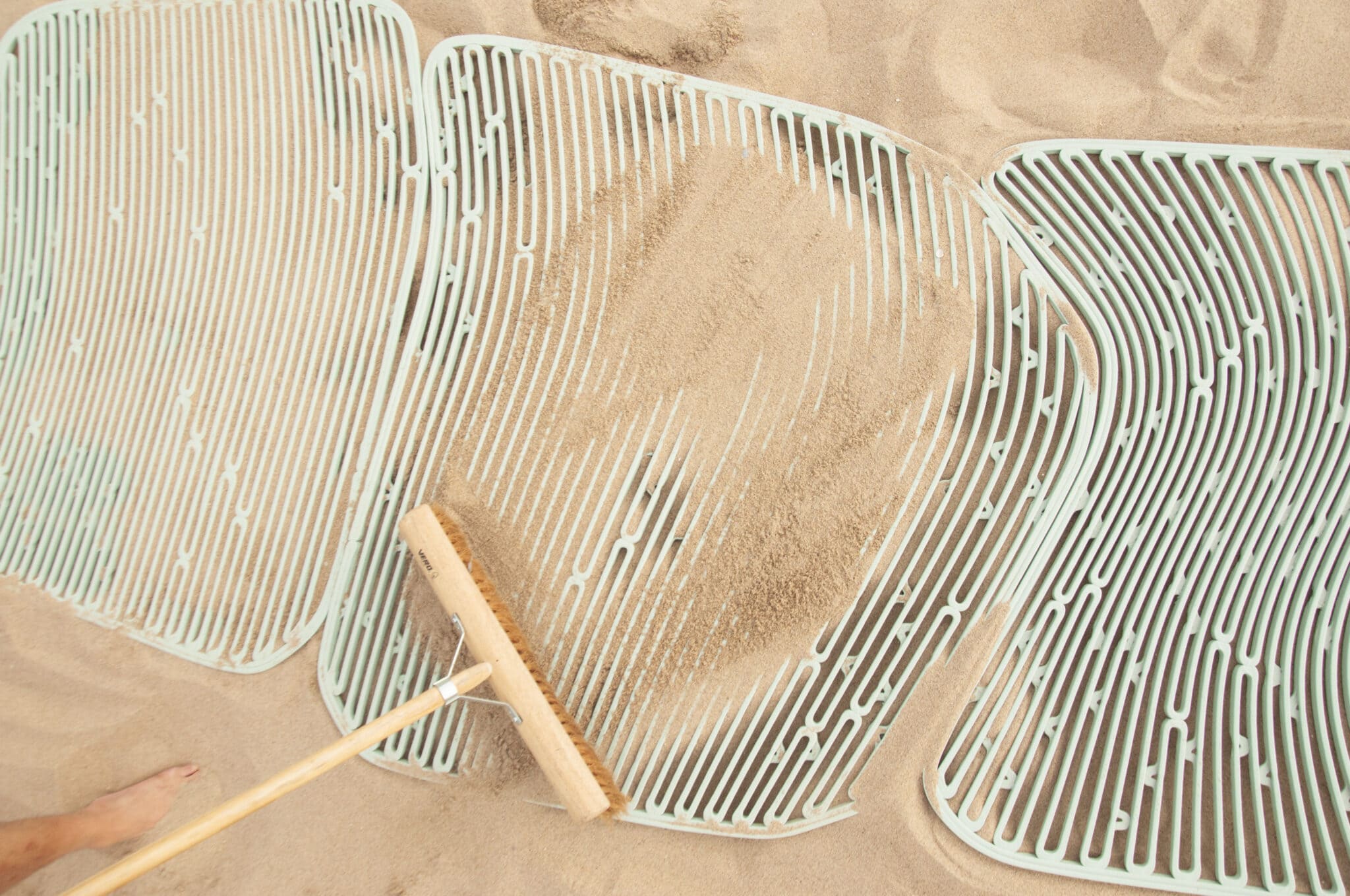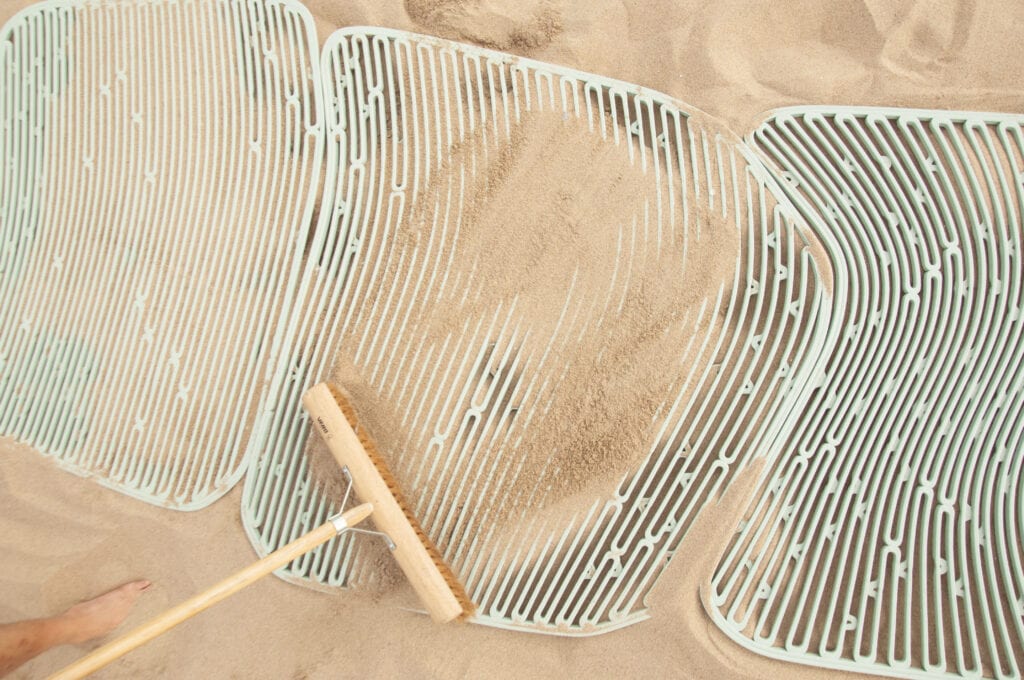 Your beach furniture series has been digitally crafted via 3D printing. What have you been able to achieve through this robotic manufacturing process that you wouldn't have with traditional craftsmanship techniques? Or, in other words: what can robots do that humans can't?
Plastic is an industrial material that has not been used in craftsmanship before. We explore how using our robots as the extension of our design team can transform plastic waste into objects of craft. All our designs are produced on demand and can be tailor-made upon request.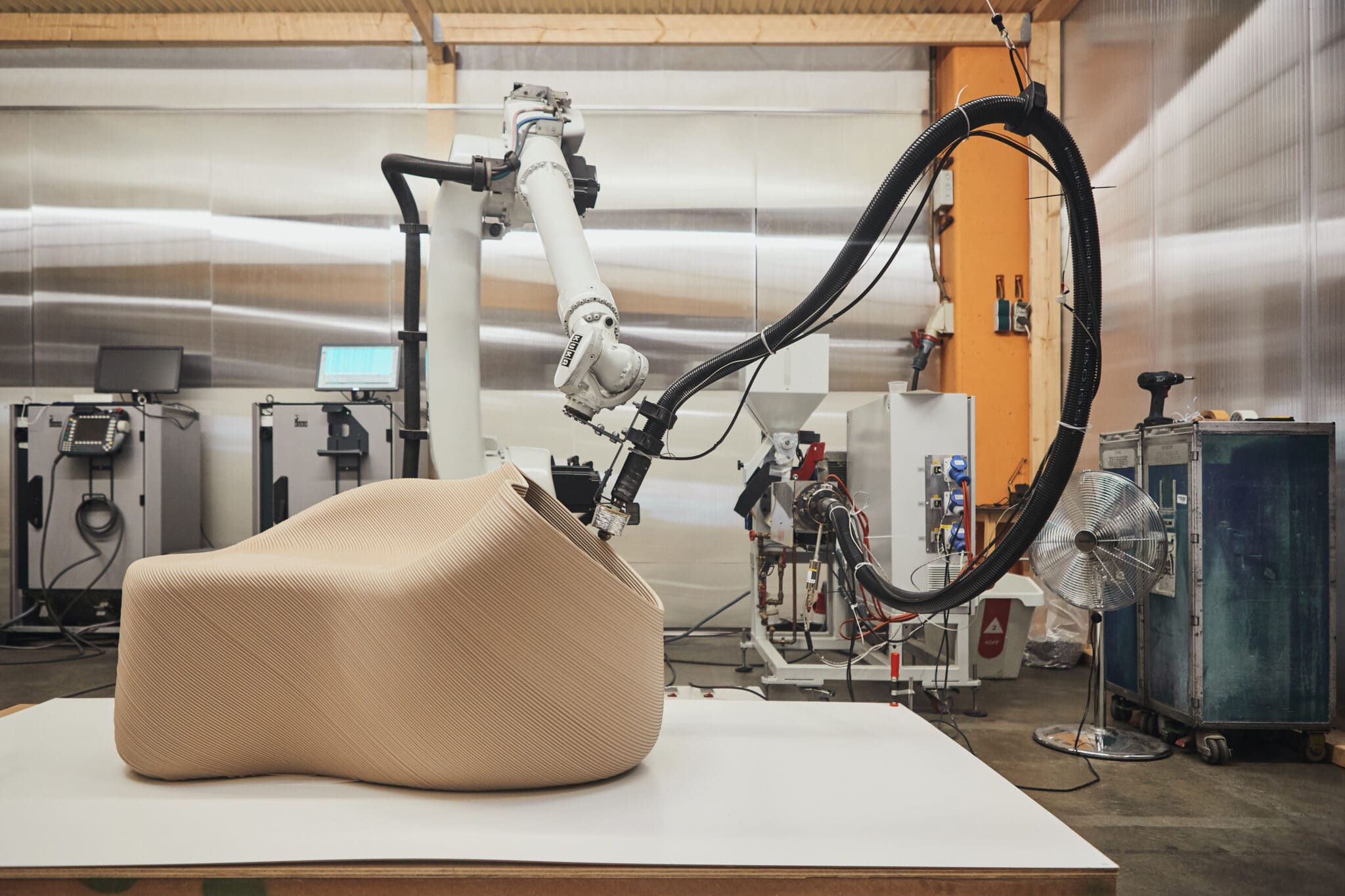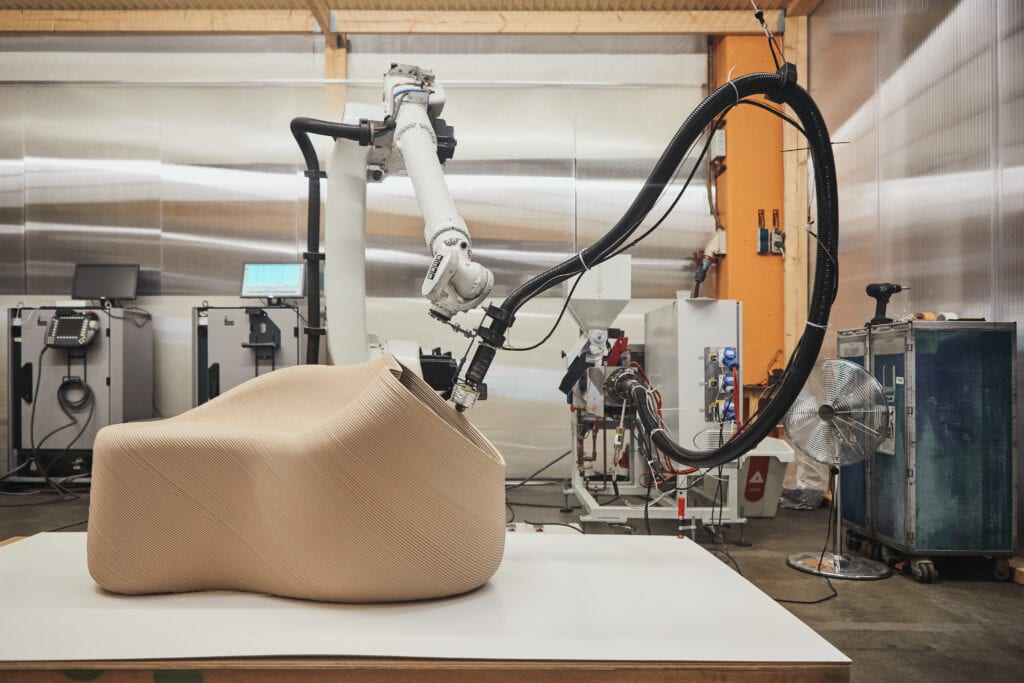 If you could lead an ecological revolution, what would its slogan be?
Waste, no more!
The pandemic has changed the way we see our home and furniture. What are three characteristics of future furniture?
Local, sustainable, versatile.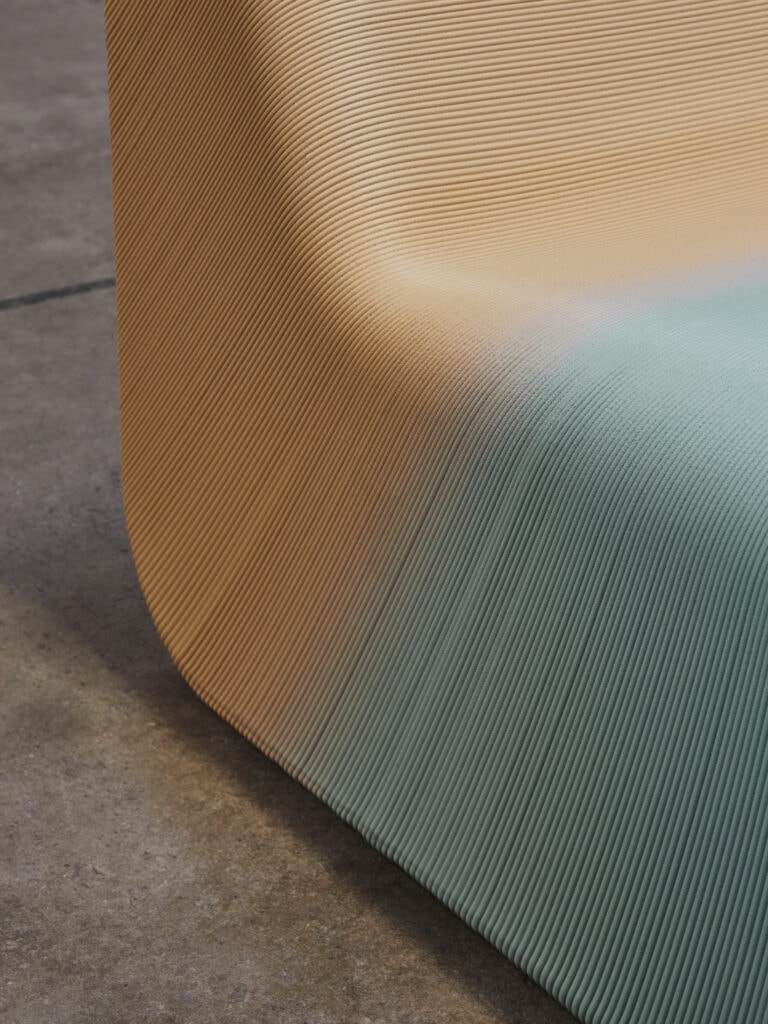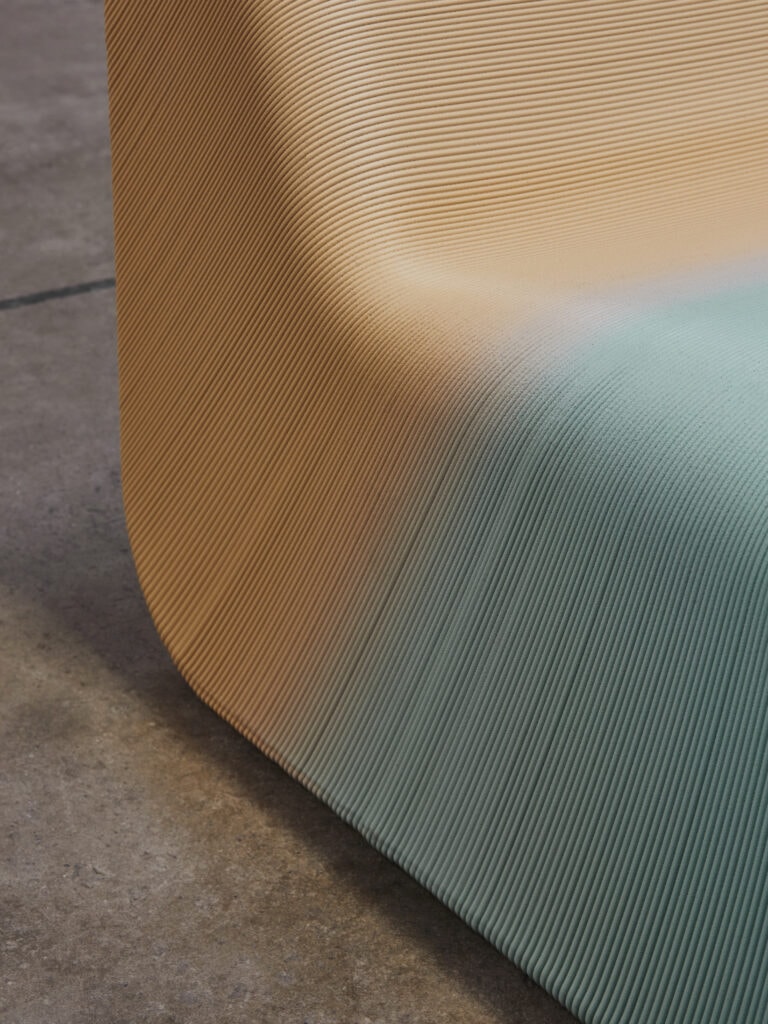 Fotos: Courtesy of The New Raw, Michele Margot
The motto of this year's Expo is "Connecting Minds, Creating the Future"– how can design connect minds and create the future?
We believe that design thinking can tackle the big challenges of our times and provide valid solutions through co-creation and a multidisciplinary approach.
---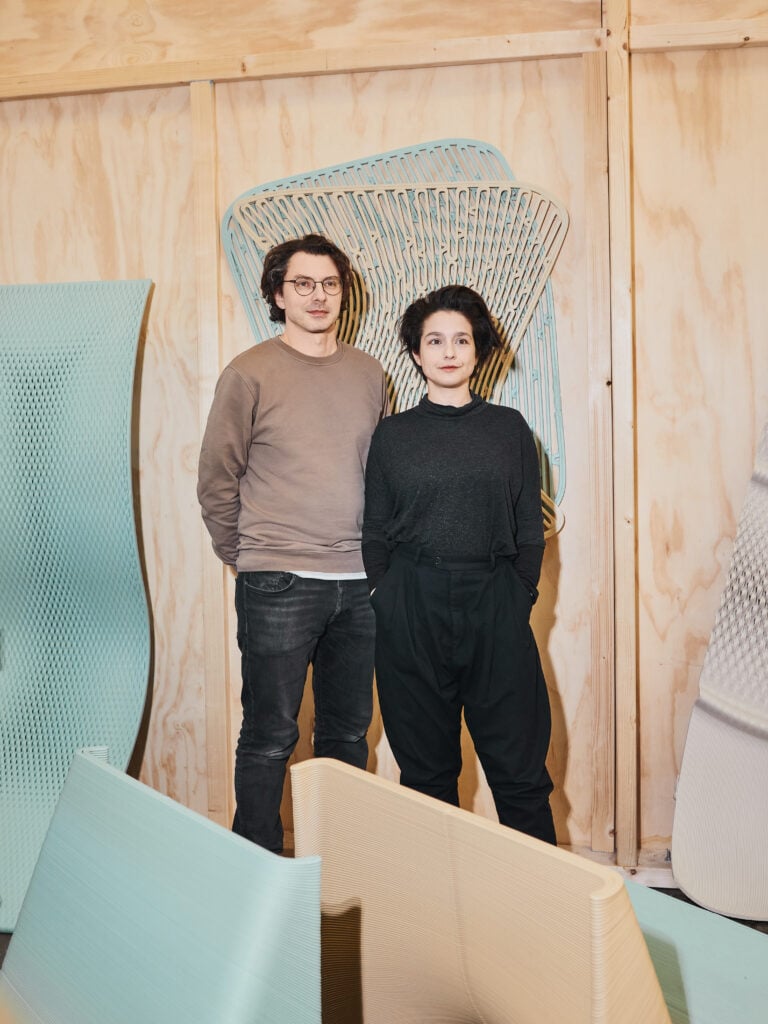 THE NEW RAW is a research and design studio based in Rotterdam founded in 2015 by architects Panos Sakkas and Foteini Setaki with the ambition to give new life to discarded materials through design, robots and craftsmanship.
The multi-award-winning pair of architects look into the options for local recycling of plastic waste and inspire with projects like the Zero Waste Lab and Print your City! in Thessaloniki. Using a circular material process, The New Raw designs and produces high-quality outdoor furniture made from collected plastic waste with the help of robots to plot the 3D printing.