The new Pianca bedroom collection designed by Italian designer Simone Bonanni for Pianca, combines precision and sinuous lines, simplicity without superfluous detail and compact compositions.
The Domenica bed and the Kyoto bedroom set are the result of balanced form and composition, geometry and detail. The two new designs are presented in the Pianca & Partners Milan showroom for the ORME (footprints) exhibition: the personal show dedicated to the designer's work, the first "Di/Segno" exhibition format event.
The Domenica bed invites you to relax in a solid embrace: one single continuous line draws a delicate, organic silhouette. The exposed zip, sometimes contrasting, sometimes camouflaged, is a key feature of the bed profile. The Kyoto bedroom set complements, combining surface textures and geometric shapes, enclose the drawers and top within a more pronounced, deeper outer frame, creating a discreet, elegant niche.
Simone Bonanni, the Friulian designer based in Milan, with three years' experience in the international industry, gained in Amsterdam, collaborates with brands like Alessi, Fiam, MDF Italia and Moooi. In all his work, Bonanni draws on the emotion that an object can transmit rather than simply the object itself. At the same time, he rediscovers the functional and expressive potential of hand made objects and art forms, enhancing the uniqueness of the design even when part of it is engineered. He shares a focus on fine craftsmanship and detail with Pianca, for whom he has designed a sleek, sinuous collection, the product of balanced forms and compositions.
The ORME exhibition, where the new Pianca products are on display, was inaugurated on Tuesday 18th May by Pianca & Partners – contract hub in Milan – and will remain open to the public, with free entry, until 30th July. Curated by architect Massimo De Conti, the exhibition is a celebration of "form as activator of emotions" and narrates Bonanni's work via 10 large scale illustrations, accompanied by objects, small prototypes and evocative texts.
Domenica and Kyoto are the key pieces in the window display which has become the setting in which the new products are staged, in a sophisticated, dramatic atmosphere. "È Domenica a Kyoto" (It's Sunday in Kyoto) underlines the aesthetic duality between the two pieces, amid softly-draped curtains and green elements.
Domencia Bed
As a tribute to Sunday, the day of rest, the Domenica bed invites you to relax and recline in a solid, warm and protective embrace. A bed where you can relax, read and recline at leisure, gently cocooned by the soft shapes of a structure that creates a safe, intimate corner. One single continuous line draws a delicate, organic silhouette.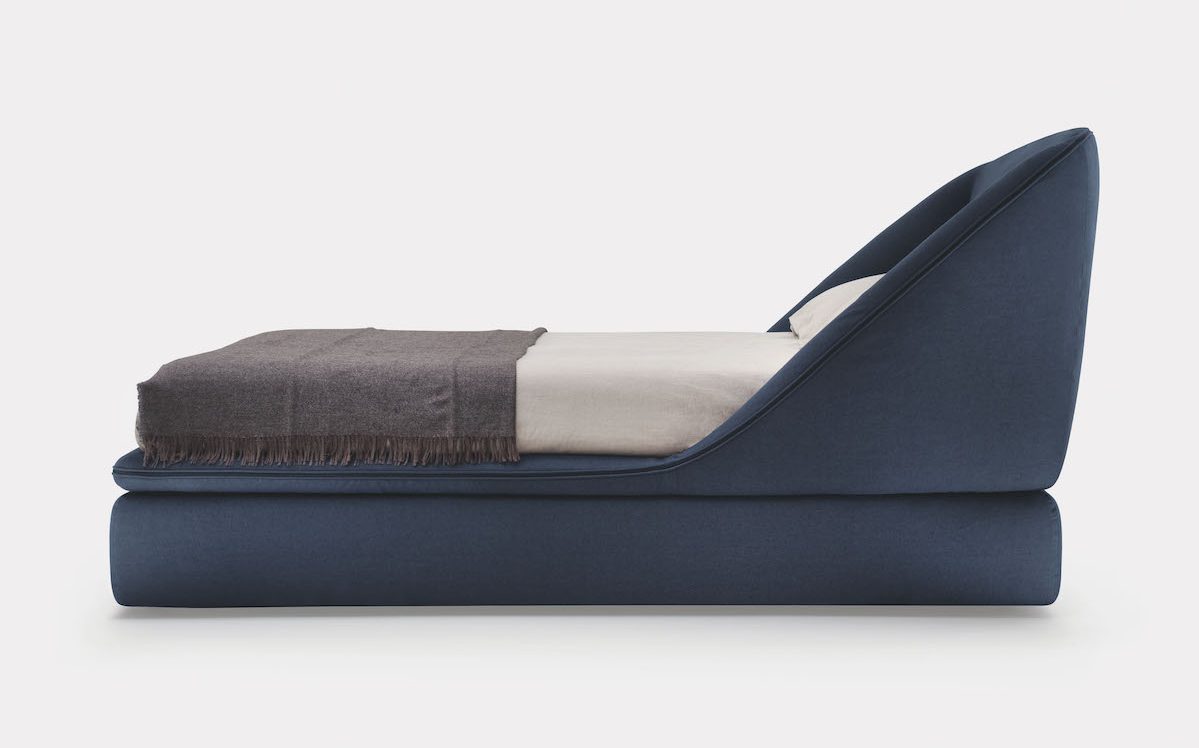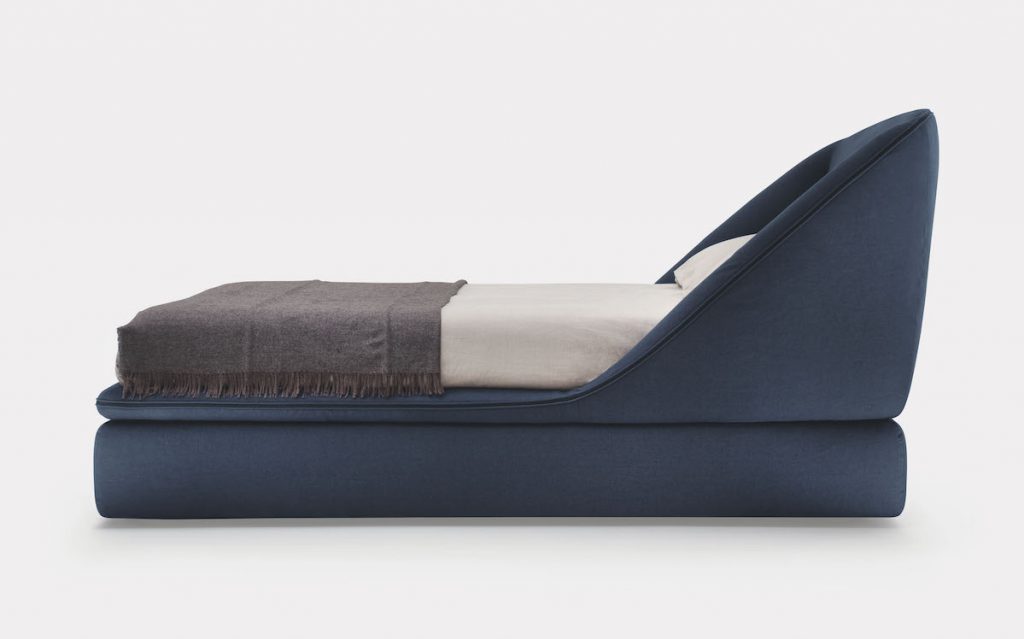 The exposed zip is a key feature of the bed profile, transforming the zip from a functional element to a distinctive detail. The bed contour widens majestically and then curves downwards in a sharp diagonal as if to close the shape in order to protect, conceal or shelter.
It is more than a bed.
It is a place and to some extent also a piece of interior architecture
conceived as a place to set one's emotions at rest.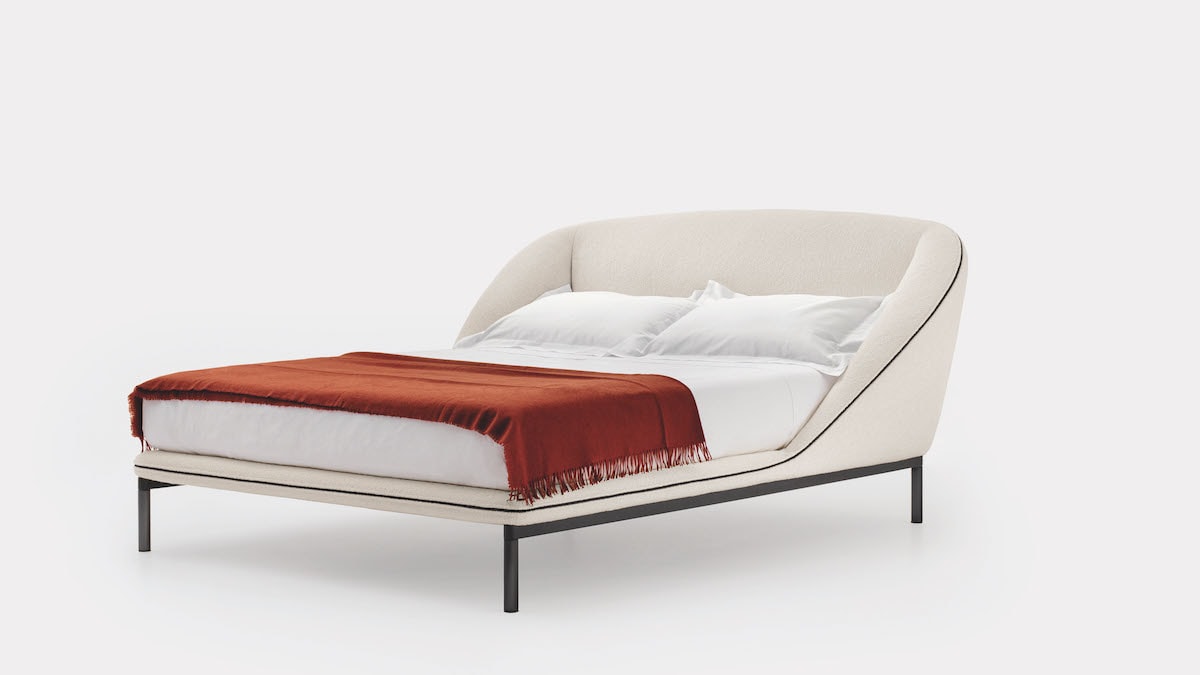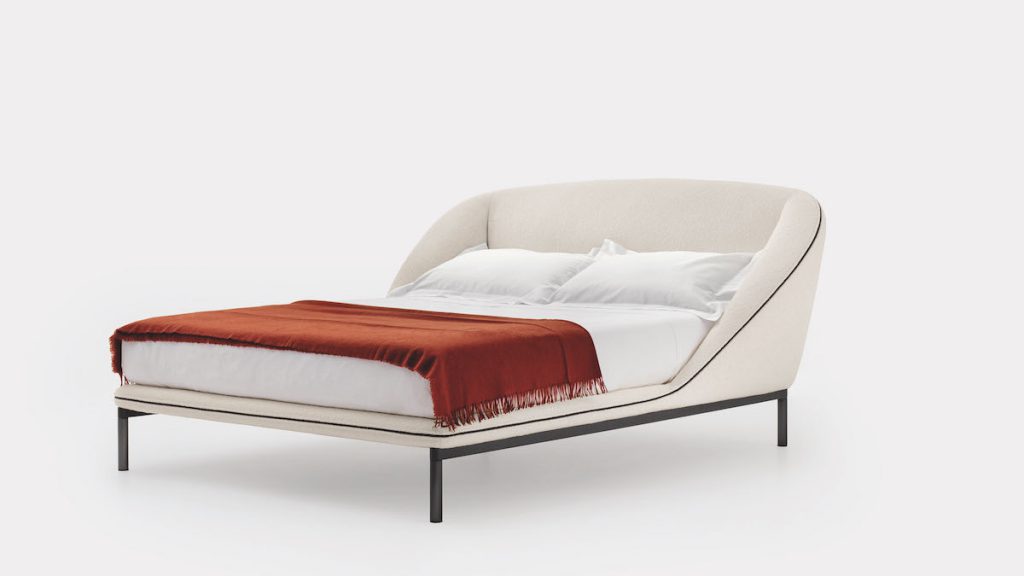 The metal base adds further lightness to the structure, giving it the appearance of floating in space. There is an optional underbed container for better organisation of storage.
The Domenica bed can be produced in a range of colour and material combinations to fit any style requirements without diminishing its distinctive contemporary look. Fabric and natural or synthetic leather can be combined to create a dual tactile and visual sensation. The base is available in the Nero (black) or Bianco (white) lacquered version and with matt and gloss Metal Finishes.
Kyoto bedroom set complements
Essential things are never superfluous. The complements of the Kyoto bedroom set, the dresser and bedside table, are the result of the study of the absolute section between corner and straight line, in a measured composition of surfaces.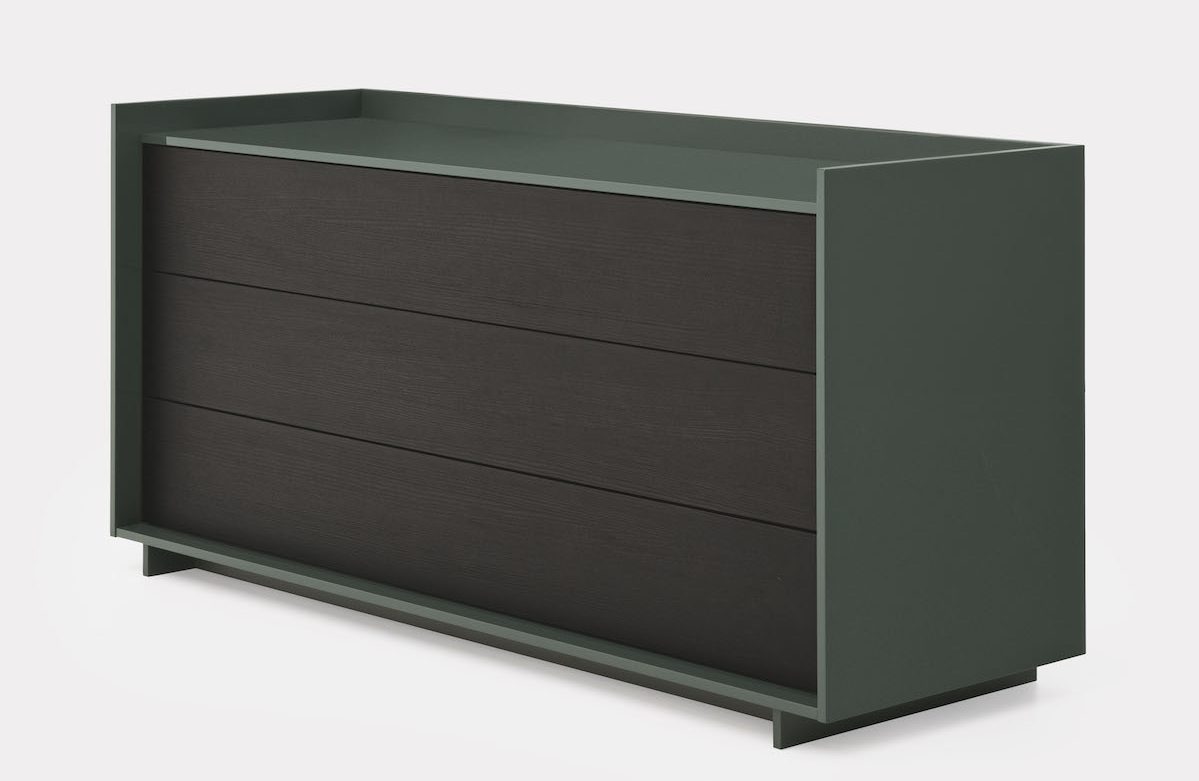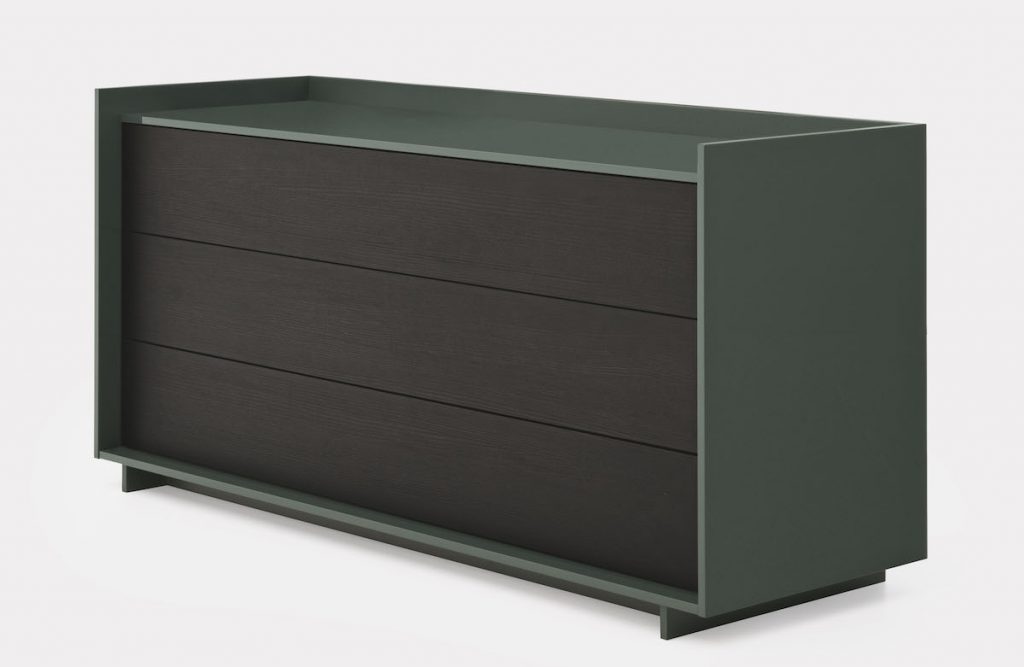 The outer frame, more pronounced and deeper, encloses push-pull opening drawers, defining the entire volume of the structure with stark gracefulness. The top transforms into an open niche, a discreet, elegant support surface, where you can add a further complement: a tray with a synthetic leather-covered base for storage of personal items and jewellery, which fits neatly inside the profile of the top. The cantilevered base floats, creating a void which surrounds the elements, giving them a sense of impalpable lightness.
Available in all Pianca finishes, the Kyoto system can be created in various combinations. A wood finish combined with different matt or gloss colours lets you create unique pieces of furniture to blend perfectly into every room. All Kyoto pieces are available with finished back for positioning anywhere, even in the centre of the room.
---
About Simone Bonanni
Born in Pordenone in 1989, Simone Bonanni graduated with honours in Industrial Design from the IED Istituto Europeo di Design in Milan in 2011 with a dissertation that received an Honorary Mention in the 23rd ADI Compasso d'Oro (Youth Plaque). Since 2012, he has been a product designer and project leader on the Marcel Wanders creative team in Amsterdam (Netherlands) and in 2015, he opened Simone Bonanni Studio (SBS). Since then, he has been working on projects for international brands like Alessi, Falper, FIAM, MDF Italia, Mingardo, Moooi and others, focussing on both product design and personal edition designs. His work has been published in international magazines.
Since 2015, Simone Bonanni has also been a lecturer in Product Design at the IED Istituto Europeo di Design and on the IED Master programme in Milan.
About Pianca
Creating real settings, custom designed using timeless objects is what Pianca aspires to do, producing systems and furniture for homes and contract since 1956. Furniture makers for generations, the Piancas have passed down their wood-crafting secrets and their passion for this material. The Veneto company's products are inspired by solid values cultivated over time: attention to detail, selection of materials, the muted sophistication of the combinations and respect for the environment. The durability of a product is the key to its sustainability and this is why Pianca is committed to creating timeless furniture, produced in response to real needs. Custom, made-to-measure solutions allow Pianca to meet the needs of a lifestyle that hinges on flexibility, mobility and change. Emilio Nanni, Aldo Cibic, Xavier Lust, Odo Fioravanti and Calvi Brambilla are some of the designers chosen by Pianca to create their collections.