Cooking with exquisite ceramics. Pascale Naessens adds some brand-new tableware to her successful Pure collection. Pure romance unites pure interaction.
The Pure collection
Pascale Naessens introduces Pure, as her first line of tableware. Her encounter with the Tunisian Sabiha marked the beginning of her fascination with ceramics. Pure embodies authenticity and warmth. It is based on organic lines and is made from natural materials.
Pascale became fascinated with ceramic pottery. She then embarked on her own studies with ceramic for several years and attended numerous courses on ceramics, glazing and firing techniques. She created ceramic tableware in her own workshop and then took her prototypes to Serax. This collaboration resulted in the Pure ceramic tableware line.
A time to be creative
While everyone stayed home during the national lockdown, Pascale Naessens withdrew into the cocoon that is her workshop. She spent many days and nights there, away from the outside world.
"I focused on creating new tableware.
In hindsight it was a very strange, albeit productive period",

says Pascale.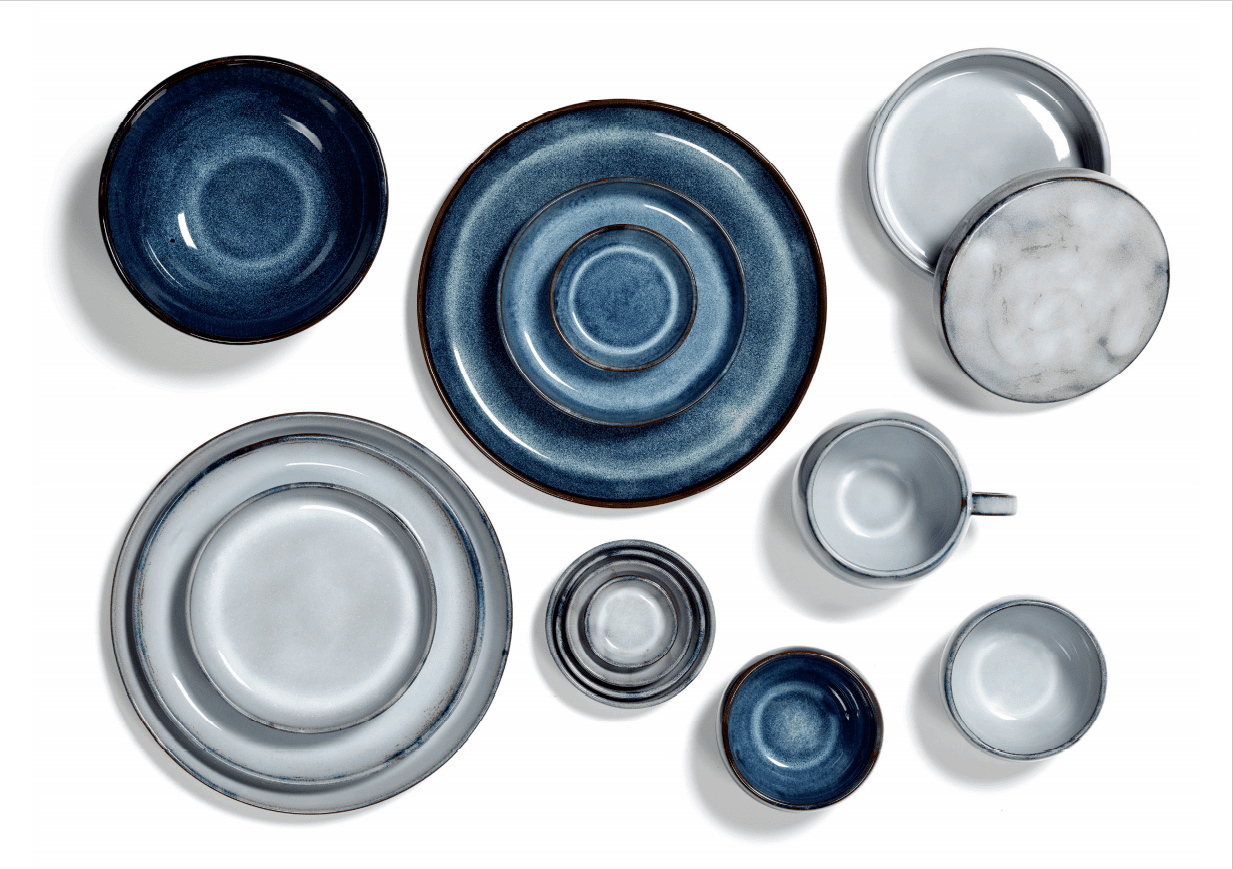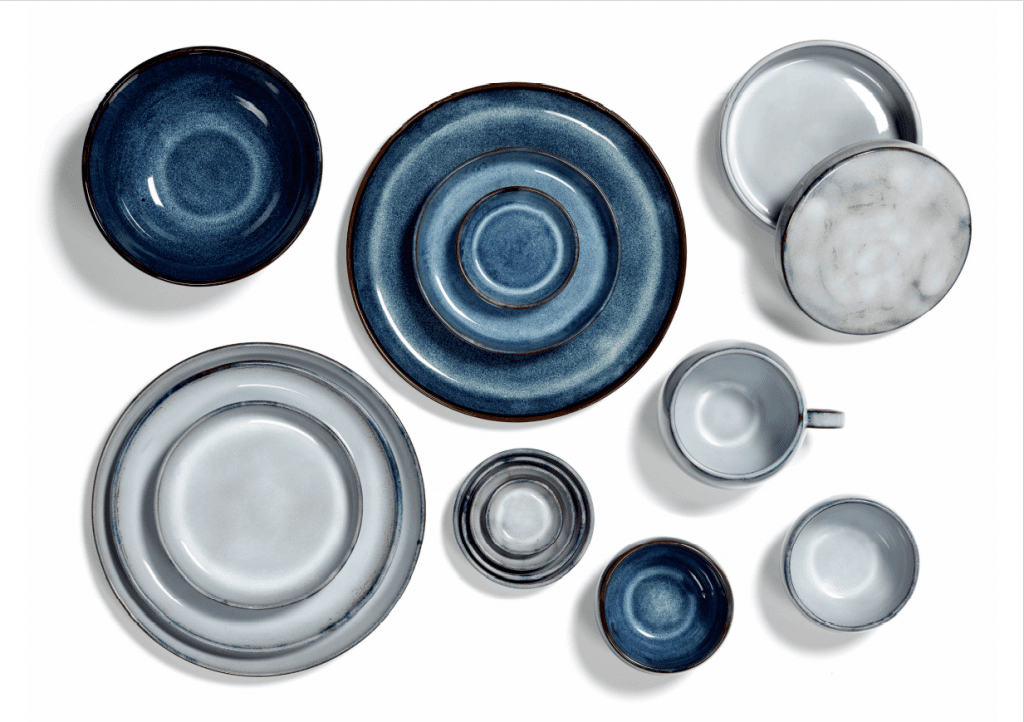 Pascale did not have to conduct that many experiments to create her new azure tableware.
"It was all there already. We had been on holiday shortly before the confinement started and every night, I would lay there thinking about the things that I wanted to design, about the shapes and the colours. By the time that I was ready to get started, I had already designed an entire collection in my mind. All that remained was to produce it."
While the new tableware seamlessly blends in with the previous Pure collections in terms of its look and feel, the azure colour is definitely an eye-catcher.
"This colour pairs so nicely with food even though blue is not the most obvious colour. I spent a lot of time looking for the perfect hue. I always start from the food. I can already imagine the food on the plates before I've made them. This tableware strikes that perfect balance between grey, blue, and purple",

Pascale explains.
In terms of its shape and execution, this extensive tableware set blends in perfectly with the nostalgic feel of the Pure range, which is inspired by nature.
Add a personal touch
In addition to the tableware, Pascale is also launching kitchen knives in two different styles: black, sleek ABS and natural olive wood.
As another part of her collection, she deisgned ash wooden bowls. The wooden serving dishes are a nice addition to the wooden spoons that were already a feature of the last Pure collection. Pascale especially loves how tactile this wood is.
"It feels as if you're holding nature in your hands",

says Pascale.
"All the items in the Pure line can be combined. I love it when everything doesn't look exactly the same, when you mix and match colours and materials. It adds a more personal touch to your table setting."

Pascale Naessens about her Pure collection.
About Pascale Naessens
After five intensive years as an international fashion model, Pascale Naessens returned to Belgium, where she began a career in Belgian television, and not only translated her passion for health and cooking into diplomas both for health consultancy and as a restaurateur, she also wrote a series of cookery books. Today, Pascale is one of the best-selling culinary authors in Belgium. Her fascination for ceramics led to the 'Pure' tableware line for Serax, the perfect addition to her cookbooks.
Pure: the common thread in everything she does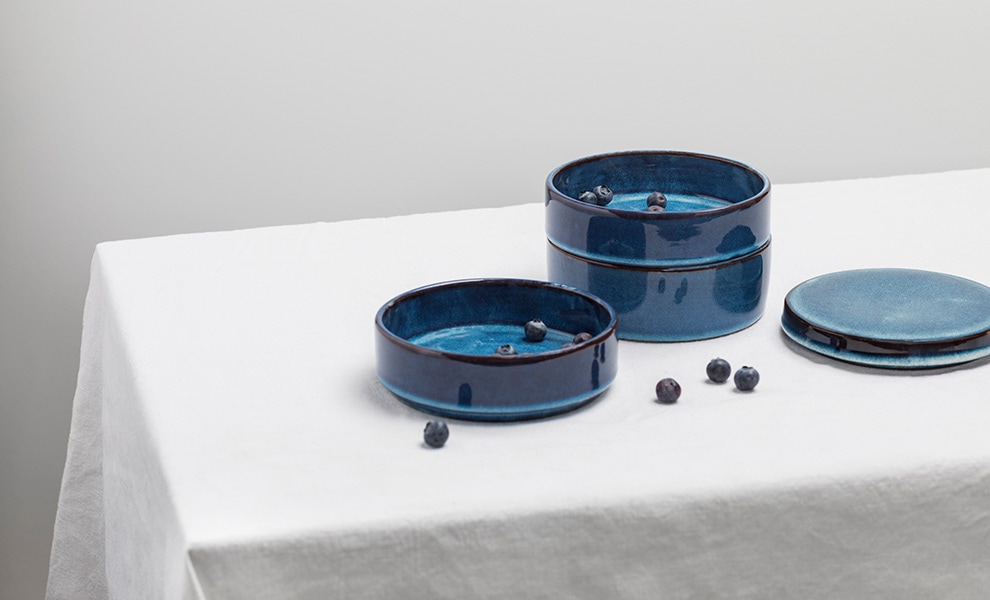 About Serax
Serax makes a home look more beautiful, adds personality to interior, and creates unforgettable moments at the dining table. They only work with passionate designers all over the globe. From Vietnam through Antwerp to Portugal, the products are manufactured exclusively by skilled craftsmen who respect the basic idea of each design. The collections are unique in shape, material and style. Serax is a daily search for beauty, for good things that add value to living and create a home that brings happiness. To experience, to share, and to discover. Axel Van Den Bossche – CEO & Founder Serax
Axel Van Den Bossche – CEO & Founder Serax
Serax >> online