Tiril Hasselknippe talks to Elodie Evers, a Berlin curator, about her solo exhibition The Future Never Sat Still at DREI – her Cologne based Gallery.
Tiril created multilayered and multisensual installations at the junction of archeology and science fiction. These seemingly post-apocalyptic sceneries are highly symbolic and loaded thought experiments, eerie but at the same time optimistic takes on the socio-political climate. Her installations are massive in terms of their scale, their weight and volume. She likes to work with industrial materials such as steel, concrete, plaster and built survival stations, radio towers, balconies and aqueducts.
EE: At your current show at Drei, you have experimented with stained glass for the first time. Please tell us more about your exhibition.
TH: So when you enter the gallery room from the street, you approach a stained glass wave sculpture on spindly legs right in the center of the space. It has a light inside of it and on top, as an extension of the rising wave, are grey buildings. It starts as a green turquoise organic wave and then it kind it rises up into these more block-like buildings. The light in the room is dimmed. So this will greet you as you enter the show and pull you in like a moth towards the flame.
EE: What about the other room?
TH: You actually walk through the office space, where I am showing some drawings, to get to the next gallery room. There you have some cityscapes, buildings also made from stained glass that are suspended from the ceiling, almost like lanterns. One is a red cylinder with different gradients of red glass surrounding the building. One has a more triangular shape with blue, light blue and turquoise glass on the different sides of it. And then you have a cluster of blue, purple and lavender buildings together, five of them together that kind of make for a cityscape. So three light sources in a dim room, depicting urban lighthouses.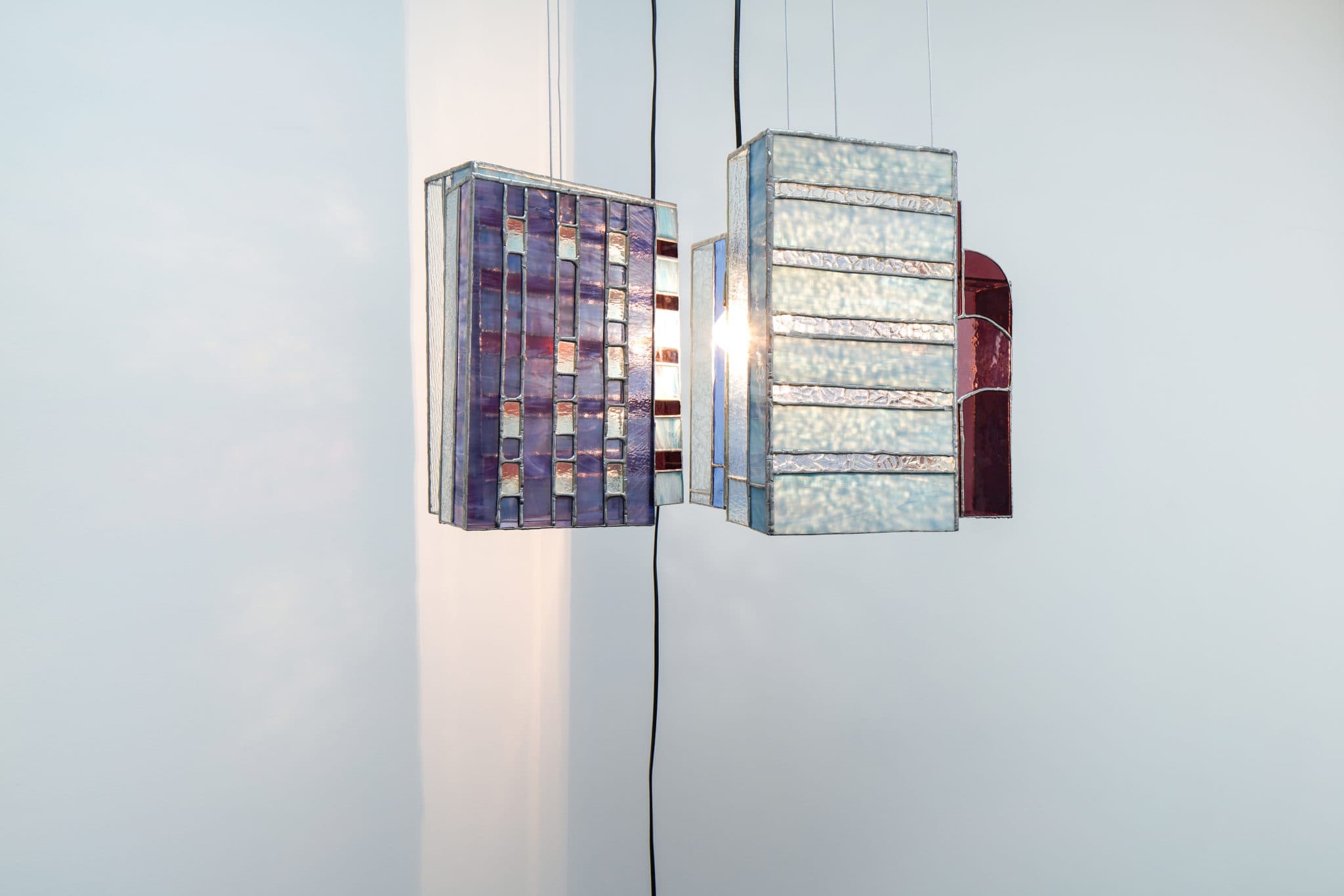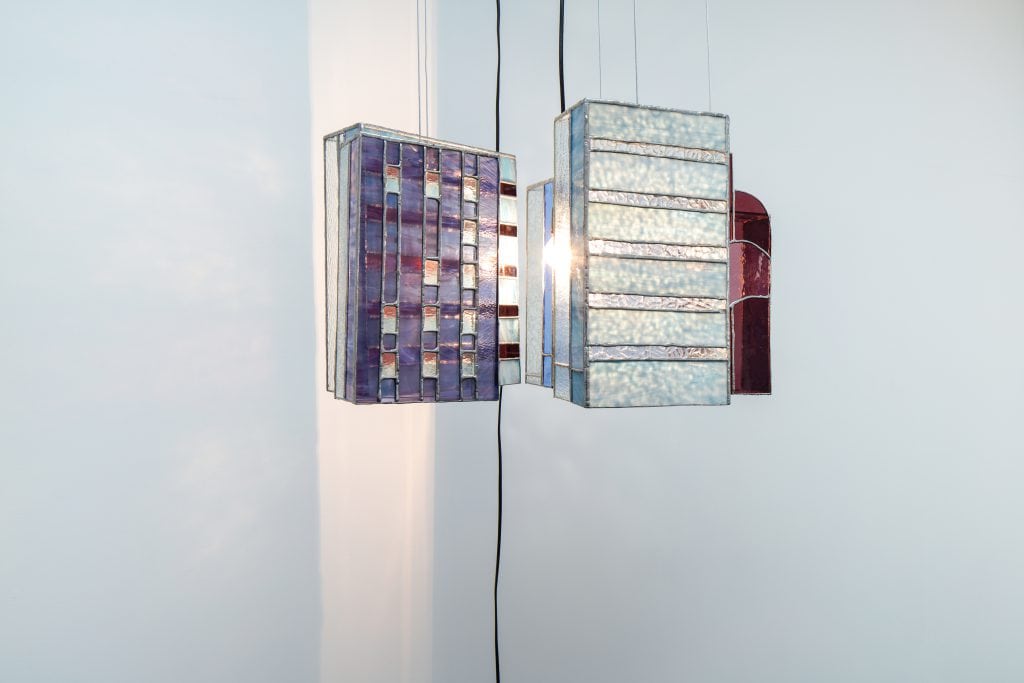 EE: You mentioned the wave sculpture in the first room. A wave that hit us very hard, pretty much exactly a year ago, was the outbreak of the Covid-19 pandemic. You were making this work in the context of an immersive shift in our lives. How did this new world order affect the work and the production of the show?
TH: This show is the second part of a trilogy of sorts of presenting a non-linear idea of time in correlation with progress. It's an idea I've been tinkering with now for two years or so, at least a good while before the pandemic hit. This imagery of the wave I have been wanting to present for a long time. I think of the endless energy in the ocean, where you can see the great explosion and culmination of traveled energy when the wave crashes on the shore, yet the energy isn't actually gone or lost, it's an endless drum swallowing itself again and again. Enveloping and unraveling. It takes different forms and can disappear out of sight but it is never more or less forceful. That's a way of thinking of time that's not linear, that's not disciplined into a line. It's a more human version of time and also more connected to nature. So when this pandemic actually hit us and and our vocabulary and ideas of waves – now we're in the third wave in Europe – changed, it made me question if it was even ethical to make a work like this.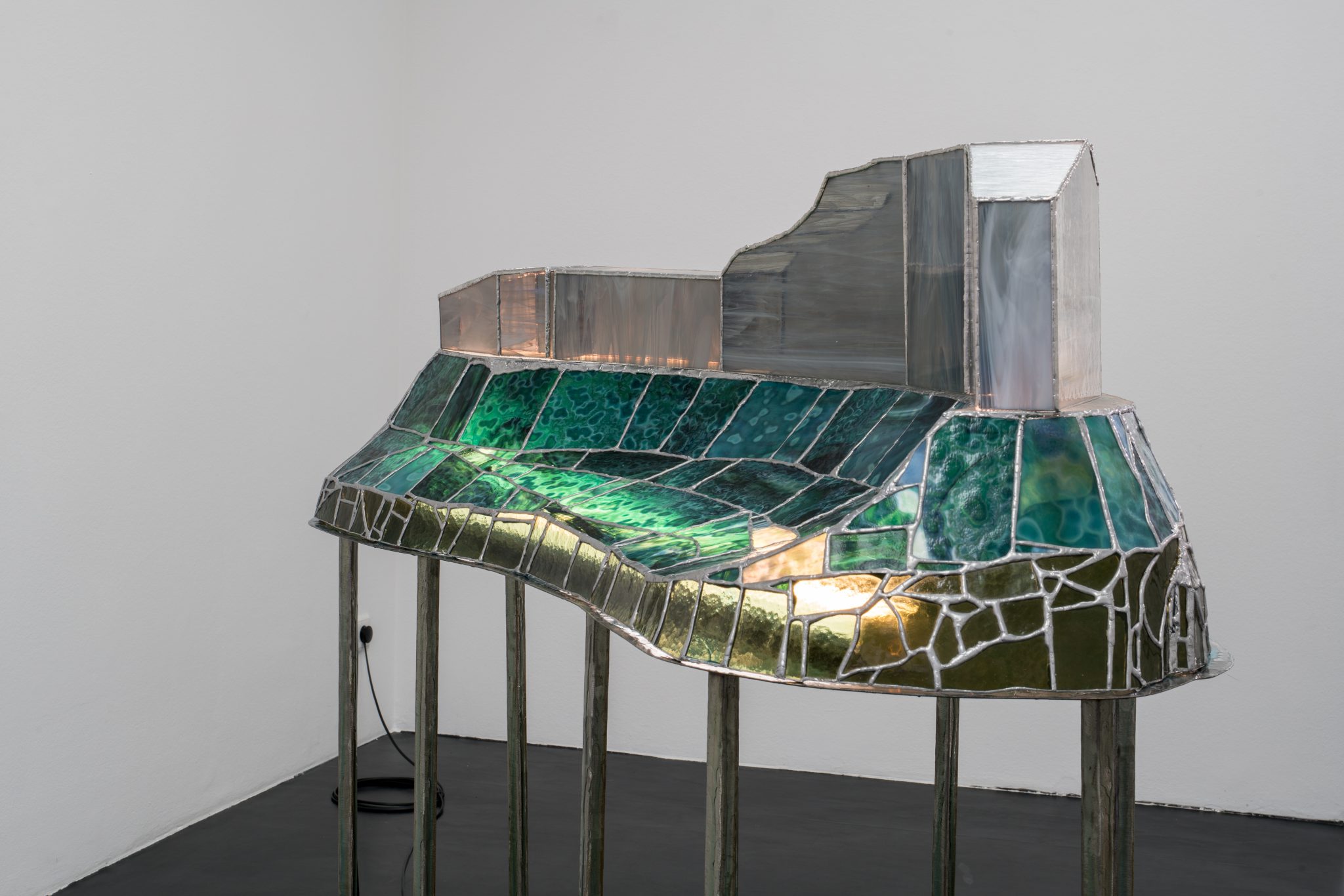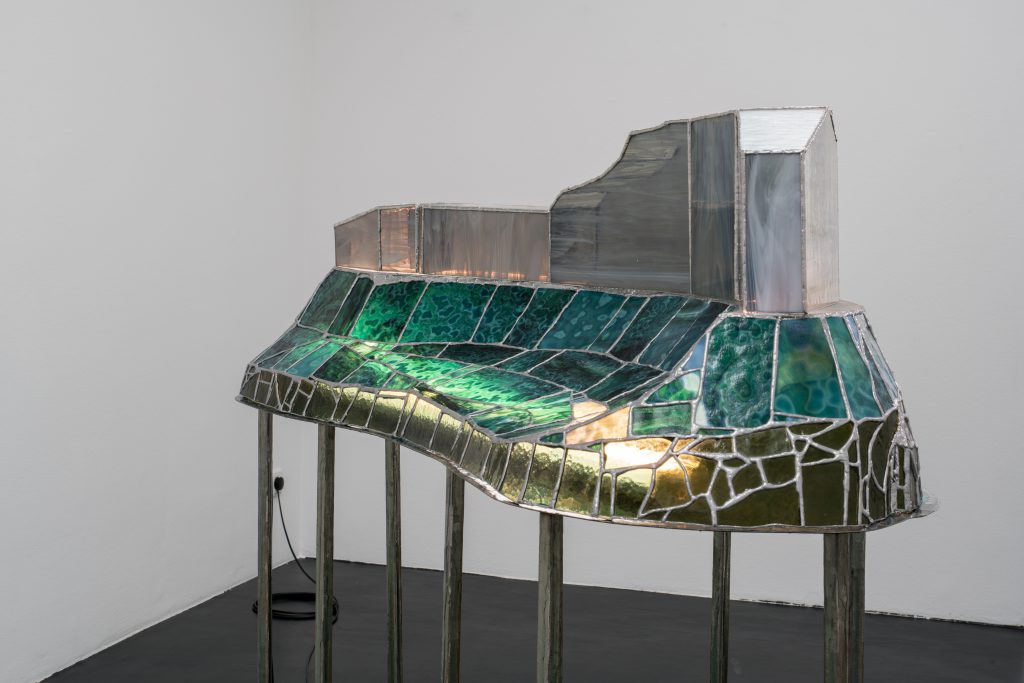 EE: The title of your show, "The Future Never Sat Still", reminds me of an unruly child at the table.
TH: Exactly. I thought about the the future, almost like a person and how we can't really control it. Like the future was the person at the table sitting there with us and then it just got up from the table and we weren't ready for that!
EE: You mentioned that you are a sheer believer when it comes to art. What do you mean by this?
TH: I was 19 when I discovered what contemporary art is and it was a revelation! I went to this art program because I was fond of drawing and painting. I had not graduated from high school, so I couldn't go to university. So it was a bit of a gap year type of art program thing. I had this art history teacher teaching us about everything from the time of the 50s until the early 2000s. And she was so incredibly enthusiastic. It really hit my heart. I thought that contemporary art was the intersection of philosophy, critical theory and collective thinking, and visual output and creation. And I just thought, whoa, I can't believe this exists. I thought it was the most magical thing of all time. And so I really fell deeply in love with it. And I still feel that way. So yes, I think that I approach it very much like a believer.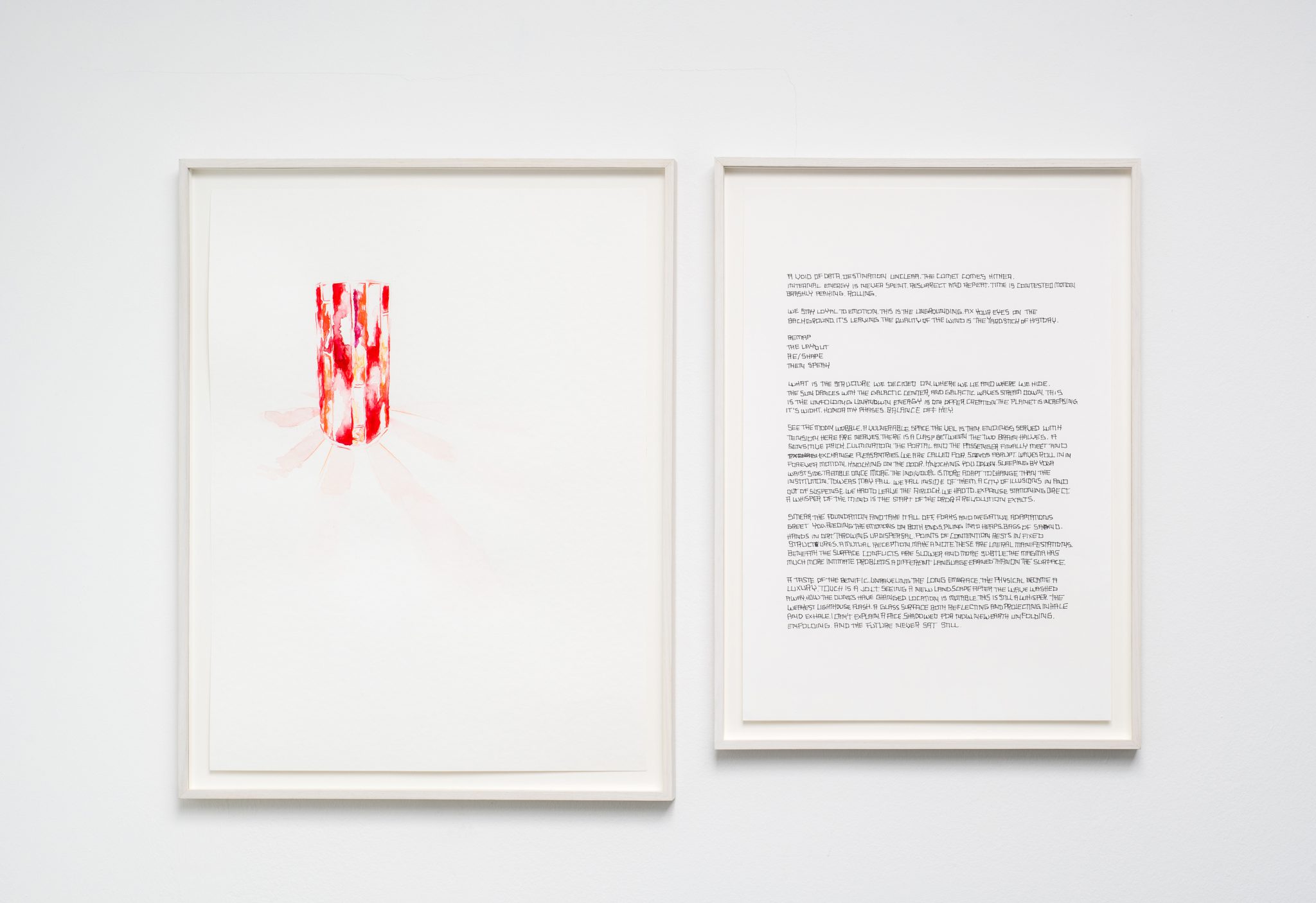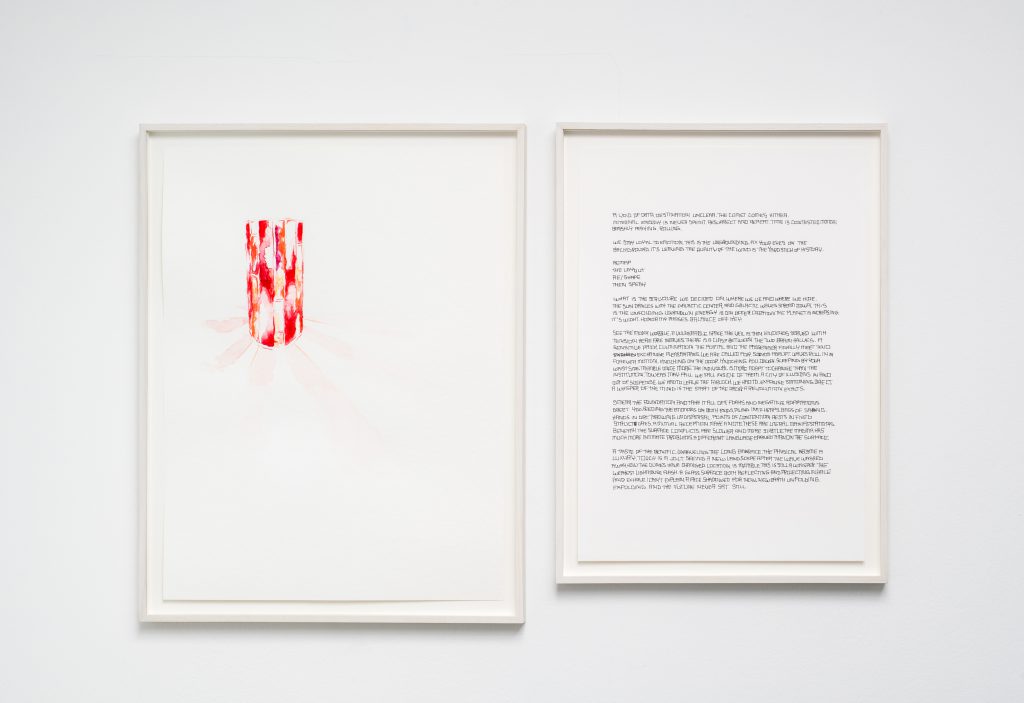 EE: Did you ever think about becoming a teacher to pass on some of that belief in and excitement for contemporary art?
TH: I've done workshops with different organizations like Wide Rainbow in New York, for instance, and when I've done shows at institutions we have often hosted a workshop with their youth outreach programs and I've also taught sculpture and science fiction at academies. And I find that extremely rewarding and exciting. I've thought about the possibility of organizing a program like that for underserved youths, and I hope that's in my future.
It also makes me feel like art is more than just a C.V. Art is more than thinking of yourself and thinking of how to further your own career and what the next step is. It's about opening it up. I just want to make sure that I can balance all these things. But that is actually a huge goal of mine to be able to open up art and art-making for a part of the population that is not in touch with it at the moment. I really think it should be accessible to everyone.
Exhibition by Tiril Hasselknippe, Photos: Marcus Schwier
Online Viewing Room >> The Future Never Sat Still
Tiril Hasselknippe Tiril Hasselknippe Tiril Hasselknippe Tiril Hasselknippe Tiril Hasselknippe