They find the space for this in the Geba carpet gallery, which has been at home in the heart of Graz's old town since 1987 and is a permanent fixture in international carpet design. Inspired by modern art and architecture, Harald Geba rethought the carpet. Since then, Geba carpets have combined timeless modern designs with traditional craftsmanship.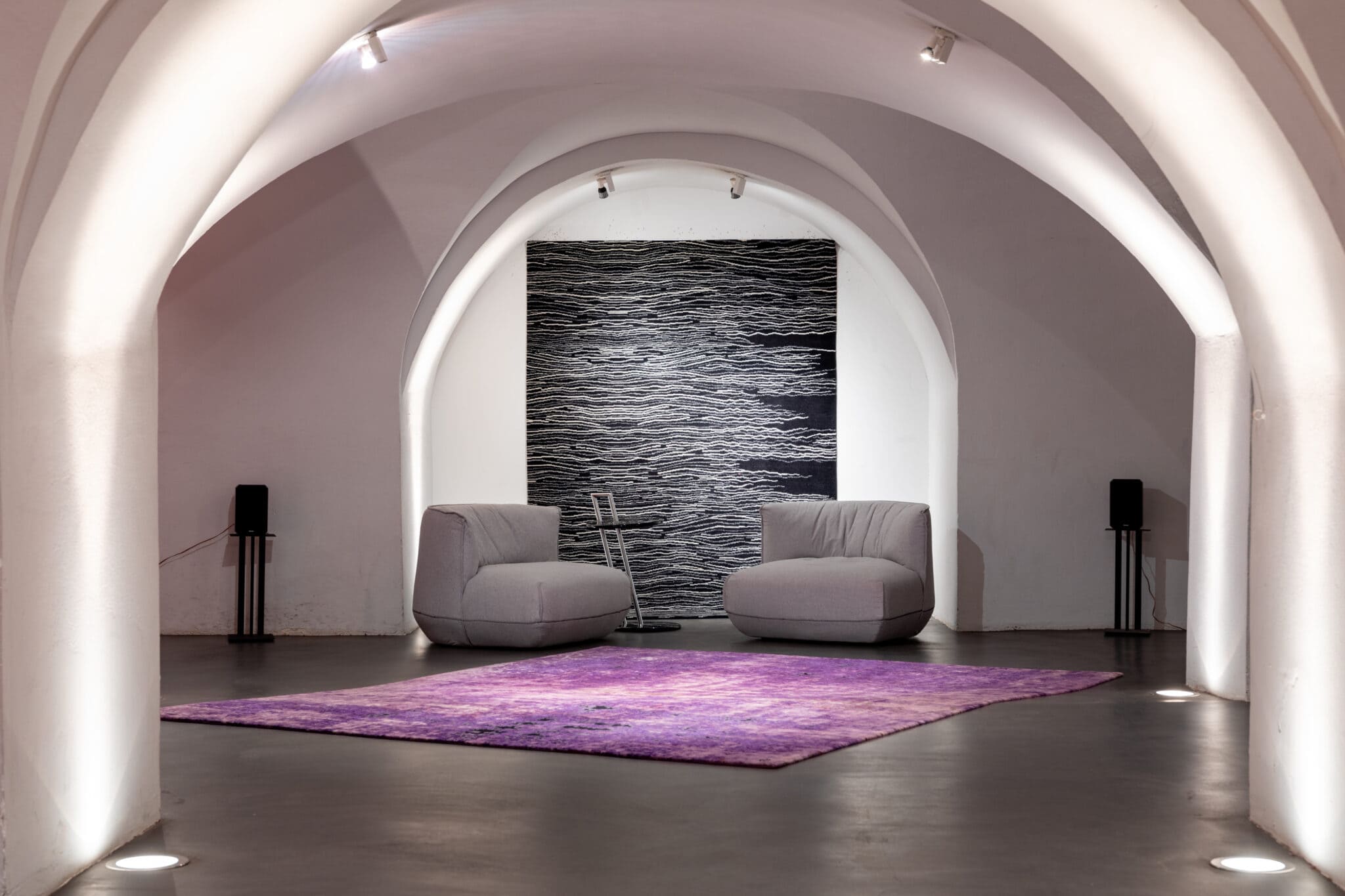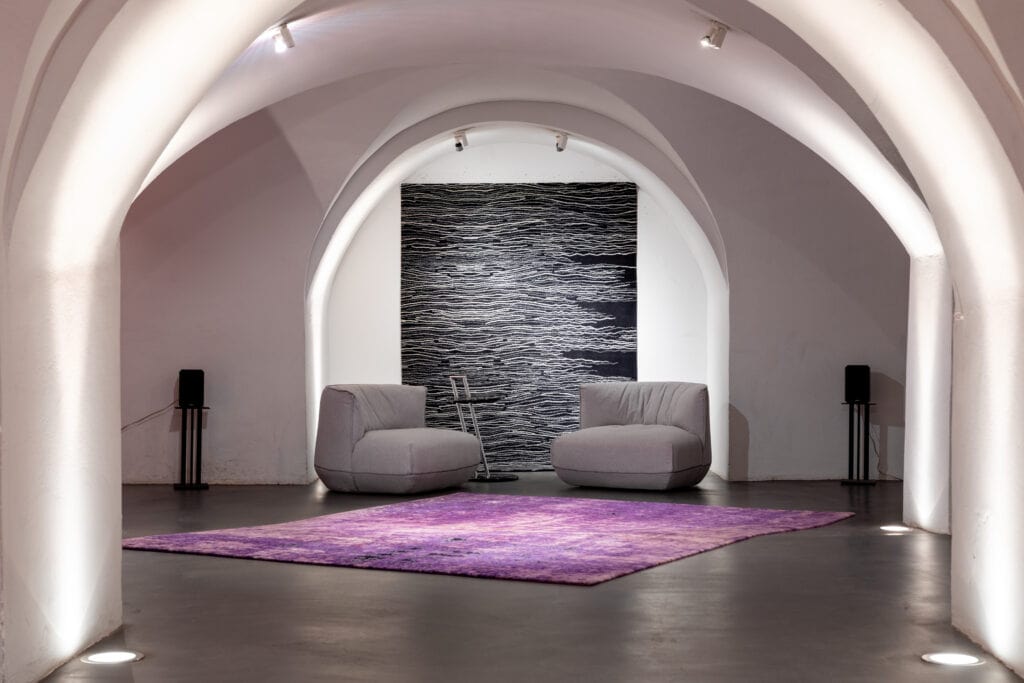 For me, carpets are textile works of art. They combine design with traditional craftsmanship and always manage to connect people and spaces."

Harald Geba
With this philosophy, Harald Geba has been living the principle of combining timeless carpet design with traditional craftsmanship and the highest knotting quality for almost 35 years. In the Geba Carpet Gallery at Hans-Sachs-Gasse 3 in Graz, historic vaults from the 15th century are combined with modern carpet design. The carpet gallery also sees itself as a mirror for Geba's closeness to architecture and for the sensitive handling of traditions and is complemented by selected home accessories. At the same time, it is also a place that creates encounters.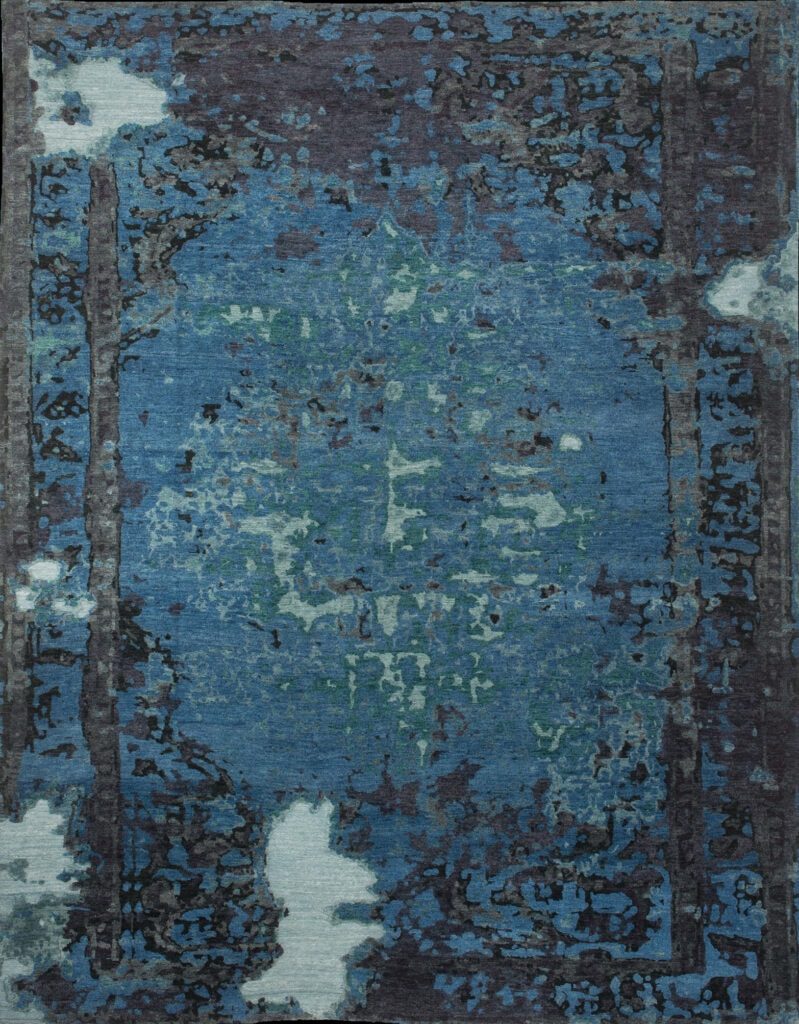 Geba – Teppich "Antique Blue"
When we get to know a new carpet, we first do so with our eyes: we see the pattern, the colours and make a first contact. But a carpet quickly conquers all our senses – we walk barefoot over it, stroke it with our hands, trace the patterns with our fingers. We conquer it as a playground where we can also sit, lie down, listen to music, talk to each other, meditate, read …. Because a carpet is always more than a textile image – it changes the way spaces are perceived and used. This is exactly what the Geba carpet gallery has set itself the task of doing.
GEBA – Teppich "Antique Blue"
Material: 90% Tibetan sheep's wool, 10% Chinese silk
(also available in sizes 170 x 240 cm and 250 x 320 cm for an additional charge)
Knots: 100
Origin: Nepal
Just as our carpet designs are intended to inspire and bring people together, our gallery is also a meeting place for people who are attracted by the extraordinary ambience: at concerts, readings or vernissages as well as over a coffee and a conversation about art, design or zeitgeist.

Harald Geba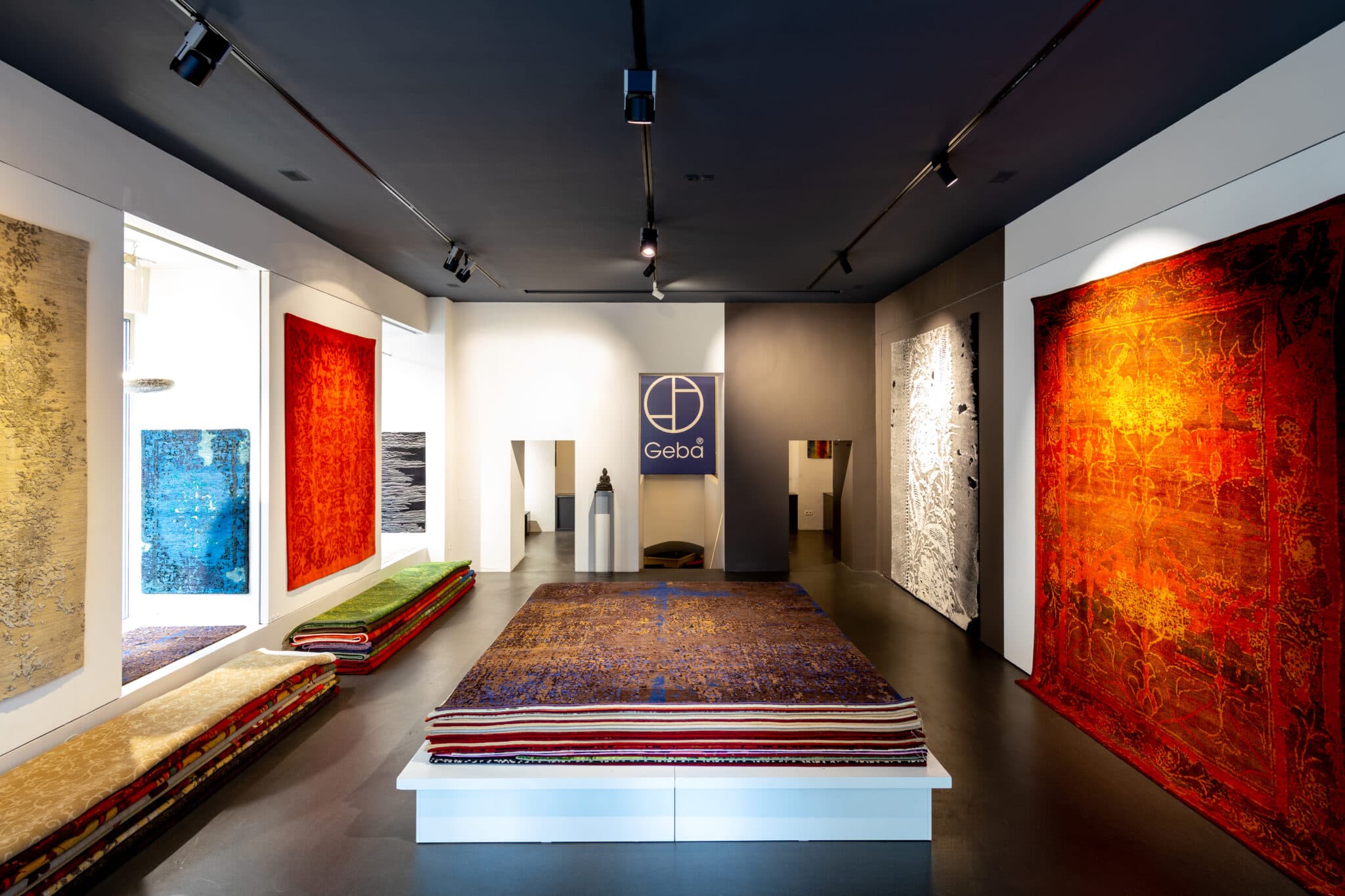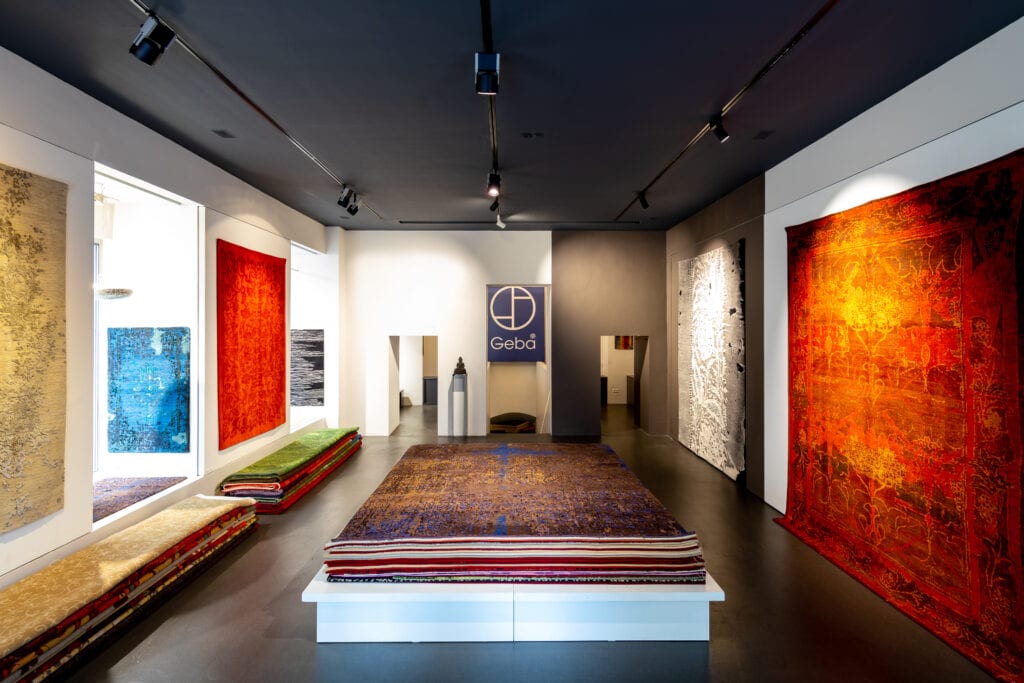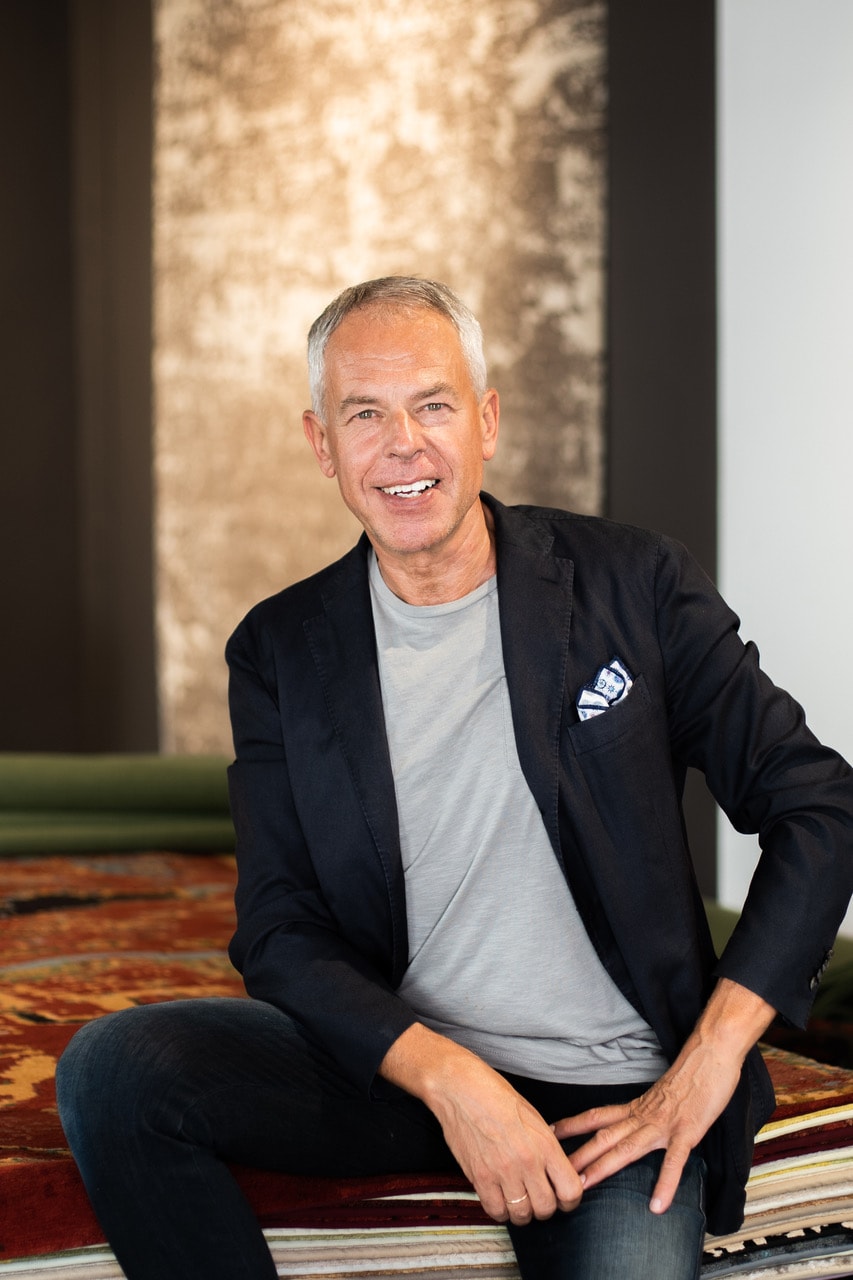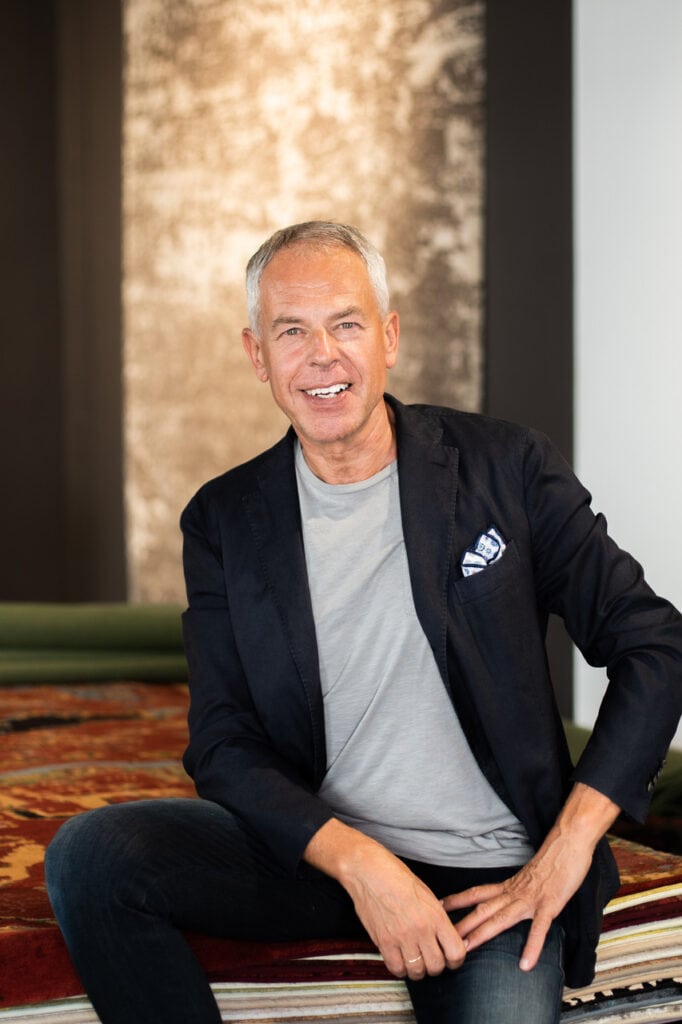 About Harald Geba
Harald Geba set out in the early 1980s to discover and remeasure the world of carpets. Somewhere along the way between Graz, London, the highlands of Anatolia and Kathmandu. After a basic training as a carpet dealer in Graz, Harald Geba went to London, worked in the industry, learned English and spent the rest of his free time in galleries and auction houses like Sotheby's and Christie's. There he bought oriental carpets at auctions. There he bought oriental carpets at auction, with which he built up the economic basis of his own business. The modern art he studied extensively in London gave rise to the idea of combining traditional carpet weaving with his own modern carpet designs …
The Geba carpet gallery in the heart of Graz's old town is a special place with over 500 years of history.
Geba online >>
Fotos: Geba GmbH
Geba online >>