During the first lockdown in Austria, Graz-based fashion designer Bettina Reichl stumbled upon a very special project – in the form of a sheep: Project Weidekleid. Here's how an acquaintance with an animal was turned into incredibly sophisticated fashion pieces that changed people's relationships and thoughts during the manufacturing process.
It was during a walk when life seemed to stand still for the first time, a walk that brought hope, lifted the spirits and relieved the feeling of confinement. It was a walk that changed life unexpectedly.
In a leafy part of Graz, the second-largest city in Austria, fashion designer and artist Bettina Reichl took advantage of her surroundings to get some movement during the pandemic. Along the way, she came across a small sheep farm. It had been there for a long time but she'd never really noticed it. But then she caught sight of this one sheep. A sheep that was sitting there strangely like a cat and looked her straight in the eye. It looked at her searchingly and, rather oddly, she recognised something familiar in it. "I saw this sheep and saw in it my cat that had recently died. It sounds so ridiculous, but this sheep made me spiritual. More than anything else, it touched my heart."
And she couldn't get it out of her head. She immediately knocked on the door of the farmer and asked whether she could work at the farm. In June, after shearing, the idea was born to make fashion from the sheep wool of the small flock. The help was welcome, so fashion designer Reichl worked for six months on the sheep farm and learnt everything there was to learn. She was fascinated by the personality of the sheep and the interesting process between animal and human. Soon another thought blossomed: she wanted to sponsor an animal and make a dress out of the wool.
From the pasture to the catwalk
It takes many stages, a lot of dedication and a great deal of passion to make an item of clothing from the wool of one sheep. Especially when you're doing everything yourself with your own two hands. Bettina Reichl learnt the entire process and took on board the knowledge of everyone from the sheep farmer to the felter. She found support for the elaborate work in her sister and friends, who took inspiration from her and helped out. She set up a wool studio in her cellar where she worked and which became something of a spiritual place. Many tasks were also carried out in the open air in the pasture. Everything was produced by hand. The labels on the clothing bear the name of the sheep. "It was meditative work that involved many lovely conversations."
The designer herself describes the project as the "high point" of her career. It's an art project that has produced clothing for the soul out of the association of partnership, design and mindfulness. For Bettina Reichl, fashion is a language that can express culture and identity, and the pieces from the Weidekleid (pasture dress) project can do even more. They represent a new beauty and a sense of solidarity. It's what you feel when you touch or wear the garments. They have the effect of a protective hug and possess their own energy.
For Bettina Reichl, the project was a catharsis and a sudden, crystal-clear realisation: we are all living beings with one soul. At some point, it became clear to her that there was only one goal: slaughter has to stop and animal wool should be worth so much that sheep farmers can make a living from selling it. She became vegetarian, but she remains realistic: "It's not possible to stop slaughter overnight, as animal meat is worth more than wool. But my high level of design can make it possible for wool to be sold for more." To move closer to the goal, you can sponsor a sheep via Bettina Reichl with "her" sheep farmer. And if you want, you can even join her in making an item of clothing out of the wool. An item with real meaning.
About Bettina Reichl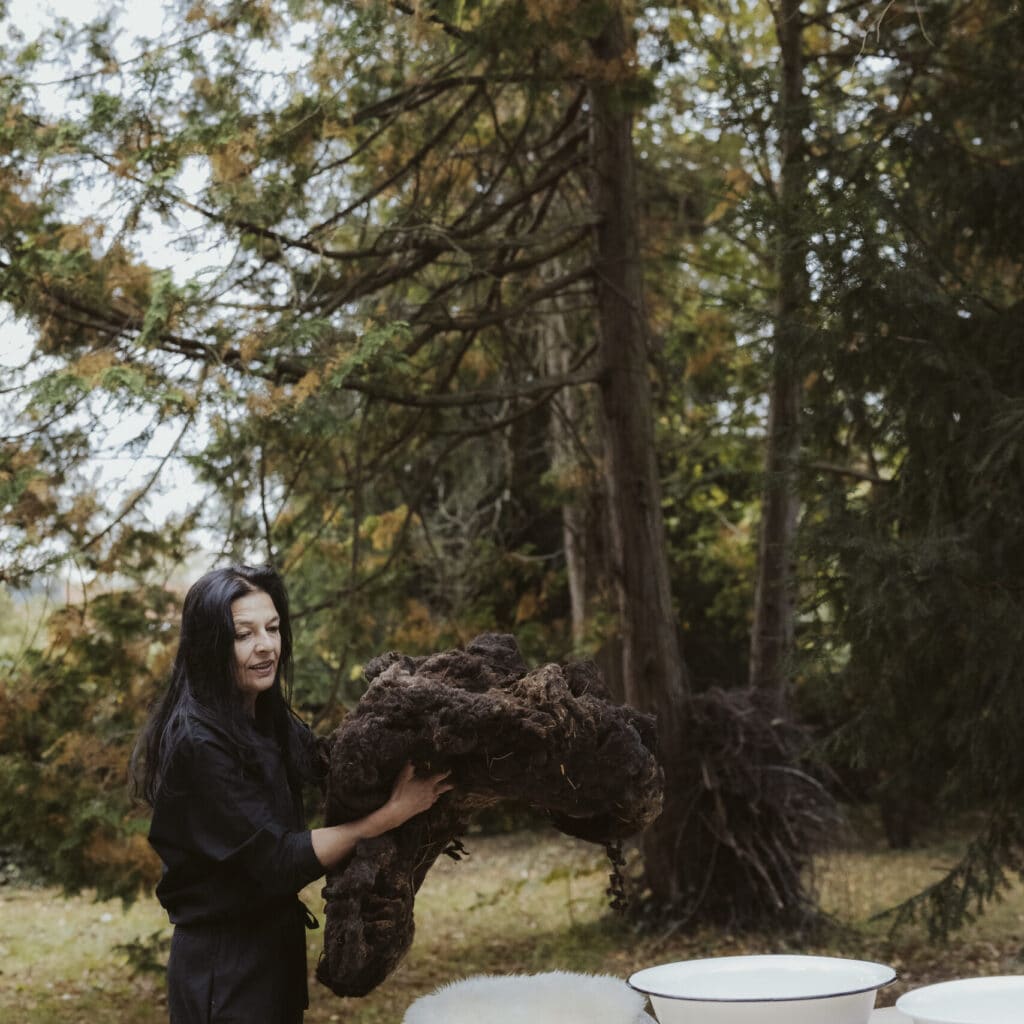 Bettina Reichl's label ODROWAZ specialises in sustainable fashion. She works with jersey, woven and loden fabrics made out of natural fibres, soft and flowing, and she tailors them in an often archaic, monastic and yet erotic way around the body. Traditional items of clothing like capes and hoods are the unmistakable foundations of her work, complemented by futuristic elements like skintight overalls
The Weidekleid project was displayed at the Kunsthaus Graz in August 2021 under the title Mode_Tanz_Performance, and the subsequent collection United Felt will be on show at the EXPO in Dubai in March 2022 as part of the Austria Rwanda Fashion Connect intercultural fashion project.
Fotos: Marija Kanizaj
PELL MELL >>