MH Residenz GmbH is Austria's leading company for glamping and luxury resort development, and turns resorts into places where luxury and nature live in harmony. We spoke to Wolfgang Schille, Head of Design at MH Residenz GmbH, and asked him how striving for greater environmental sustainability can be compatible with comfort, personalised luxury and unforgettable holidays.
Your claim is "Tourism reimagined!". To what extent do you think tourism has evolved towards sustainability in recent years?
The last few years, especially during the pandemic and the current energy crisis, have led to a clear rethink in the tourism industry. Individuality, flexibility and proximity to nature are becoming increasingly important for guests. I'm talking about the experiences we're all longing for – observing the stars at night, listening to the BBQ crackling, watching a storm roll past in the distance – all on your own terrace surrounded by nature. That's what guests are ultimately after. For that reason, our luxury resorts are embedded in and among nature. Outdoor relaxation areas with fire pits and yoga platforms encourage people to spend time together. And our Strohboids are the new "closer to nature" places of refuge.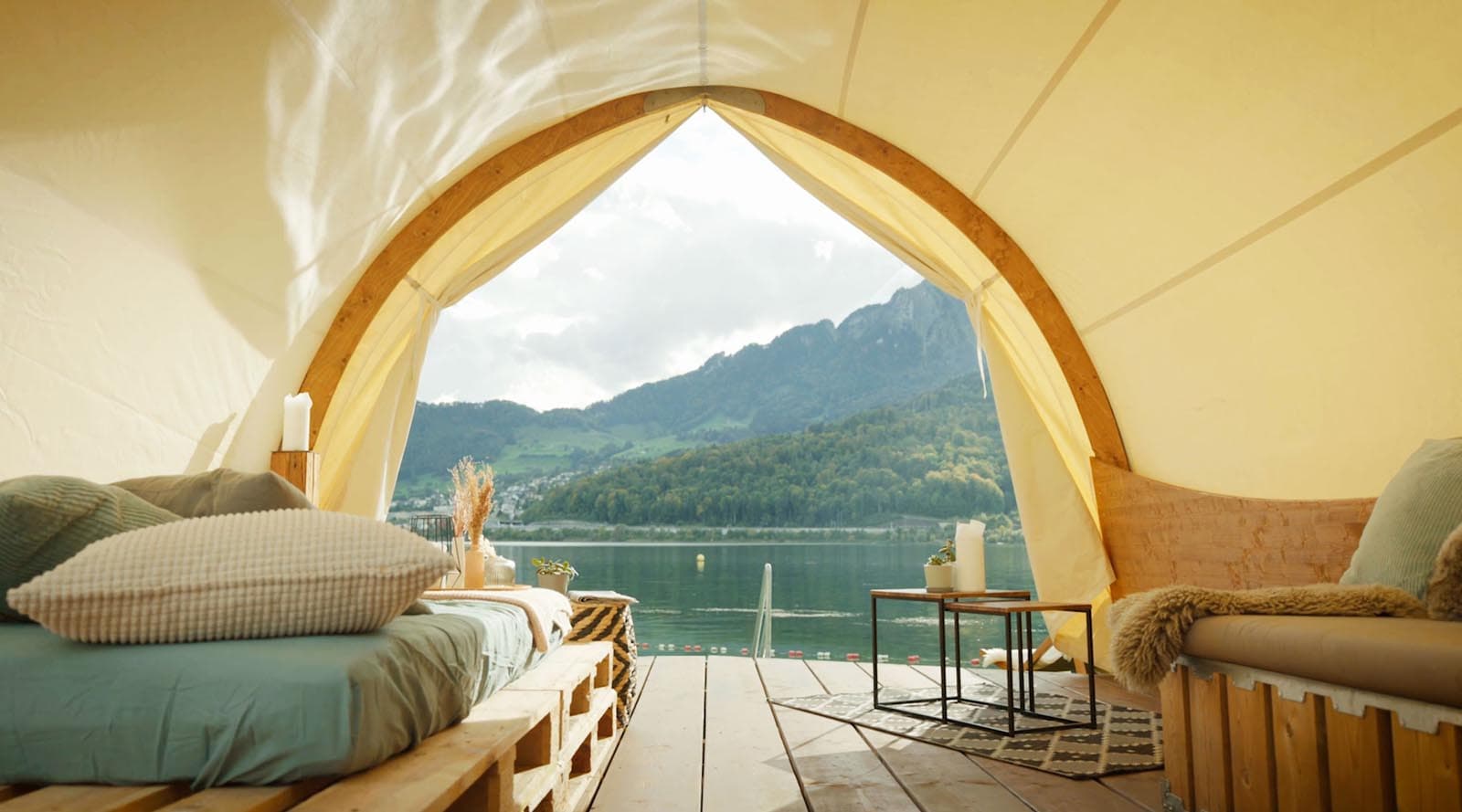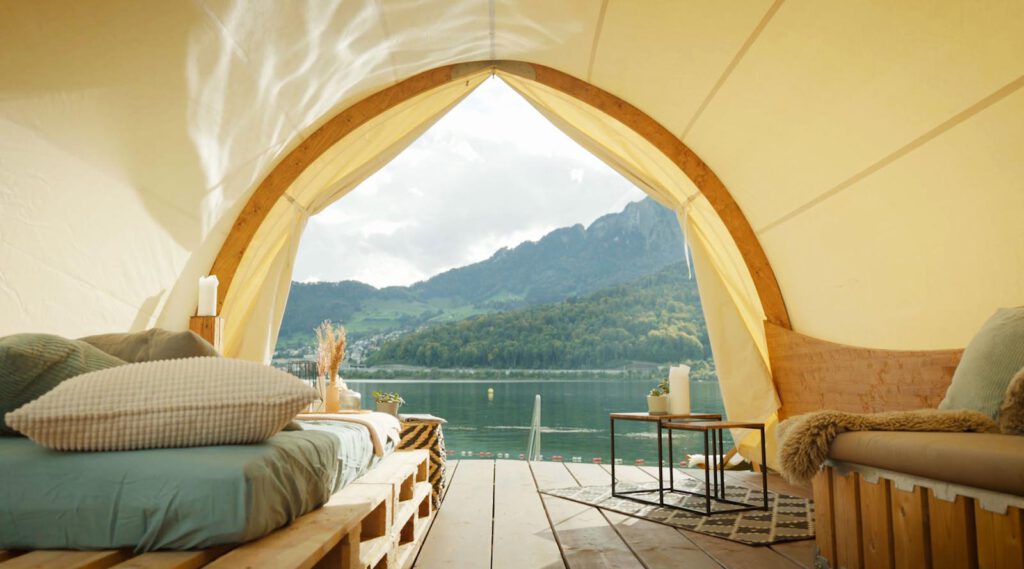 You used an unfamiliar word there: STROHBOID. What exactly is it, and what does it have to do with your sustainability concept?
A STROHBOID is a patented lifestyle product with many features, and the only product of its kind in the world. The core element of all STROHBOID products – be it a lounge, pavilion, glamping tent or event tent – is the unique wooden lattice shell technology. Constructed using locally sourced solid wood and made in Austria, it is the epitome of organic glamping. A STROHBOID stands out thanks to its lightweight construction inspired by architect Otto Frei, whose creations include the Olympic Stadium in Munich. The shape of the roof is a hyperbolic paraboloid, a complex yet extremely design-oriented form.
But it's not just the products themselves that are innovative, it's also the wide range of options they give our customers. From a lounge to chill out in and a sophisticated glamping tent to an event tent, anything is possible. We consider the path to a sustainable future in every single project and every product we sell. That's why production is also CO2-neutral and, in addition, "Click A Tree" is used to plant trees for every product sold. For me, that's what makes it the perfect combination of product design and nature. You won't just find STROHBOID products at our luxury resorts, they can also be used for weddings, festivals and displays, or simply to provide attractive shade by the pool. The number of ways in which they can be used is huge. Not just for tourists but also for creating private oases of well-being.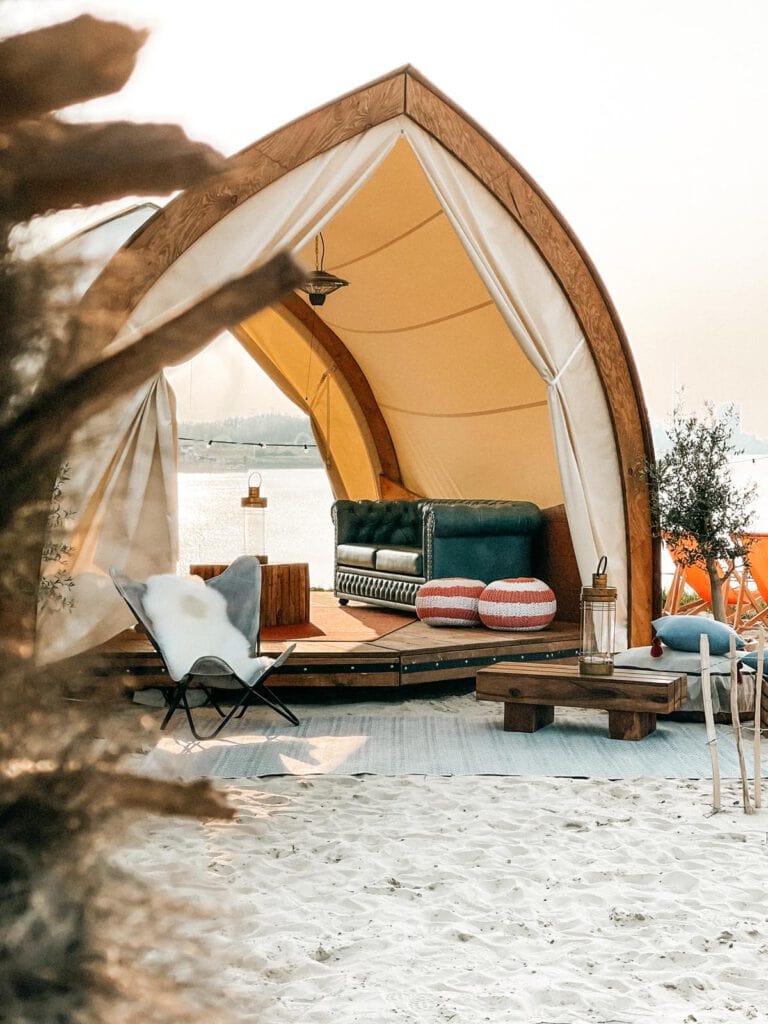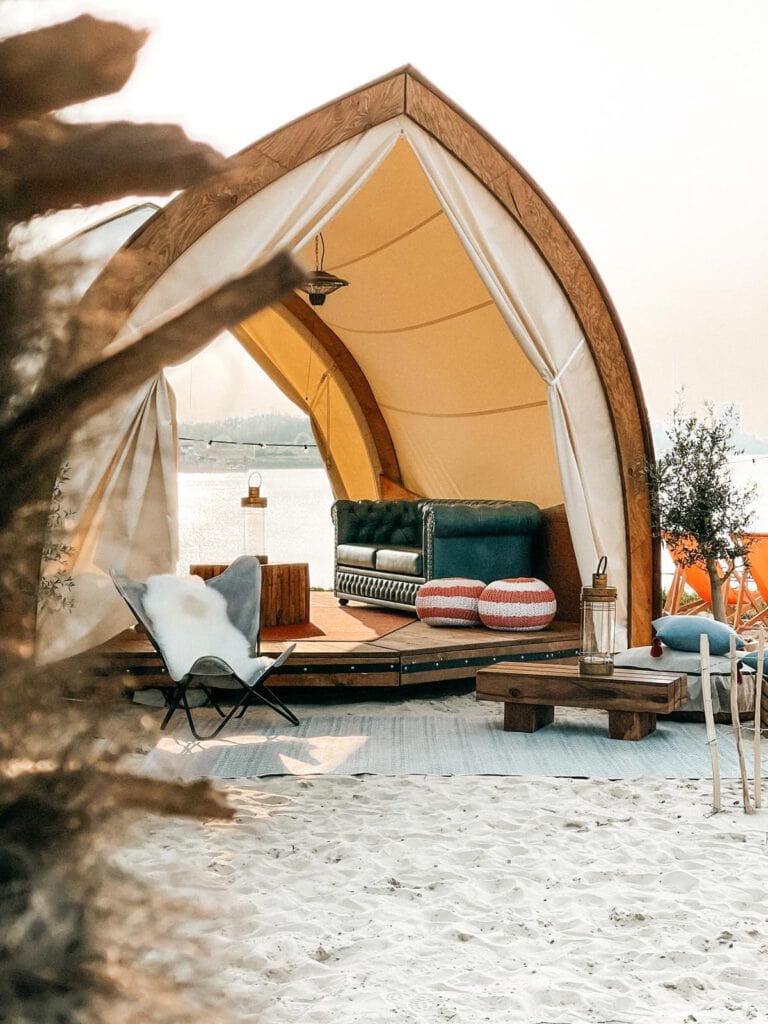 You just mentioned carbon-neutral production, something that's hugely important at the moment. What effect are the energy crisis and climate change having on tourism?
A big one. We're also sensing that people no longer want to go on holiday no matter what the cost. It's important to them that the footprint they leave behind on the Earth is as small as possible. At the same time, the desire for time out, for a genuinely relaxing time is growing and growing. We've also sharpened our focus and dedicated ourselves even more to the topics of ecotourism, sustainability and the consumption of resources.
We are making every effort to shape tourism in as sustainable a way as possible. Our solution? Sustainable resorts in the most beautiful locations. With sustainably manufactured accommodation options. Supplied with green energy and the corresponding innovative energy technology, and even self-sufficient operation. My vision for the future is that there will only be "green" resorts. With a good environmental footprint and as little harm to nature as possible. With lots of untouched natural space with birds twittering, and ultimately guests who become grounded on holiday and feel better than ever after their stay. For that reason, I'm pleased we started on this journey and can take an important step towards this sustainable future along with our customers. From the vision and the sketches to the handover of the resort, we are the ideal partners to help achieve this goal. When you work with us, you get everything from a single source.
A sustainable future is a key aspect here. What do you think about the global movement of top hotels towards working with resources more responsibly?
I think it's great! The trend, or to put it a better way, the sustainable philosophy of independent and self-sufficient resorts, has crossed over from the USA to Austria via Montenegro. Everything is modular, everything is transportable. The issues of soil sealing and energy consumption play a significant role in current hospitality thinking. Car-free resorts, unsealed development areas, few concrete structures are just a few of the indicators of our sustainability-oriented thinking during the design process.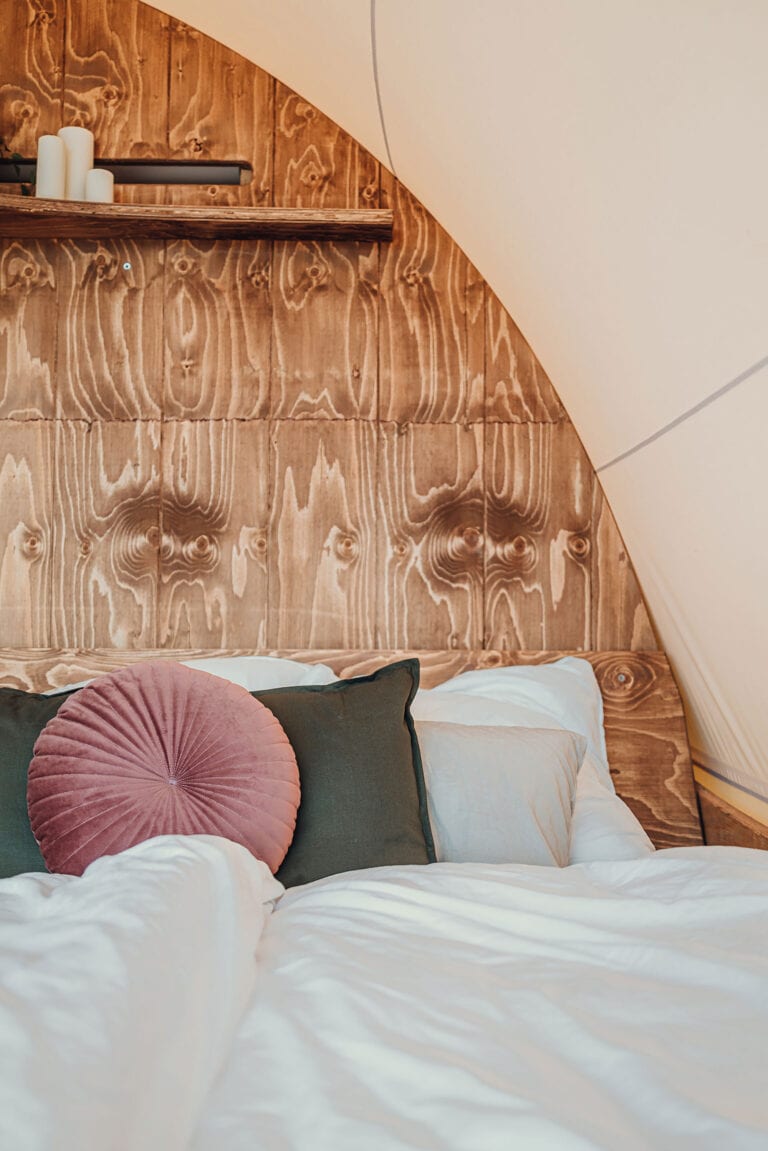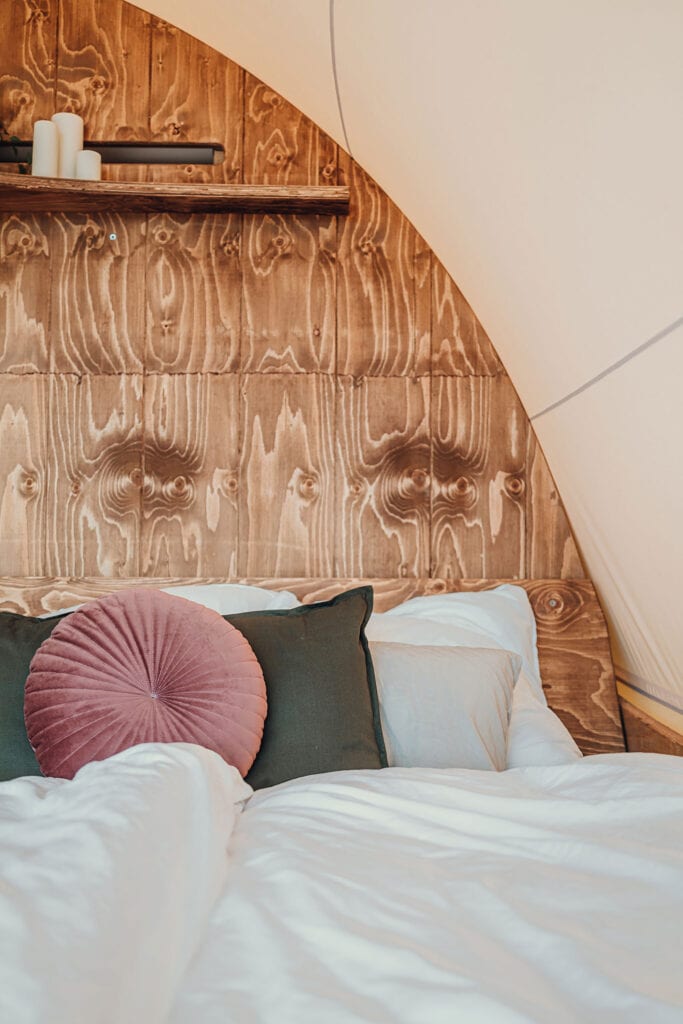 How else are you taking tourism back to nature?
Tourism is clearly crying out for individualism, for concepts outside the usual mainstream tourist ideas. Close collaboration and communication with customers on an equal footing helps us to stand out in that regard. We visit the future location of the resort, analyse the strengths and weaknesses of the region and narrow down the USP of the site. All in consultation with the operators and of course always bearing the target market in mind. Our team doesn't simply carry out projects and steal space away from nature – quite the opposite: our resorts are carefully embedded in the landscape while at the same time providing a harmonious connection with the regional characteristics of the location. In that way, we create an active link with nature and encourage active ways of experiencing nature. You could almost say we try to indirectly ground people and go back to basics.
Do you believe that because of this overall rethink, people's searching habits have changed when they're booking a holiday? That people really want to get back to nature?
Yes, we've been seeing this phenomenon for a while now. Holidaymakers are no longer looking for a holiday, they're looking for authentic experiences. Where can I unwind? Where can I jump into the lake in the morning then do some yoga? Where can I go hiking, cycling and experience nature? Where can I finally switch off and really be in the here and now? Genuine, sustainable relaxation is becoming more and more important for guests in our fast-paced world.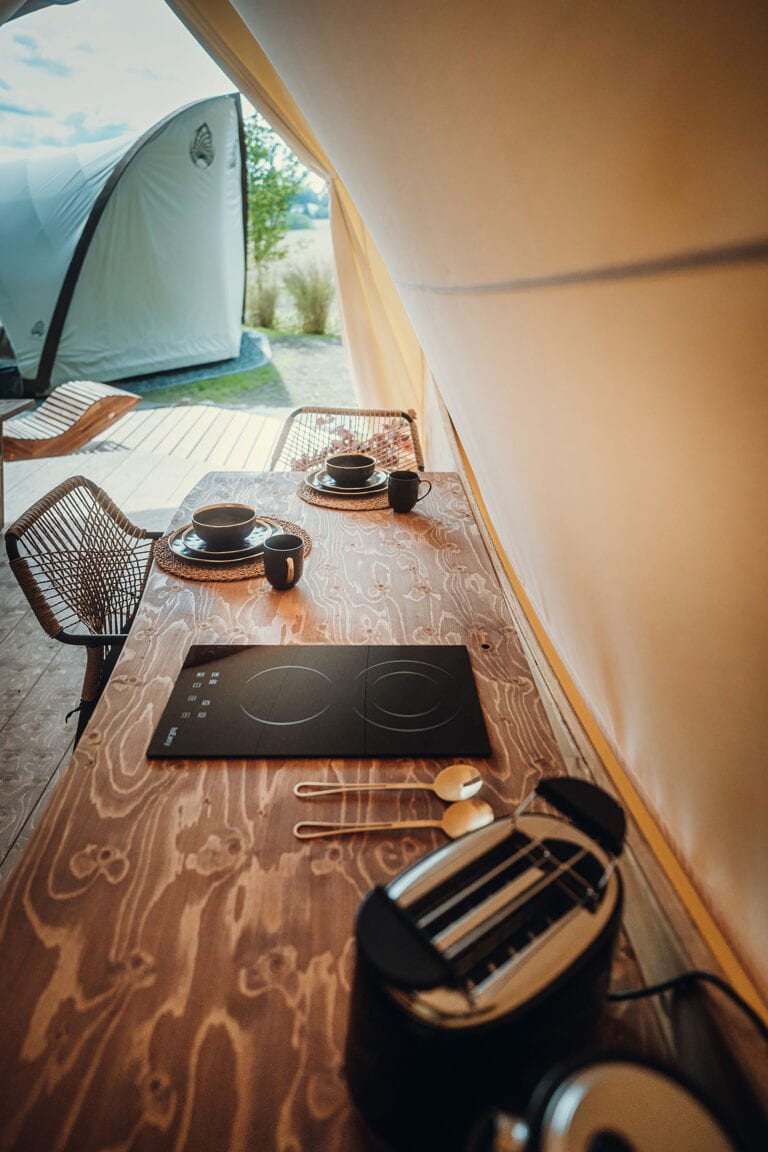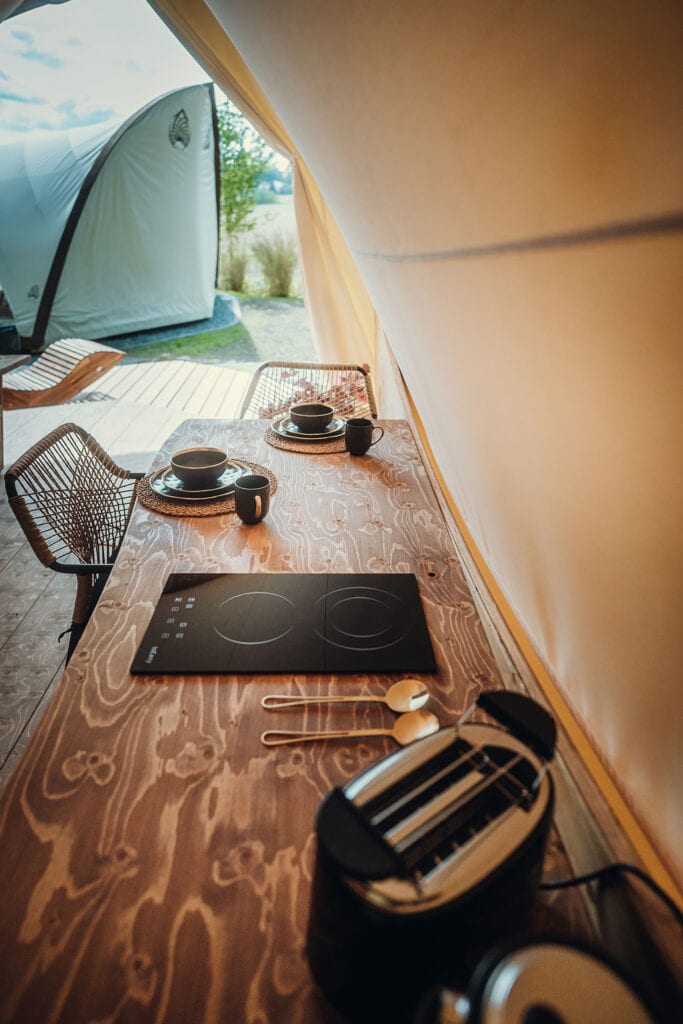 What does that look like in practice?
As an example, we're planting trees in the resorts in new large-scale areas of vegetation and giving some space back to our native bees by setting aside fields specifically for them. In addition to that, all our resorts are equipped with everything you need in nature so you don't need to disturb it. We want to live with it, explore it and feel connected with it again. We want to create experiences – without any stress. Sitting by a warm fire in the evening and observing the stars, getting up in the morning with the sun to birds twittering and yoga, meditating to the sound of the running water in the resort. You have the whole day to do what you like. Even if it's just visiting the treehouse sauna. Those who really want to be at the heart of nature can stay in the treehouses and observe the surroundings from the treetops. Up there, you're that little bit closer to the stars.
And to finish up: what can we as travellers actually do to make tourism more sustainable?
It's really simple: choose resorts that have been intentionally designed to be sustainable. Place greater value on planning approaches with green ideas, on eco design, and seek out only these places for your holiday. Going on holiday must be sustainable on several levels. Not just from an environmental standpoint but also a human one. What does a dream holiday look like these days? How do our guests want to spend their precious time? Which activities will allow them to find their way back to nature and to themselves? That's an important topic that I want to convey to every hotel and resort operator. It's basically more about making sure that personal experiences, the experiences we're longing for that I mentioned before, perceptions and emotions contribute positively and are fulfilled. Because in the future, the quality and choice of resort will definitely be assessed increasingly according to environmental, climatic and sustainable criteria by guests.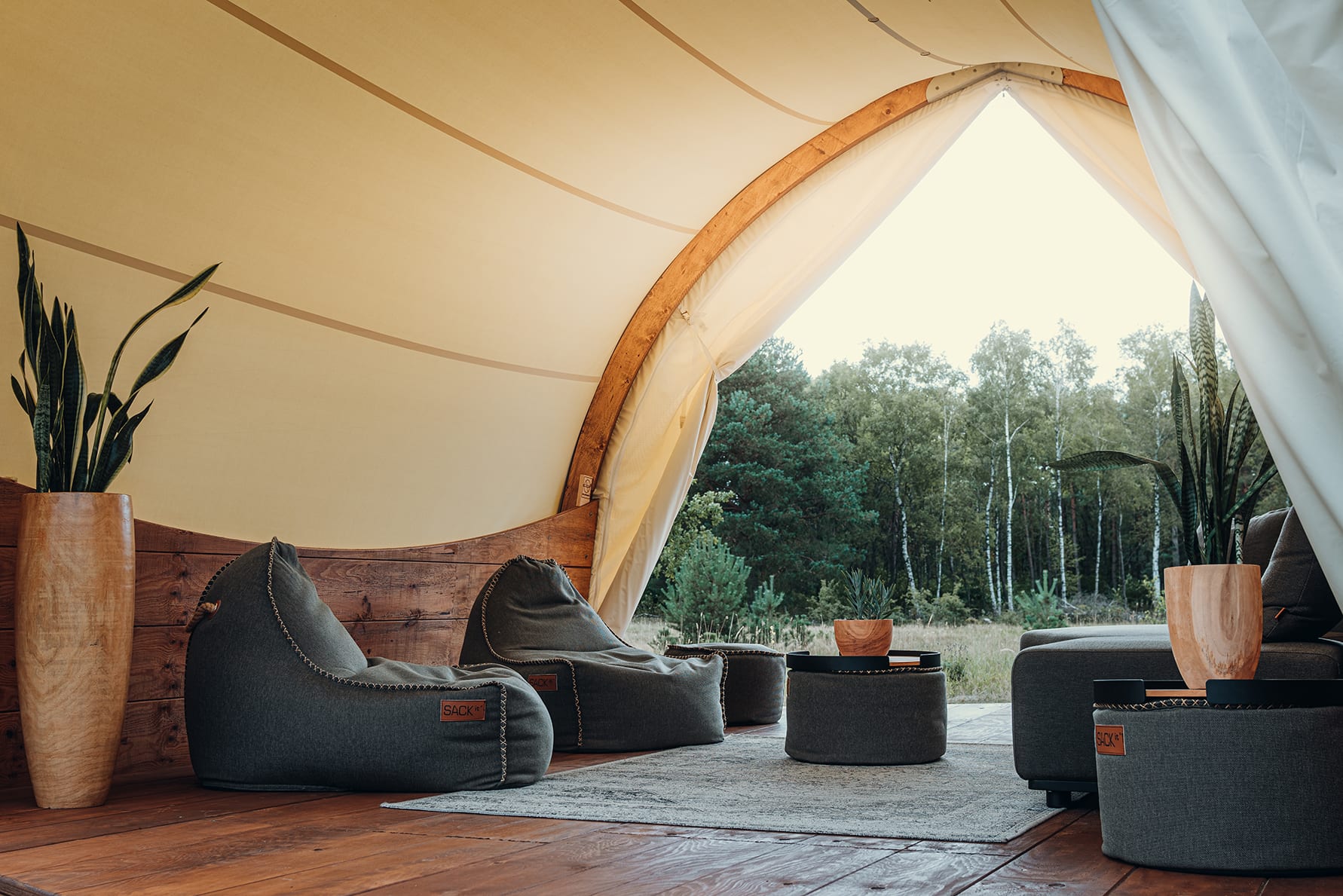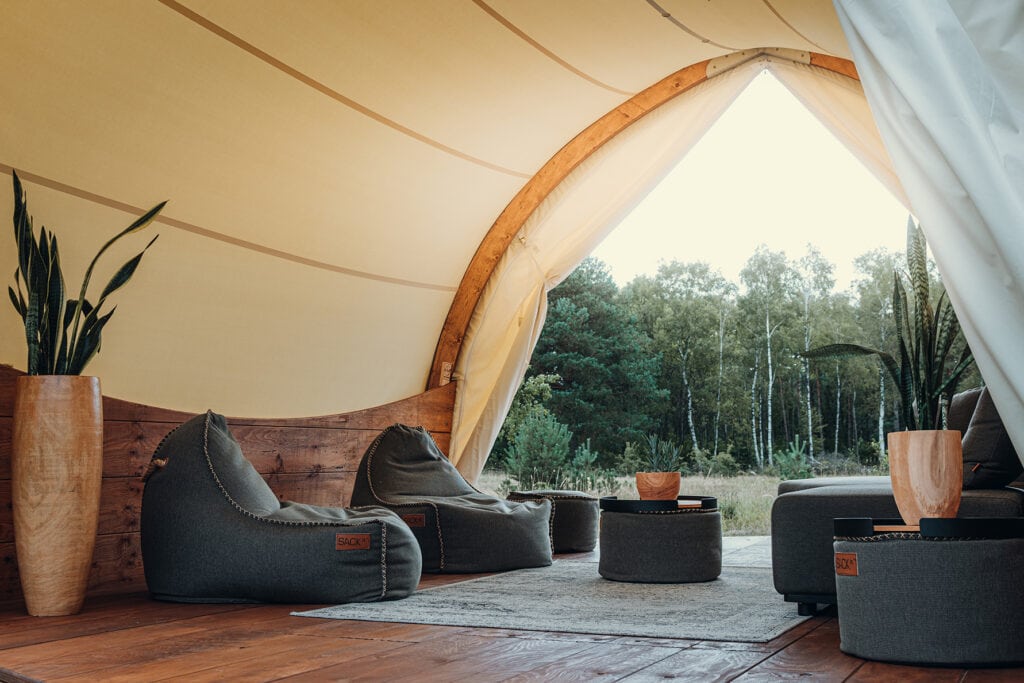 ABOUT MH Residenz
Tourism reimagined! It is under this motto that MH Residenz GmbH is taking tourism back to nature. The company develops holistic concepts for sustainable luxury resorts, including the general distribution of glamorous mobile homes, luxury chalets, treehouses as spectacular accommodation units, romantic tiny homes, floating homes or luxury boutique tents. The end result is unforgettable holiday experiences and a harmonious balance between nature and guest comfort. All from a single source.
Photocredits: MH Residenz GmbH