MEXICO: Since we've been able to again, we've been sating our need for relaxation and laid-back time, for summer, sun and happiness far, far away from our everyday home lives. So far, so good – and now we can make it even better – namely adopting a truly conscious approach that doesn't just revolve around ourselves.
Conscious travel to Mexico
It's so hard to imagine that it's not that long ago that the planes were grounded, cruise ships couldn't leave harbour and much-deserved holidays went up in smoke to make it a year of unfulfilled dreams. Meanwhile, our wanderlust reached its highest point since the start of travel journals, and we plagued ourselves with fundamental questions. Alarm bells went off in our consciousness and our lives were suddenly put on hold. After all, we're also explorers, adventurers, dreamers, constantly on the search for new horizons, preferably the special ones.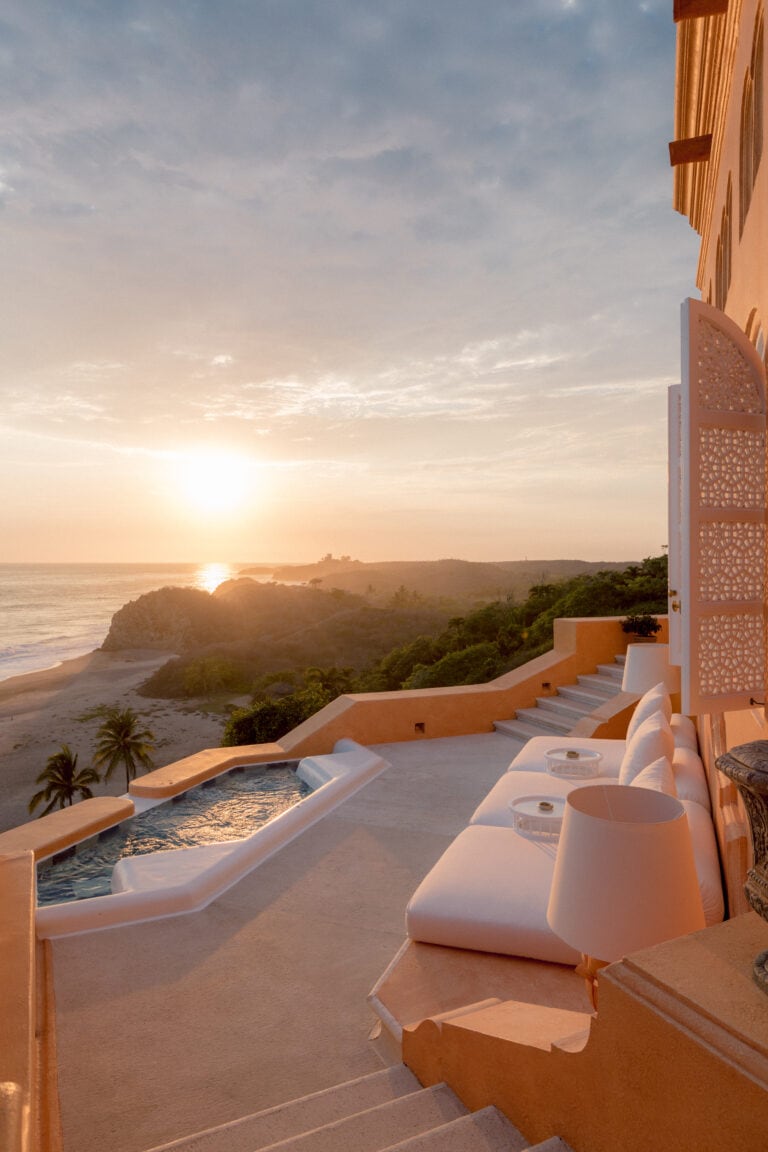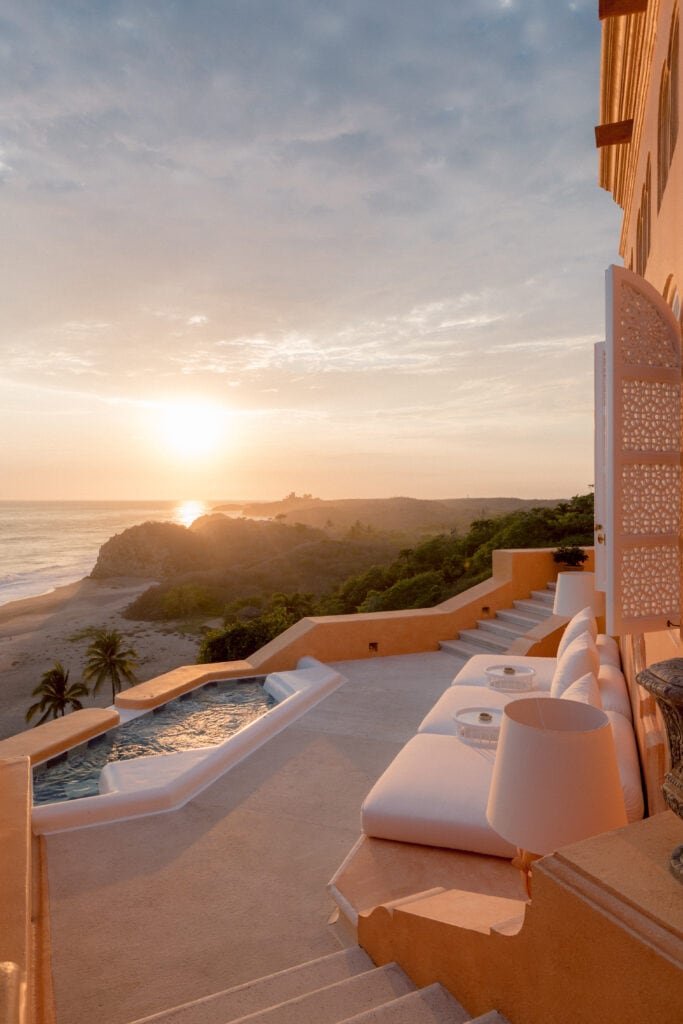 However, blocking out an essential topic in this, certainly wouldn't be a worthwhile investment: sustainability. The buzzword of the now and the future. It feels like we've heard it a million times, it's virtually something you can't get away without. So, considering we're constantly being drawn into the world of our dream holiday destinations: can we not satisfy our desire for aesthetics, individuality and exclusivity in greater harmony with local resources at the destination, can we not just enjoy? Of course, we can! There are pioneers of sustainable hospitality in Mexico, for example, which we think is one of the ultimate places for time out. Resorts that focus on quality not quantity. On development not over-development. On meeting environmental and social responsibilities not refusing to change. Let's take a quick trip to three of these Mexican flagship projects.
MAGNIFICENT & MINIMAL IN MEXICO
¡Buenos días in BOCA DE AGUA! At a place whose name means "estuary" or "water inlet". How fitting! Because right along the edge of the site meanders a vibrant blue and turquoise-coloured branch of LakeBacalar. Also flowing into the Boca de Agua are the ideals of a new environmental philosophy merging with the needs of every lifestyle traveller who appreciates the beauty of the simple things and wants to combine moments of inner peace with physical well-being. At least, that's the claim of Rodrigo Juárez, founder of this innovative multidisciplinary hotel project, and Hichaim Zaime, general manager of the hotel. And actually: it looks promising! In times of excessive tourism and urban sprawl, which are threatening ecosystems and the heritage of ancient cultures, Juárez and his team have come up with something different. It starts with the density of the buildings. They were intentionally kept low to give the jungle landscape room to flourish: the hotel grounds measure 82 hectares, 90% of which has been left undisturbed – and undisturbed it should remain. It is also part of a conservation and regeneration programme, with a hectare of a nearby mangrove ecosystem already having been replanted. Sustainable development and strengthening social communities in the region aren't just possible. They are tangible, because small local companies and up-and-coming professionals in underrepresented groups are also part of the Boca de Agua philosophy. Environmental design principles and materials are further core aspects.
The most visible sign of what makes this place so wonderful? The unique tree houses! They were designed by top Mexican architect Frida Escobedo, who likes to apply her preference for innovative projects to architectural sustainability contexts. Five tree houses blend discreetly and sensitively into the natural landscape. They are raised off the ground so they have as little impact on the soil ecosystem as possible, and are made from certified sapodilla wood sourced from local construction companies. How about that for the ultimate in elegant and reductive look and feel! Especially because it continues seamlessly and noticeably throughout the overall interior design, not just in the suites. The key factor here is exclusive furniture made mostly from recycled materials, made by local craftspeople. And let's not forget that there are also membrane bioreactors that treat wastewater and feed it back into the hotel's own water cycle.
While there is a dreamlike beauty in the simplicity of the exterior, paths to inner balance are also provided at Boca de Agua. They come in the form of scientifically backed therapy programmes such as a dopamine reset, which is intended to help promote physical health and lasting fulfilment – away from smartphones, tablets and to-do lists. Stress? Surrounded by the natural world and inspiring architecture? At Boca de Agua, it's almost an unpronounceable foreign word. It will also leave conscious lifestyle travellers speechless.
IMMERSION & INSPIRATION IN MEXICO
MUSA is a visionary sustainability resort in southwest Mexico. Mexican designer Andrés Saavedra and Canadian entrepreneur Tara Medina are the brains behind this "Modern Utopian Society of Adventure". What sounds a bit like a spectacle from 20th Century Fox actually turns out to be great cinema upon closer inspection. Because through MUSA, Saavedra and Medina are pursuing a hybrid approach that unites commitment to the local natural paradise and pure, luxurious accommodation.
Between the mountains of the Sierra Madre del Sur and the Pacific coast sits MUSA, an inimitable, untamed landscape with 177 hectares of palm groves – including 1.6 kilometres of beaches. In the middle of the site there is a huge biopool containing over five million (!) litres of fresh water. This natural spring is equipped with organic filters, it runs on solar energy and is surrounded by Hideaways – accommodation inspired by surf shacks that also have solar panels and their own water collection system. The units are all detached and nestled between the mangroves and lush gardens. And they follow in the same beautiful environmental vein as any exceptional boutique hotel that is just a palm frond away from the Pacific coastline.
The Hotelito accommodation has been integrated into the landscape to avoid disturbing the ecosystem. Designed for conscious explorers, Hotelito runs entirely on solar power. There is composting and soil regeneration, roof gardens for cooler interiors and sophisticated systems for collecting rainwater and recycling grey water so the surrounding gardens can be watered. It appears almost nothing has been left to chance. The ecological vision is taken extremely seriously.
All of the suites and rooms provide the perfect immersive retreat, packed with features such as bespoke furniture made out of parota wood, paraben-free toiletries and hand-crafted stone and mosaics from the local region. All of the rooms are decorated with works by international artists. Workshop, art and contemplation spaces create new dimensions of creative personal development. Massages, sound baths, yoga and meditation sessions awaken tranquillity in people. Organic agriculture melts in your mouth. It's not just the open-air lobby lounge that invites you to collaboratively commit to new ways of thinking and innovative projects as part of a vibrant community – there will soon also be hybrid live-work studios that enable a totally new form of living and working. Perhaps it's time to enjoy a subtle, somewhat special kind of luxury. To combine a modern tropical lifestyle with a traditional approach to minimalism. To celebrate taking inspiration from the contemplation of reduction. No buts. End of.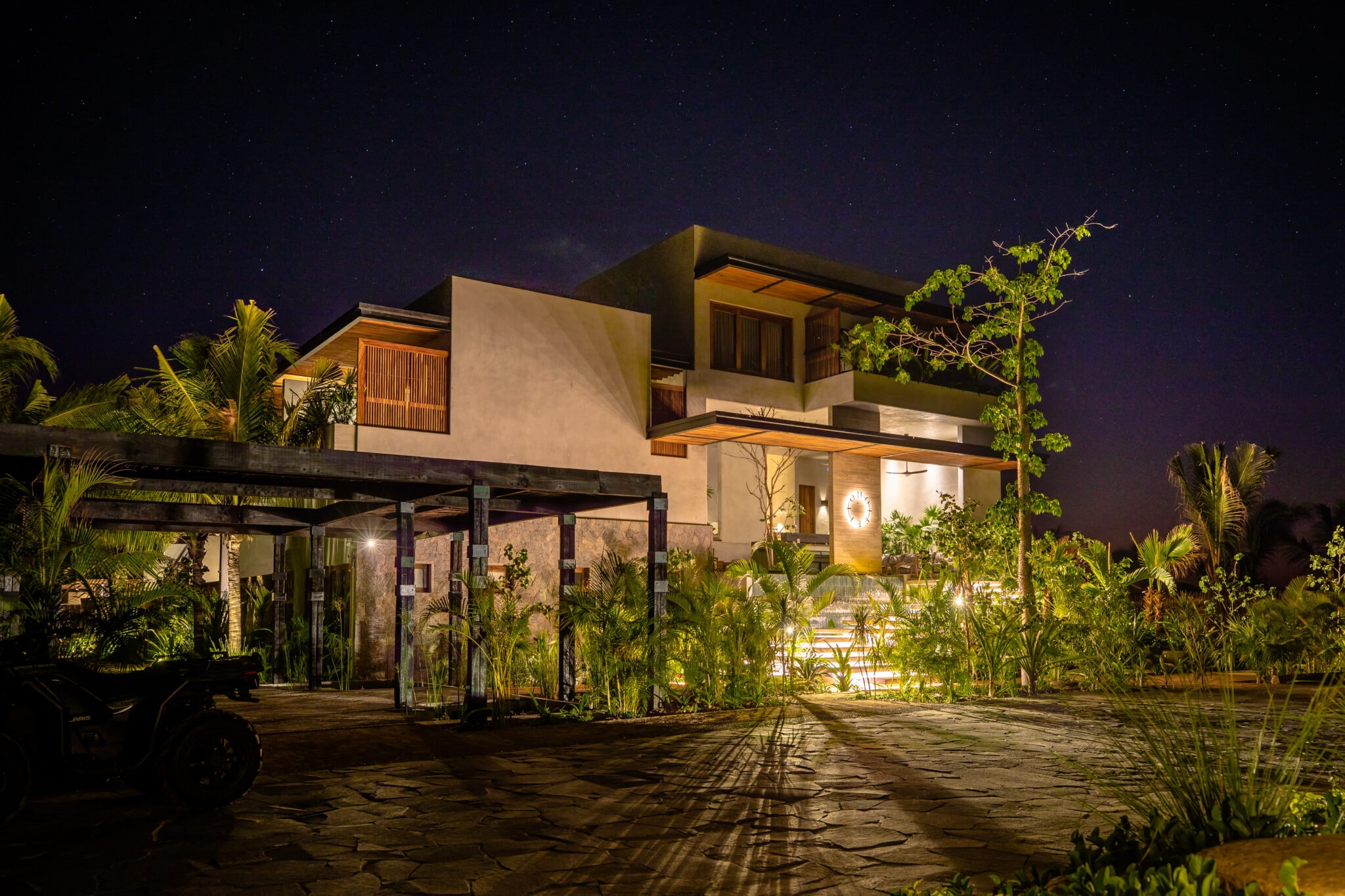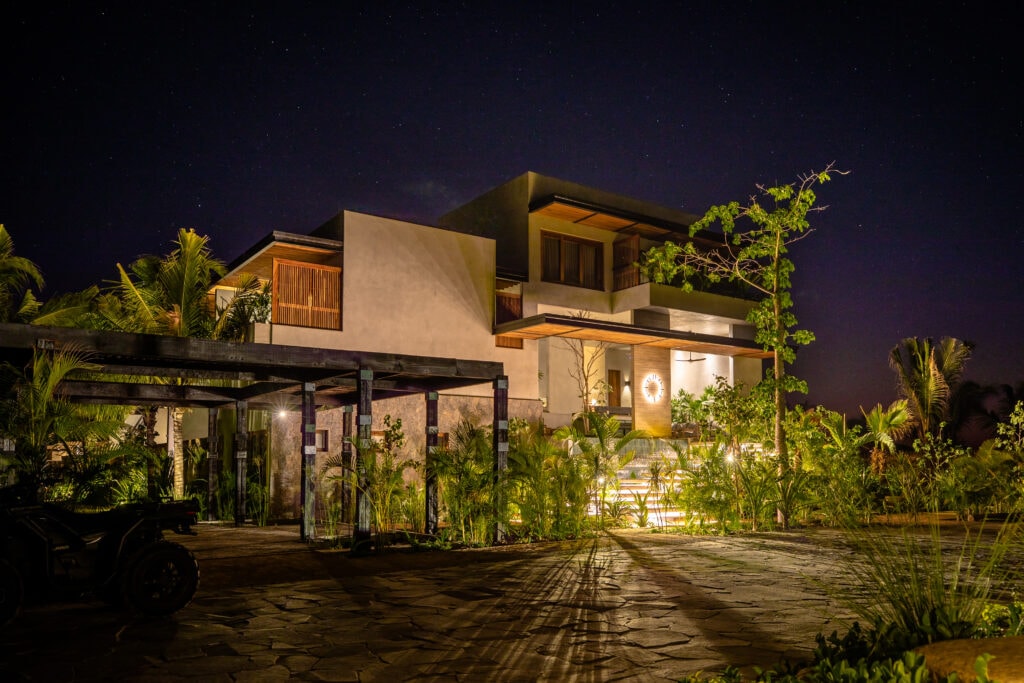 WILDERNESS & WORTHINESS IN MEXICO
A jungle, so lush and vibrant. A masterpiece of wild greenery that co-exists alongside coconut palm groves. That rolls into sweeping savannahs, lagoons and grassy landscapes and extends to a five-kilometre sandy beach where the waves of the Pacific crash. NOW THAT'S BEAUTY. Especially as in this over 30,000-acre biosphere reserve, there is a luxury eco resort called Cuixmala that addresses all the senses in its pursuit of sustainable tourism and lifestyle. Because the resort collaborates with the Cuixmala Ecological Foundation, biodiversity, ecosystems and ecological processes in the region are being preserved and restored. Everything revolves around forests and wetlands, around endangered animal and plant species such as zebras and butterflies, mangroves and orchids, which are free to live here in their natural habitats and blossom wherever they please. Wildlife cameras throughout the whole reserve watch extremely shy jungle residents like the ocelot and the puma, monitoring not just their territorial behaviour but also their population. Conducting yourself with humility when it comes to natural resources, developing a profound understanding of them: that is one of the many noble objectives. They date back to a certain Sir James Goldsmith, who back in the late 1980s already had an awareness of theoretical environmental topics and had put them into practice – for which he was ultimately knighted.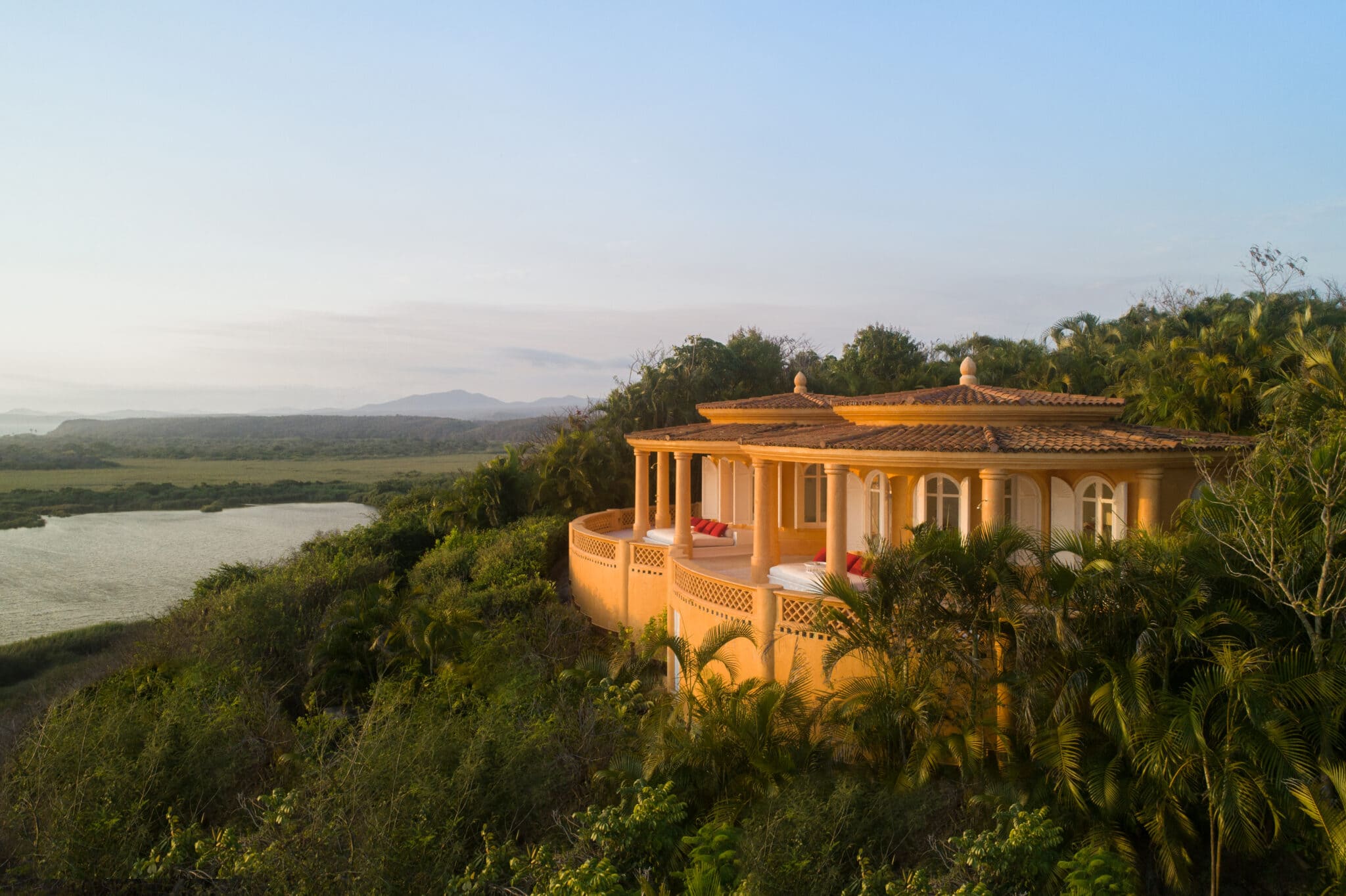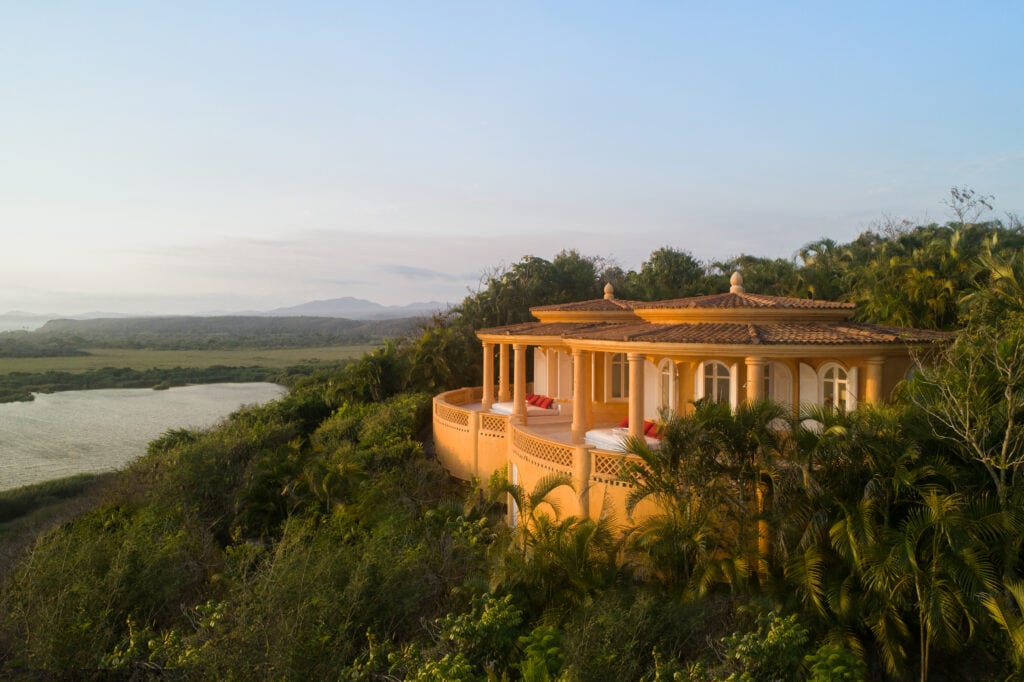 Today, the project is run by his daughter Alix and her husband, and targets travellers with discerning taste. It therefore also appeals to those who want to stay at the Casa Cuixmala. This is the architectural centrepiece of the eco resort on Mexico's breathtaking Pacific coast. Its iconic blue and yellow tiled domes are visible from some distance, giving a clue as to what wistful, demanding holidaymakers can expect: exquisite views of the sea and the reserve, as well as the interior of the property. It looks like an opulent blend of Mexican, European and Moorish design. Secluded suites and palatial accommodation units provide all the freedom you could possibly need for visual, inspirational and enjoyable distraction – from traditional handmade furniture and typical combinations of colours and silks to international art and the finest organic farm food in the restaurants sourced from the resort itself. There is also a salt water pool and stylishly shaded terraces. Just add sunshine and it couldn't be more characteristic of the Mexican Pacific coast.
And even if you actually want to leave at some point – so hard to imagine when it's such a gem of a resort – you can go on excursions to observe the diversity of the reserve and journey into yourself. And of course, there's yoga, pilates and meditation to contribute to your inner sustainability. OH, THE BEAUTY!
Photocredits: Maria Pacheco, Lover Lover for MUSA, Da, Davis Gerber