Is there a need to retreat, or to regain full contact with the rest of the world? These Louis Vuitton Horizon wireless earphones fulfil both requirements.
Optimised Bluetooth connectivity combines with an induction charging function to offer up to 30 hours of play time. The microphones integrated into each of the earphones vastly improve sound quality and allow each earphone to be used individually. They also offer two acoustic modes:
Active noise cancelling to cut yourself off, or ambient listening to stay in touch with the outside world. Already available in jet black, vivid red, immaculate white, blush pink and fl uorescent yellow, there is now a new version that displays a blue colour palette.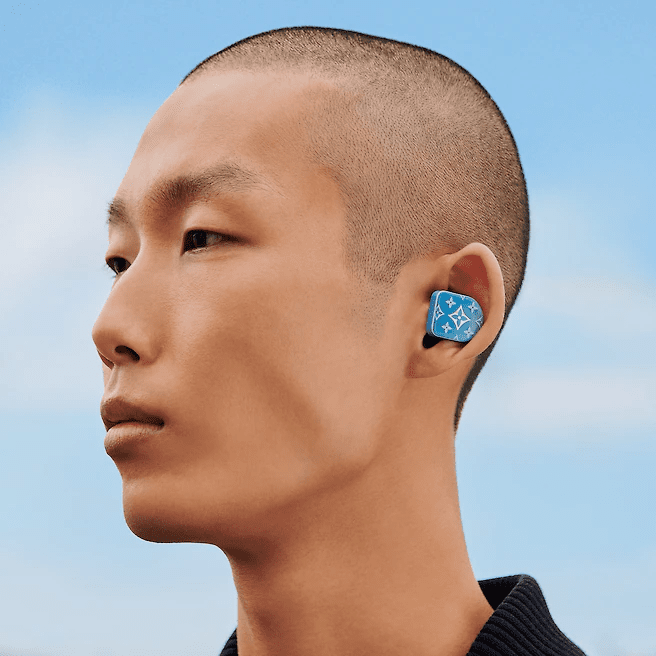 The play on asymmetry and the contrast between coloured acetate and high-gloss polished stainless steel fits perfectly with the blue skies of spring – a luxurious travel companion for all of life's adventures.
---
The earphones
Blue gradient acetate body with light blue Monogram pattern, steel color polished Monogram flowers
Silicone ear tips and fit wings
Dimensions: 25 x 22.2 x 28.3 mm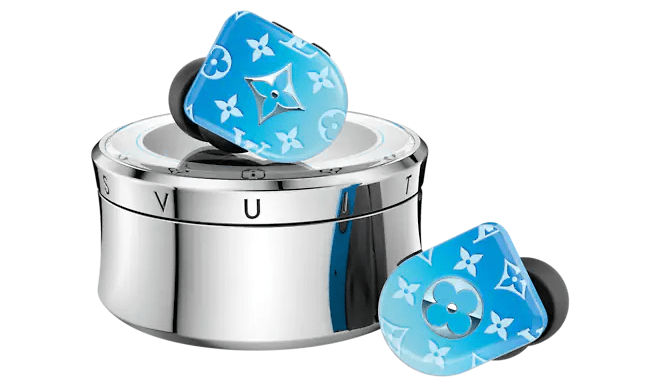 Technical features:
Sound: 10 mm Beryllium drivers
Weight: 9 g for each earphone
Microphone type: omnidirectional, MEMS technology enabling call answer, 2 microphones per earphone
Proximity sensor enabling the automatic play/pause
Functions: play/pause, skip forward/skip back, volume control, ambient listening and active noise-cancelling modes, call answer and quick access to voice assistant through control buttons located on each earphone. Each earphone can be used independently for call and listening functions
Connectivity: Bluetooth* 5.0, connectivity distance up to 30+ meters
Water resistance: IPX5
Charging: the earphones are delivered with a charging kit including a wireless charging case and a USB-C cable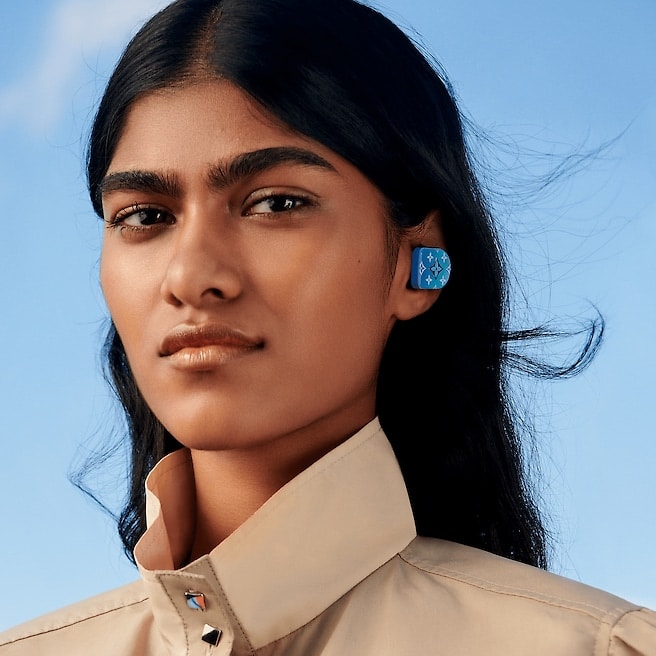 The charging case
Polished stainless steel case
Lid: sapphire glass, white ring with steel color polished Monogram flowers and blue lines
Back: white ceramic case back with Monogram flowers engraved
Weight: 110 g
Dimensions: 57.48 x 30 mm
Water resistance: IPX4
Technical features:
The charging case can be charged in two ways, with a USB-C cable or by induction (compatible with the Qi** wireless charging standard)
Charging time for earphones and charging case: 50% battery in 15 minutes and 100% battery in 40 minutes
Earphones autonomy:
Up to 10 hours in classic listening mode with a single charge
Up to 8 hours in ambient listening or active noise-cancelling modes with a single charge
The charging case offers 2 additional charges of 10 hours each, for a total autonomy of 30 hours
louisvuitton.com, € 1,010
Photos: Louis Vuitton