For the second Louis Vuitton 2054 collection – part of Pre-Spring 2021 – Men's Artistic Director Virgil Abloh expands his experimentation with functional fashion to a bigger scale.
First launched in 2019 as a luxury lifestyle line devoted to performance and tech, the collection fuses urban- and activewear in a contemporary wardrobe founded in adaptable essentials.
Adaptability: an advantage in a fashion world that has decoded its dress codes. The virtue of a contemporary garment.
This season, LV2054 clarifies its message and extends its reach in a multi-climatic collection derived from methods used in professional skiwear. Realised through hyper-materiality, garments acclimatise to changing weather conditions in the image of skiing: a temperature drop from mountain top to upland forest and finally tarn.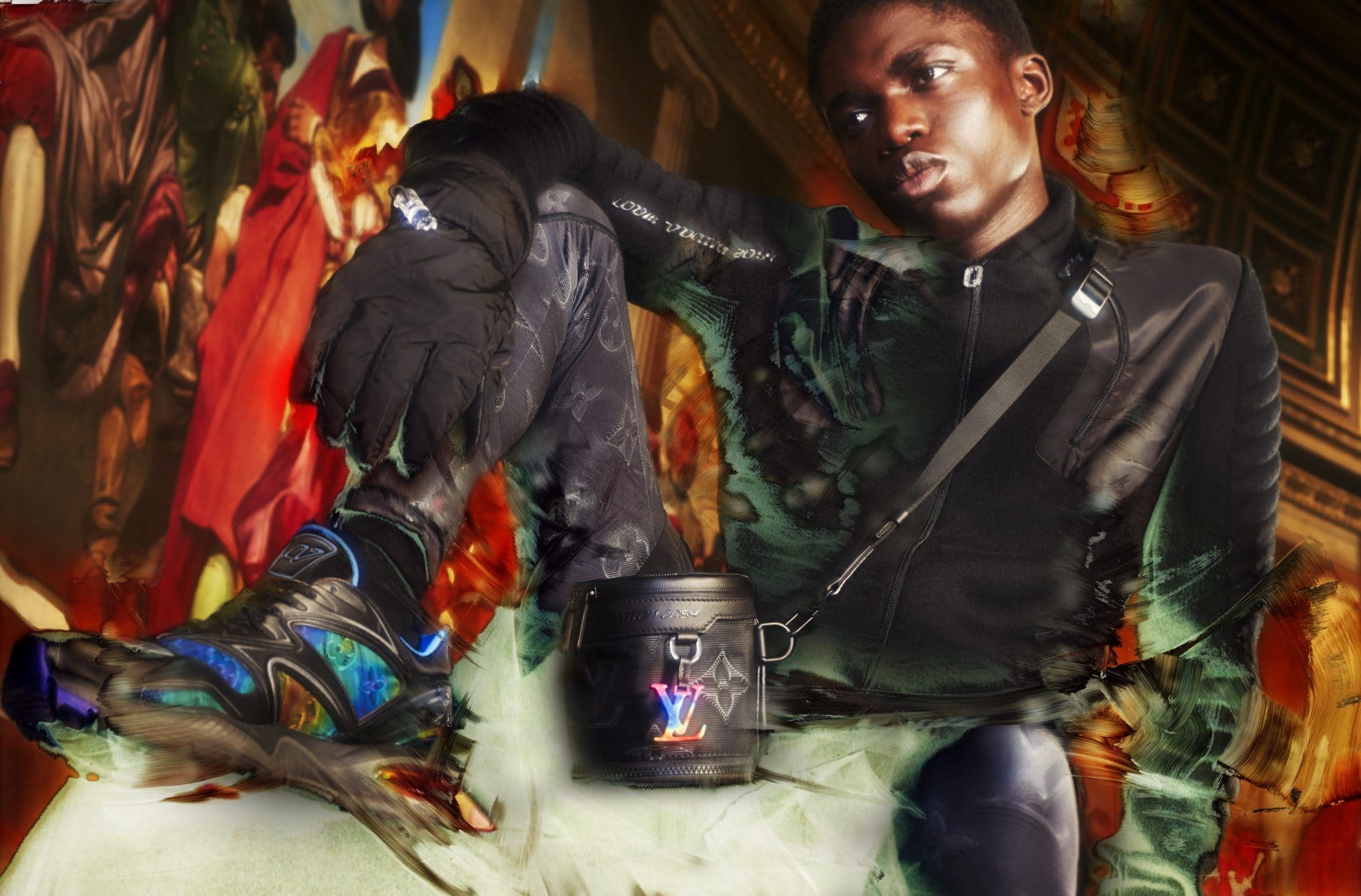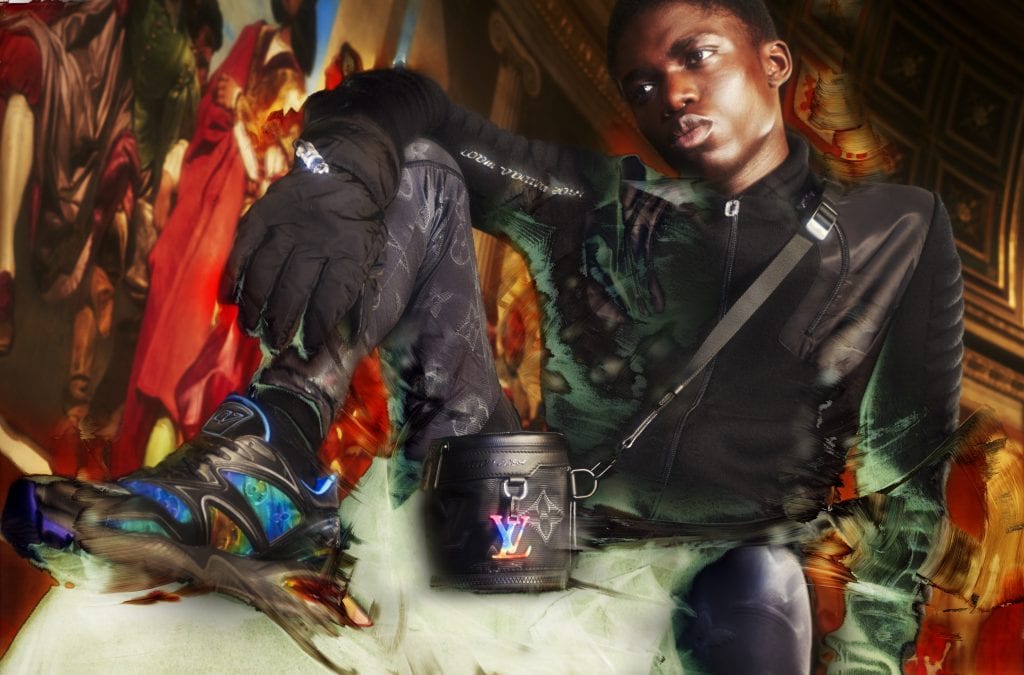 The multi-faceted textures of nylon set the tone for a collection that riffs on futuristic notes and extreme sports. A green and black print evokes the luminosity of night vision, while a multi-colour pattern imitates the infrared effects of heat vision.
A ski suit composed of a padded jacket and trousers fuses the properties of water repellence and breathability in a functional proposal for the everyday city wardrobe. The sentiment is reflected in a shell tracksuit whose iridescence matches that of a silvery puffer jacket and a padded t-shirt. A leather parka is adorned with a 3-D printed pattern that doubles as texture. The multi-zips of a jacket enable the wearer to transform it into multiple different garments.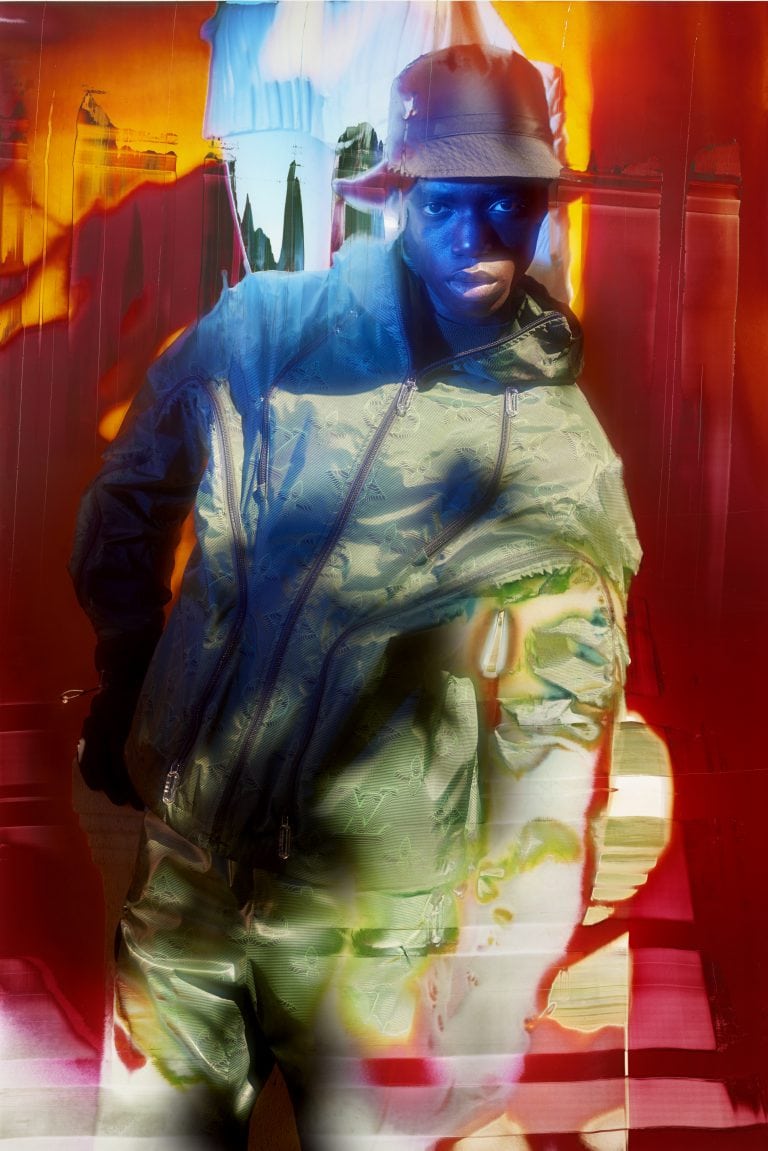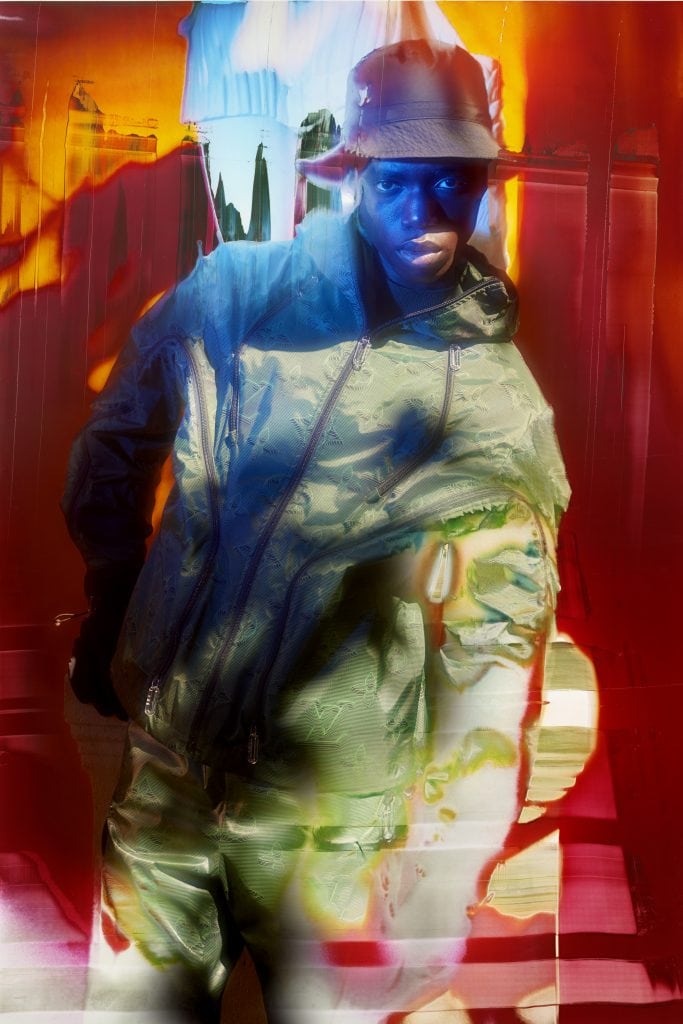 Invoking the House technique of compressomorphosis, a shirt self-compresses into a cross-body bag. It is a transformability echoed in ergonomic waterproof bags of body-adaptable volumes with extendable and removable pockets.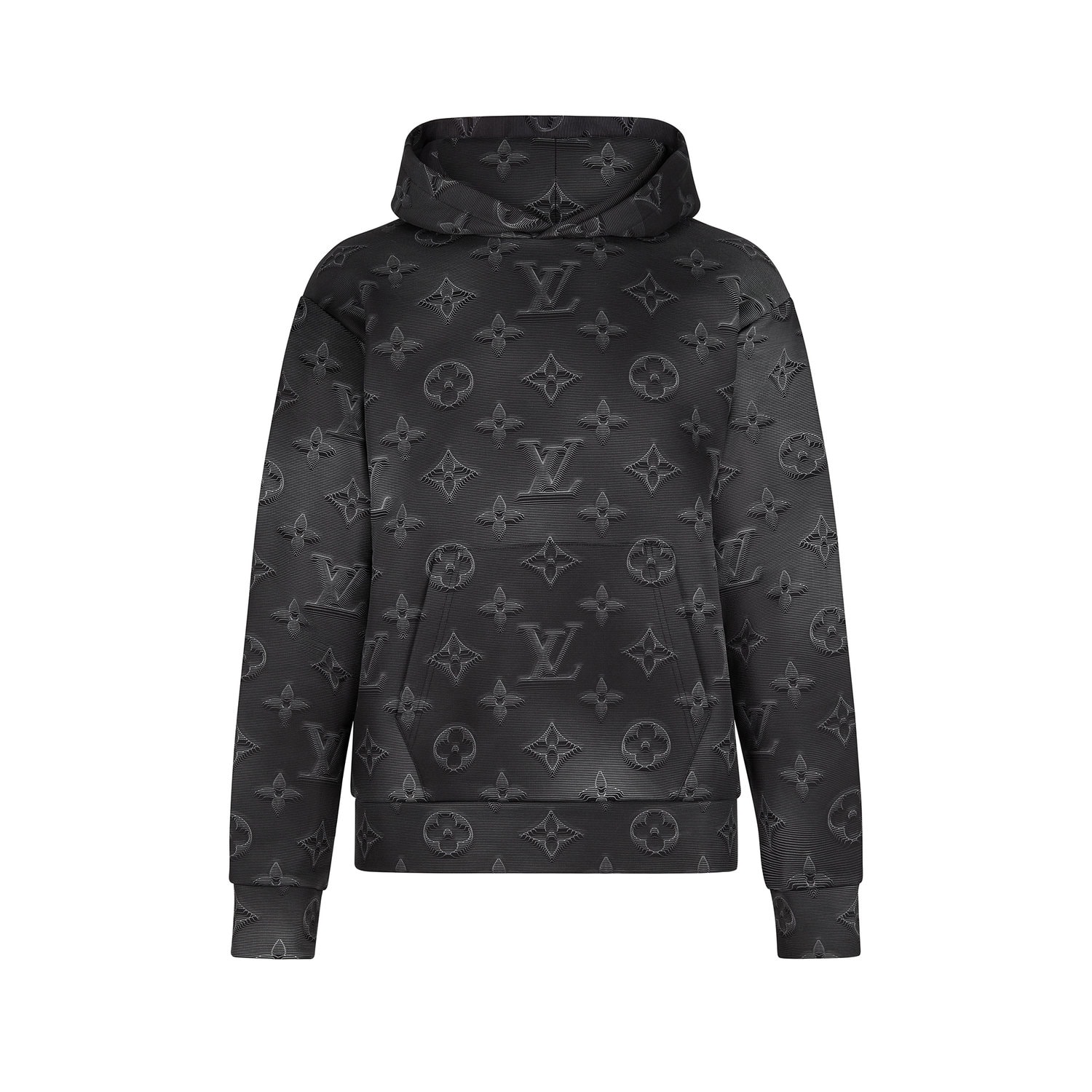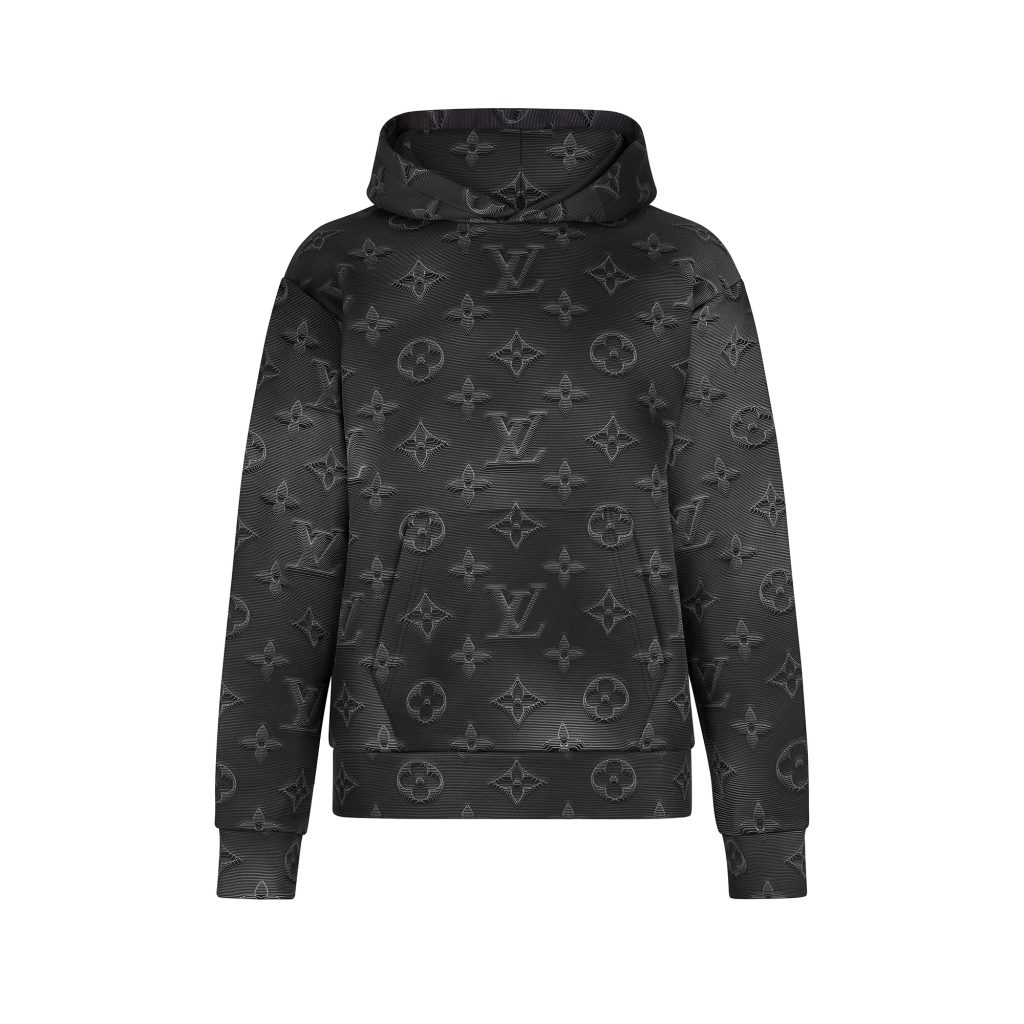 The collection debuts a technical black runner with bright colour detailing and reflective effects. Identifiable by its own branding, LV2054 features three-dimensional Louis Vuitton logos and a trompe l'oeil take on the classic monogram. The name of the line plays on themes of futurism and progress, uniting the present century with 1854, the year the House was founded, in a salute to its two-hundredth year: Louis Vuitton 2054.
---
About Louis Vuitton
Since 1854, Louis Vuitton has brought unique designs to the world, combining innovation with style, always aiming for the finest quality. Today, the House remains faithful to the spirit of its founder, Louis Vuitton, who invented a genuine "Art of Travel" through luggage, bags and accessories which were as creative as they were elegant and practical. Since then, audacity has shaped the story of Louis Vuitton. Faithful to its heritage, Louis Vuitton has opened its doors to architects, artists and designers across the years, all the while developing disciplines such as ready-to-wear, shoes, accessories, watches, jewellery, and fragrance. These carefully created products are testament to Louis Vuitton's commitment to fine craftsmanship. louisvuitton.com