It is well known that 3D construction pioneer ICON is working on a project on the moon on behalf of NASA. But what the company is now putting up in Texas' desert landscape looks no less extraterrestrial: El Cosmico fascinates with a printed, round hotel and guest houses.
Ask anyone in Texas about Liz Lambert and they'll immediately call you "Austin's Queen of Cool. Because the founder of the Bunkhouse Group comes from the Texan Capitalnd has been realizing really cool hotel projects for years, and not only there. Now the visionary hotelier is realizing a new, exciting project with 3D construction pioneer ICON and Danish star architect Bjarke Ingels El Cosmico, a hotel with guest houses, pool, spa and gastronomy. Designed by Bjarke Ingels' successful office BIG and built with ICON's giant 3D printers. With round domes and arches growing out of the Texas desert landscape of Marfa like a cosmic temple of relaxation.
From cool camping to spa hotel
The El Cosmico site has actually been around for a while. So far, however, only in the form of a Camping-Meetingplace popular with individualists and bohemians with quirky-chic trailers, yurts, tipees, cottages and a kind of general store. Now, the previously eight-and-a-half-hectare site is being expanded to about 24 hectares and transformed into an extraordinary resort. Into one that features entirely new architectural approaches made possible by 3D printing: Futuristic, yet at the same time almost as if "grown" on site from nature.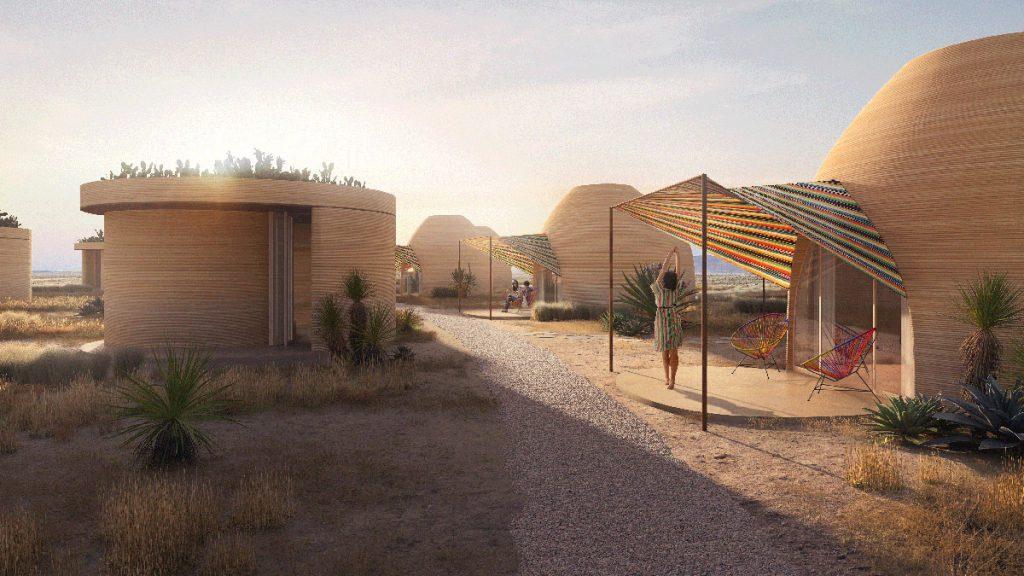 "I've had a vision for the development of El Cosmico for many years that includes several areas that enrich the experience for guests and locals: a pool, a hammam, and more space for art and workshops," Liz Lambert describes.
Old principle, new technology
Working with the "revolutionary thinkers" at BIG and ICON made it possible to make this dream come true, he says: "We can use this incredible 3D printing technology. It combines the oldest principles of raw earth construction with futuristic technology that works faster, more sustainably and more efficiently than modern construction."
Organic shapes, Euclidean circular geometries and a color palette born from the local terroir make El Cosmico feel like it was literally born from the place where it stands.

Bjarke Ingels, Architect and founder of BIG
The innovative beauty of the structures buildable with 3D technology for the new El Cosmico goes "way beyond the box," Lambert says: "It's fitting that ICON has a contract with NASA to build the first homes on the moon and Mars. I'm excited that we can explore their great work right here, in our little cosmic landscape among the stars in far West Texas."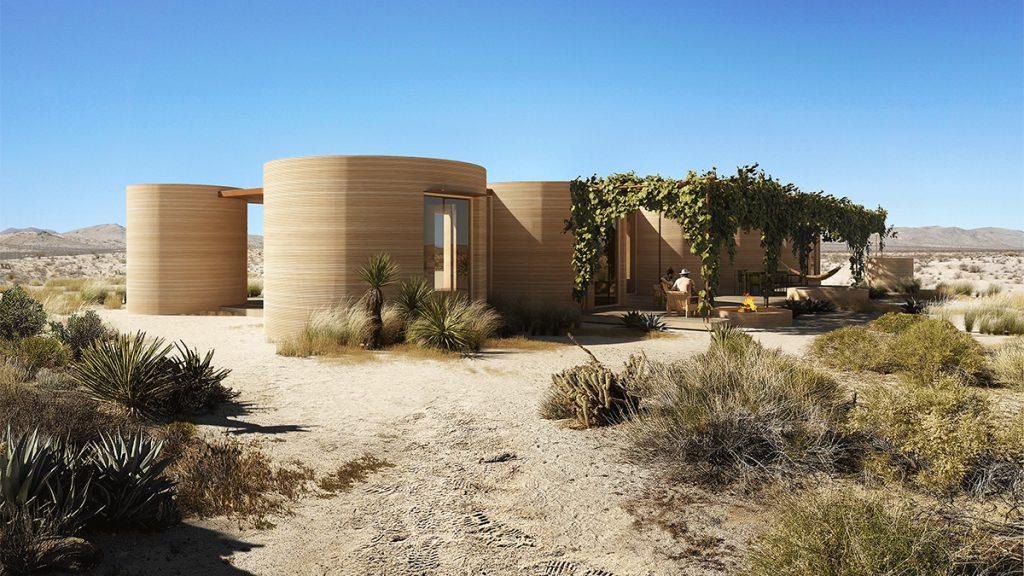 The project builds on the legacy of the existing El Cosmico at the intersection of art, nature and hospitality in Marfa. And the trio of planners has another aspect in mind: exploring the possibility of building affordable housing in Marfa using 3D printing. With the goal of meeting the evolving needs of the city.
Evolved vision
Liz Lambert's previous work, as architect Bjarke Ingels points out, forms the basis of the new project. Above all, her "pioneering work for contemporary Texas aesthetics in conjunction with the minimalist nature and culture, art and landscape of Marfa."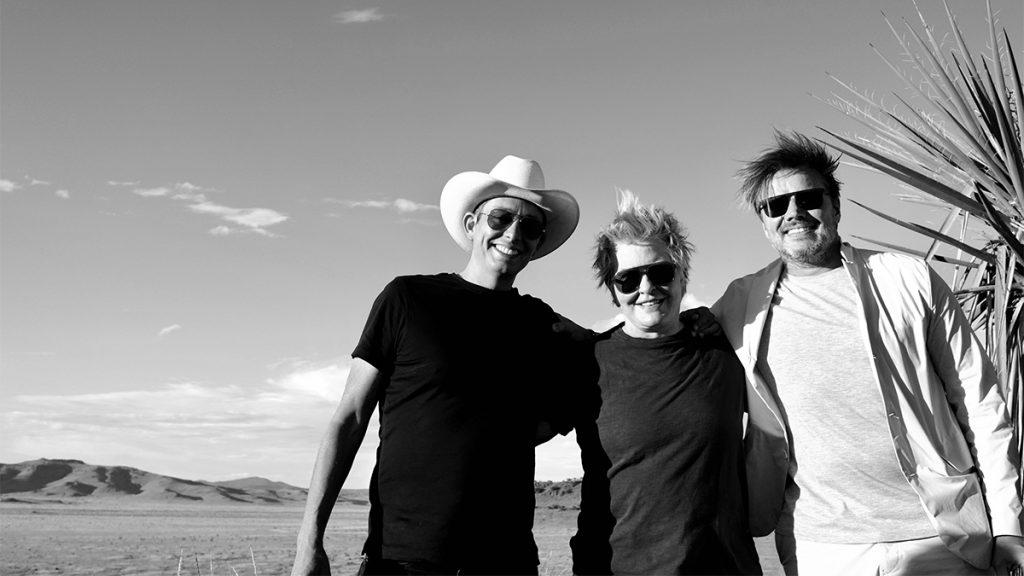 Designed by BIG for the new El Cosmico development, the homes offer between about 100 and 200 square feet of living space and top views of theDavis Mountains. There are variants with two, three or four bedrooms.
Cosmic lodging in El Cosmico
A 3D-printed wall spirals around the raised bed platform, virtually framing the view of the sky. This, as ICON's description puts it, "celebrates the merging of the cosmos with the desert landscape." One side of the house remains solid, while the other opens to the porch and the fascinating world of the Texas West.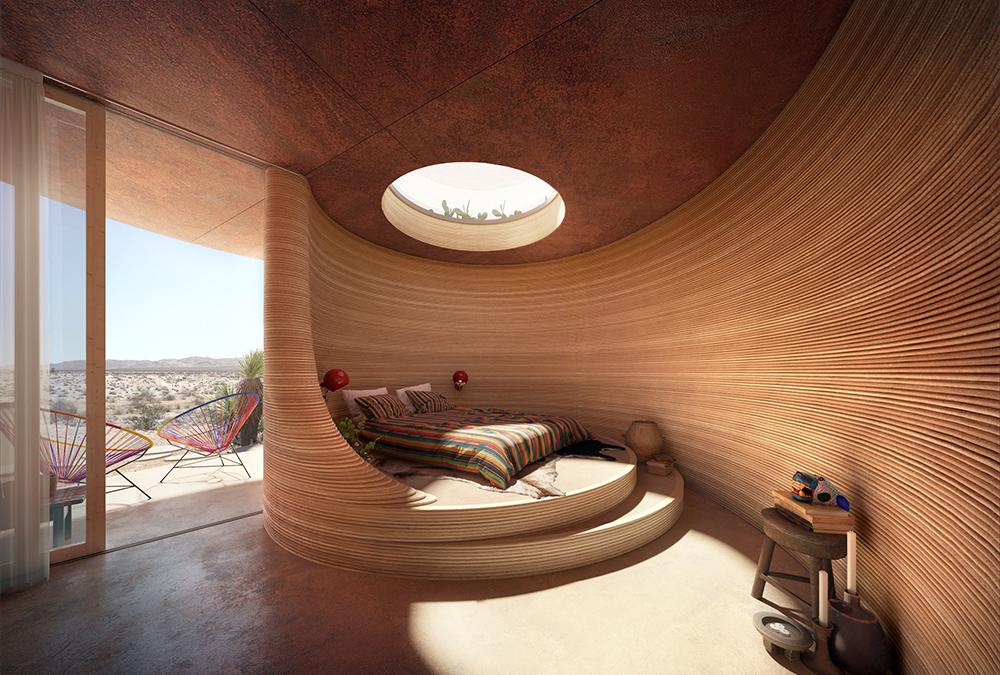 The fact that ICON, as a pioneer of large-scale 3D construction, is not only aiming for faster, more cost-effective building, but also for ecological and social sustainability, has long been proven by other projects. For example, the project to build affordable homes for low-income families in Latin America together with the non-profit organization New Story.
Using 3D technology against housing shortage
The new building technology is intended to help solve the housing shortage in an uncomplicated, but also as environmentally friendly way as possible. The fact that it can create the best quality of life is demonstrated, for example, by the "Wolf Ranch" also designed by ICON with Bjarke Ingels, not far from Austin.
Our collaboration with El Cosmico and ICON has allowed us to explore the formal and material possibilities of cutting-edge 3D-printed designs. Regardless of the traditional constraints of a conventional site or client.

Bjarke Ingels, BIG-Founder and Creative Director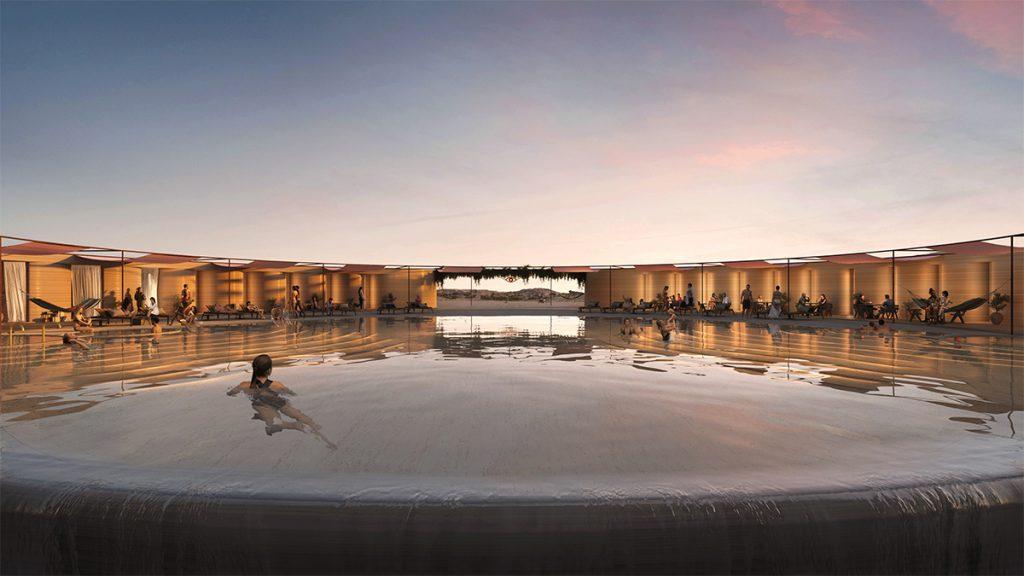 ICON founder and CEO Jason Ballard is convinced that "the unique and divergent architectures made possible by 3D printing" are just beginning. The visionary calls working with Liz Lambert and Bjarke Ingels an "absolute dream": "It is a great honor for us to be at the forefront of design and architecture with them. Liz is truly the Queen of Cool and one of Texas' national treasures. It's incredible to help her make her cosmic fantasies an earthly reality."
"Lifestyle" El Cosmico
The attitude towards life, for which Lambert's El Cosmico camping facility already stood, is to continue in the new, cosmic recreational paradise. True to the conviction that life should be a balance of adventure and idleness. Consequently, there will be no lack of communal facilities.
Communicative meeting place
The large pool is intended as the centerpiece for activities, the bathhouse and the restaurant. And art and workshops will continue to find ample inviting space on site. As before. For example, El Cosmico has always been known as the home of the multi-day multimedia event "Trans-Pecos Festival of Music and Love"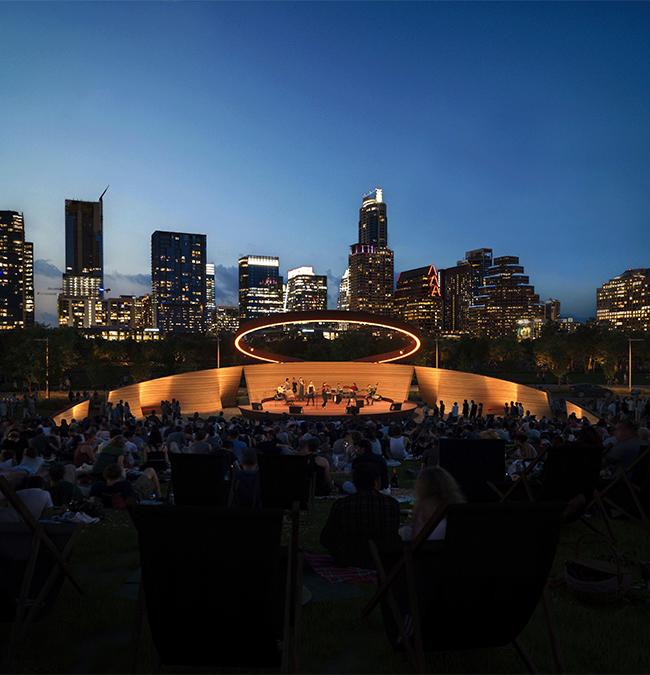 While the new El Cosmico won't open until 2024, its planners, together with the Long Center for the Performing Arts in Austin, are already presenting a foretaste: the first 3D-printed performance pavilion that parallels the facility's architectural design themes. The design for it combines and extends aspects such as cosmic organizations, perfect geometries and organic forms. And it does so as a total work of art. In a single, sculptural piece that serves as a landmark and meeting place for culture, community and the city.
3D printed pavilion as a gateway to art
"Austin will witness history being made with the world's first and only 3D-printed performance pavilion," praises Cory Baker, CEO of the Long Center for the Performing Arts. The structure will provide "unparalleled access to the arts."
Those who want to secure a place at the El Cosmico spa resort before it opens can reserve one of the beautiful homes at elcosmicohomes.com as early as summer 2023. In the dream project of "Queen of Cool" Liz Lambert, realized by ICON's 3D technology, which promises cosmic experiences.
Text: Elisabeth Schneyder
Bilder: ICON