Welcome to Jaime Hayon's magical world! Here mysterious creatures and curved pieces of furniture cavort in the warm pastel colors of his Mediterranean homeland.
Jaime Hayon is the follow-up to gestalten's best-selling Jaime Hayon Works. The new book gathers his commissioned works for prestigious brands. It offers insight into Jaime Hayon's working methods: How does the design process work? What inspires him? What materials, colors and techniques does he use? His style moves between craftsmanship and elegant design, and in their playfulness and optimism, his works are always unmistakable.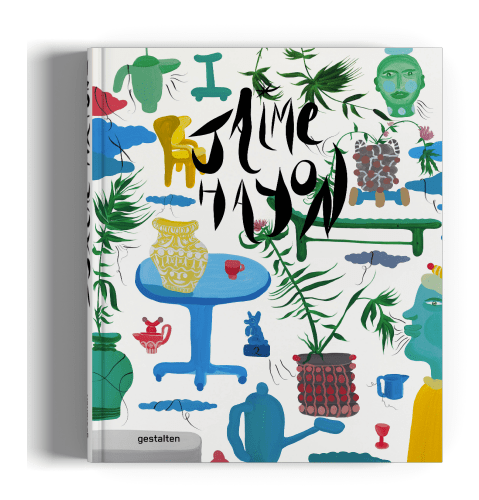 Jaime Hayon
Layout: Full color, hardcover, thread bound, 304 pages
Format: 22.5 × 29 cm
Price: €50 (D) | €51,40 (A) | 64,40 CHF
Language: English
About the co-publisher
Jaime Hayon founded his Hayon Studio in Valencia in 2001. He works for top international brands such as Swarovski, Fritz Hansen, & Tradition and Baccarat, and has designed the interiors of leading hotels, restaurants and cultural centers. Hayon is one of the most influential creatives of the last decades and is rightly celebrated by Time magazine as a visionary designer of his generation.
About gestalten
gestalten is an international publishing house founded in Berlin in 1995. gestalten regularly collaborates with the biggest names and most exciting players in the creative world, discovering and capturing trends in contemporary visual culture, design, fashion, architecture and living, nature, mobility, travel, and food and drink. gestalten is known by millions of people around the globe for creativity, inspiration, and high visual standards – whether in the form of iconic books or in the digital realm. With Kleine Gestalten, gestalten has also been publishing illustrated children's books since 2014.
---