The story of the ancient city of Sogmatar in eastern Turkey, where seven circular structures were placed around a sacred hill in 200 AD to represent seven planets, inspired the creations by designer Şule Koç.
The three-piece set comprises a plate with a lid and a diffuser made out of oak, and they can be used in a number of different ways. Together, the pieces won't just embellish any home, they'll also form a small altar: a place to relax and pause briefly between working from home and your daily routine. Nature-based design for your connection to the universe. Şule Koç is inspired by the multi-layered structure of Harran created by various civilizations settled in the area. Every layer is presented in a different material or color of her office organizer which offers a flexible and playful way of organizing office tables.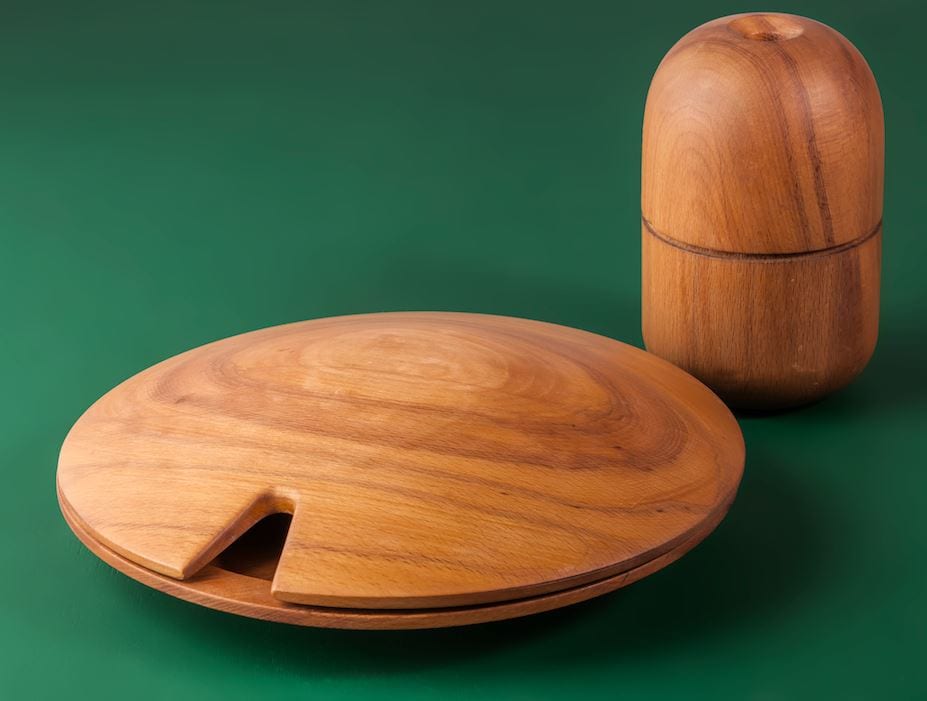 About
Year: 2018
Material: Beech wood
Measurements:
_Plate: 3 x 24 x 24 cm
_Lid: 3 x 23.6 x 23.6 cm
_Diffuser: 14 x 9.5 x 9.5 cm
Weight: 2 kg
Category: Product Design
Designer: Şule Koç
Producer: Atlas Harran
Joined World Wide Things Collection (WWTC): 2019
Şule Koç for Atlas Harran, Set "Sogmatar", € 92
"The huge plateau of Sogmatar let the people observe the sky clearly and constantly, becoming a valuable part of their lives and they created a belief system according to the planets in order to understand the universe. The search for the meaning of the universe is the inspiration for Sogmatar. The round shape and the proportions represent the eclipses of planets and the encapsulating pieces keep your secrets and whatever you value."

Şule Koç
About Sule Koc
Şule Koç is an independent industrial designer who provides product design, spatial design and design consultancy services. She has been directing design projects for companies from various industries including exhibition, furniture, lighting, construction elements, transportation and ceramics industry. Şule Koç has been giving lectures in industrial design studios of universities since 2016, currently a part-time lecturer in Özyeğin University Industrial Design Department. She has been recognized by many prestigious international design awards including Red Dot Design, A' Design and German Design Awards.
Şule Koç online >>
About atlas design collection
atlas design collection, translating Mesopotamian cultural heritage and aesthetics to our times, aims to integrate the social awareness and sustainable design economy with the rising values in the global design scene.
The project is managed under the directorship of Ömer Faruk Çelik, District Governor of Harran, and realized with ADEM (Family Support Centre) within the Governorship of Harran, dedicated to support women empowerment and encouraging women to take an active role in the social life and thus creating a social change. atlas design collection is curated by Bilgen Coşkun and Dilek Öztürk, founders of IN-BETWEEN Design Platform, with the works of designers Aslı Smith, Barış Gün, Begüm Cana Özgür, DAY Studio, INCOMPLIT and Şule Koç.
atlas is based on a social responsibility model supporting the local and Syrian women living in Harran to generate their economic independence by being at the core of the production process at the felt, wood, weaving and ceramic ateliers developed in ADEM (Family Support Centre) within the Governorship of Harran.
atlas online >>
The World Wide Things Collection assembles design pieces from the global UNESCO Creative Cities network. The carefully selected pieces in the collection are united by an authentic and independent design language. The platform supports interaction between cities and connects designers, products, manufacturers and distributors. All of the products can be purchased through online shops.
Design Cities / WWTC online >>
Photos: GPOD
---
Istanbul