After only four years of construction, the currently largest airport in the world has opened its gates – the "Beijing Daxing Airport". The mega-object developed by Zaha Hadid's architectural office not only causes a sensation because of its many superlatives, but also because of its unusual appearance.
Viewed from the air, the gigantic building looks like an octopus, which enjoys some quiet 70 kilometers south of the capital Beijing. Or maybe waiting for companionship. In any case, this will soon be sufficient.
After all, this mega-octopus is actually a huge airport that has just opened its gates.
Octopus, starfish or phoenix
Stop – a short stopover before we forget it: In the eyes of the famous architects from Zaha Hadid, the airport has nothing in common with an octopus or a starfish. Rather, the structure should remember Phoenix, which rises from the ashes …
Go on. In any case, this thing is the largest of its "kind" – in its final stage of expansion, the "Beijing Daxing Airport" should handle 100 million passengers per year. One of many unbelievable numbers that appear in connection with the new airport. So we approach the different superlatives of this building best in the form of a small "numbers game":
700,000 square meters of total area
6 runways
50 passenger boarding bridges
3,000 info displays
186 boarding gates
422 check-in counters
63 luggage belts
How big the dimension of this dormant monster really is, can best be expressed in terms of the amount of money that was charged for the construction: 51 billion euros! And to make that number a little more understandable: that would allow 662 brave people to fly to the moon as space tourists or build 100 of the world's largest cruise liners. Of course, you could also end the hunger crisis of the world seven times – assuming the official extrapolation of Caritas as the starting point. But let us stay on the ground of reality: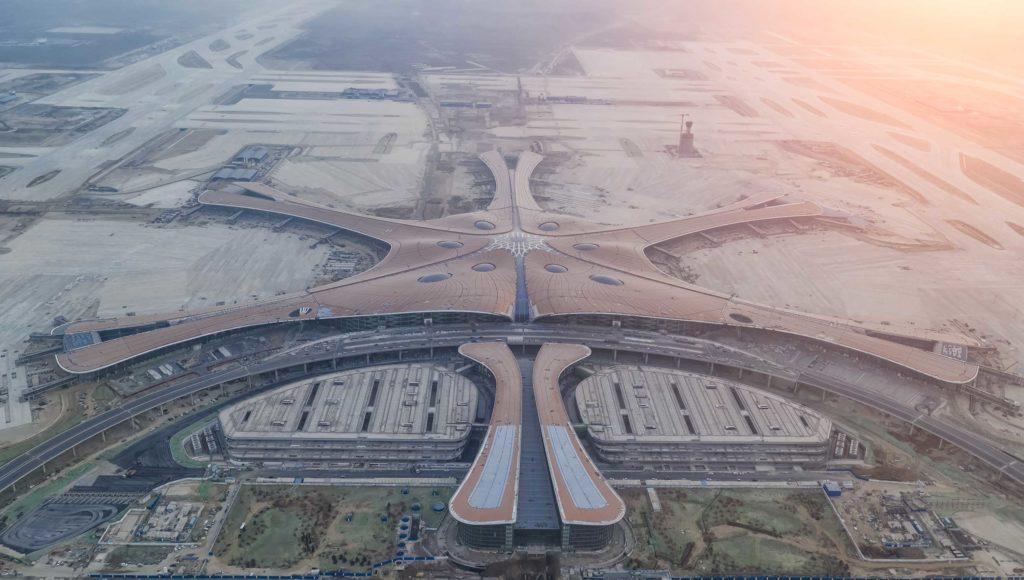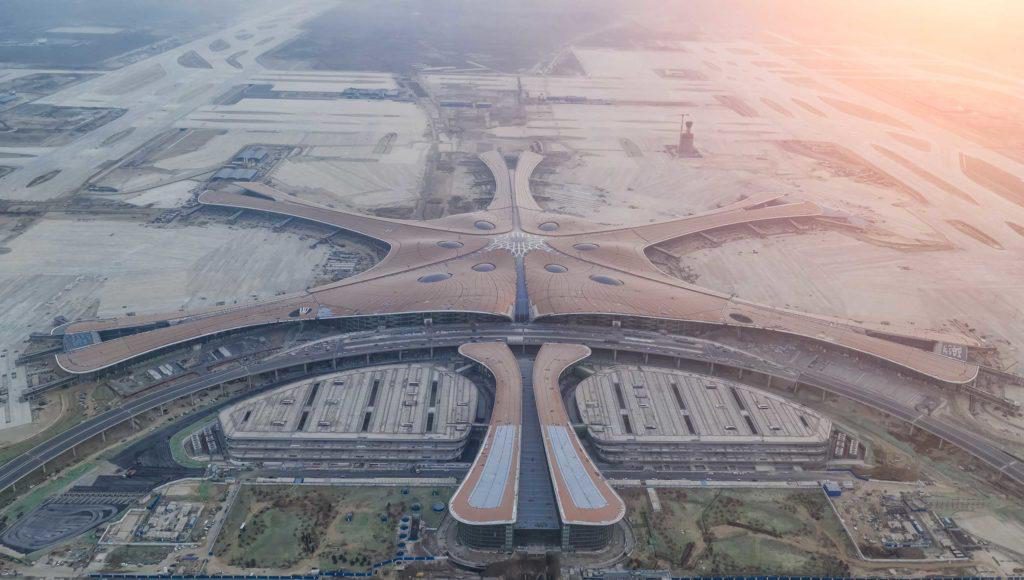 Although the gigantic airport will be opened just in time for the 70th anniversary celebrations of the People's Republic, it can not be dismissed as a prestige project or even a demonstration of power. Despite the fact that Beijing, with its "Beijing Capital Airport", already has a minimally smaller airport – 94.4 million passengers are currently being handled every year – Western experts in the metropolis are actually attesting to the need for a second mega-airport.
Four million tons of freight
This is indeed elemental for the city, which is home to some 23 million people. After all, from an objective point of view, the old airport has currently reached its capacity limit. The number of passengers handled each year has increased by more than 20 million since 2010 to its current level. And the demand in the Chinese capital will continue to grow in the future: China will remain an emerging economic nation and, above all, the new airport will also serve as a transhipment point to allow cargo in the order of up to four million tons a year to pass.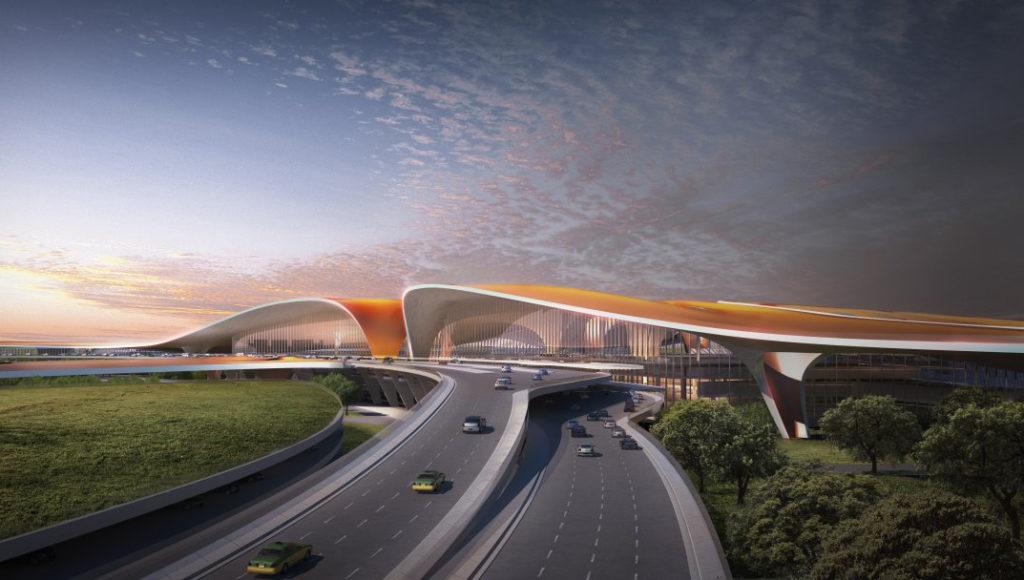 Apart from that, Beijing has taken a completely new course because of its economic development: Currently, the new metropolitan area called "Jing-Jin-Ji" is emerging here, which will flourish as an international flagship center of one capital and unite Beijing with the two other cities Tianjin and Hebei.
Beijing as flagship
This means: in Beijing itself, the representative tasks of a capital will be emphasized in the future. And that includes everything that has to do with the state government, international communication, and research and development. The other two cities are to take on the less glamorous tasks. In the center of this mega city, the gigantic new airport definitely plays a particularly central role.
This airport is the largest integrated transportation hub in the world!

Bai Henhong, project manager
So let's get back to this newly opened super harbor, whose eye-catching glass-and-steel design with its dazzling shell comes from the world-famous architecture office of Zaha Hadid, who died in 2016. Apart from its spectacular appearance, this is of course well thought-out in terms of functionality down to the smallest detail.
Short ways, many shops
This starts with the "octopus shape", which guarantees that no passenger has to cover more than 600 meters on his way to the plane – all arms are exactly that long. In addition, the building has been designed as three-storey, to provide as much space as possible for restaurants, shops and leisure facilities.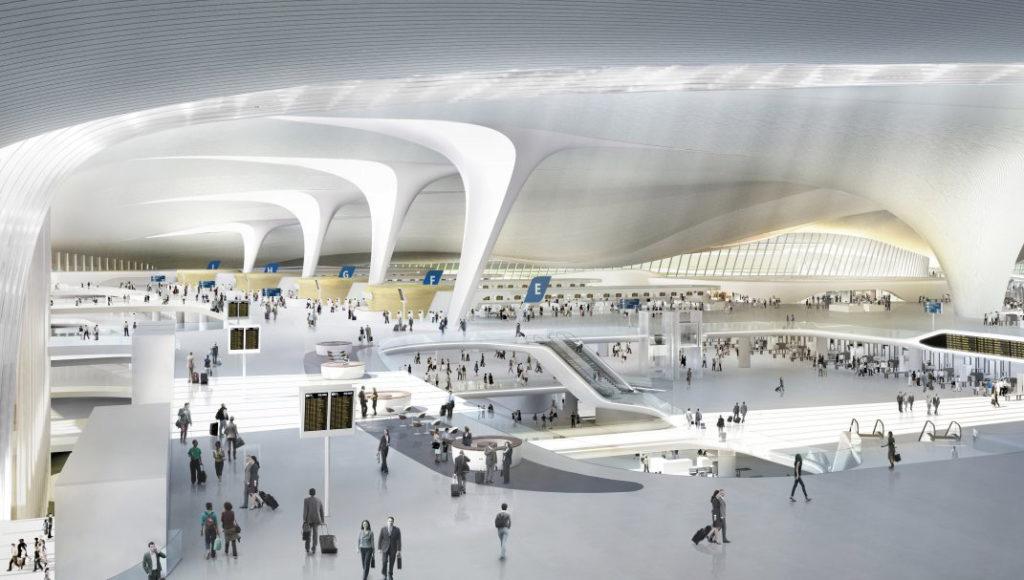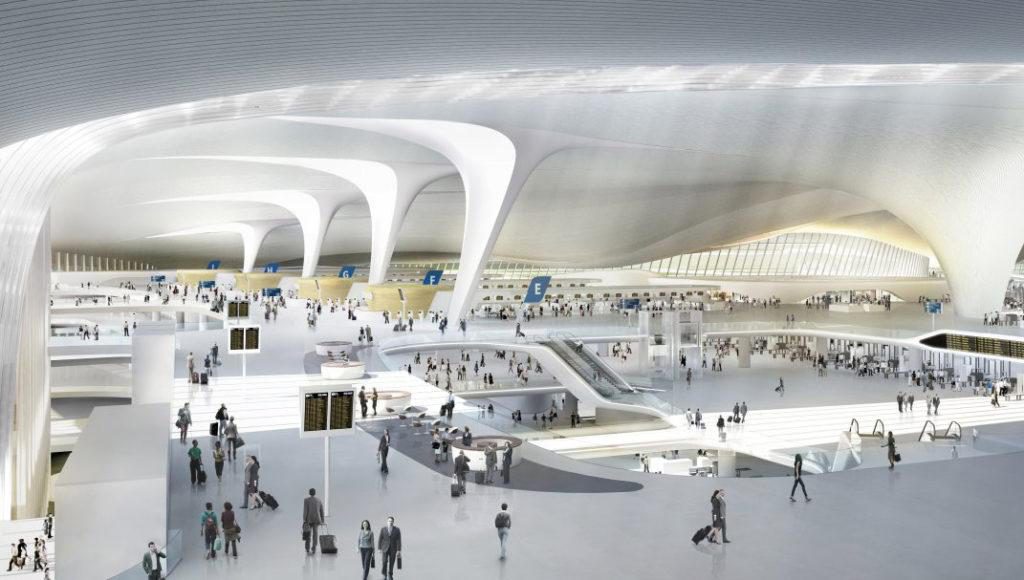 "It is the largest integrated transport hub in the world," says Project Manager Bai Henhong, rightly proudly. However, in China right now, with a view to Central Europe, there is quite a lot of malice and glee. After all, especially from the German point of view, the current opening of the Chinese model after just four years of construction is particularly spicy. After all, they have been trying to complete a much smaller airport in Berlin without success for 13 years.
---


---
Text: Johannes Stühlinger
Photos: Getty Images, Zaha Hadid Architects