SCAB Design: The future belongs to those who know how to read between the textures of an innovative made in Italy that pushes itself toward new interpretations of shapes and materials.
Once again SCAB Design presents products that combine shape, beauty and functionality in an all-Italian design. Technical research and selection of materials combined with a constant study of the relationship between form and function, generate highly flexible chairs and complements. Suitable for indoor and outdoor environments, in the private and contract sector, these are the landscapes of change, where the style of tomorrow is decided today.
Four new products coming from the creativity of internationally recognized design studios
Each with its own trait brings new energy in respect of the continuity and savoir-faire of SCAB Design. The SI-SI family of chairs and the Trick barstool by Meneghello Paolelli Associati – their first collaboration with the company – developed around a minimal yet extremely functional concept based on modularity and interchangeability to complete indoor and outdoor environments. The Tripè collection by RadiceOrlandini DesignStudio – another new collaboration – is a system of tables with bases with multiple modular and replaceable elements, highly flexible, with different sizes and heights. And the Finn seats (chairs and armchairs), designed by Marcello Ziliani, are the result of combinations of contrasting materials and finishes, a synthesis of great comfort and versatility.
The new products find inspiration in the strength of matter. Many fresh and innovative projects, all customizable as it is in the nature of SCAB Design, characterized by the wise use of colour.
Coherence, versatility, matter, and colour, these are SCAB Design's keywords.
---
SI-SI
design by Meneghello Paolelli Associati
SI-SI, an eclectic, chameleon-like, multi-material seat with aesthetic strength and substance, to interpret the fragile balance between indoor and outdoor. Four basic models, with characterizing details: SI-SI (smooth texture), SI-SI DOTS (dotted texture), SI-SI BARCODE (texture with vertical cuts), and SI-SI WOOD (seat and backrest with wooden slats).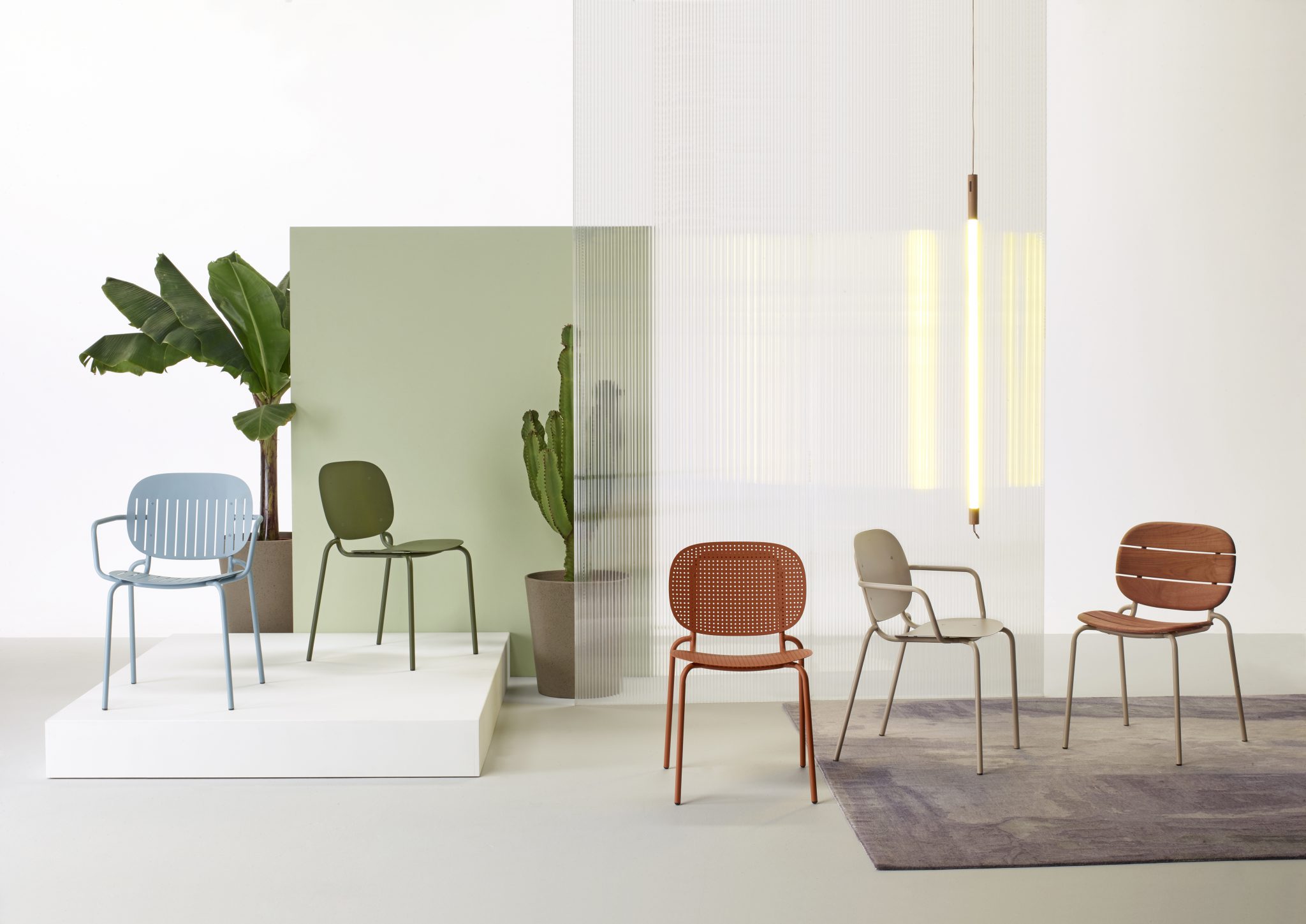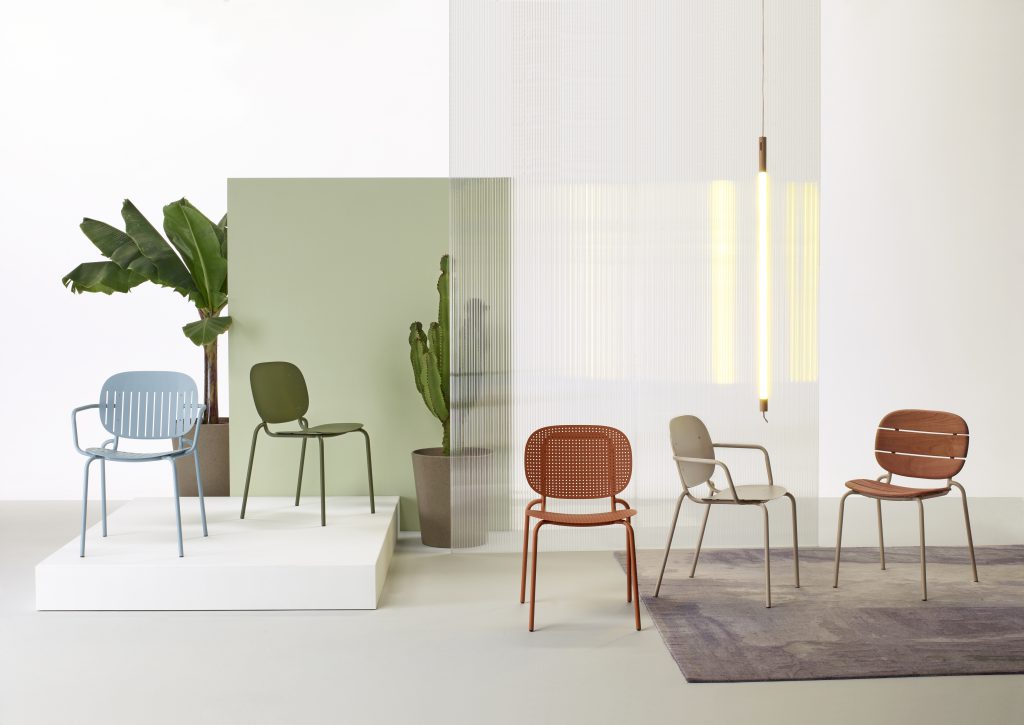 "SI-SI is a smart chair, which doesn't base its strength on the mere aesthetic aspect. Content is the king: its strength is content, its ability to interpret the subtle balance between Indoor and Outdoor Furniture and to meet the needs of the industrial production by SCAB Design. With SI-SI we focused on optimizing the industrial process of the chair from its production up to the supply of "codes" in the warehouse. Frame + seat + backrest: this is the typical construction syntax of a chair. With SI-SI we have streamlined the frame to which a single body is fixed, which can act both as a backrest and as a seat. Hence the name SI-SI, a sound repeated twice, or better yet an element repeated twice! SI-SI is a typical project that we call #SPLIT&MERGE, in which we have broken down a single product into "n" different products thanks to the multitude of bodies and finishes. This "MIX&MATCH", typical of a Design 2.0 approach, in SI-SI contrasts with a logic of "Design 1.0" in which "form follows function". The Mix & Match of finishes and materials determine that SI-SI is almost a "product system" rather than a single product." Meneghello Paolelli Associati
A frame and four "bodies" with heterogeneous textures and materials that make it suitable to very different environments, both outdoor and indoor.
Dimensions: Chair: 50 x 55 x 80 cm / Chair with armrests: 62 x 55 x 80 cm
Finish: galvanized and painted steel structure
Colors: linen, taupe, anthracite, terracotta, air force blue and olive green
Wood version finishes: galvanized and painted steel frame (dove gray or anthracite), slats (seat and back) in sapelli mahogany treated for outdoor use
---
TRICK
design by Meneghello Paolelli Associati
A barstool with a minimalist yet expressive and joyful design. The curves define the metal structure and are the pivotal element of the project; the padded seat is comfortable and enveloping. In harmony and continuity with SI-SI, Trick has also been designed for mass production on an industrial scale.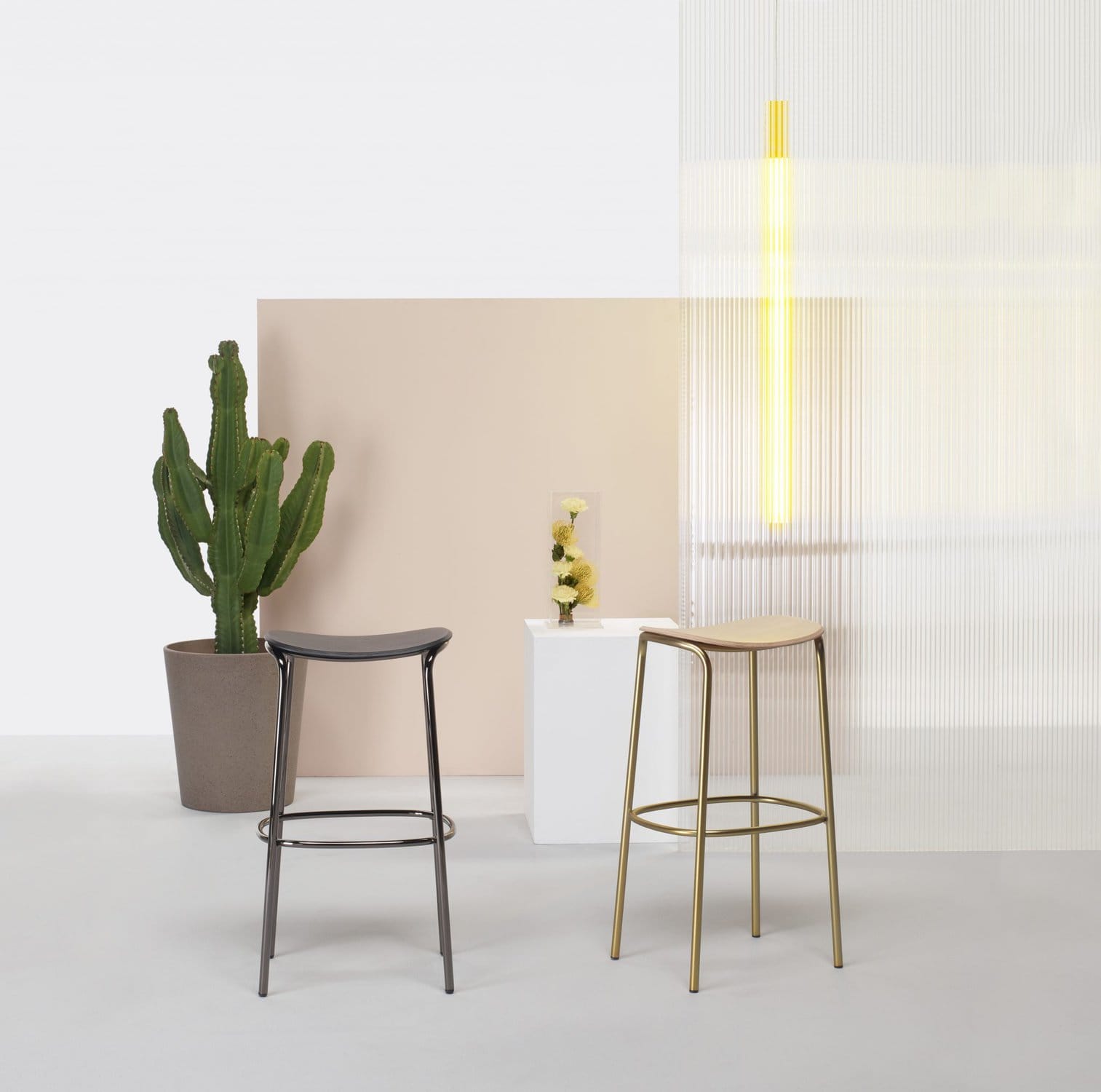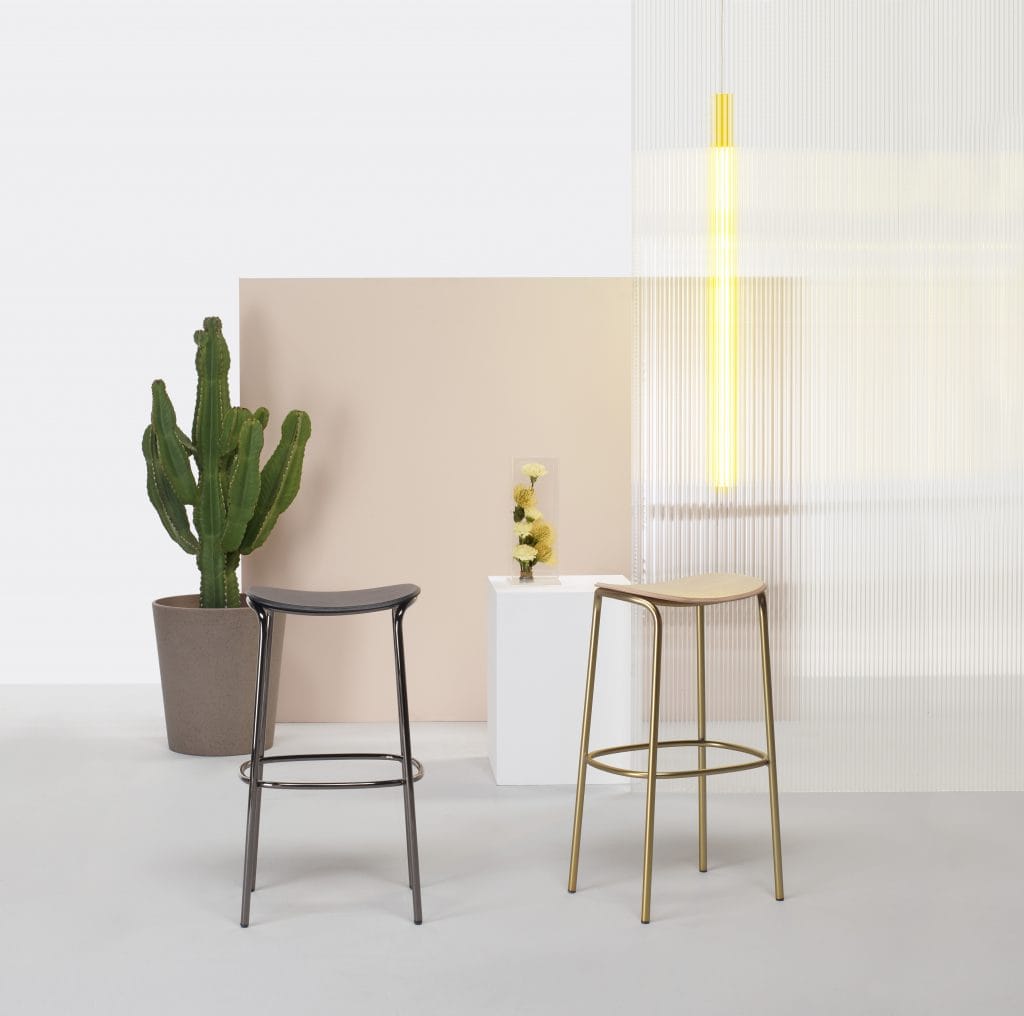 "In Trick, we can say that aesthetic is a derivation of functionality. This aspect – so basic – in Trick is the element that gives strength, maturity and character to the project. The seat, concave and unbalanced more in width rather than in depth, is the pivot around which the rod frame is molded and wraps it up to the ground. The logical conclusion of the project is therefore the footrest which has the dual purpose of balancing the optical weight of the chair and giving a static effect to the structure." Meneghello Paolelli Associati
The selected choice of colours and finishes (painted or in galvanic matt gold or polished black nickel finish) was made to meet multiple needs. With padded or wooden seat and painted frame or with galvanic finish, it is perfect indoors to become the ideal complement to a bar counter thanks to its great seating comfort. In the painted metal version, it can also live in those hybrid in&out spaces like the outside of venues and covered terraces.
Finishes:
TRICK: galvanized and painted steel frame
TRICK POP: padded seat, in velvet or fabric; galvanized and painted (single color) steel frame. Or in galvanic polished black nickel or matt gold finish
TRICK WOOD: seat in natural or black stained oak; frame in two galvanic finishes (black polished nickel, matt gold) or anthracite painted
Dimensions: 45 x 35 x h 65 or 75 cm
---
FINN
design by Marcello Ziliani
Finn, an unexpected project. Simple only in appearance, the seat enhances the size of the structure, which we could define as extra. Profiles with deliberately generous sections create a pure and minimalist architecture to become the supporting element of a soft, welcoming and enveloping seat.
"The Finn project comes from this contrast, a fusion of Nordic elements filtered through a typically Italian sweetness and softness, in a play of references and relationships in search of the perfect synthesis between tension and balance." Marcello Ziliani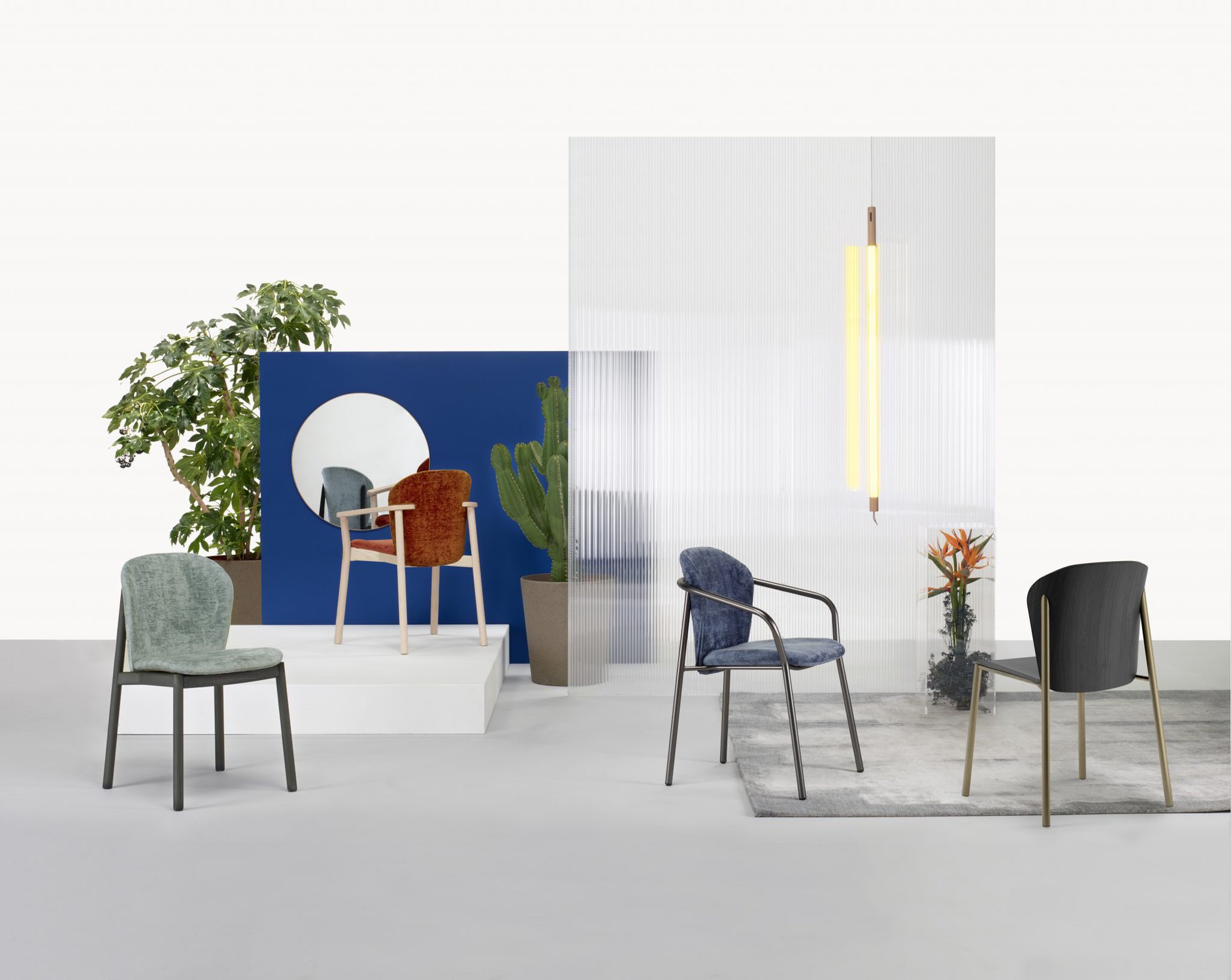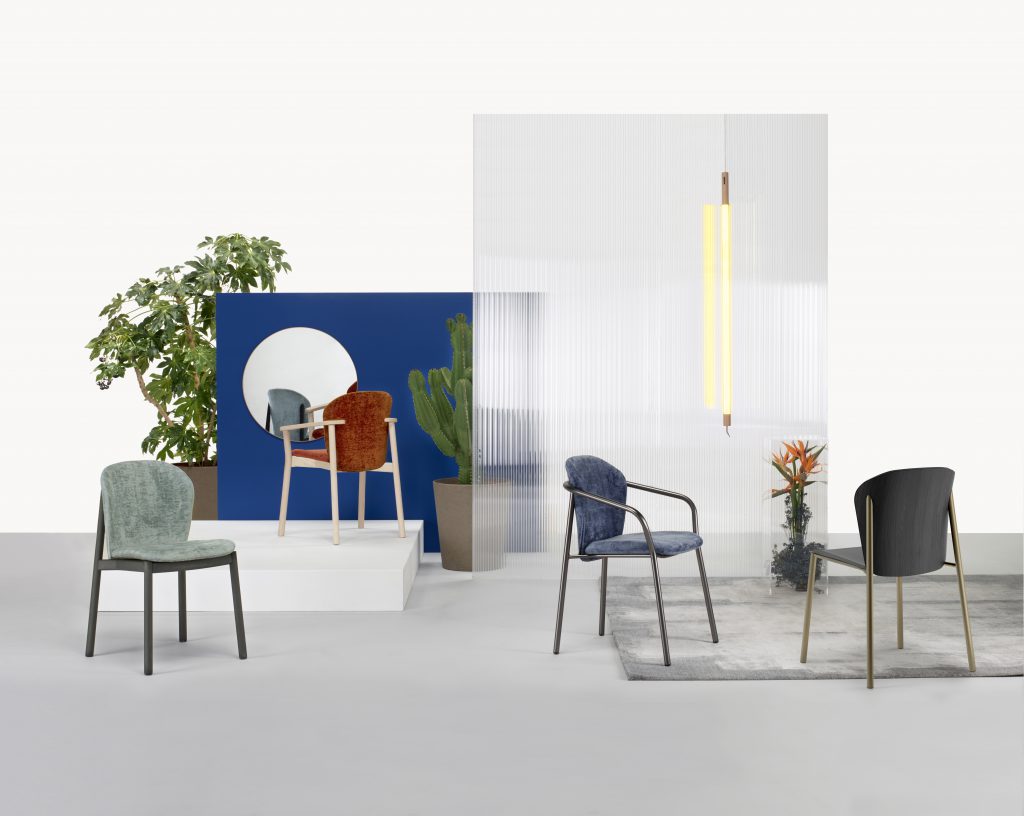 Materials, colours, finishes and refined details are the ingredients to enhance the personality and character of this collection.
Chair and armchair are available, respectively for frame and seat, in the combinations of steel and wood, steel and fabric, wood and wood, wood and fabric, to compose a complete and coherent overall picture capable of satisfying the most varied living solutions for private environments as well as for all situations related to the multifaceted contract world.
Finishes:
Chairs and armchairs in different materials and finishes that define four models:
– FINN with steel frame (dia. 25 mm) and with upholstered seat and back with wooden core;
– FINN METAL WOOD with steel frame (dia. 25 mm) and wooden seat and back;
– NATURAL FINN with wooden frame and upholstered seat and back with wooden core;
– FINN ALL WOOD with wooden frame, seat and back.
Steel finishes: anthracite or terracotta coated – matt nickel – matt gold – black matt nickel – vintage bronze.
Wooden finishes: white stained ash – blond walnut stained ash – black stained ash with visible grains – grey matt stained beech – aquamarine matt lacquered beech.
Fabric finishes: velvet and fabric (also fire-retardant versions).
Dimensions
FINN and FINN METAL WOOD
– chair with metal frame (cm 48x53x78h) – seat height cm 46 (FINN version), seat height cm 44 (FINN METAL WOOD version);
– armchair with metal frame (cm 58x55x78h) – seat height cm 46 (FINN version), seat height cm 44 (FINN METAL WOOD version).
NATURAL FINN and FINN ALL WOOD
– chair with wooden frame (cm 49x54x79h) – seat height cm 46 (NATURAL FINN version), seat height cm 44 (FINN ALL WOOD version);
– armchair with wooden frame (cm 60x56x79h) – seat height cm 46 (NATURAL FINN version), seat height cm 44 (FINN ALL WOOD version).
---
TRIPÈ
design by RadiceOrlandini DesignStudio
Tripè is the new extraordinary three-spoke system of tables of the SCAB Design offer, proposing an organic project.
"When we approached this theme, we had the firm conviction of turning it around and "tearing it to pieces" to find ways to make it not only beautiful, but also new and innovative (which are not the same thing). Perhaps it is this attitude that is anything but superficial that has allowed us to create an object that has something to say in a world now saturated with objects similar to one another." Folco Orlandini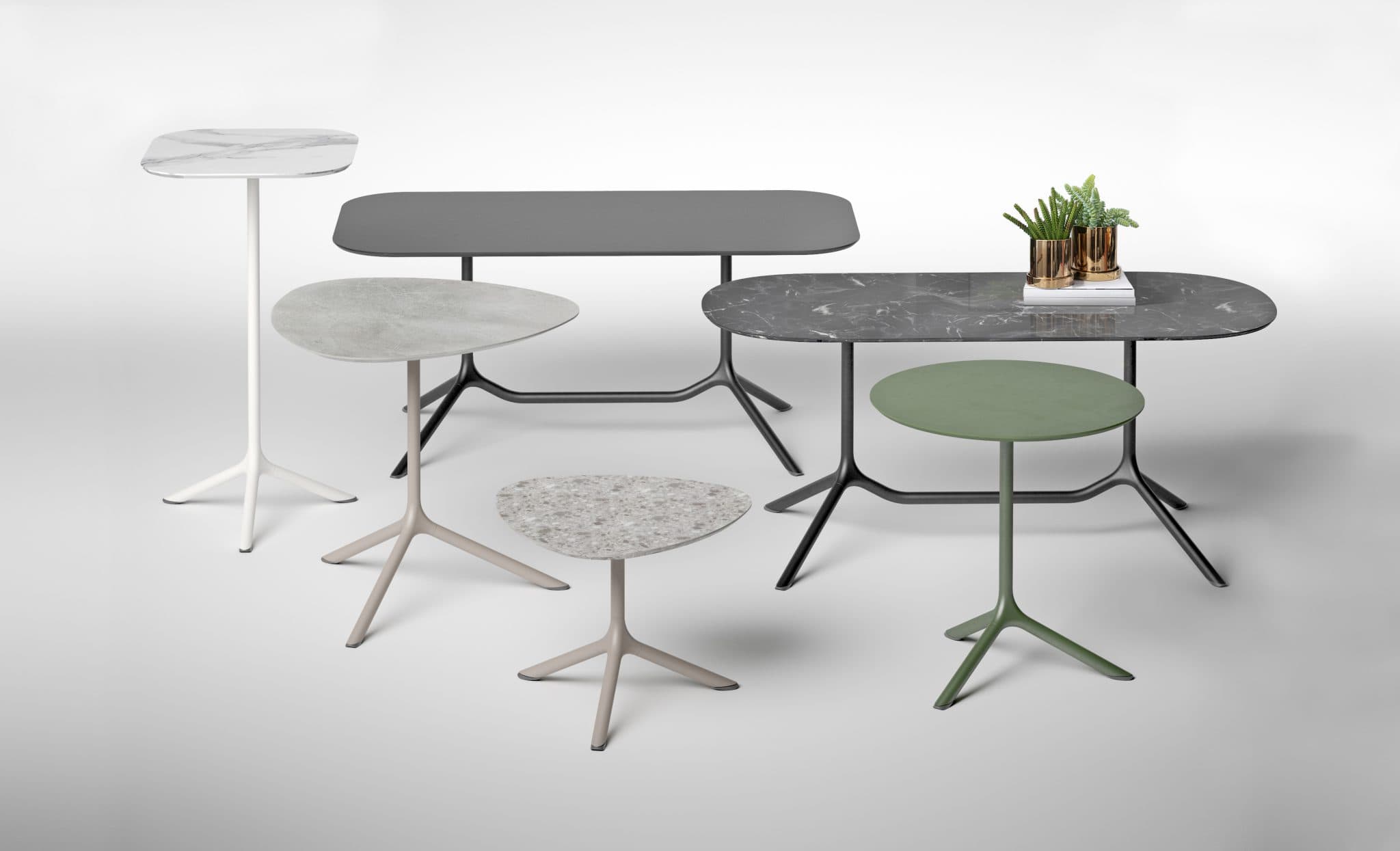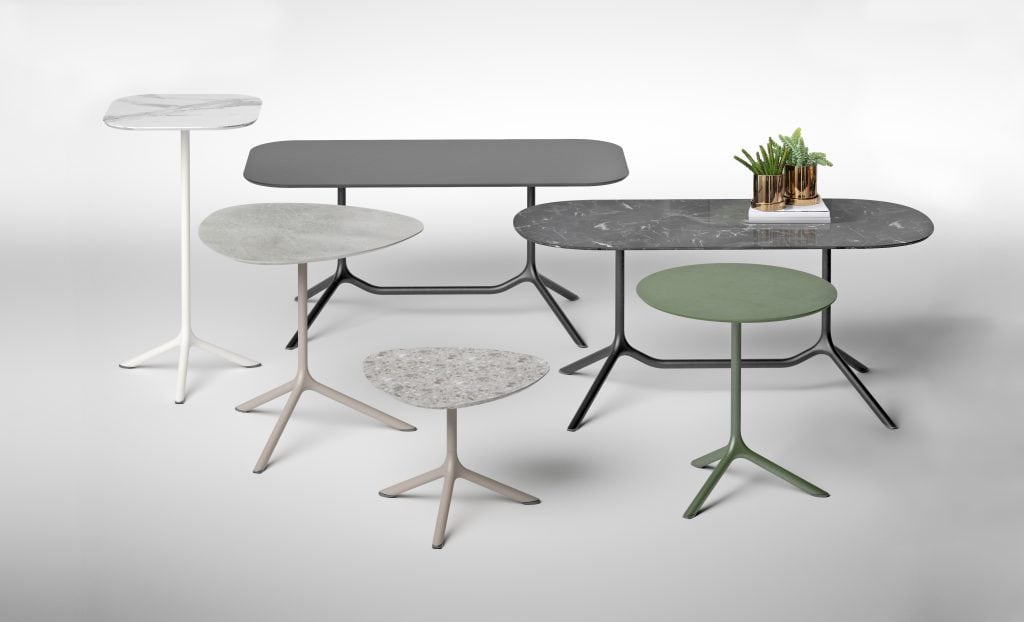 An object in which functionality, design, minimalism and recognisability find the right synthesis. The steel base is in fact not a traditional monobloc, it is made up of several elements, connected by one or more joints in die-cast aluminum, that can be diversified and replaced according to the need to compose single tables or double column tables. A true industrial project where the economic component also has the right weight.
"Tripè is a project with a friendly face and a pragmatic heart. Considering it a simple table is an oversimplification. It was conceived to become a truly flexible and multifaceted system, which can give life to a vast line of shapes and sizes of tables and complements for the home and public areas." RadiceOrlandini DesignStudio
Finishes and dimensions:
Steel three-spoke bases (dia. 35 mm): coated, indoor and outdoor use.
Single or double column, with a height of 50 – 73 – 109 cm, fixed or in some versions also with folding mechanism.
Combined with compact laminate tops in new shapes and different finishes.
Steel finishes: powder coated white – powder coated dove grey – powder coated anthracite – powder coated terracotta – powder coated air-force blue – powder coated olive green – powder coated black.
Top compact laminate: finishes and dimensions
– drop shape (cm 85×85 or cm 65×65), stone, grit or Corten effect;
– square with rounded corners (cm 60×60, 70×70, 80×80), stone, grit, Corten, white Carrara marble or black marble effect;
– rectangular with rounded corners (cm 140×70 or 160×80), concrete, white Carrara marble or black marble effect for the basement with double column;
– oval (cm 160×70), concrete, white Carrara marble or black marble effect for the basement with double column.
---