The international gallery owner Rudolf Budja relies on his gut instinct. "It's not about appreciation, it's only about what is necessary from an art history perspective!" This is how the well-known Graz-born pop art dealer Rudolf Budja describes his selection criteria for works of art. To choose them, he relies on his gut instinct, but also proceeds very systematically to sense "what's next".
TRAVELLER WITHOUT A SUITCASE
"You have to know all the museums to find new trends in this way." What fascinates him in this process is discovering similar works by artists without any real connection to one another. Budja, who today mostly lives in Miami and runs a 2,000 square metres gallery there, concludes from its thematic and technical congruencies: "Time makes it necessary to capture exactly that."
ADVANCED IN DEALING WITH ART
Strong evidence of his rarely fallible intuition is his own Erwin Wurm collection, the now internationally successful Austrian artist who, for instance, placed a detached house on the roof of the MUMOK in Vienna. "I have collected his works since 1986 – and never sold one! I probably own the largest Wurm collection in the world." Wh didn't he buy himself a cool car with this money (and yes: Budja likes nice cars!) "They are not as interesting as art."

To build his private collection, he veers towards innovative and subtly ironic pieces which are critical of the times. "I don't need a painting that matches the curtains to decorate the wall!" His wife Nicole and three daughters – 11, 9 and 3 years old – "are so advanced in the way they deal with art. I can bring home anything." His children's future is not safeguarded in proper style by a building loan contract, but by Asian art.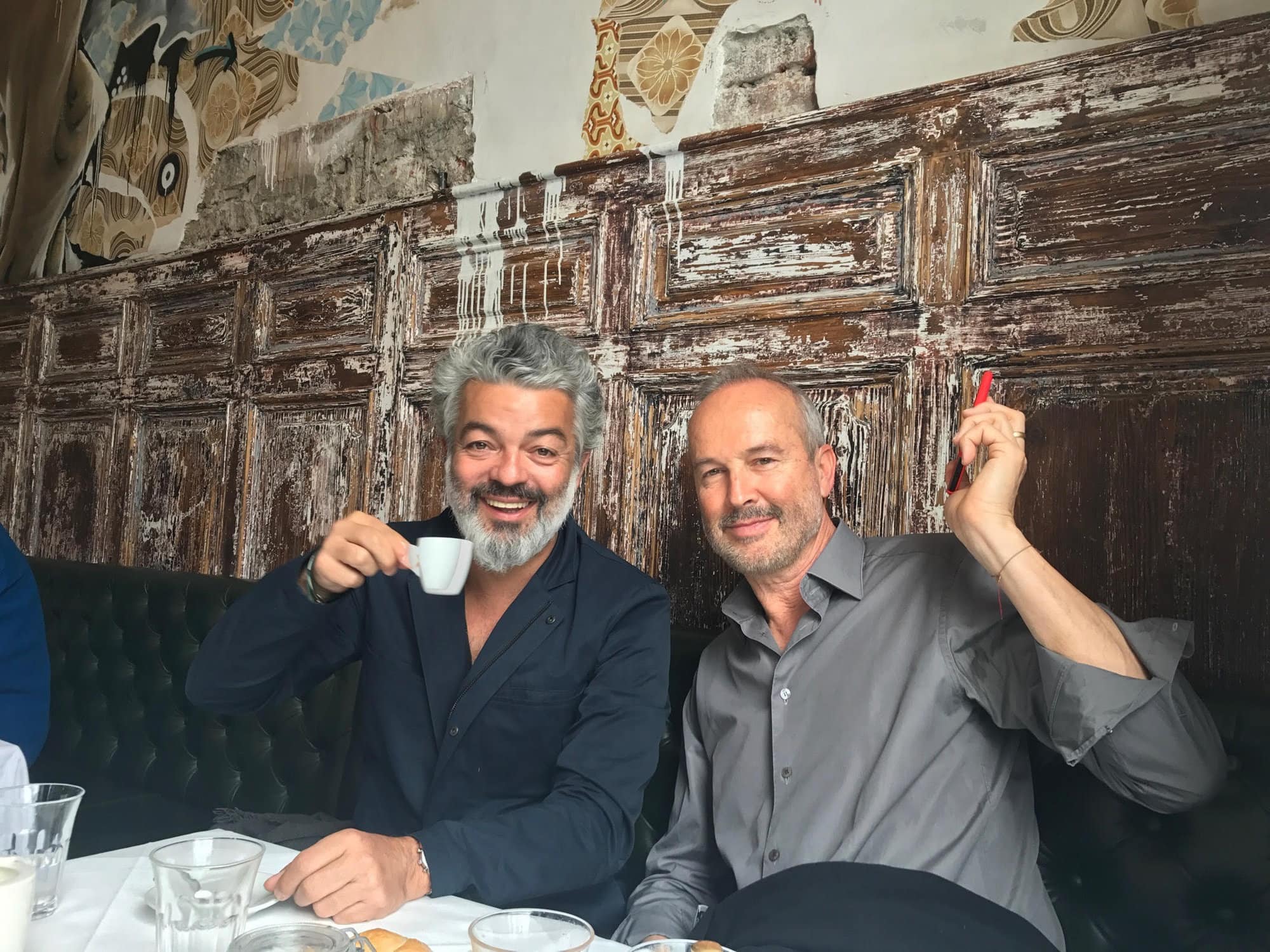 YEAR OF ANNIVERSARIES
When Budja was younger, he did not have these kinds of resources. He grew up as the younger of two brothers in Graz and became an apprentice in the Puch plant. In the end, music was the gateway to the new world when he went to the USA as a DJ at 18 years old. In the clubs of Miami, New York and L.A., he met famous artists in person – such as the graffiti designer Jean Michel Basquiat. In L.A., Budja did temporary work in a printing studio, where he met the pop art master Roy Lichtenstein and now and again was paid in kind. These pictures formed the basis of his first gallery at the Graz Glacis. But not only Budja himself, who turns 50 on 6th July, will be celebrating an anniversary this year: The Graz gallery will be 30 years old in December.
His next stop was Vienna, then Salzburg and finally Miami. Although Budja never really leaves a place. "I have kept all my apartments and I always travel there without a suitcase." A vernissage in Salzburg is always scheduled during the festival season. Prince Charles was also a guest in the local gallery; Budja owes this to his sponsor Princess Manni zu Sayn-Wittgenstein- Sayn. "She invites people from all over the world who have accomplished something."

But he doesn't want to grow old under the light rain typical of Salzburg; he prefers southern Italy. Not as a location for another gallery, but simply as a place to live.
RUDOLF BUDJA SPONTANEOUSLY:
Three characteristicsthat
describe me …
Lovable, flexible and
persevering.
I am happiest when …
… my family is happy.
Or as they say here:
Happy wife, happy life.
If I could be 20 again,
would I do anything
differently?
No! In hindsight, some
small steps were not
necessary – but altogether
it's fine the way it is.
If I could be a work of art,
I would like to be …
… a piece by Anish Kapoor.
His Sky Mirror – a parabolic
mirror – in front of the
Rockefeller Center in New
York reflects the whole
world; earth and sky.
This captures the present
moment, so the art is
always contemporary.
… and where would you
like this to be exhibited?
I would prefer to be a
travelling exhibition.
From Austria I miss …
Apple strudel, Backhendl
(Viennese fried chicken) –
and good water.