Özlem Tuna, Text: Nina Prehofer
Özlem Tuna is a designer in Istanbul, where she takes inspiration from the city, its crafts, its materials, life on the historic peninsula, and the hustle and bustle of the Grand Bazaar. But it all started in her home town by the sea in Anatolia, where dreams of the future were shaped out of mud and dough.
The 10 most important questions
the designer asks about her work:
1. How do I achieve designs that emotionally move both me and others?
2. Are the everyday objects with which we surround ourselves really functional?
3. What meaning do these everyday objects hold?
4. How can we identify design problems using experiences of cooking and eating?
5. How can we get closer to our emotions through eating and drinking together?
6. Is it possible to also manufacture our designs in the city where we live?
7. Can we bring our designs to life using materials available in our region?
8. Have we checked our production process?
9. Is the process of production geared towards people?
10. How can you be an enthusiastic part of a new era?
We would have been only too happy to meet Özlem Tuna in person in Istanbul, to visit her studio and her shop, drink coffee in her favourite traditional coffee house, Çorlu Ali Paşa Medresesi, look over the shoulders of artisans at work, and find peace on the banks of the Bosphorus. That is what Özlem Tuna's gaze is always drawn to when she wanders through Istanbul.
And so it became an exchange via email and Zoom – nice in a different way, as it was a glimpse from the home office into the life of someone else, with whom you find a new affinity because of the restrictions on public life imposed around the world. It's a view from the living room in Vienna of a stunning studio on a small street that in normal times would be teeming with life.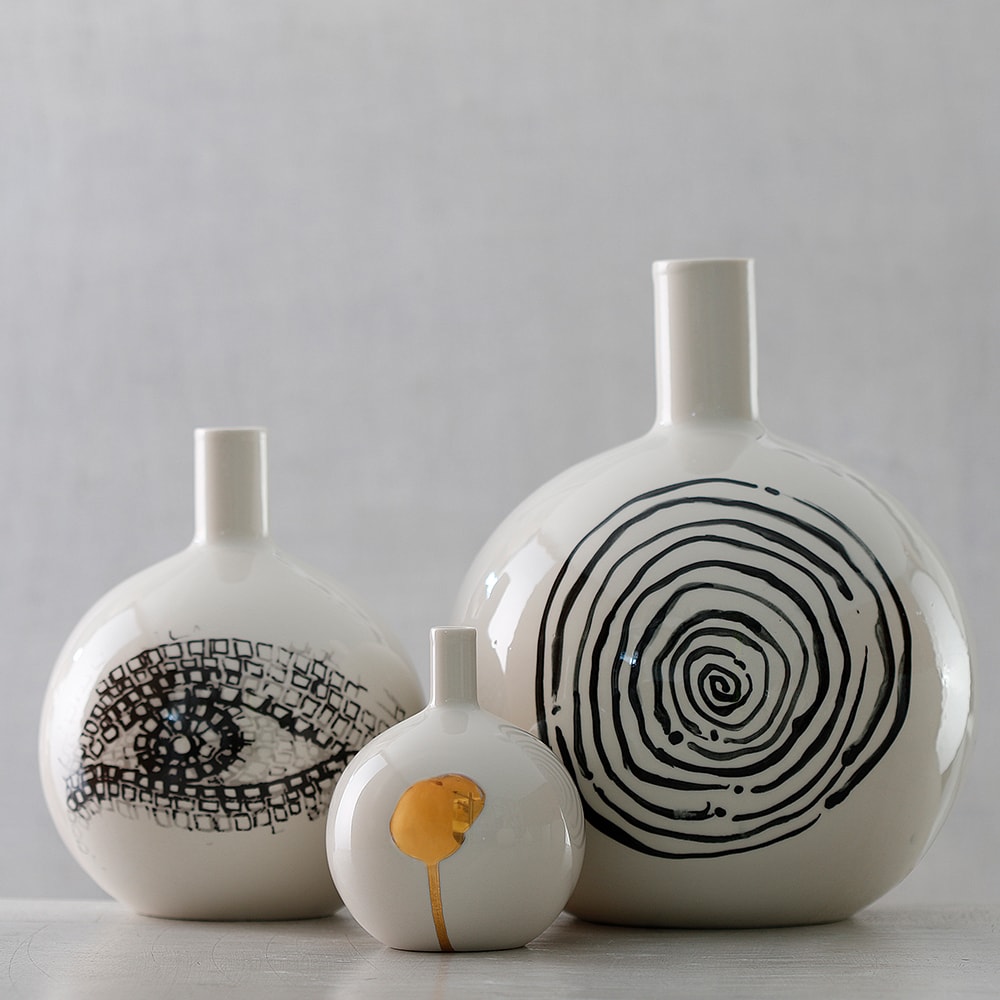 Özlem Tuna comes from the town of Burhaniye on the Aegean coast, south of Istanbul. For her, it was the perfect place to grow up because there was endless inspiration for an "adventurous young girl". Surrounded by a large garden and very close to the sea, she loved to discover everything.
"I was so lucky to grow up in a beautiful bay on the sea with olive groves."
Özlem is convinced that we find our balance in life during our childhood, and our origins and roots are very influential in determining the person we become later in life. She used to play with mud in the garden and whip up remarkable mud kitchen creations. That was the first sign of what would become her love of producing pots out of clay. Her relationship with her father shaped who she is today.
"I always had a wonderful relationship with my father. He was an art teacher and when he retired, he went back to university at the same time as I did. He studied archaeology and wrote nine books in 15 years. He was incredibly diligent and very disciplined in his work. He was always so impressed by our culture, and when I look back, I realise I was so lucky to have had him as my father, as I learnt such a great deal from him. He hasn't been with us for ten years now, but he remains my biggest inspiration and my greatest hero."
Beginnings in cooking and product design
After graduating from a school specialising in cuisine and cooking, Özlem Tuna was encouraged by her father to attend art school and study ceramics. The first item she crafted was a small vase. She didn't use any tools to make it, only her hands to help form the shape. Just as prominent in her memory is experimenting with the cultivation of different types of yeast when she was a student making her own bread at home.
I always prefer working with my hands in order to make something. For me, clay is still a good material with which to express my thoughts.
Her experiences of cooking and in the kitchen have helped her become a designer.
I see cooking and product design as the same thing.
Her first job after finishing university was as a jewellery designer on the historic peninsula of Istanbul. To be a female designer in Turkey is normal these days, but when Özlem started out 20 years ago, it was difficult to be a woman working in the city's jewellery quarter. It was very traditional, and the route to becoming a master required many years of training that had to be completed there. Men learnt entire processes and worked as a closed group, while there were very few women.
"In the 90s, when I graduated from university, it was mainly women who were employed as designers. It was difficult for the metalworkers to accept instructions from female designers. It wasn't easy to start off with, but with time we learnt a lot from each other. And that is very valuable."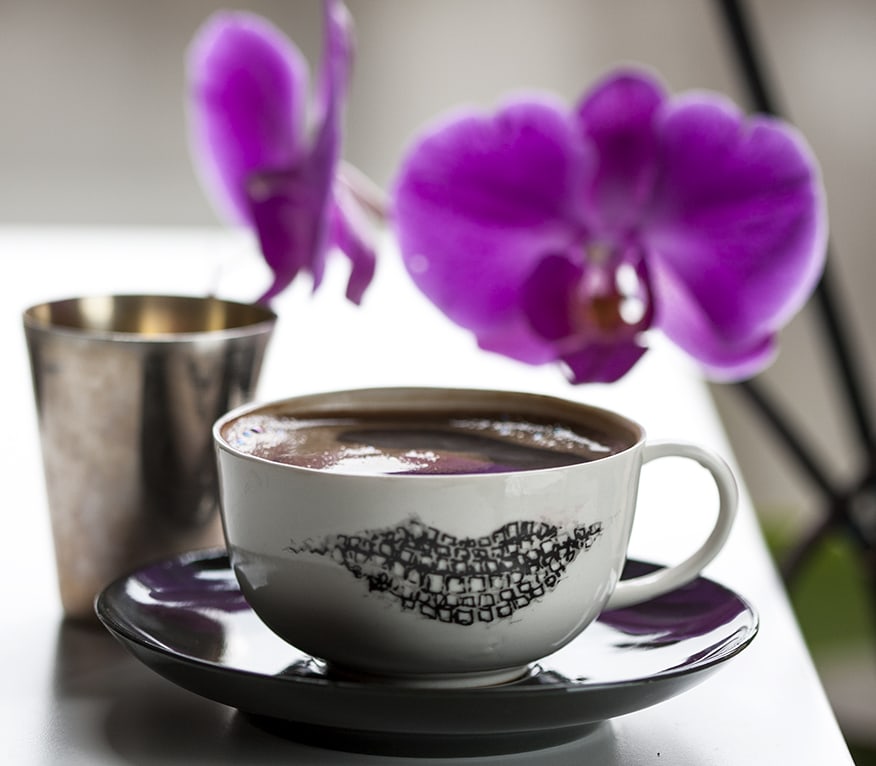 In 2003, Özlem founded her own brand and design studio in Turkey's cultural centre, as she considers Istanbul to be the best location for design and manufacturing, with traditional methods being combined with modern technology. That's what she sees as the heart of the historic centre of Istanbul, which is home to such a rich variety of studios. Since setting up the studio, she has had success with her own product line, as well as with her studio, working for companies both large and small, national and international. Sleek yet powerful design paired with perfectly executed handwork is what turns Özlem's work into highly sought-after objects, renowned as far away as New York and sold in Bloomingdale's.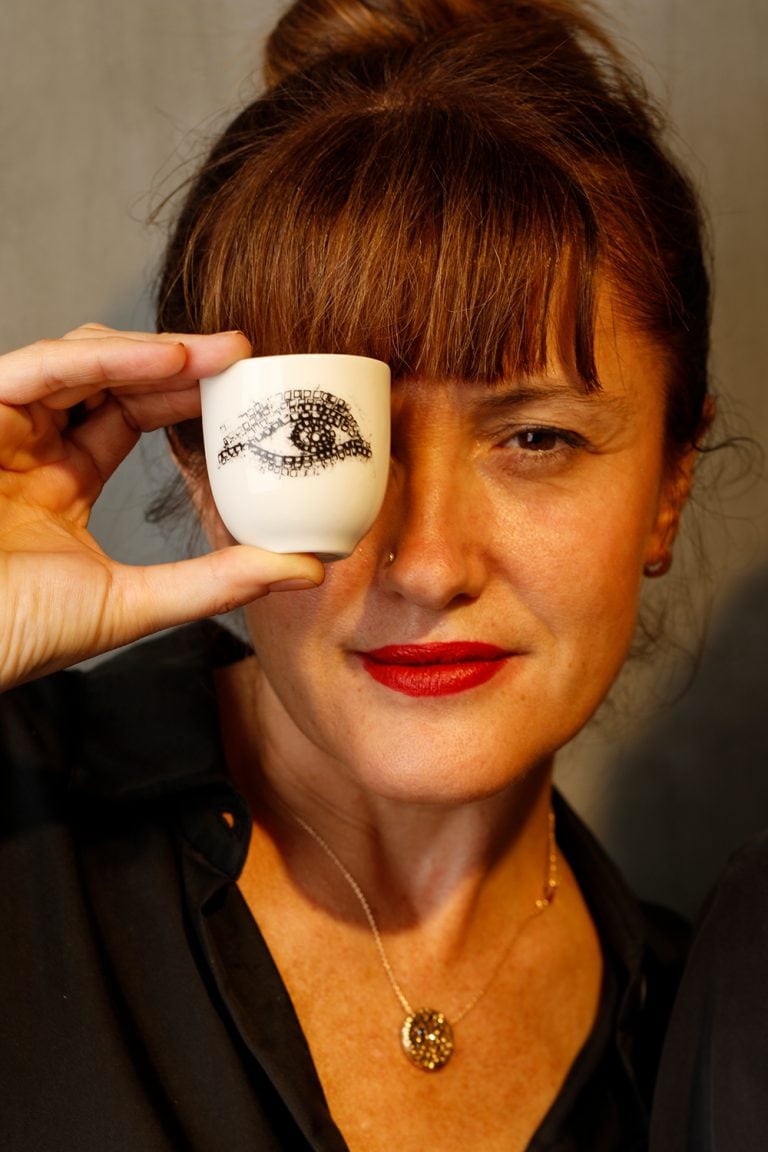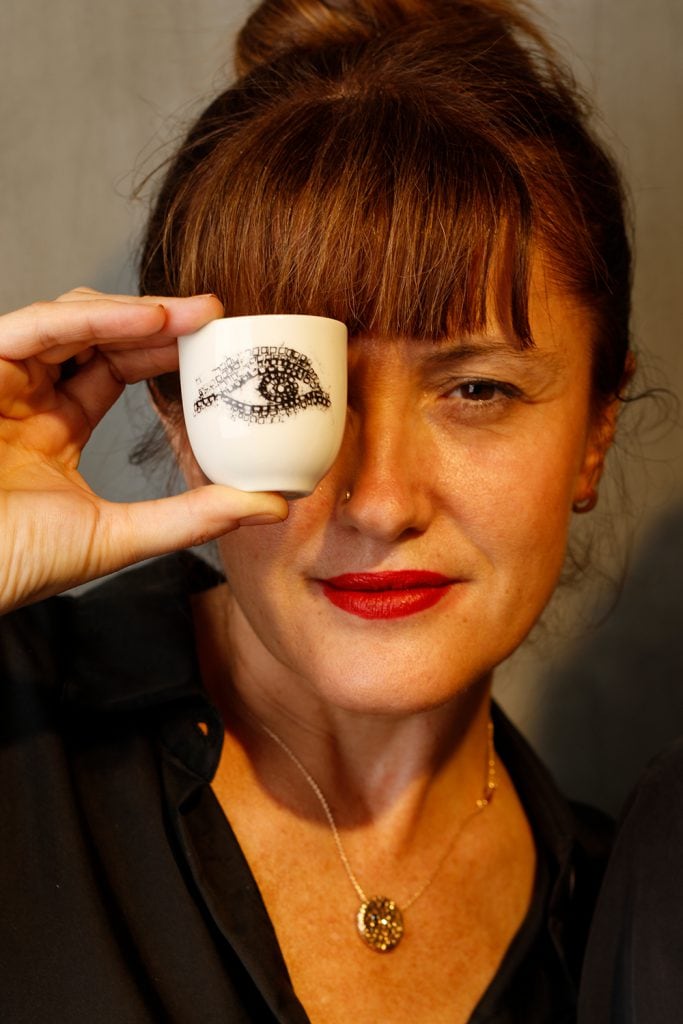 Her materials of choice are porcelain and ceramic, wood, fabric, glass, brass, copper and steel, as well as gold, silver and precious and semi-precious gemstones. The collections carry names such as Mosaic, Sage and Credo Istanbul. If she had to pick out one object, she would choose a coffee cup.
Even as a young child I loved coffee. We weren't yet allowed to drink it but I used to secretly pinch coffee beans and chew on them.
She has expressed this passion for coffee for many years in the form of incredibly refined and elegant cups and mugs made out of porcelain.
---
"SAGE" Series
This handmade porcelain series is inspired by the leaves of the sage.
The special matt glaze creates a unique range of colors between different
shades of gray, white, pink and green. The color play is unique for
each piece. The golden decor applied on the glaze, flows almost mystically
over the bowls, cups and mugs.
---
Hazy dreams of recent times
Over the last ten years, the designer has often addressed the subject of climate change.
"We must look after our natural surroundings. For me that includes how we execute production processes in addition to being more responsible in what we eat and consume. Nature and humankind are centre stage."
In response to the question as to whether she is optimistic about the future in this respect, she says:
I live today and can create something that benefits me and my environment. That is worthwhile and will have to do for now in terms of optimism.
---
Özlem Tuna on the "MOSAIC" Series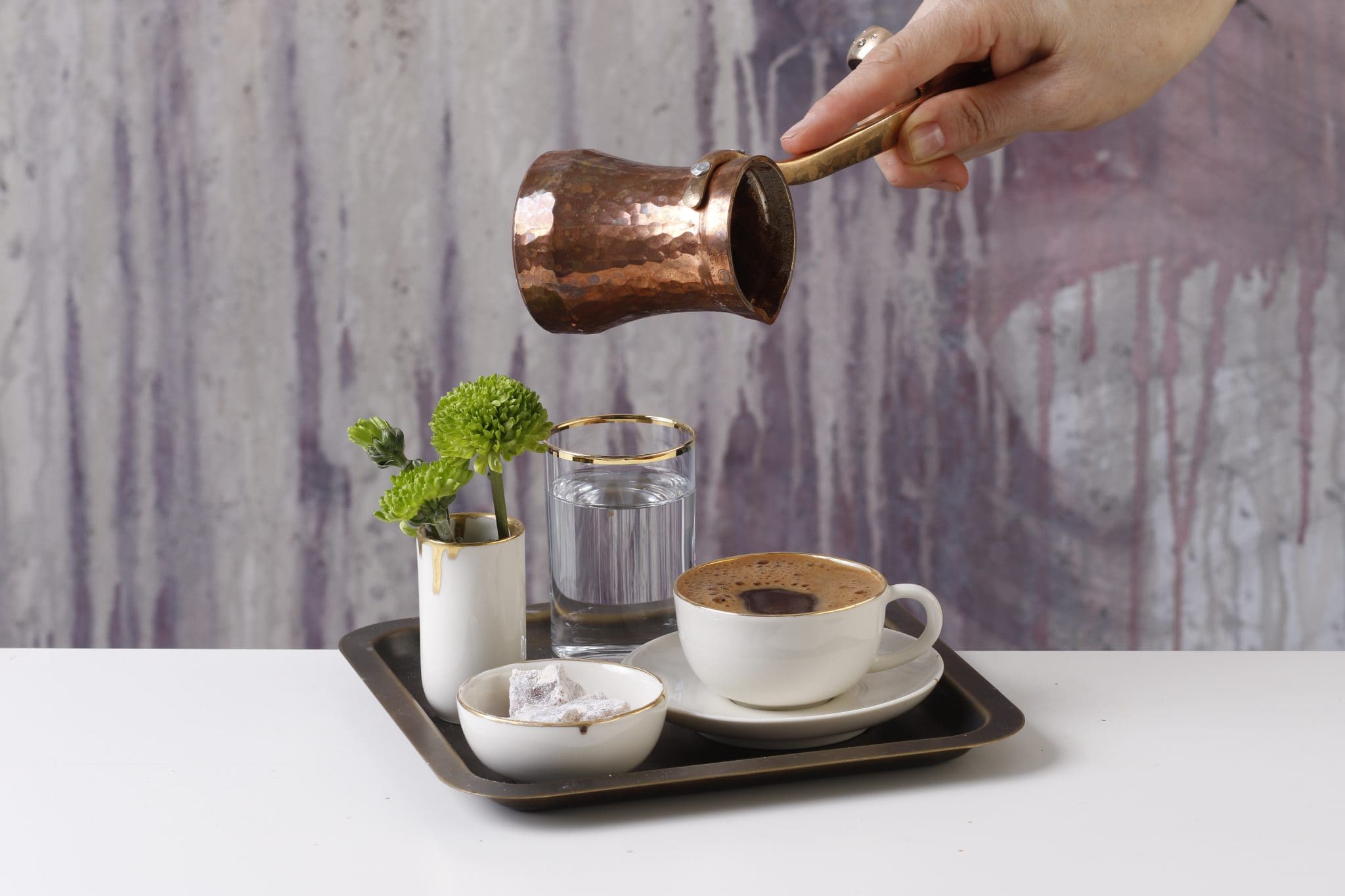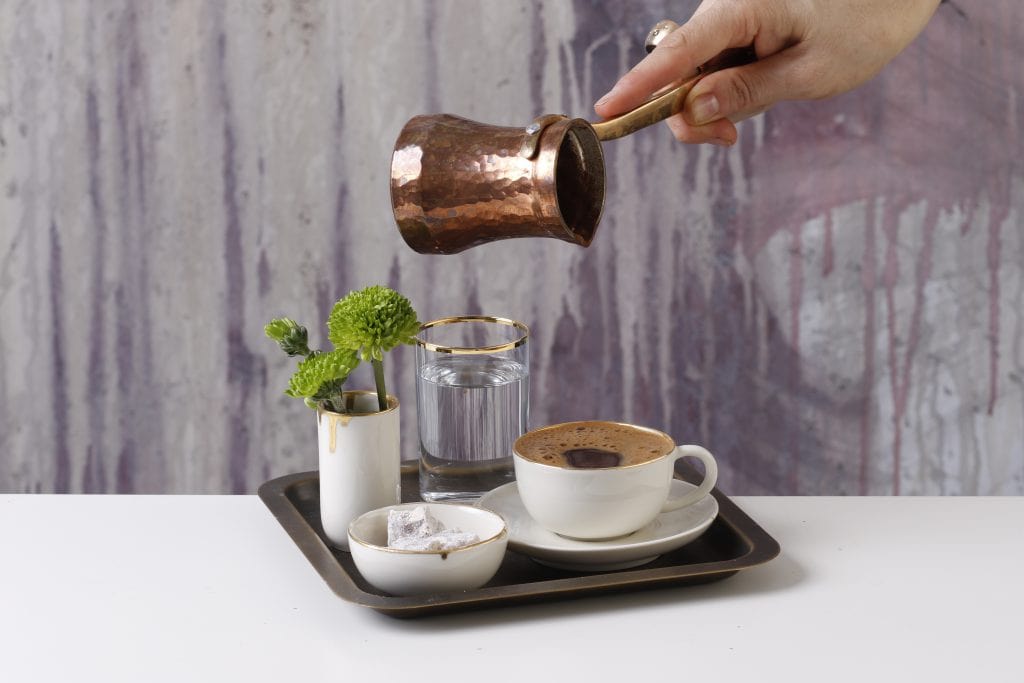 We define a mosaic as an image made up of different coloured particles that lie on a surface. Mosaics are traditionally made from materials such as natural stone, metal, glass, ceramics and porcelain. Then what is the mosaic that we create with our lives? Can we see the mosaic arise through our thoughts, our actions, our designs and the way we live our lives? We create our mosaics with our designs for things we produce. We would be happy if our mosaics are timeless and used many years.
---
And what does she dream of?
"Getting back into the kitchen, because as a designer I love switching up my tools."
But not in a restaurant – she's much more interested in the action of eating. What are the emotional, social and cultural impacts on our lives? She concedes that in these troublesome times, these are but mere "hazy" dreams, as who knows when and how we'll actually be able to make our dreams a reality?
Özlem wished to end with a quote from Vivienne Westwood:
"My duty is to understand. To understand the world. This is our exchange for the luck of being alive. From people who have lived before us we can rediscover different versions of the world through art – this is the true meaning of culture – and by comparison, we form our own ideas of the world better than the one we are in, the one we've made a mess of. We can change our future. In the pursuit of ideas you will start to think, and that will change your life. And if you change your life, you can change the world."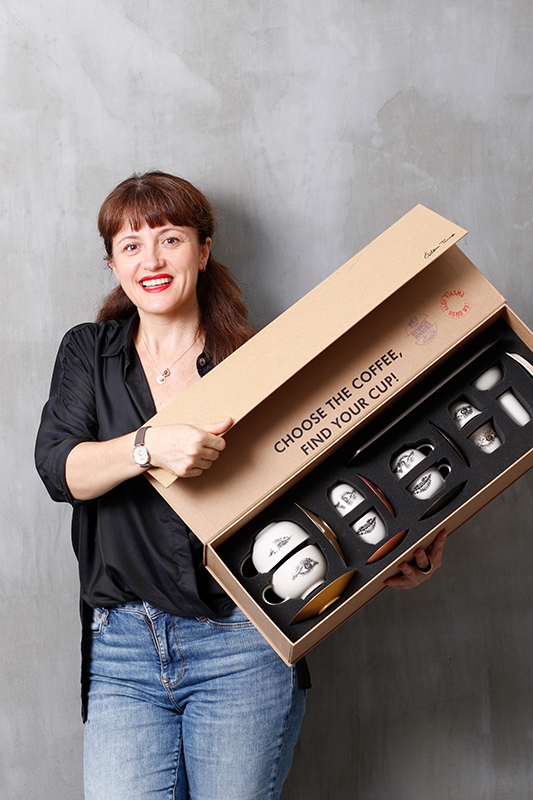 Photos: Serhat Özşen
---
Özlem Tuna's 8 hot spots in Istanbul
1. The traditional ÇORLU ALI PAŞA MEDRESESI coffee house (Mollafenari, Yeniçeriler Cd. No:38, 34120 Fatih/İstanbul).
2. The PATIKA KITABEVI bookshop (Abdi İpekçi Caddesi, Milli Reasürans Çarşısı 43–57 G Blok, D:39 Teşvikiye, 34365 Şişli/İstanbul, @patikakitabevi).
3. Visit GÜLHANE PARK (Cankurtaran, Kennedy Cd., 34122 Fatih/İstanbul).
4. Walk along the BOSPHORUS BETWEEN BEBEK AND ORTAKÖY.
5. Everything around the GRAND BAZAAR.
6. KARAKÖY, the fish market and a cool area with many bars.
7. Take the FERRY between Europe and Asia.
8. KADIKÖY, the fish market and with many surrounding restaurants.