The only native conifer that creates a spectacular display of colour in autumn and then spends the winter bare plays a hugely important role at the NIDUM casual luxury hotel – inside and out.
The autumnal Alpine landscape owes its rich golden yellow colour mainly to the larch tree. They grow up to 40 metres tall and on steep slopes, their deep roots protect us from avalanches and landslides. It's no surprise, then, that their wood is no longer a stranger to modern architecture. Natural, robust and with expressive markings, it's a winning raw material that's sustainable and boasts fascinating contrasts.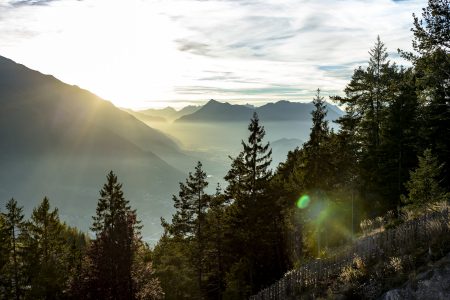 It has been put to good use at the NIDUM hotel in the sunny mountain village of Mösern in Seefeld, where the popular alternative to exotic wood has been paired with timeless natural stone. The result? A sense of cosiness in a setting where we experience the casual side to luxury.
Casual, wow & awesome
In the 57 rooms at the NIDUM hotel, the seemingly rustic markings of the larch wood can be found in modern company. You'd be hard pressed to resist the soft box spring beds with their simple design, and the same goes for the view of the Alpine landscape at over 1,200 metres above sea level through the large glazed façade. In that moment, it quickly becomes clear why the rooms have names like Casual, Wow and Awesome.
What we don't see is the magic sprinkled around throughout the hotel by the larch wood. Nevertheless, you can still feel the natural materials lowering the blood pressure and having a cleansing effect. Is that what makes our day at the NIDUM so peaceful and laid back, or is it the pared-back appearance with its delicate natural tones? It's also the fact that it looks so good. And it works.
Going with the flow
It's this calming and natural atmosphere that hotel manager Max Pinzger wants to maintain and foster at his sunny hotel on the edge of the forest:
Lots of our guests practise sitting still when they stay with us. They want to find peace. That was more and more difficult to do during the enforced winter hibernation in 2020, so we've redesigned and reconsidered concepts to surprise our guests with new highlights following the lockdown,

Max Pinzger.
Decorative objects gained strong design emphasis and the terrace in the spa area was turned into a place of well-being with soft loungers, canopy beds and sumptuous blankets. Curling up nice and warm, we gaze out into the mysterious fog that moves in across the Tyrolean mountains in autumn, watch the snow of the Tyrolean winter glitter before our eyes and enjoy a unique view of the Inntal at the foot of the mountains.
The combination of timeless architecture, luxury and comfort is what keeps drawing us back to this power place where, every season, we discover exactly what our holidaying heart really desires.
Photos: Nidum Casual Luxury Hotel
---
Nidum Casual Luxury Hotel is A MEMBER OF LIFESTYLEHOTELS