With his first hotel project, Brazilian star architect Marcio Kogan has created a special kind of sustainable island hideaway: The luxurious Patina Maldives virtually hides in nature, which it strives to protect – from construction to operation.
It's not every day that a building artist says his goal was to "hide" his new project. And yet, this is exactly what Marcio Kogan had in mind when he designed Patina Maldives. That's because the new luxury resort on the Fari Islands archipelago in the Maldives' North Malé Atoll was intended from the start as a sustainable island hideaway. As a refuge in harmony with nature, which is not only built in an environmentally friendly way, but also operated accordingly.
So Kogan worked with landscape architects from his award-winning firm Studio MK27, coastal engineers, and international artists to create a resort that delivers. The intricate architectural lines of the first flagship resort of Patina Hotels & Resorts (a new upscale lifestyle brand of Capella Hotel Group) remain respectfully low key.
Refuges on the beach and in the green
There is no building far and wide to obstruct the view of the magnificent blue above and below the vacation oasis. And each of the 90 differently sized beach and pool villas and 20 fari studios of Patina Maldives is surrounded by green landscape.
Kogan's design vision is reflected in Patina Maldives' villas, studios, eateries, stores, and shared buildings. All accommodations with private infinity pools, the twelve restaurants, and the spa building, which visually almost disappears into the sand, were penned by him. Guests can choose between privacy and seclusion. A triptych of luxury resort islands is available for exploration. Including the vibrant scene emanating from the archipelago's connecting heart: the Fari Marina Village and Fari Beach Club. There you'll also find a large pavilion designed by U.S. lighting artist James Turrell.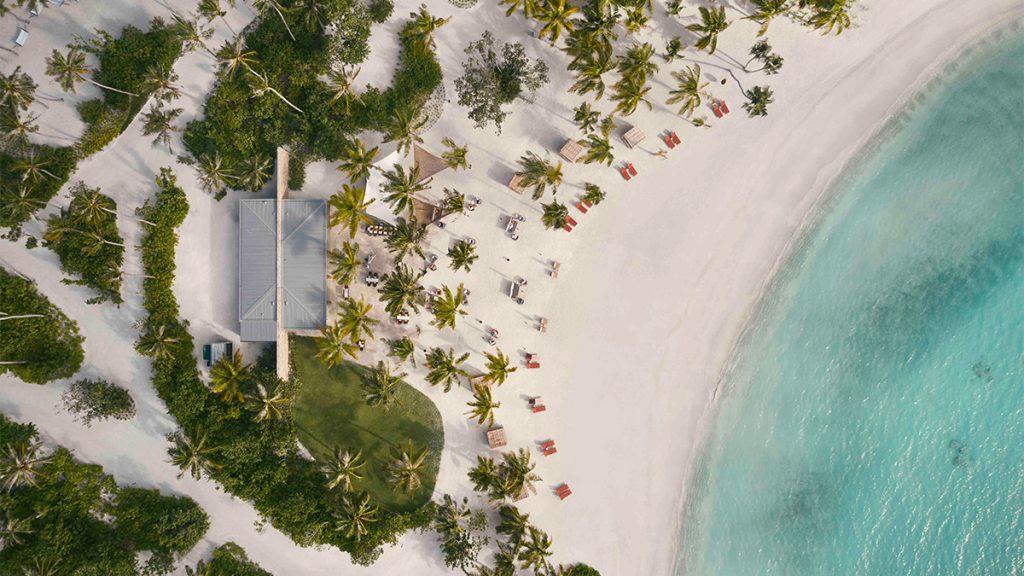 Patina Maldives embraces our natural conflicts: the desire for peace and party, for nature and design, for technology and rusticity, for self-indulgence and deep reflection.

Marcio Kogan, Architect and Studio MK27 founder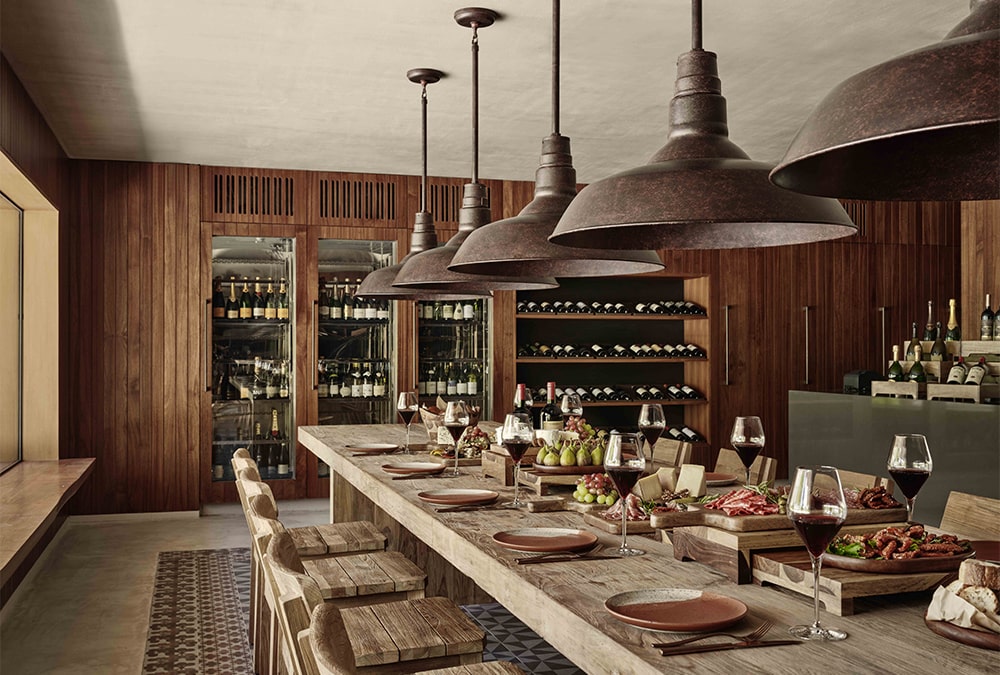 Indoors, the design relies on earthy color palettes, subtle textures and matte finishes. Wood, linen, rattan, paper cord, stone and natural fibers dominate outdoors, blurring the lines between indoors and out.
Airy comfort
Unique to the Maldives are Panoramah!'s floor-to-ceiling sliding window systems, which allow the villas to open to the outside on all three sides. Custom-made blackout blinds transform the rooms into a kind of cozy cocoon at the touch of a button, if desired.
The furniture made exclusively for Patina Maldives by Studio MK27 is as aesthetic as it is practical. Thoughtful details such as bedsteads with integrated control panels or hidden charging compartments for devices provide comfort extras without detracting from the cozy, elegant look. And hand-picked pieces by leading designers lend the rooms luxurious individuality. For example, the interior features furniture and furnishings by Bassam Fellows, Lin Brasil, Gervasoni and Vitra. And outside, gems from Dedon, Carlos Motta and Paola Lenti beckon.
Noble interior
The wet rooms are also classy: elements such as monolithic, freestanding double vanities made of Nero Marquina marble are truly eye-catching. So are washbasins hewn from a single block of stone, custom Italian porcelain tiles and freestanding double bathtubs in the open air.
However, the special merit of Patina Maldives rests in the effort to support and protect the magnificent nature of the Maldives. And this is what they are trying to do on site in the form of many measures. Including those that promote the awareness of the guests for careful handling of the environment.
Patina Maldives for the environment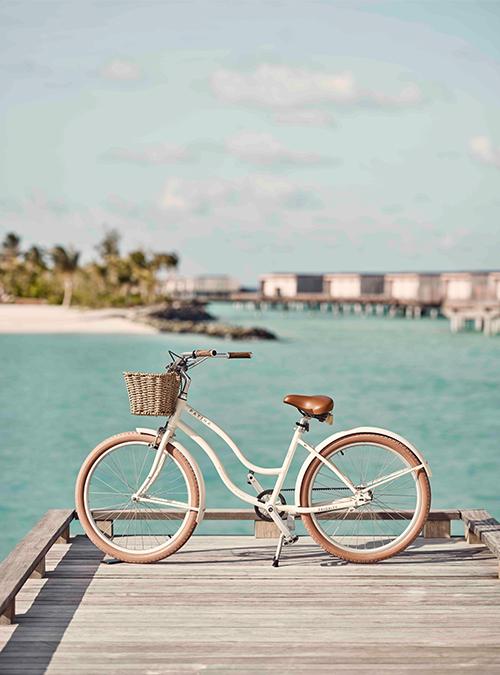 From zero-waste cuisine to recycling plastic from the sea to an exciting children's program that cleverly fosters the next generation's respect for nature: This exceptional resort is committed to sustainability with verve.
Even during the construction of the Fari Islands, energy consumption was reduced by around twelve percent through sustainable practices such as the use of prefabricated parts. Waste and CO2 emissions were also significantly reduced as a result compared to conventional construction methods.
Sustainability in every detail
Wherever possible, biodegradable and recyclable materials from local production were used. All wood is PEFC-certified and comes from transparent supply chains. And attention was paid to detail: All 1,600 workers were provided with reusable water bottles to avoid plastic waste already during construction.
Footprints, the children's center at Patina Maldives, is a place of discovery and inspiration that makes environmental protection interesting for young guests in a playful way. There, children can use 3D printing and laser cutting techniques to fabricate their own models from recycled ocean plastic. All of this follows the energy-saving prefabrication techniques used in the modular construction of the resort's villas.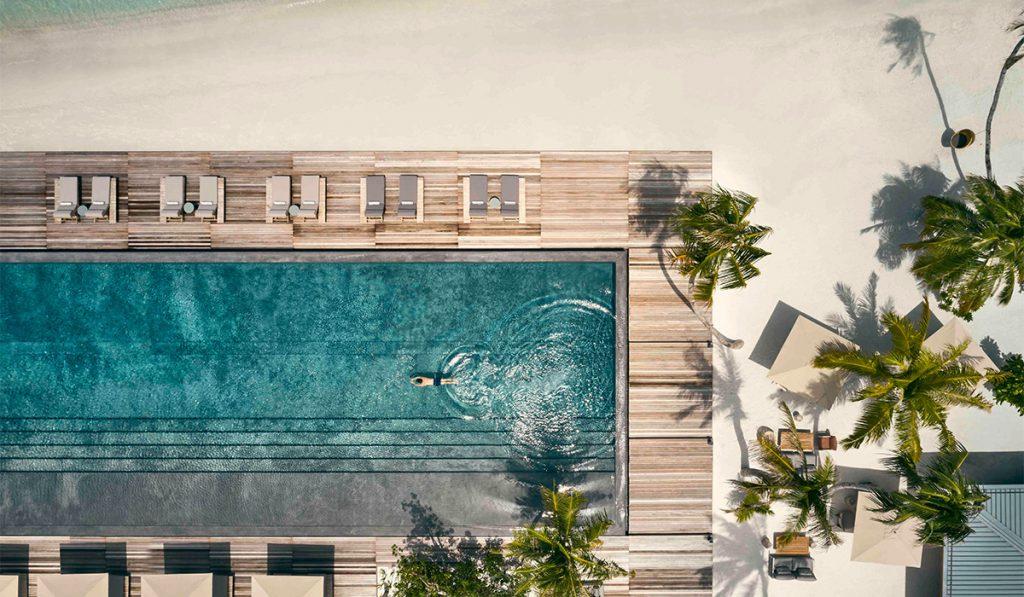 Special solar power technology
Juniors can also discover the benefits of local, organic sourcing in a dedicated culinary studio. There are free scuba diving classes for budding marine biologists, and local kids can earn their PADI scuba diving certification for free. The facility is powered by energy from Swimsol, a company that specializes in offshore solar panels for coastal regions and is also the Maldives' leading solar panel provider.
In order to use even more renewable energy in the future, the Swimsol system is to be further expanded. By 2030, the aim is to be able to cover 50 percent of Patina Maldives' total energy needs. Future plans also include investing in long-term blue carbon partnerships, a coral propagation project and a solar-powered vehicle fleet.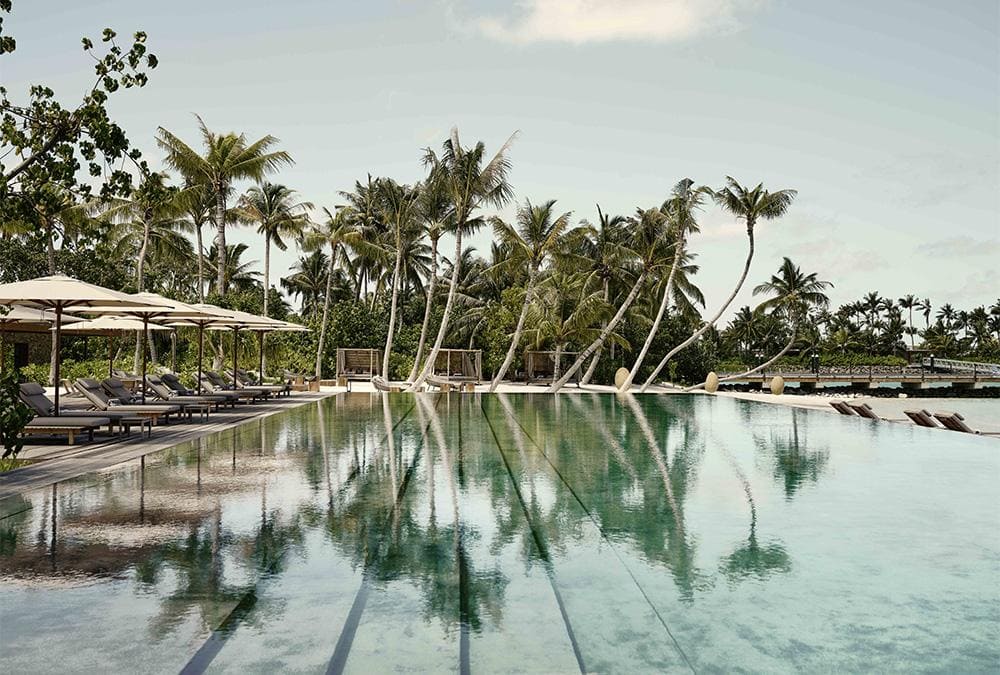 Commitment to the country and its people
In addition, one percent of Patina Maldives' gross operating profit is dedicated to funding charitable initiatives. The focus here is on supporting Maldivian women and children, as well as local communities most affected by global climate change.
The sustainable island hideaway also focuses on ocean conservation. Patina Maldives cooperates with the non-profit Olive Ridley Project to save sea turtles.

With Patina Maldives against plastic waste
The resort also hosts regular beach cleanups with interested guests and its own teams, collecting plastic that the environmental organization "Parley for the Oceans" then turns into products like sneakers or bags.
All drinking water is treated and bottled in-house by Nordaq, a water bottling plant on the island. Fresh produce is grown in Patina Maldives' own organic permaculture garden to reduce greenhouse gas emissions from the supply chain here as well. What cannot be obtained locally is sourced from – preferably local – sustainable sources. These products are certified by EarthCheck, and fish is certified by the International Pole and Line Foundation, which works to prevent overfishing and pollution of the oceans.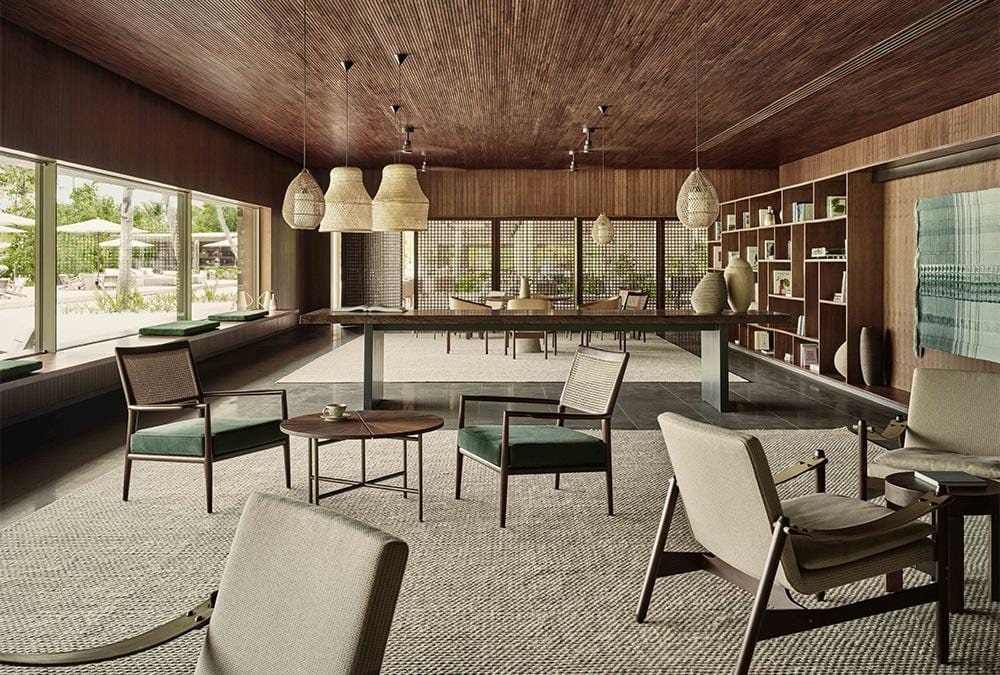 Environment conscious luxury
In short: The first "flagship" of the still young lifestyle brand Patina Hotels & Resorts wants to set an example. The resort has made long-term thinking and ecological action its mission. With the goal of combining sustainability with the highest level of luxury.
A future-oriented concept that gives hope. The increasingly popular destination Maldives is not only threatened by climate change and rising sea levels. Increasing tourism has long been a problem for the nature of the island paradise, while environmental protection measures on site are still rather sparsely promoted.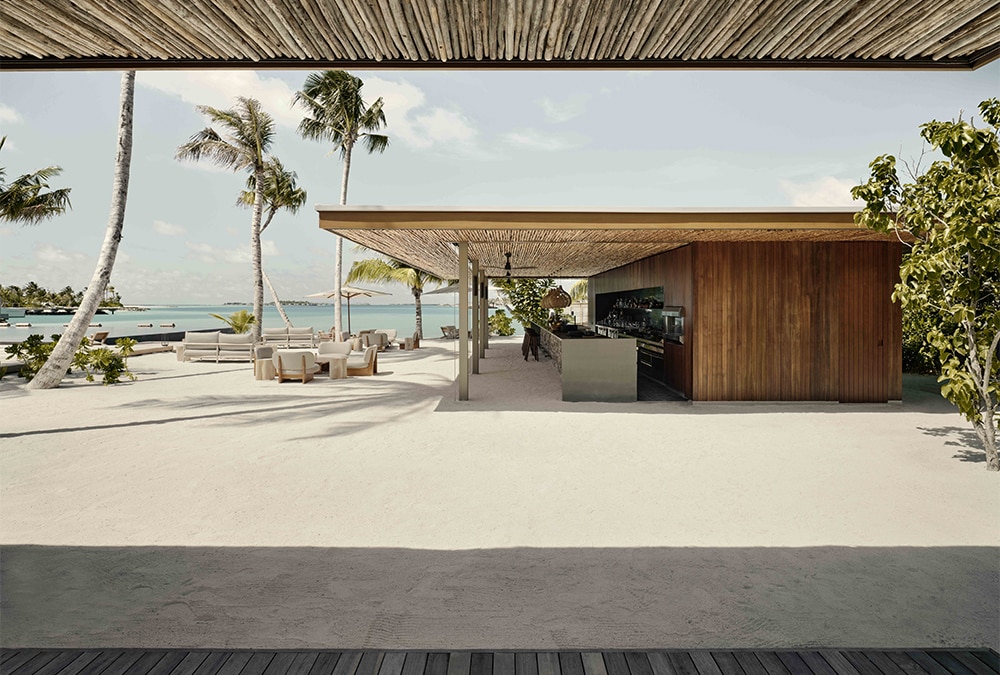 So it is good and important that the first exemplary facilities in this respect are presenting sustainable ways to both guests and islanders. This is the case, for example, with the new JOALI BEING Hotel on the islet of Bodufushi and the ambitious project of the floating island city "Maldives Floating City". Or the particularly dedicated Patina Maldives Resort with its well thought-out concept down to the last detail. Because this, of architect Marcio Kogan so carefully in nature "hidden", puristically beautiful and pollution free island Hideaway promises actually more than only expensive vacation benefit.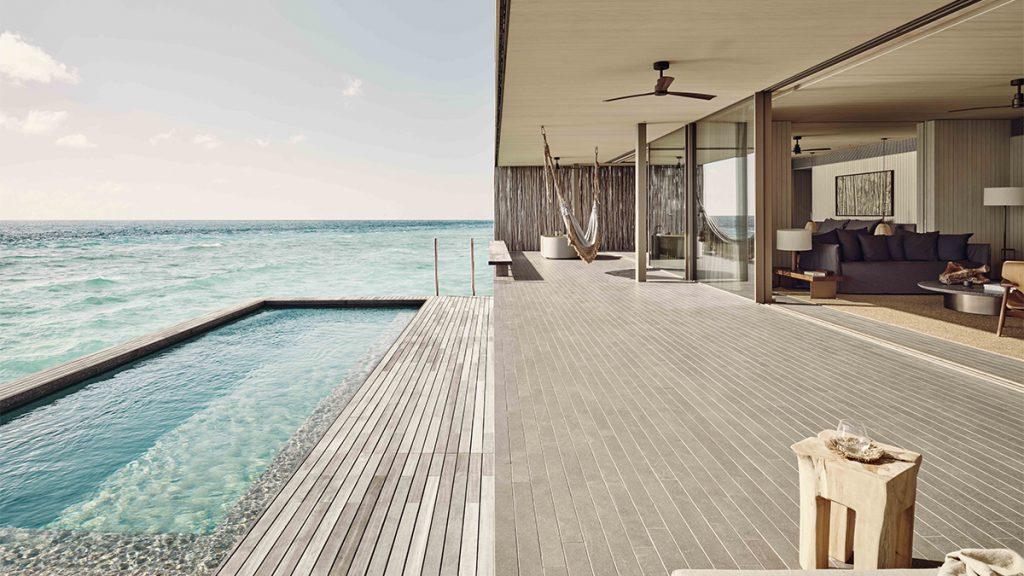 Text: Elisabeth Schneyder
Photo: Patina Hotels & Resorts