These are the words that describe the Mediterran Resort to perfection. Hommés Studio presents the new outdoor collection 2022, a limited edition of modern outdoor furniture for a luxury outdoor living space with allseason beauty.
The Mediterran Resort collection is about all the good things, perhaps the best. Clear waters, warm breeze, lush vegetation, and restless relaxation. Mediterran is an ultra-modern outdoor furniture collection with top-shelf designs. They have smooth and round lines, dynamic forms, high-class fabrics, mesmerizing textures, and paradisal shades. This cruise collection is characterized by a strong minimalistic approach that exudes luxury and sophistication and celebrates all of the natural bounty and bohemian spirit of the land around the sea.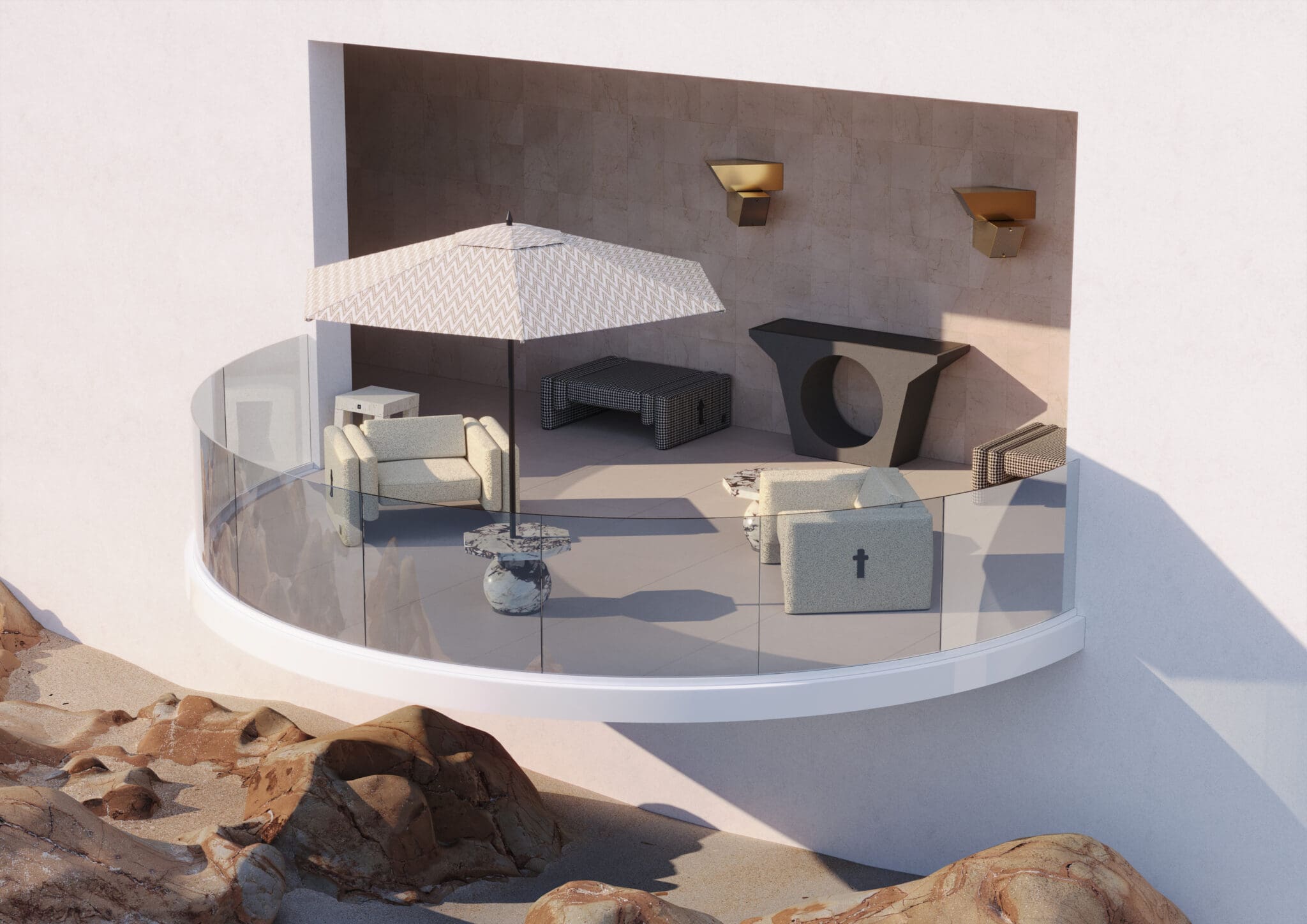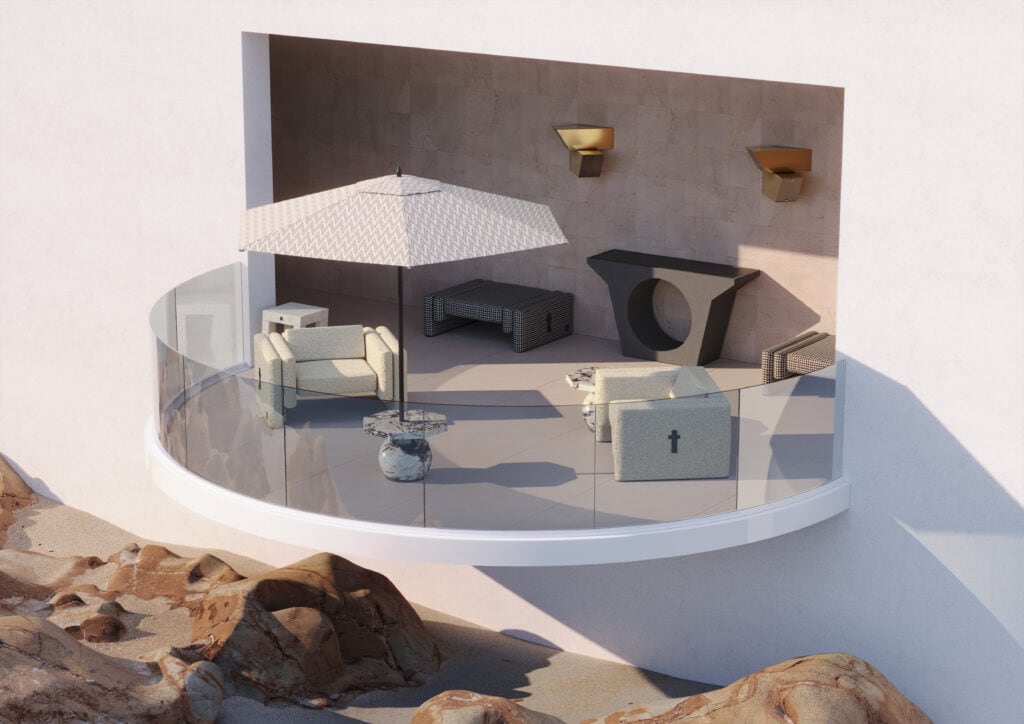 The Mediterranean livestyle is shown in the healthy and tasty food, in the heavenly tempered weather all year long, and in its charming, pure, and untamed landscape. For years Hommés Studio has been designing modern furniture pieces that will forever be part of this lifestyle. This is the time for a timeless outdoor furniture collection that furnishes gardens, terraces, and porches with the same care and flair as interiors.
Il dolce far niente
Blends culture, landscape, and know-how with neat and cutting- edge design. The outdoor living collection is for those who are looking for garden furniture that is clean, comfortable, and classy.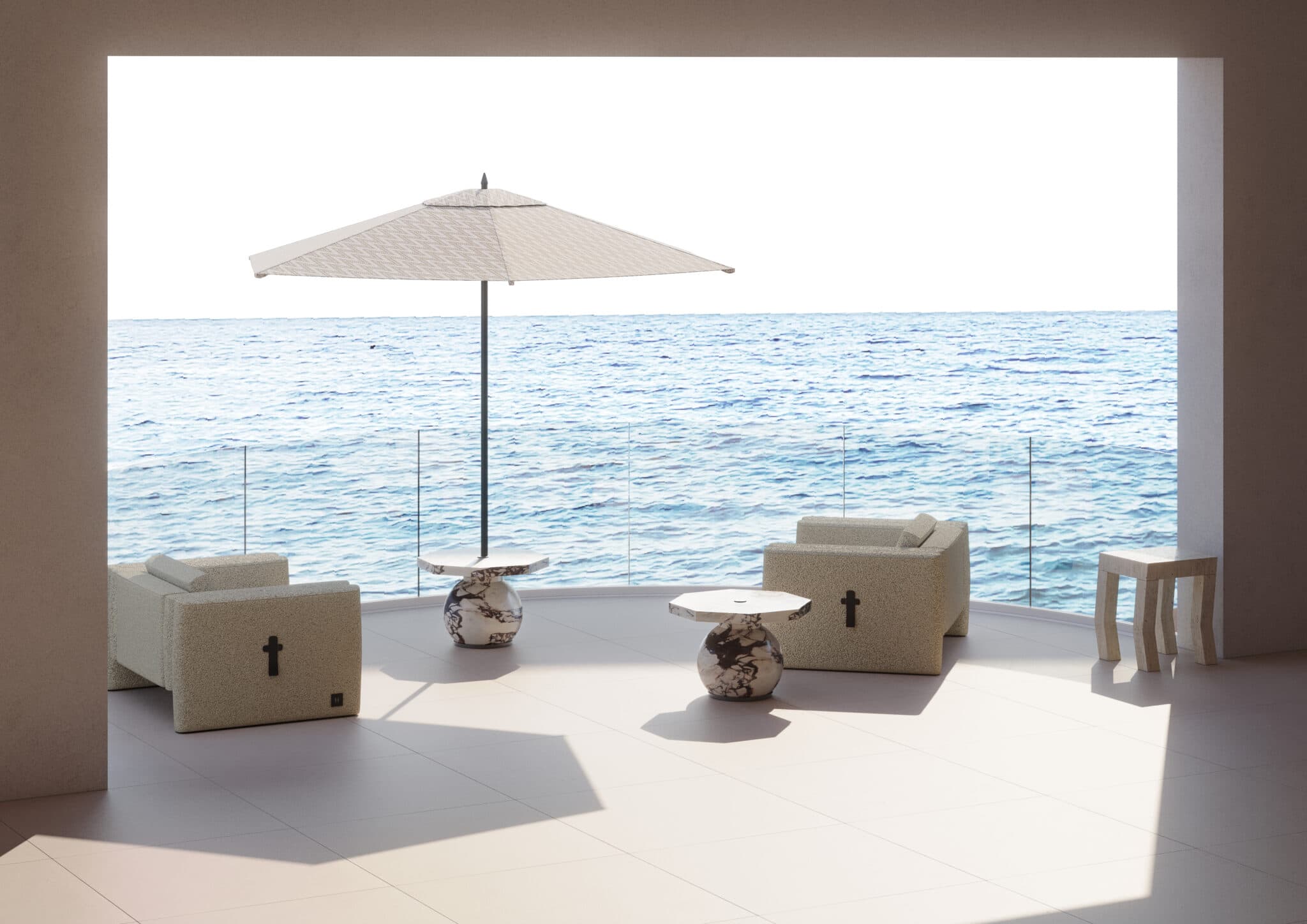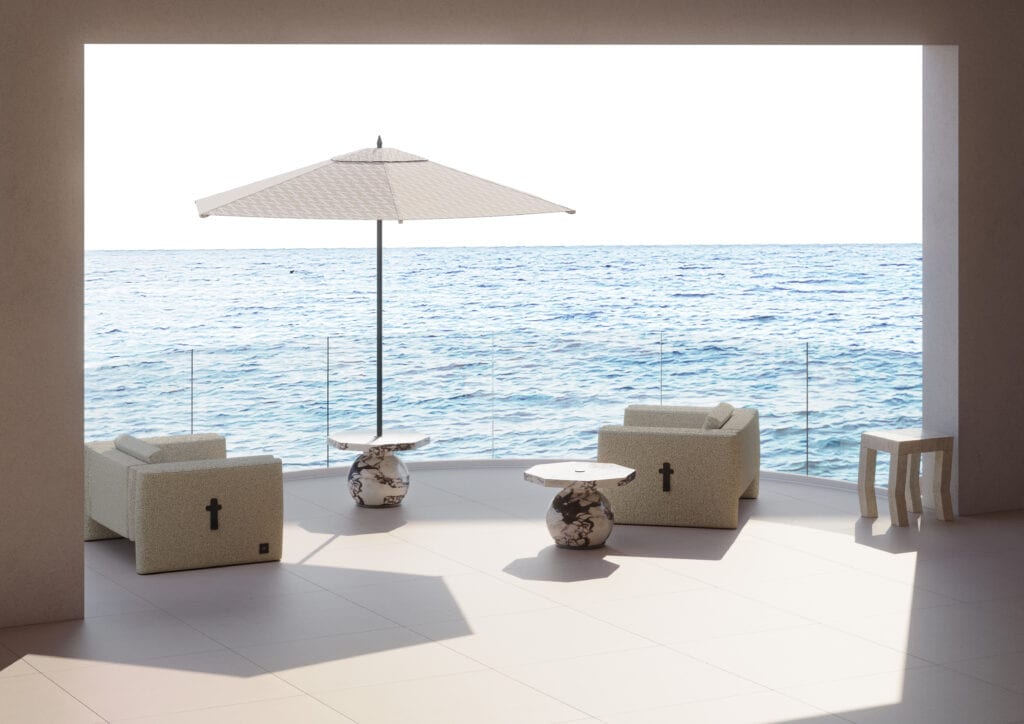 The Mediterranean has long been a source of inspiration for artists, poets, and thinkers. This is where the idea of the good life, the slow living, il dolce far niente, took root. The Mediterranean is this unique place where time slows down, city buzz shuts down and people find themselves at ease.
Cino – Chair and Bar Chair
Provocative minimalism outlines the Cinco Chair and Bar Chair. The five-leg seating with a contemporary stainless steel structure, posh outdoor fabric and buckle embellishment on the back combines functionality and aesthetics with its perfect symmetry and efficiency of materials.
New additions to the well-balanced furniture collection with tender shapes and natural stones. A remarkable elegance that creates exceptional looks indoors and outdoors.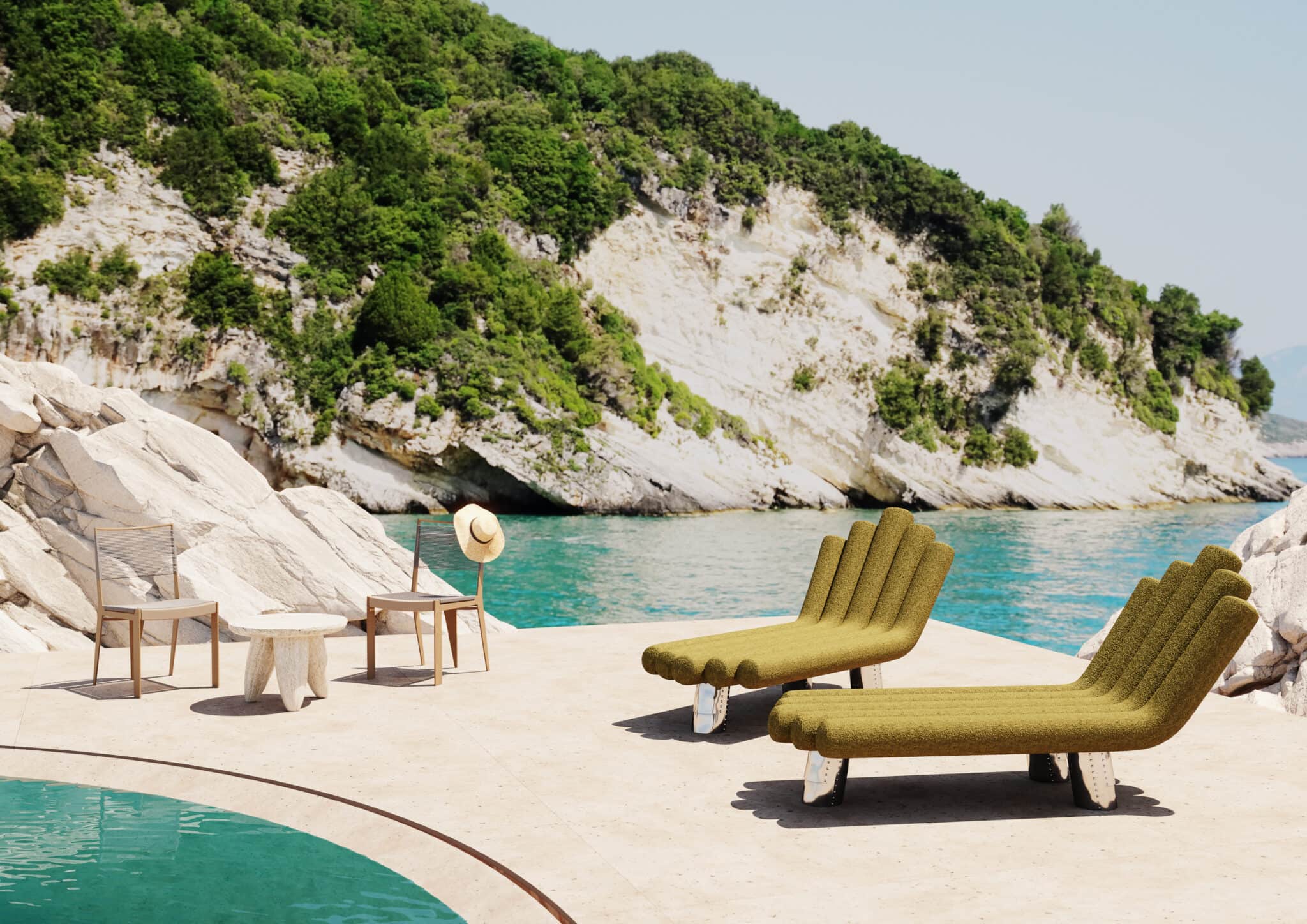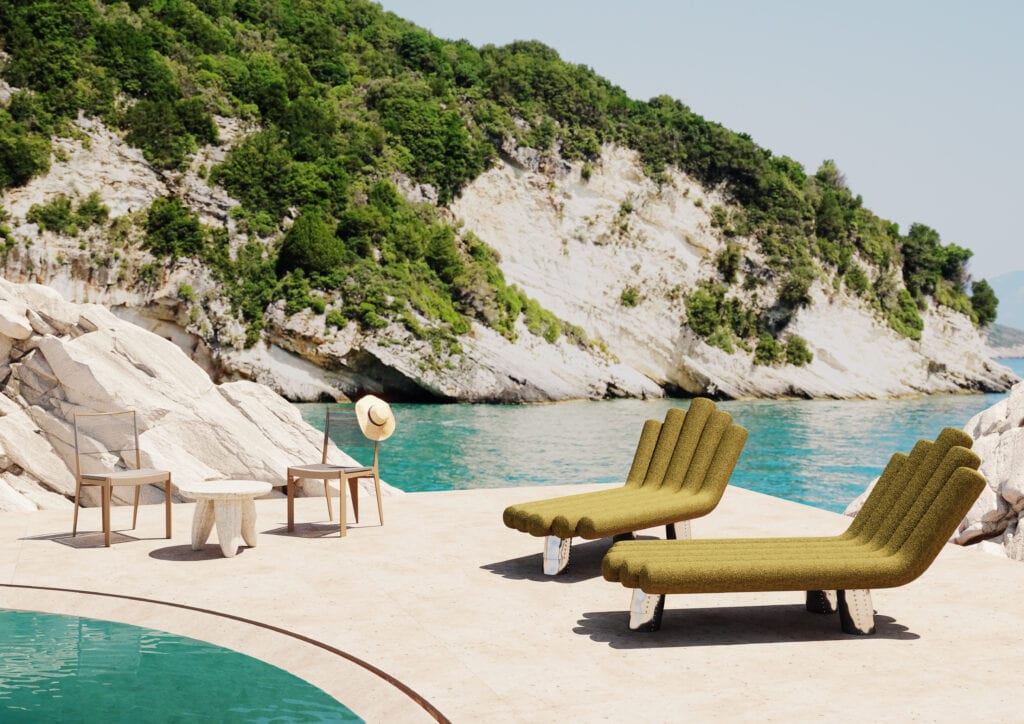 Elektra
Elektra is a beautiful and multifunctional parasol whose base can be detached from the umbrella, becoming a bold side table used by the pool. Elektra parasol is part of a continuous quest for beautiful parasols that defy the standard models. This piece aims to provide all sun lovers with a luxurious, exquisite 'Sombrilla.'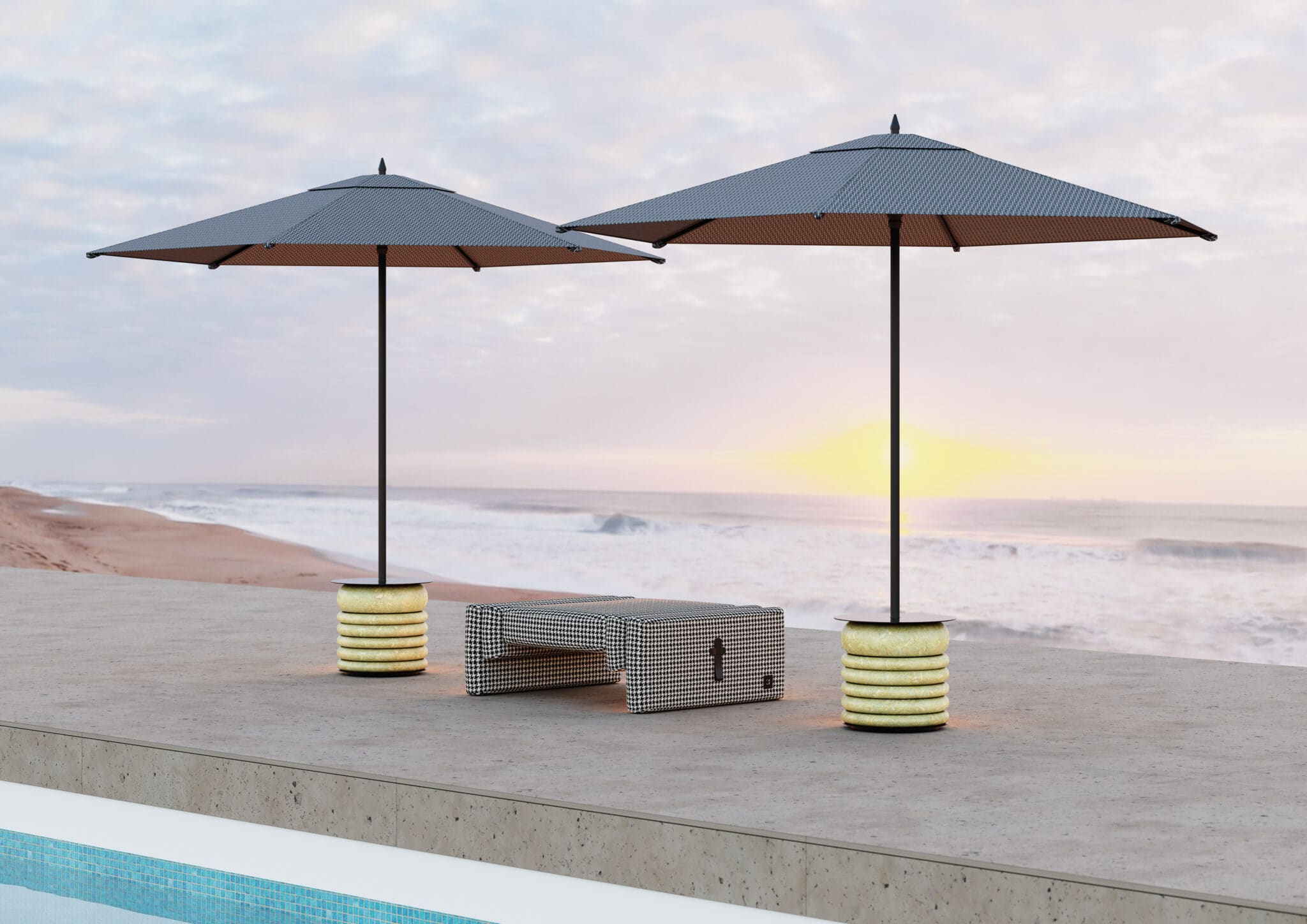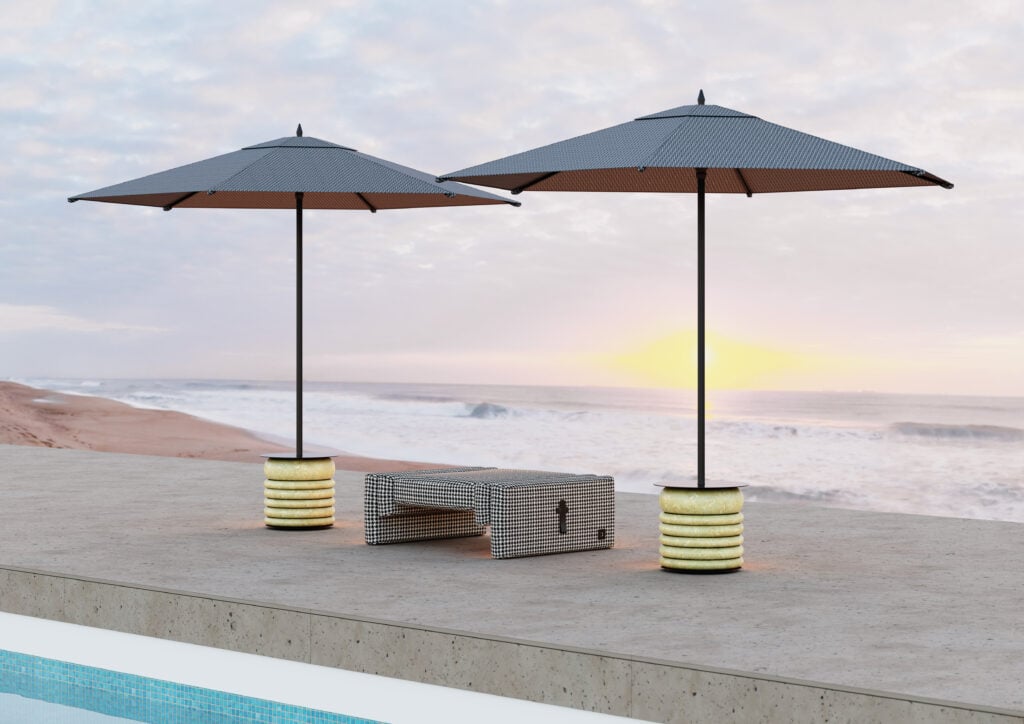 Time to relax
Foil, the folding lounger with Italian design charm, is a modern complement beautifully crafted for outdoor living areas with flawless taste. Multifunctional and comfortable, candid tones of the azure blue and white stripes infuse the atmosphere with classic aesthetics and open-air emotions.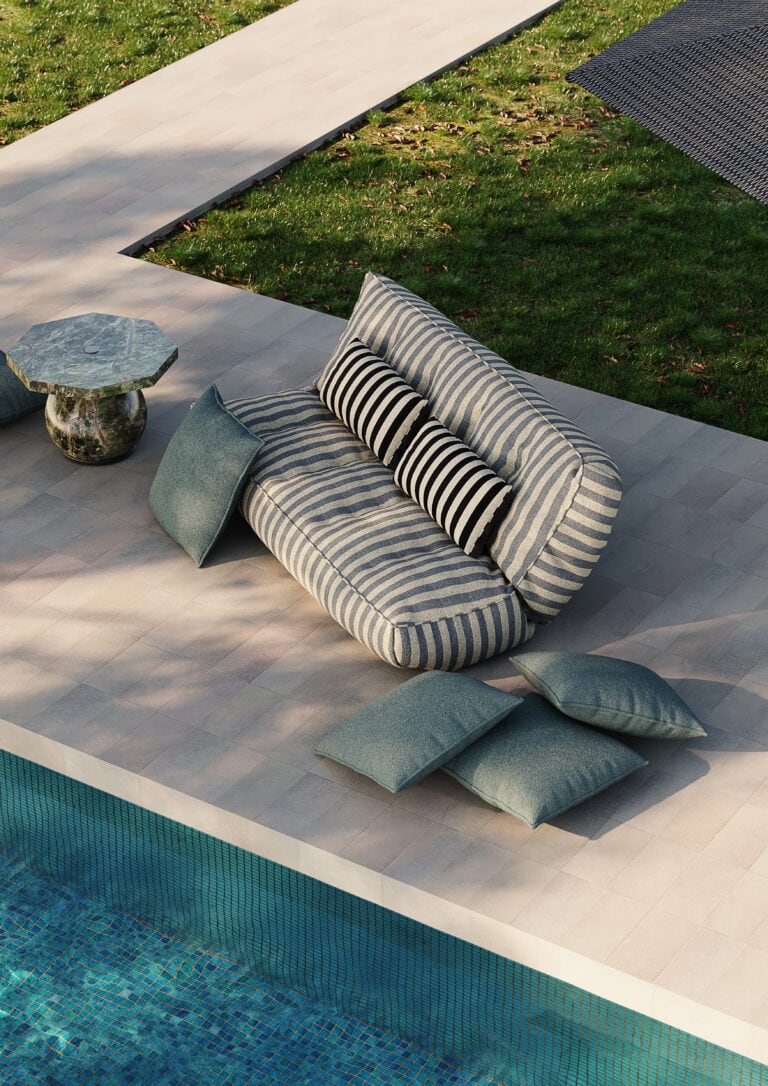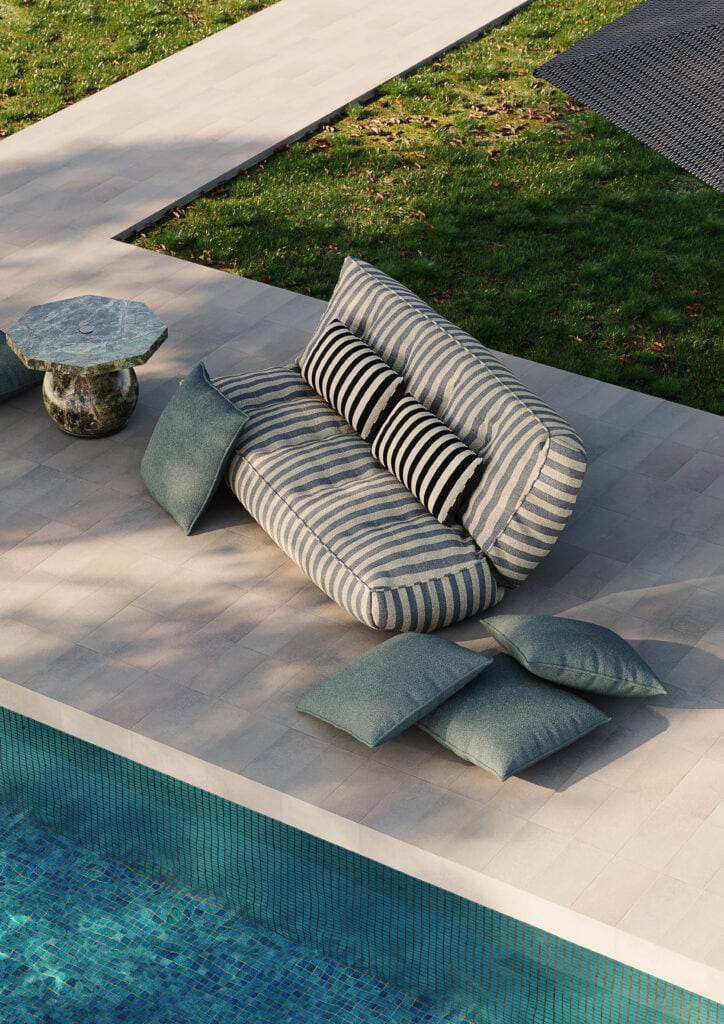 By your side
Neutral hues mixed yellow, blue, and green, offering a modern color composition with the Mediterranean flair. Refined and textural fabrics – bouclés, semi-plain weaves, and graphic patterns – recall the codes of seaside living.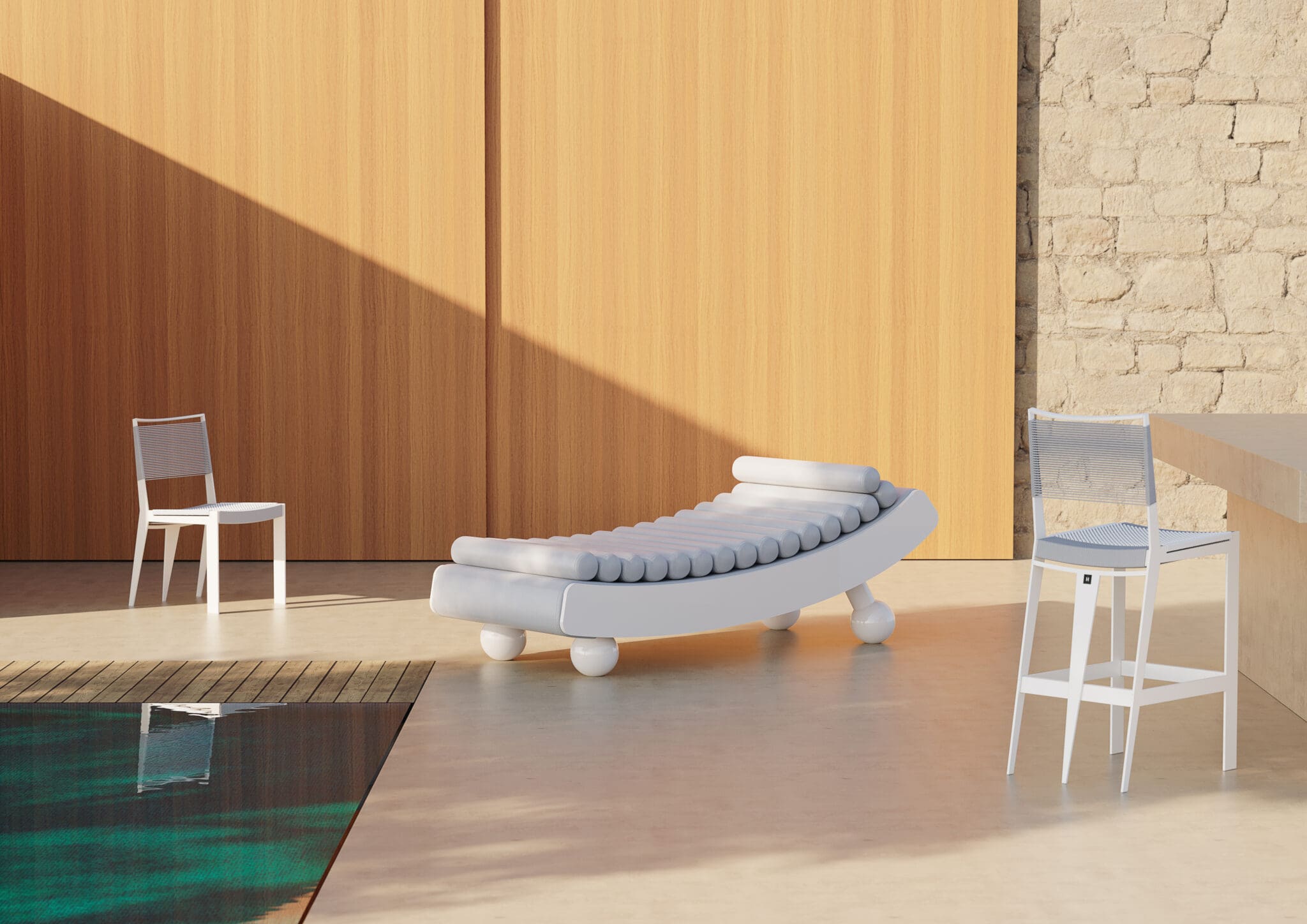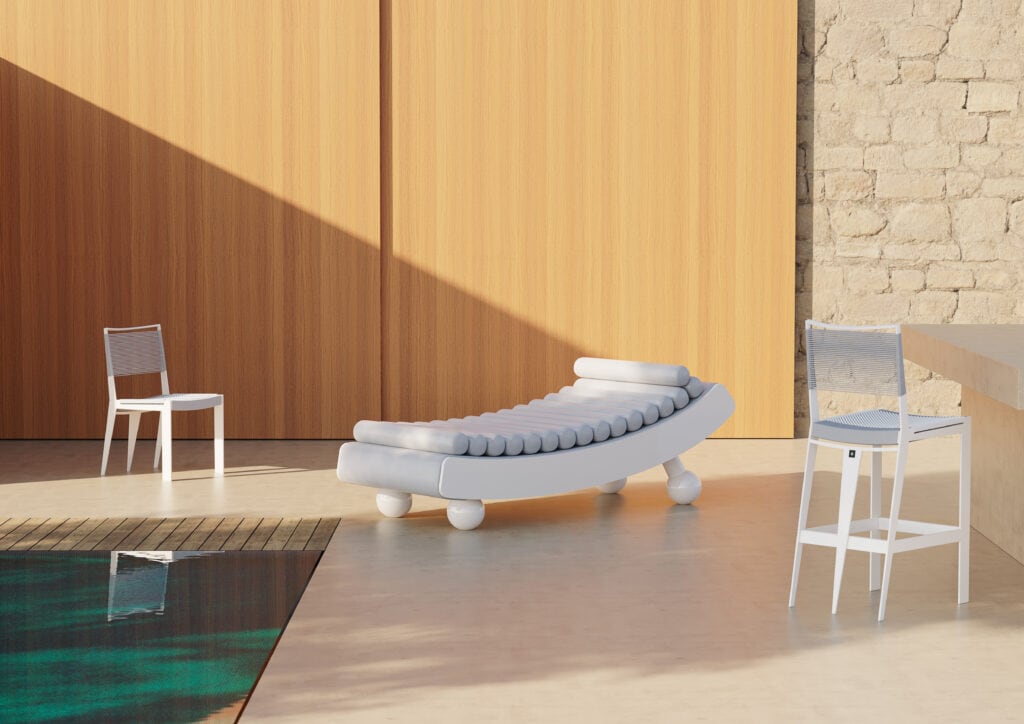 Fire by night
Kalam Fire Pit Black is a freestanding modern fire pit that perfectly fits a modern outdoor design project. Kalam creates another expression of outdoor living with a design resembling a work of art, crafted to outset a cozy atmosphere and complement a refined landscape lighting design.
Massimo floor lamp
Massimo Lamp is an artistic object with a clean and functional design that represents the perfect synergy between utility and design. With a unique mix of textures, the wavy body in stainless steel performs well to atmospheric agents, while its moon-like front complements a fine selection of modern stone furniture. As a premiering product, the floor lamp adds a romantic flow to open-air rooms.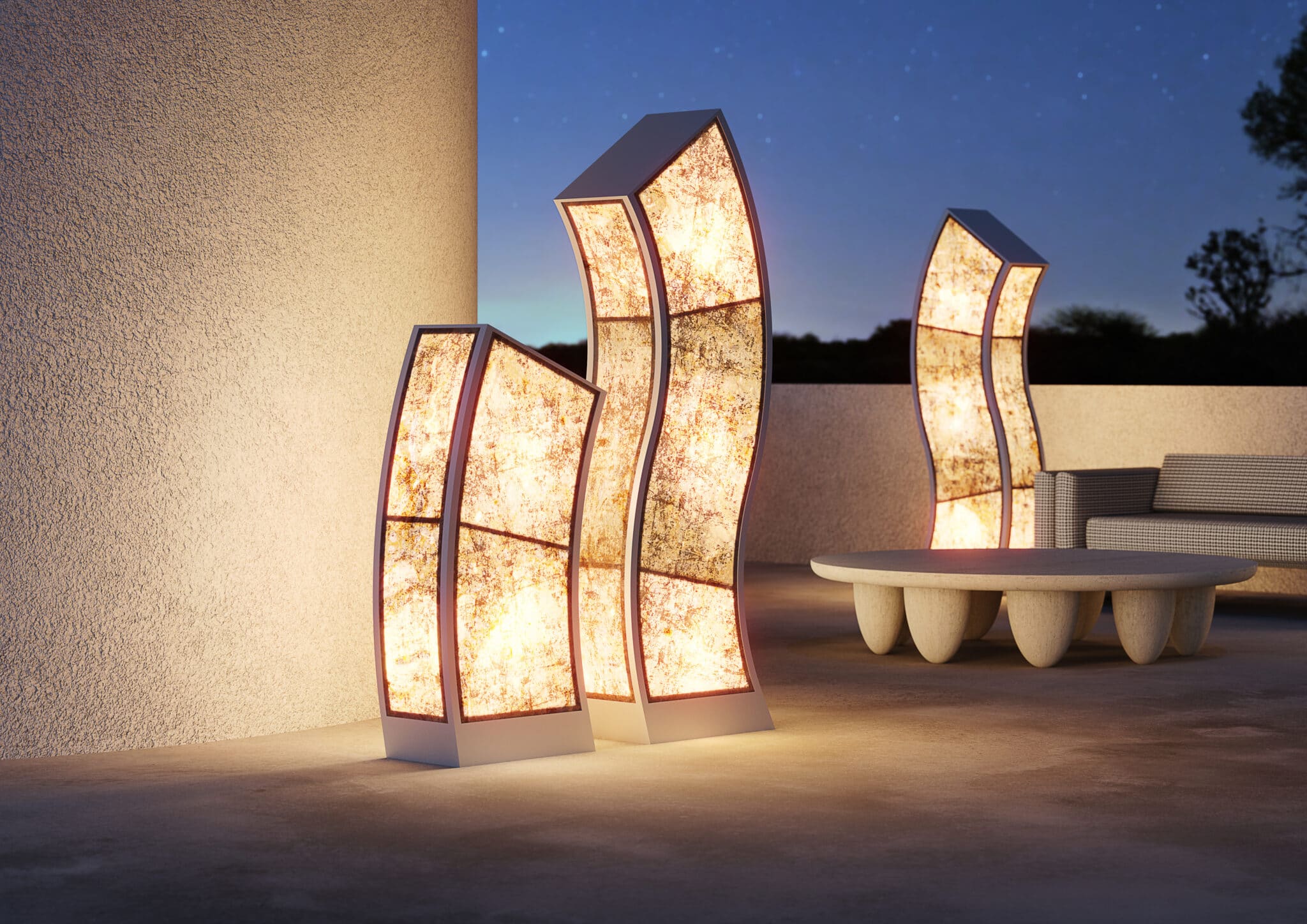 ENJOY YOUR SUMMER WITH HOMMÉS STUDIO and the Mediterran Resort Collection