A painting in which anything is possible. In his works, Martin Veigl deals with gestural abstractions, monochrome color stories and narrative figuration with a socially critical claim.
Text: Günther Oberhollenzer
Abstract art meets figurative imagery
Martin Veigl celebrates painting, its illusionistic power as well as the abstract gesture. He loves figurative imagery as well as the sensual play with color and shape. It is an art that thinks about our present and digital imagery and language and lets it resonate again and again.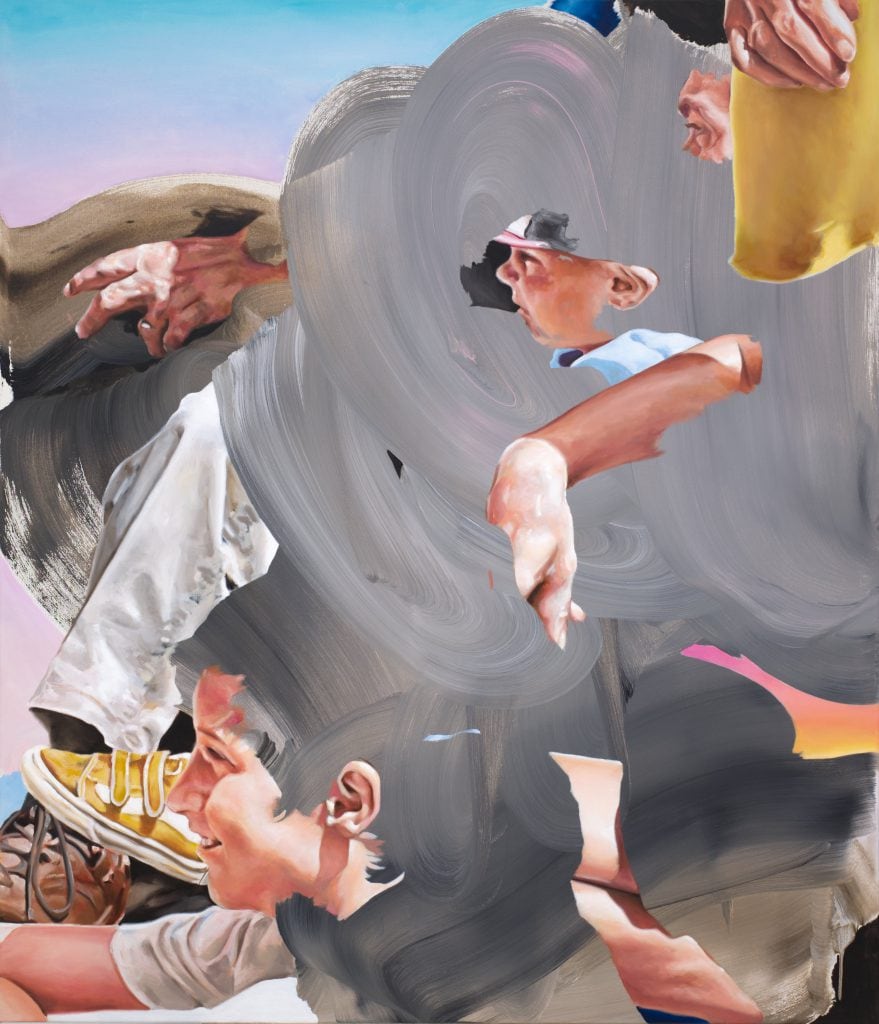 Many of Veigl's paintings show everyday scenes, mostly in an urban environment and zoomed in very close to us: passers-by in urban space, young people in summery clothes, giving advice, looking at their cell phones, walking down the street and or waiting for something.
The artist looks at them crowded together at an angle from above, or he is in the middle of the crowd. The protagonists are grouped so close to the edge of the painting that one sometimes thinks they are stepping out of the canvas at any moment. They don't notice us, they seem to live entirely in their own world.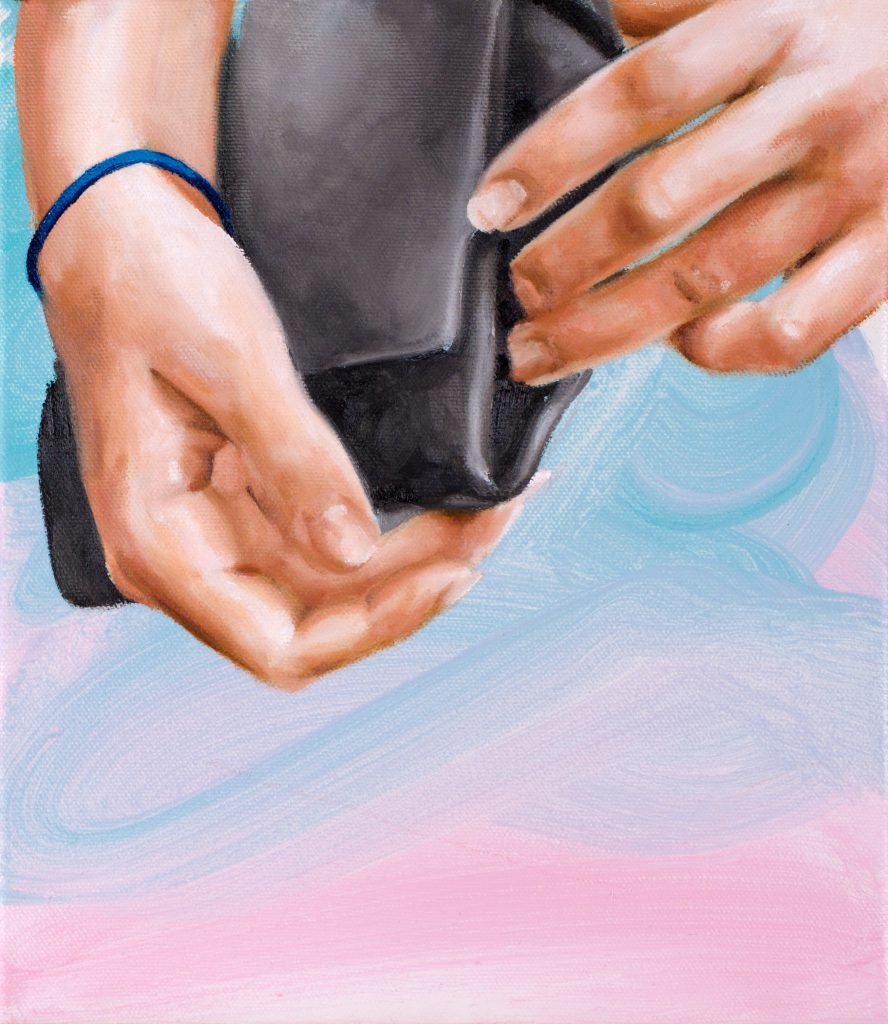 Veigl is a precise observer, he has a keen sense for the poses and gestures of everyday life, which often have something theatrical about them. The people appear as if they were on a stage, with their unusual colors being illuminate by spotlights – a warm, summery light with its typical hard cast shadows.
The coloring consists of many yellow and ocher tones, flesh colors from beige to pink, as well as emerald, a light blue or various shades of grey.
Veigl's recognition value
Its colors and shapes are unmistakable and the work is highly recognizable. The brushstroke is sometimes gestural, but at the same time – like the figures shown – it is also calm and concentrated, harmonious and balanced. The artist succeeds in quickly detaching himself from his photographic templates and finding his own ideas for images, he lets himself be drawn into painting, the colors and shapes play their own game.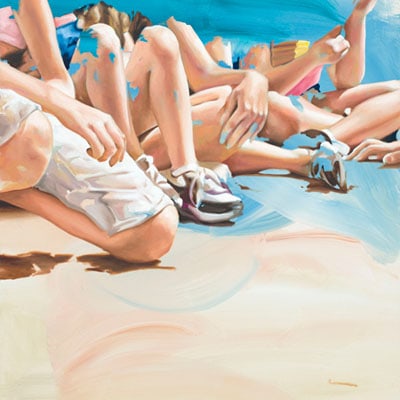 The artistic security has increased steadily in the last few years, the courage for abstraction has increased, although this is not a stringent, linear process, oriented towards a clearly identifiable goal. Painting becomes independent again and again, emancipates itself from the representational form, searches for purely painterly solutions. It is a painting between being active and only reacting, which is what painting demands as soon as it becomes independent and claims the picture for itself. Curved areas of color are laid over some figures with a relaxed gesture and claim their equal status in relation to figuration.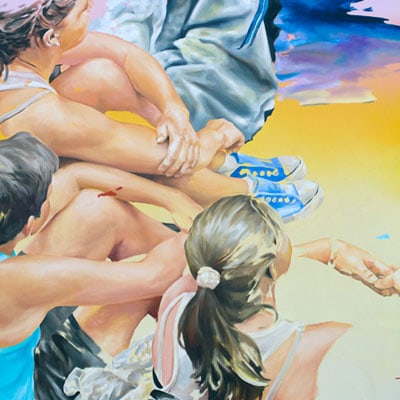 The traces of the painting process, such as recognizable brushstrokes and overpainting, sometimes allow the figurative subject to recede behind the act of painting. Then, in other pictures, the objectivity is again more self-confident and formulated more strongly and only details begin to dissolve like spots. The representational world is important as the starting point for painting, but more more important than the question of what is represented is what is being painted
Anything can be painted if only one can paint it well,

shows Veigl impressively in his works.
Inspired by his perception of the world
Body and object serve him as a test field for a painting that can create a new reality poetically and sensually with color and shape, surface and space.
In his artistic approach, Veigl tries less to reduce the object to its central characteristic than to distort and fragment it. Inspired by diverse reflections of glass and water, surprising color spots and clouds emerge in a color typical of the painter or even delicate, superimposed and overlapping graphic structures and patterns.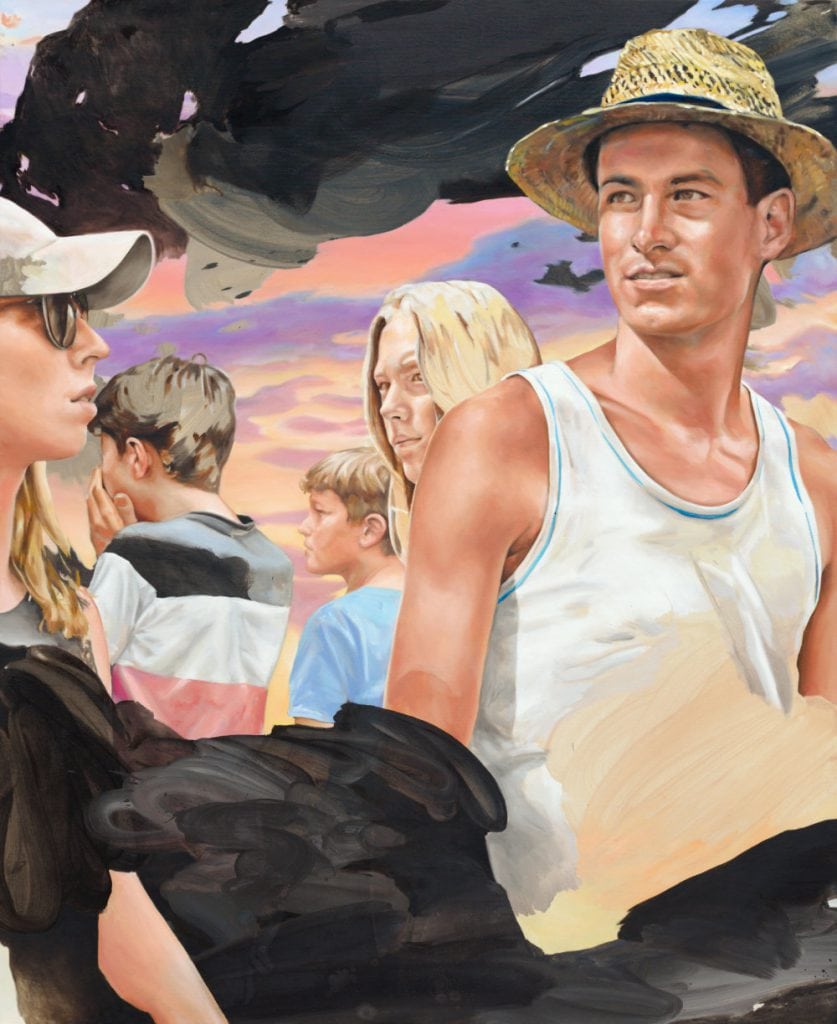 Veigl draws inspiration from his surroundings, his interests, his perception of the world – a world in upheaval, in which many things seem to be no longer tangible and to dissolve. He creates an open painting, atmospherically dense, in which the figures are barely recognizable or no longer recognizable and tangible, but the representational reminiscences remain perceptible. The moment seen or imagined experiences an aesthetic value that goes beyond the moment through being captured and frozen on the canvas.
Veigl's painting decelerates.
About Martin Veigl
Martin Veigl (* 1988, Steyr, Austria) lives and works in the city of Haag. He studied at the University of Applied Arts Vienna, the Art University Linz and the Willem de Kooning Academy Rotterdam. In 2016 he completed his painting studies in the class of Johanna Kandl and Henning Bohl.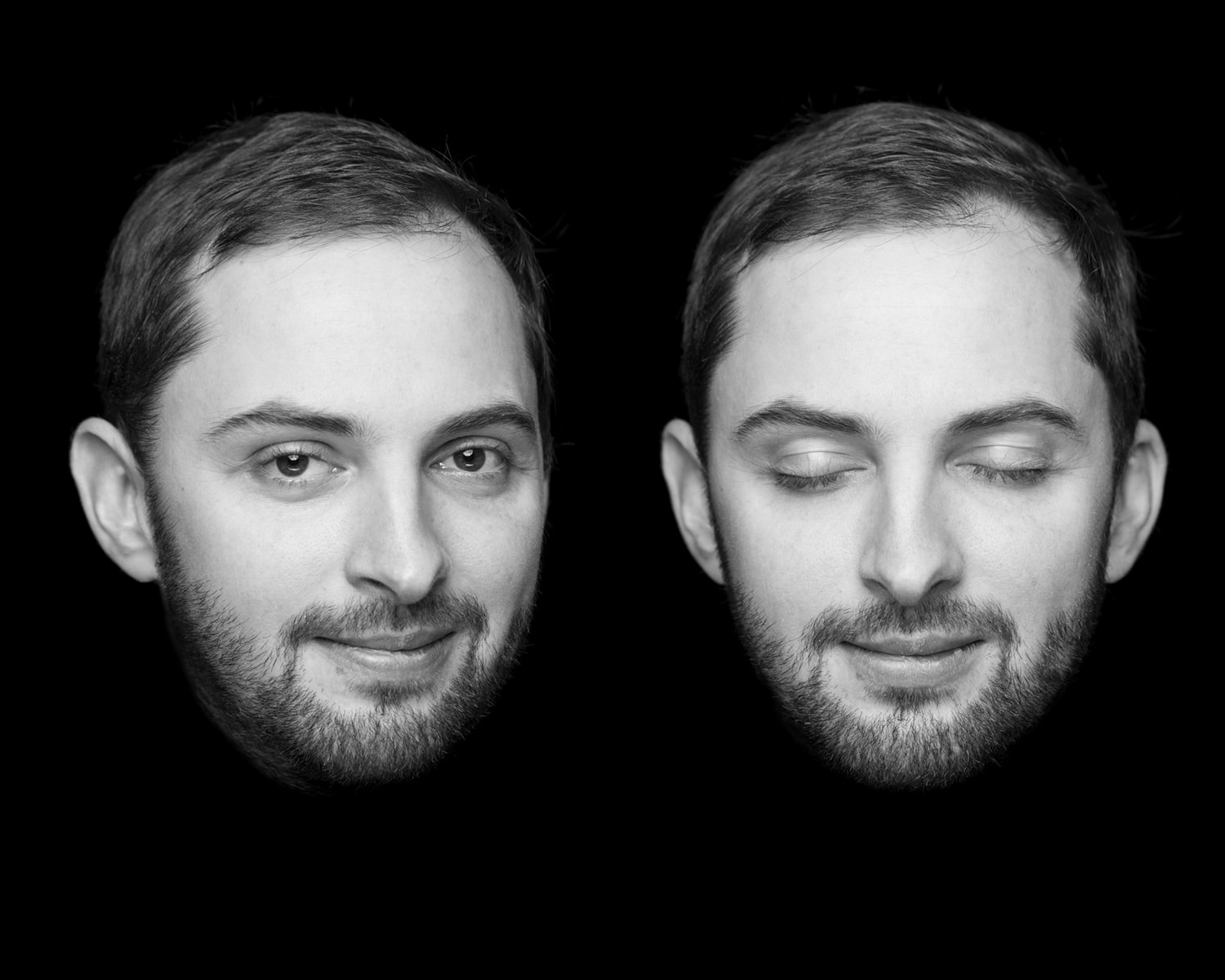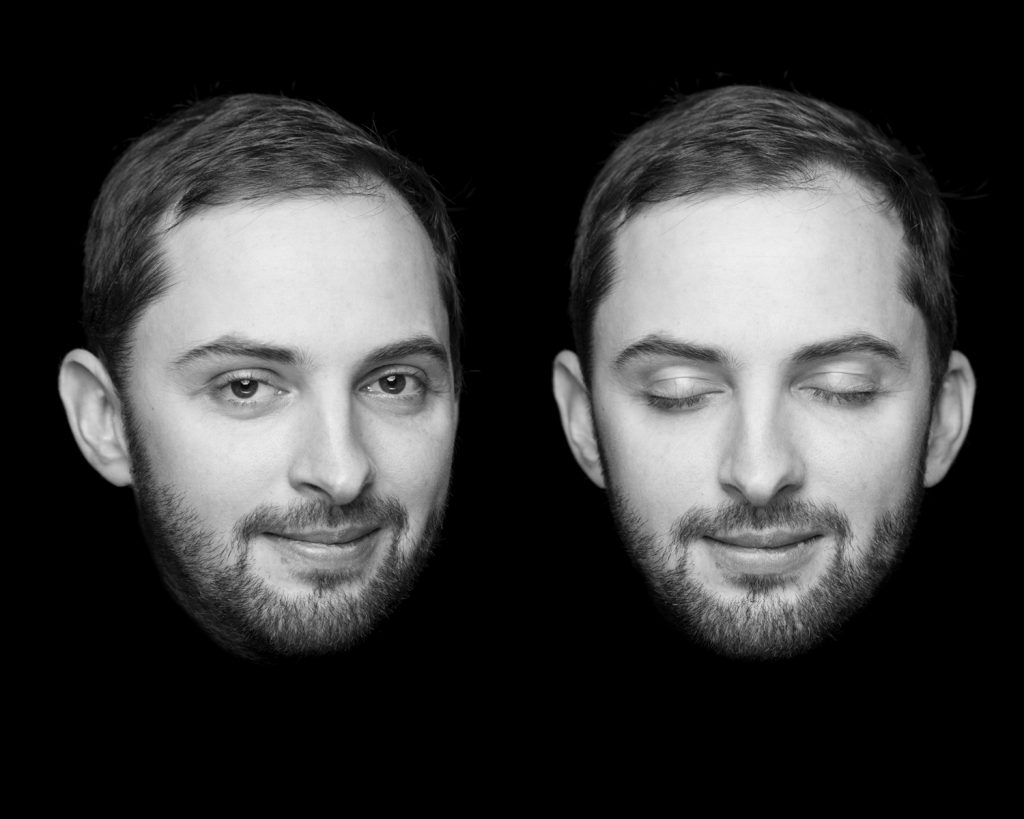 Martin Veigl online >>
Upcoming exhibitions:
30.10.2020-10.04.2021 Galerie Schnitzler Lindsberger, Graz
21.05.2021-02.07.2021 Galerie in der Schmiede, Pasching bei Linz
03.09.2021-03.10.2021 NÖ Dokumentationszentrum St. Pölten
16.09.2021-02.10.2021 Galerie Schnitzler Lindsberger, Wien
17.09.2021-19.11.2021 Galerie Krems
09.10.2021-20.11.2021 Galerie 422, Gmunden
20.11.2021-15.01.2022 Galerie Weihergut, Salzburg