Louvre Abu Dhabi is adding to its digital offering, providing free access to more content through virtual tours, video, audio and downloadable activities. This development brings Louvre Abu Dhabi's stories of cultural connections – of its artworks and exhibitions – to audiences around the world, ensuring that the museum remains accessible.
While Louvre Abu Dhabi is temporarily closed, our mission of sharing stories of cultural connections continues,

said Manuel Rabaté, Director of Louvre Abu Dhabi.
"Turning to art in difficult times can be truly inspiring and rewarding. Louvre Abu Dhabi has been developing and adding to its digital offerings, providing further access to rich content and enhancing the experience for our audiences from the comfort of their own homes. New digital features include a virtual 360-tour of our most recent exhibition, as well as online resources and activities that bring our collection to life. We will continue to tell the stories of our museum, with the hope that they offer solace, peace and inspiration," he added.
Digital offering
The first phase of Louvre Abu Dhabi's expanded digital offering includes exploration and discovery of the museum's collection and exhibitions through Louvre Abu Dhabi's website, mobile app and "Art From Home" online resources; make and play, a series of online videos and colouring activities for families and children; and rich digital learning resources for teachers to engage with their students.
The museum will launch additional programmes in the coming weeks and months, including immersive audio and virtual tours of the permanent galleries, an immersive science fiction experience of the museum's iconic architecture, excerpts from Louvre Abu Dhabi's publications available on the website, enhanced content on past exhibitions, and more.
Louvre Abu Dhabi is also a part of CulturAll, a new initiative launched by the Department of Culture and Tourism – Abu Dhabi to bring the emirate's cultural landmarks online for audiences to enjoy their offerings from home. Follow @abudhabiculture and #CulturAll and stay tuned for experiences from the museum.
EXPLORE AND DISCOVER
360 Virtual Tour of Furusiyya: The Art of Chivalry Between East and West
Audiences can still experience Louvre Abu Dhabi's most recent international exhibition through a 360 virtual tour available on the museum's website. Furusiyya: The Art of Chivalry Between East and West explores the ancient roots of chivalry and how distinct practices of combat and knightly values led to a specific culture in the Islamic East and the largely Christian West.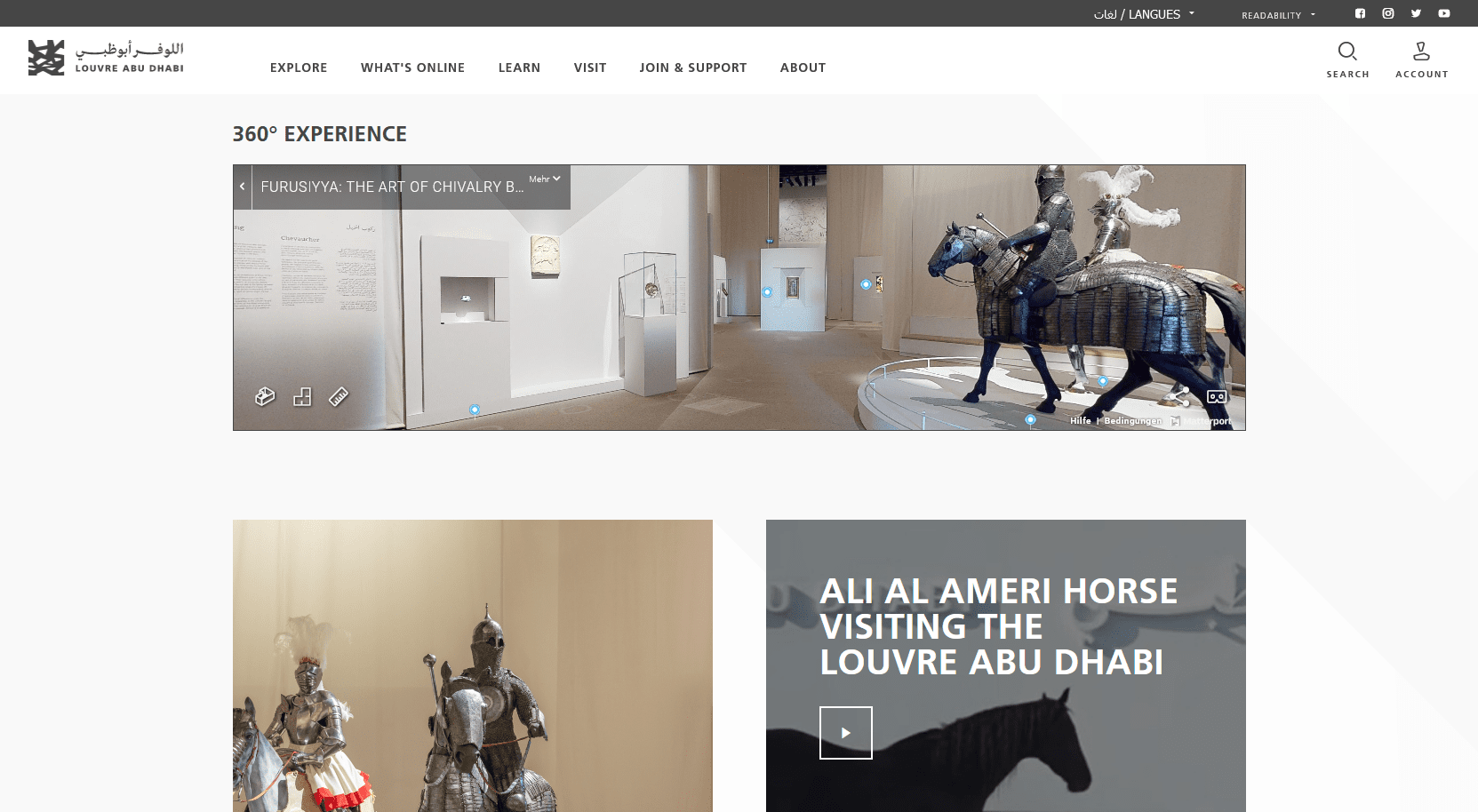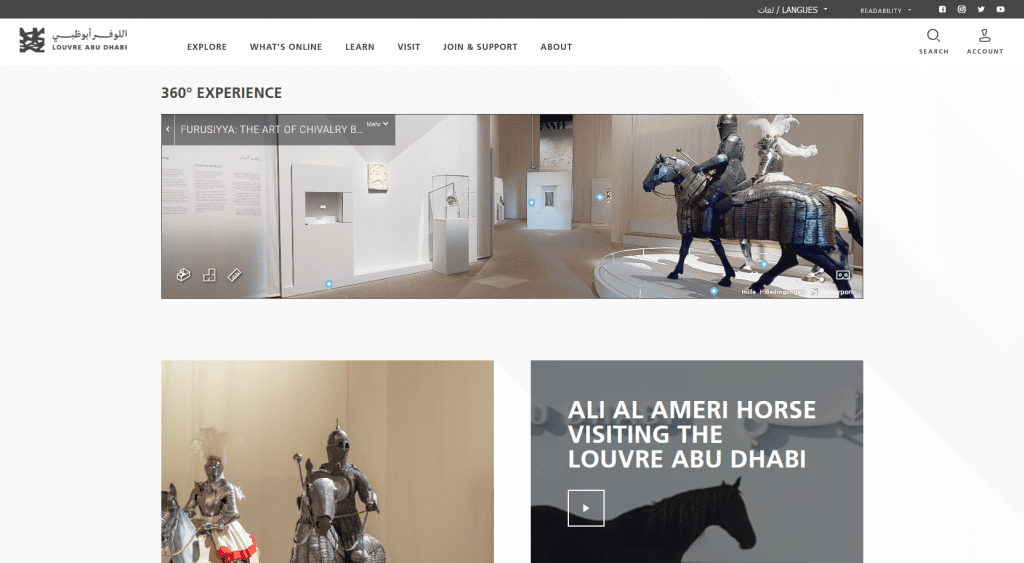 In this virtual tour, visitors can navigate throughout the entire exhibition and select 18 of the artworks on view for a closer look through clicking on a digital tag. Pieces include Louvre Abu Dhabi's spectacular Ottoman Horse Armour from the late 15th century, installed alongside a European Horse and Knight Armour from the first quarter of the 16th century, on loan from Musée de l'armée; a cameo from 260 A.D. depicting the Fight between Emperor Valerian and King Shapur from the collections of Bibliothèque Nationale de France; and the Turban Helmet of Sultan Bajazet II from Musée de l'armée, among other works.
The virtual tour is accessible here. Captions for artworks are available in English, French, and Arabic.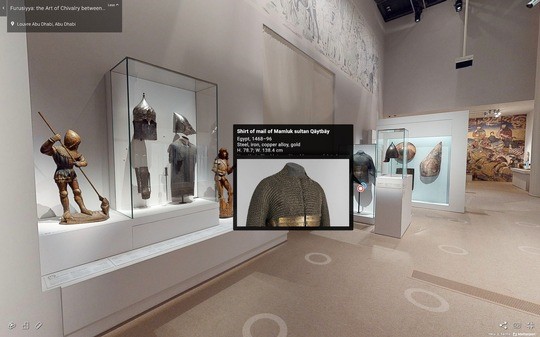 Additional digital content for the exhibition includes an audio tour of the exhibition available on Louvre Abu Dhabi's mobile app and website, an interactive young visitor's guide that can be downloaded from the website, and an e-version of the exhibition catalogue that is available free of charge during the museum's closure.
Art from Home: Stories of Cultural Connections
In this online resource, Louvre Abu Dhabi brings its collection to the public through a multi-sensory experience available on the museum's website. Masterpieces from the collection are brought to life through a visual demonstration offering a closer look at the features of the artwork, an audio recording sharing an in-depth story of the piece, and easy-to-use activities, including colouring pages, that parents can download for their children.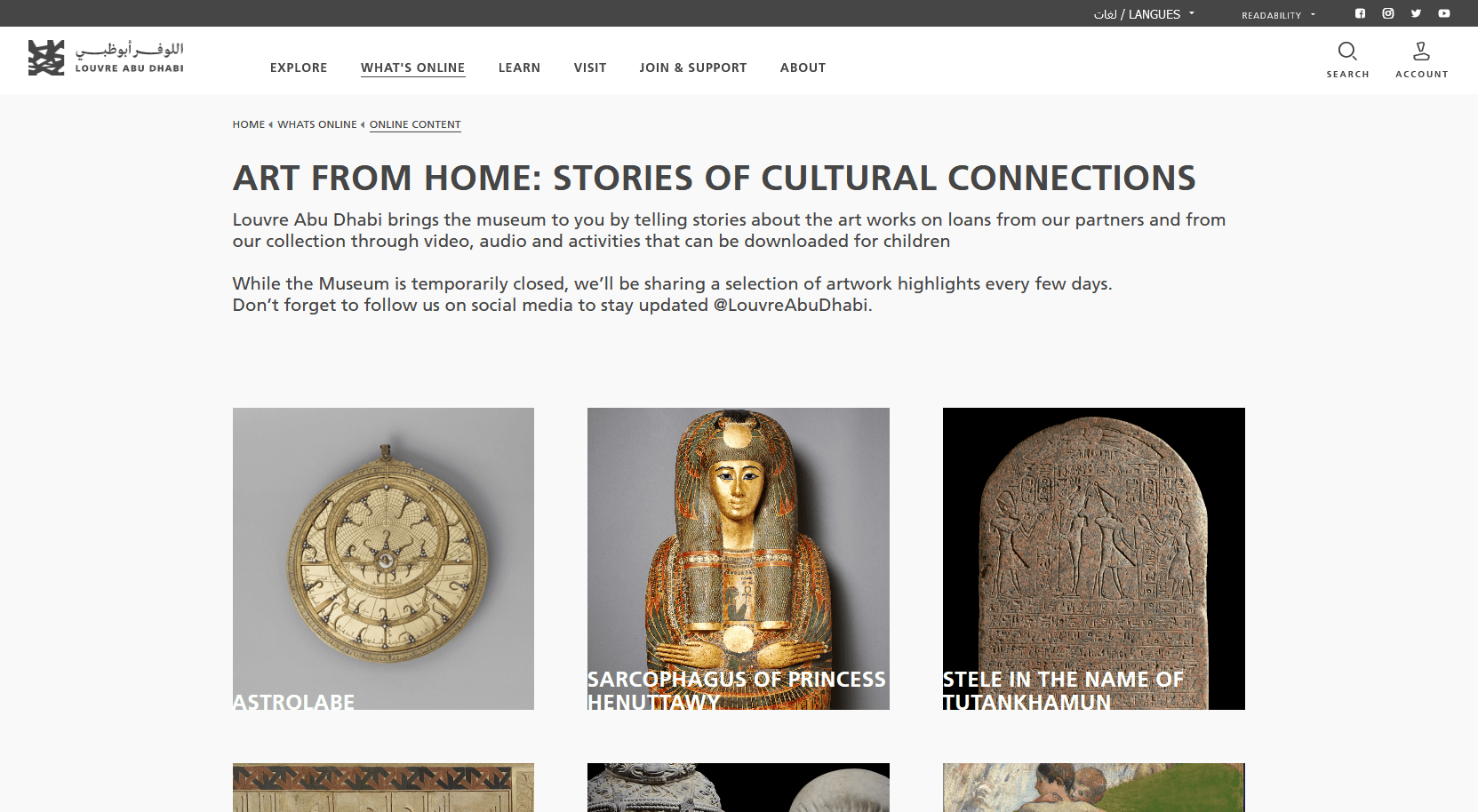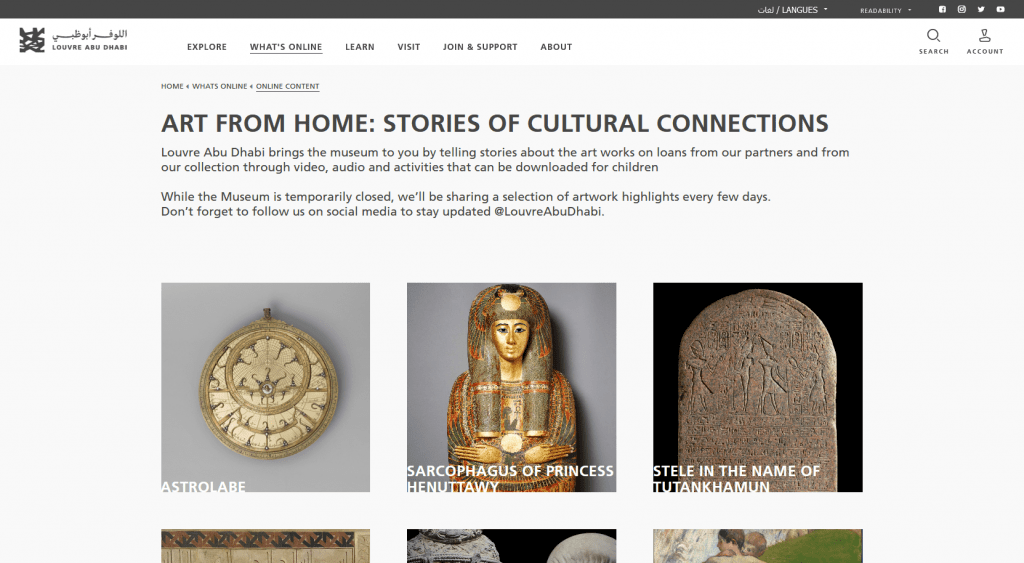 Louvre Abu Dhabi's Mobile App
Discover the artworks of the museum galleries and the international exhibitions virtually through Louvre Abu Dhabi's mobile application. The app contains more than 150 audio pieces, videos, text, pictures and 3D views of the museum's architecture and artwork, and is available in seven languages including English, Arabic, French, German, Hindi, Mandarin, and Russian.
The Louvre Abu Dhabi's mobile app is free to download from Google Play or Apple Store for both smartphones and tablets.
MAKE AND PLAY
A series of short educational videos for the whole family to create art inspired by the collection using simple materials.
LEARNING RESOURCES
Designed for children, educators and families, Louvre Abu Dhabi's learning resources aim to enhance the visitors' experience and extend it to classrooms and homes through engaging questions and interactive activities. The learning resources invite young and adult visitors to learn actively and make strong connections with the collection and the exhibitions by taking the lead as self-guides who direct their own experiences.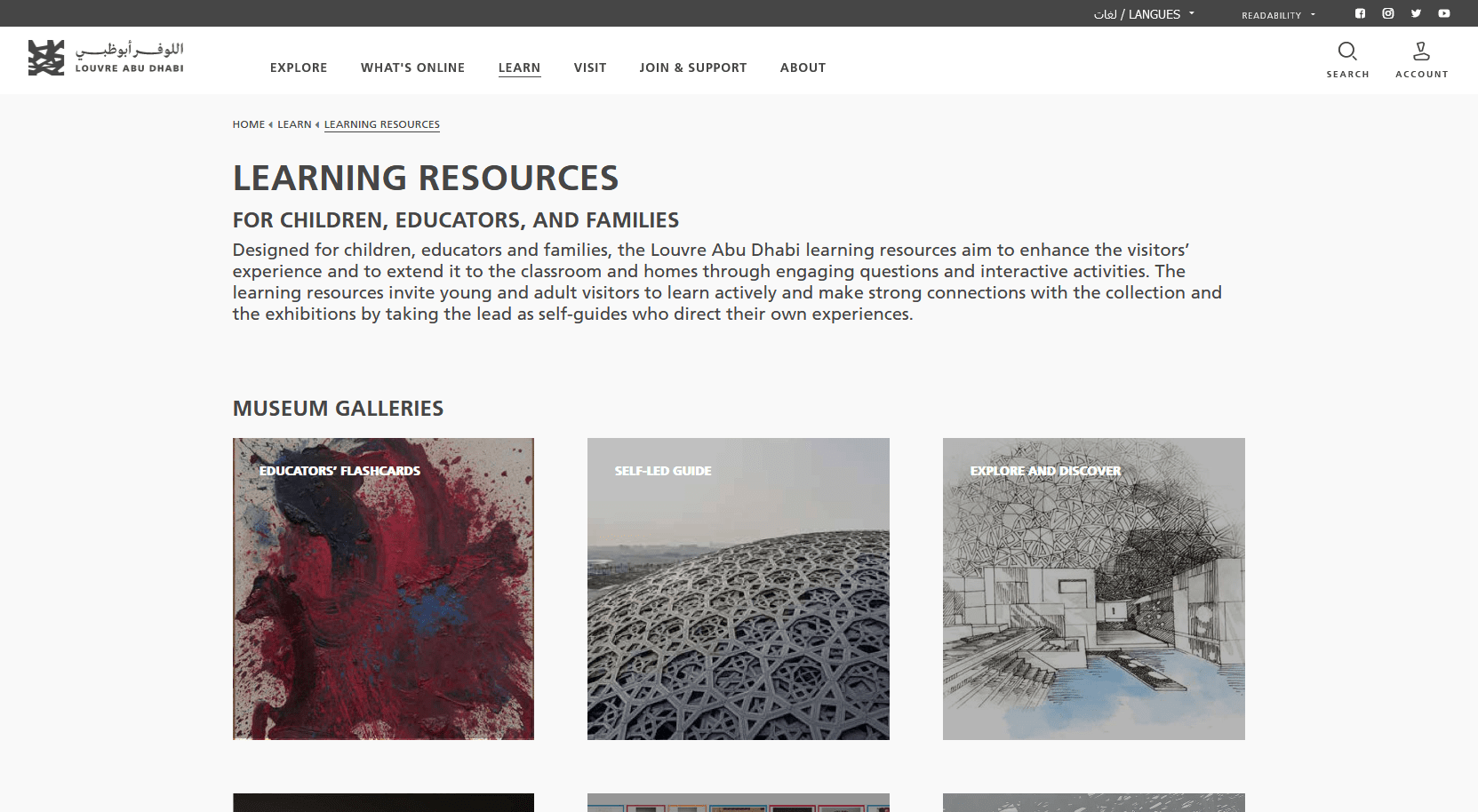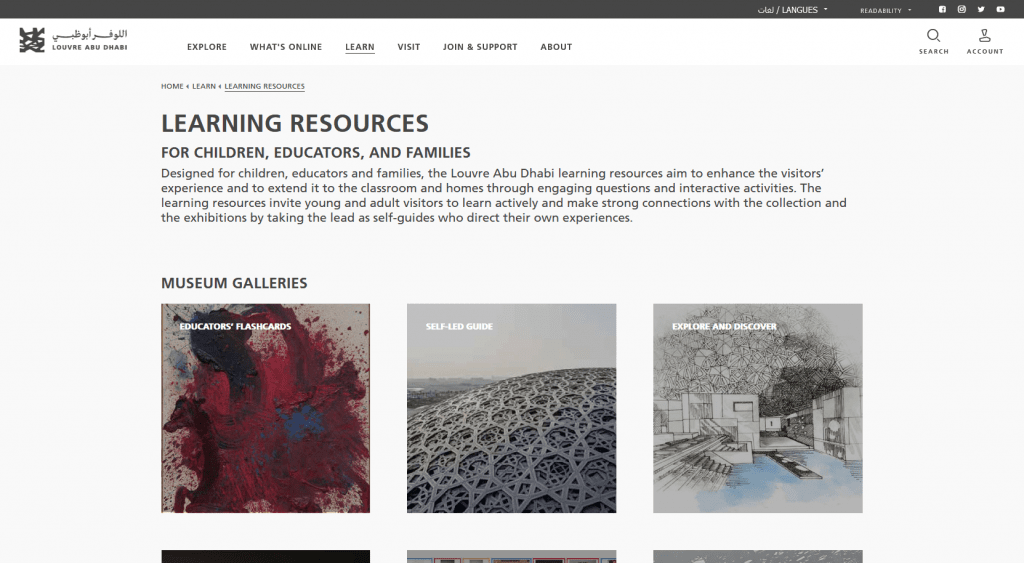 The free-to-download resources include: Educator's Flashcards, Self-led Guides, Explore and Discover activities, Educator Resources Portfolio activities sheets, Educator Resources Portfolio Map, Educator Resources Portfolio resource guide, Furusiyya: The Art of Chivalry Between East and West Educators Guide, Furusiyya: The Art of Chivalry Between East and West Young Visitor's Guide, a Museum Chatterbox, in addition to many other resources on previous international exhibitions and Children's Museum exhibitions.
---
All digital content is available in three languages (Arabic, English and French) and is accessible through Louvre Abu Dhabi's website and social media accounts: Facebook (Louvre Abu Dhabi), Twitter (@LouvreAbuDhabi) and Instagram (@LouvreAbuDhabi).