Massimo Bottura: Kitchen Quarantine
The circumstances may have been difficult, but chefs and restaurant owners brought us so much joy while we were in lockdown. With fantastic recipes on Instagram, deliveries of our favourite foods and surprise food parcels for doctors at the hospital, they provided immense culinary comfort when we needed it most – the ultimate example of "sharing is caring".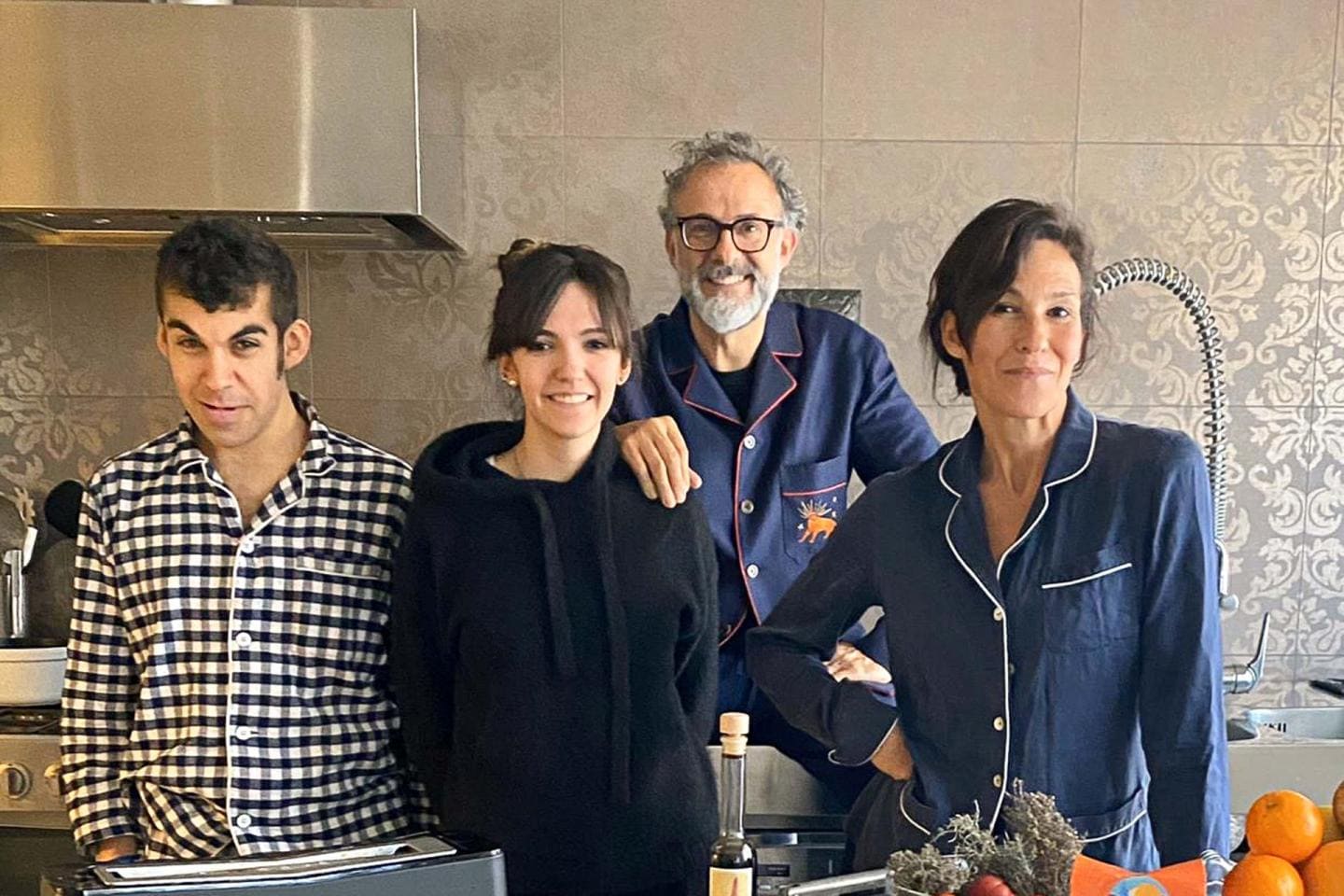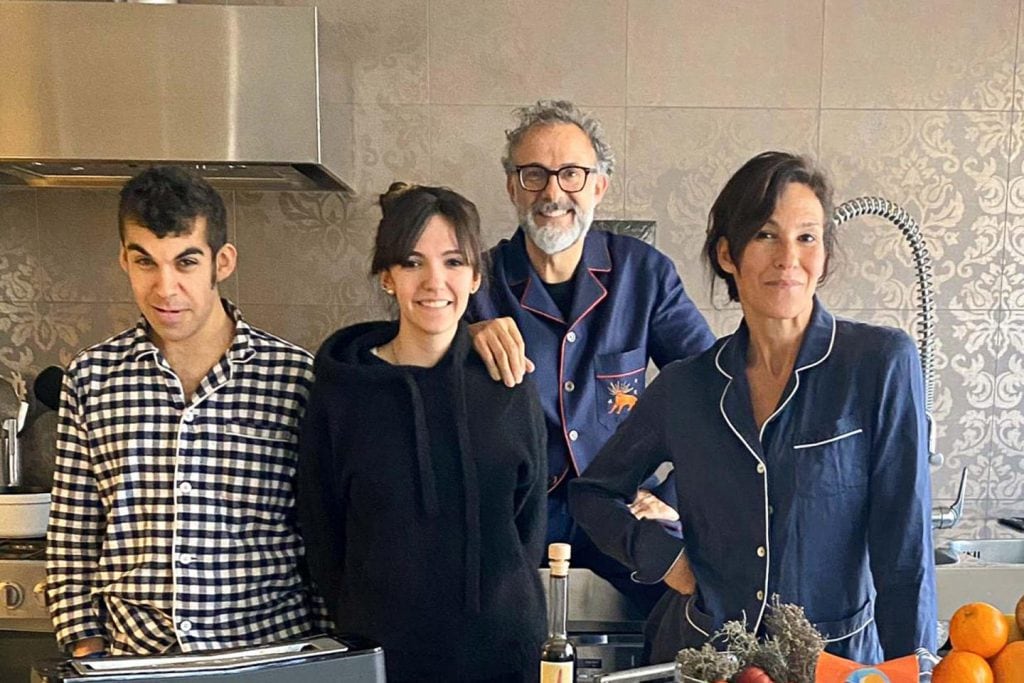 In the meantime, things were livening up over on Instagram, with the #kitchenquarantine sessions by Massimo Bottura proving immensely captivating. Michelin-starred chef Massimo Bottura has found a new way to delight his fans: by streaming his family meals on Instagram. Bottura, whose restaurant Osteria Francescana was ranked No. 1 in the world in 2018, began posting live Instagram videos during the lockdown in which he and his family cook dinner together using common household ingredients.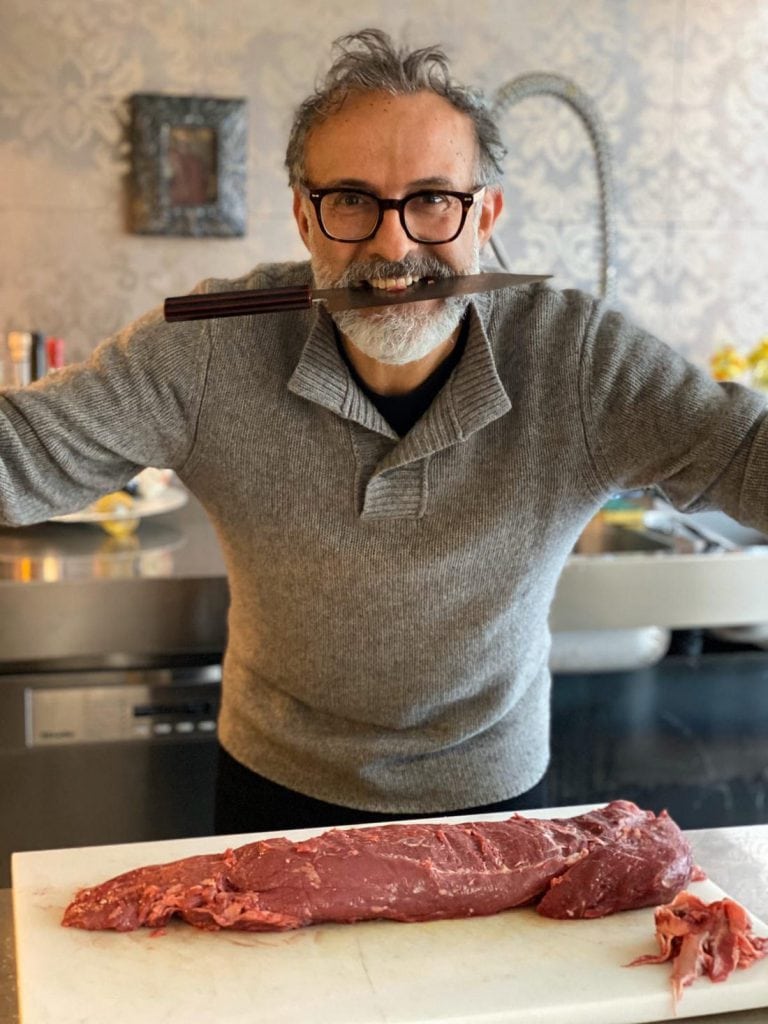 Meanwhile he closed all his restaurants around the world, including top-rated Osteria Francescana and Gucci Osteria da Massimo Bottura, which also opened its doors in Los Angeles in early February.
"Wash your hands"
Each episode begins with a friendly reminder to "wash your hands," and includes guest appearances from Lara Gilmore, his wife and fellow restaurant proprietor, their son, Charlie Bottura, and their daughter, Alexa Bottura, who films the episodes.
The most important thing was, that Kitchen Quarantine was the perfect expression of food for soul*, that is our charity foundation.

Massimo Bottura
*Food for Soul is a cultural project founded by Chef Massimo Bottura and Lara Gilmore to shine light on the invisible potential of people, places and food.
His videos are extremely entertaining and presented in a mixture of Italian and English. Watching and listening to him cooking will give you an instant sense of being on holiday – the Italian parts in particular conjure up images of Italy and all the glorious things this beautiful country has to offer, and serve as the ideal backdrop while you learn how to make chocolate mousse, classic dishes like risotto using leftovers or things you find in the freezer, ragù and even ice cream.
Every day – cooking, me, Alexa and one iPhone.

Massimo Bottura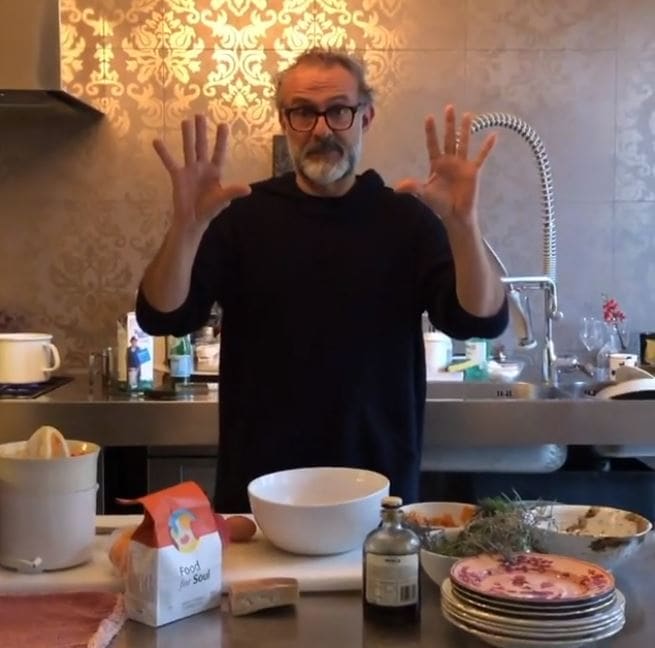 With boundless energy and feelgood vibes, wearing joggers and hoodies, the videos are created with Massimo's wife, who also acts as an interpreter between English and Italian. The idea was Bouttura's daughter's, Alexa, who after day two of quarantine, saw her dad in the kitchen and thought, 'hey, I bet a lot of people would enjoy seeing this'. She proposed the idea to the chef about sharing their family meals and, as they say, the rest is history.
For more on the haute cuisine side of Massimo, get Never Trust a Skinny Italian Chef; for more of the philanthropic and anti-food waste aspect of his work, get Bread is Gold.
---
Interview Massimo and Alexa Bottura
by Donna P.A. Eiby, Creative Director of The Future Work Skills Academy
This interview by The Future Work Skills Academy with Massimo and Alexa Bottura unpacks the Instagram hit Kitchen Quarantine through the perspective of novel thinking, adaptability and resilience. Armed only with an iPhone and with no idea what they would cook every night the Bottura family brought us into their homes. These sessions gave so much inspiration to the people of Italy who experienced a severe and sudden lock down in March 2020. But thanks to social media the world (including country leaders such as Jacinda Arden, movie stars, the United Nations, Apple, Google…the list goes on) were also inspired to check in nightly to learn some new twists on favourite dishes (and how to clean their fridge with pesto!) This success story is the result of a fusion of father Massimo Bottura (a world-famous, highly celebrated chef patron known for the 3 star Michelin restaurant Osteria Francescana and charity Food for Soul among many other accomplishments) and daughter Alex. While the family provided the talent Alexa created, directed (and did the post production for) this social media hit. How did Kitchen Quarantine start? With so many ways forward in response to the pandemic what drove them to choose this one? What roadblocks did they encounter? What surprised them? And what were the secrets to their success?
---
Massimo Bottura
Instagram: https://www.instagram.com/massimobottura
Facebook: https://www.facebook.com/MassimoBotturaOsteriaFrancescana/
Twitter: https://twitter.com/massimobottura
Osteria Francescana: https://osteriafrancescana.it/it/
Franceschetta58: https://www.franceschetta.it/
Food For Soul: https://www.foodforsoul.it/
Gucci Osteria, Florence: https://www.gucci.com/int/en/store/osteria-bottura?utm_campaign=retail_storepages_marcomm&utm_source=yext_it&utm_medium=storemarketing&utm_content=Osteria
Gucci Osteria, Beverly Hills: https://www.gucci.com/us/en/store/osteria-bottura-beverly-hills
Torno Subito, Dubai: https://www.tornosubitodubai.com/