From October 13th to November 13th, Gallery at the Albertina ▪ Zetter dedicates a representative overview of the extensive artistic oeuvre spanning six decades to the universal artist Christian Ludwig Attersee.
This remarkable journey through a highly distinctive, multifaceted, and unmistakable body of work begins in the 1960s with mixed-media pieces like "Nineteen Fried Eggs (Fried Egg Shop)," "Beauties," and "Bites" from 1967, proceeds through the pictorial spaces of the 1970s, 1980s, and 1990s, and culminates with the energetically charged works of the 2000s, ultimately ending with the latest painting "Full Moon Expectation" from 2023 in the present.
This impressive solo exhibition at Gallery at the Albertina – Zetter brings together around 70 works on paper and canvas, some of which have never been shown to the public, and prominently showcases Attersee's ironic and satirical "Attersee-ization" of everyday life.
People, body parts, animals, objects, water, weather, sails, food, drinks, clothing, myths, music, and words populate Attersee's artificial cosmos, where the color blue serves as a distinctive hallmark. Christian Ludwig Attersee is an unrivaled master of playful, sometimes sarcastic, non-functional inventions, such as the "Pubic Hair Curler Painting" from 1970. He created a hybrid world of colorful amalgamations: "Ham Panties" (1970) meet "Finger Sandwiches Wallpaper" (1968), "Kitten Legs" (1970) mingle with "House Breasts" (1977), and women's breast flesh appears delicately marbled in "When Jumbos Argue Over Ham" (1968). Attersee has often been referred to as a Pop Art artist, but he believed in his own unique approach: "The Pop artists find, I, on the other hand, invent."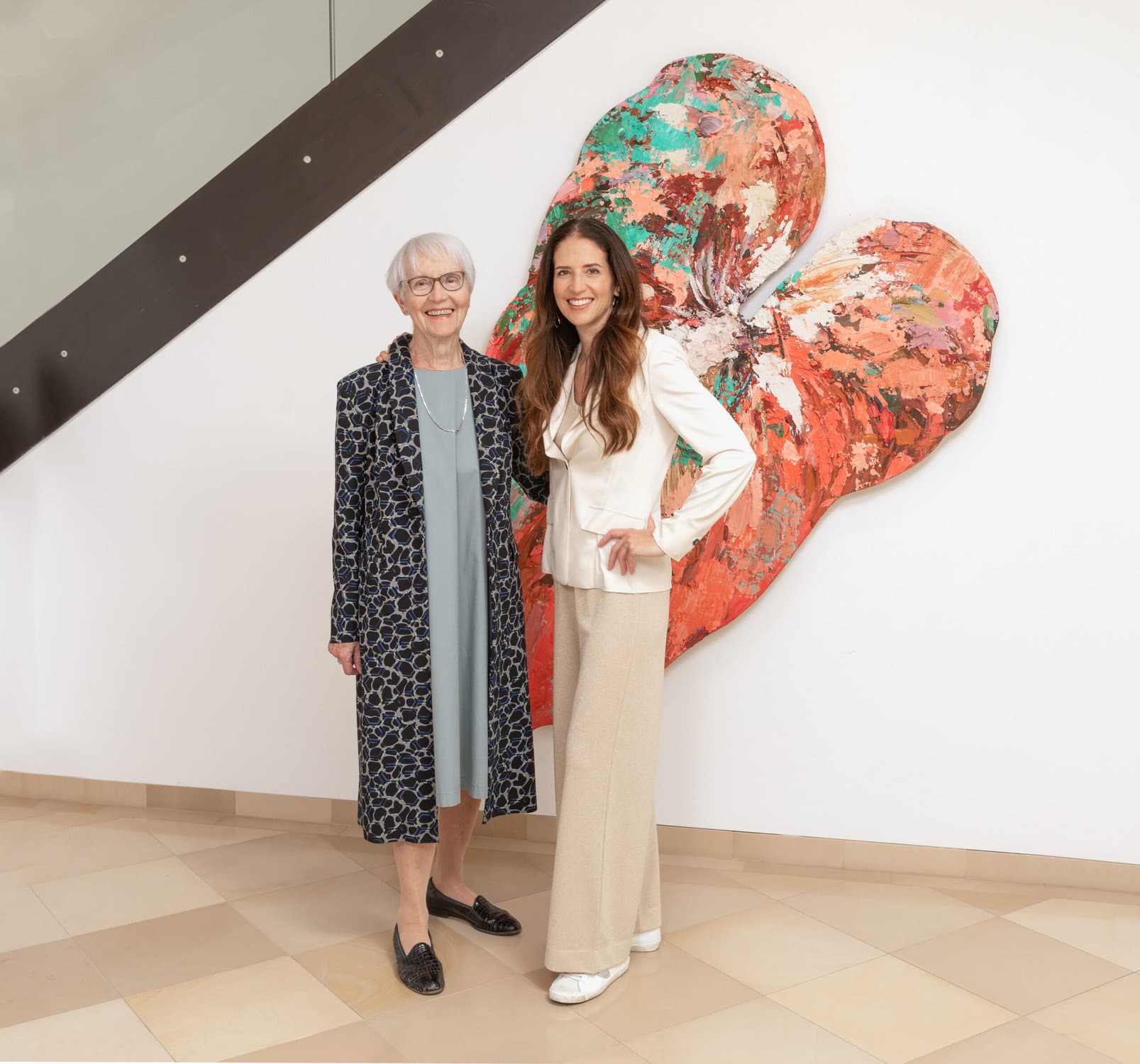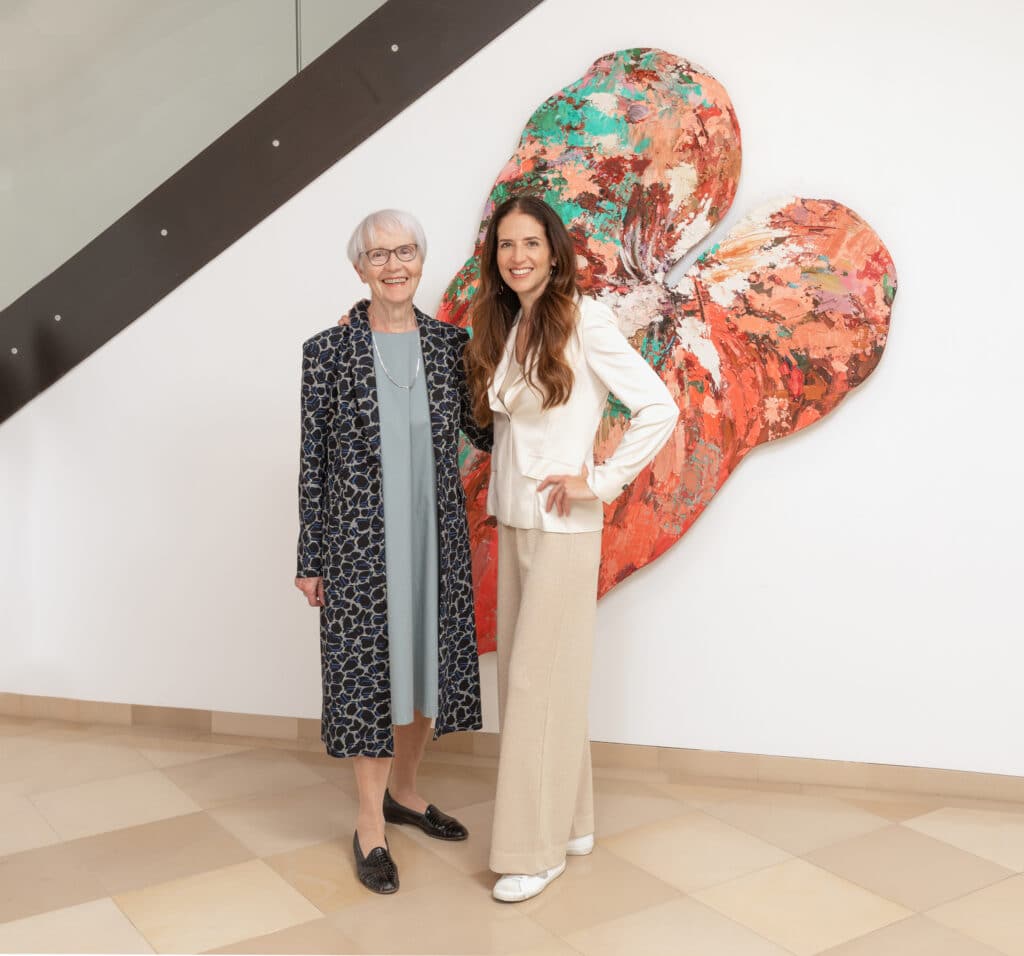 In the second half of the 1970s, Christian Ludwig Attersee emerged as one of the leading figures of the "New Austrian Painting" movement. With dynamic, spirited brushstrokes and conspicuously vibrant colors, he created a figurative-symbolic body of work filled with layered associations and ambiguous fantasies. Creative titles provide interpretive assistance: "The Knee Bath of the Plate Rim Baroness" (1974/75) or "Tongue Sausage All Around" (1977).
A standout within the impressive Attersee retrospective is the 298 x 400 cm painting titled "Fan," which Christian Ludwig Attersee created for the inaugural "Champagne Ball" at the Vienna Konzerthaus in 1986. Against a vividly expressive, gesturally rendered background, a bird's head with a pointed beak enjoys sipping champagne. Attersee was responsible for the decoration of this grand social event, creating a total of 12 wall objects, including eleven in the shape of fans and one mural.
About Christian Ludwig Attersee
Born in Bratislava, Slovakia, in 1940, Christian Ludwig (Attersee) is considered one of the most important contemporary artists in Austria today. After a successful career as a competitive sailor, Christian Ludwig, who spent his youth in Aschach near Linz and at Lake Attersee in Upper Austria, relocated to Vienna in the autumn of 1957 to begin his artistic journey: "I will become the national champion three times, and then I will go to Vienna and become a famous artist." In 1966, he adopted the pseudonym (or rather, toponym) "Attersee."
In 1984, Attersee represented Austria at the Venice Biennale. Between 1990 and 2009, he served as a professor of painting, animation film, and tapestry at the University of Applied Arts in Vienna. In 1997, Attersee was awarded the Grand Austrian State Prize for Visual Arts. In 2019, the Belvedere 21 dedicated a major retrospective to him under the title 'Fireplace.'
Christian Ludwig Attersee is considered one of the most significant representatives of representational painting in Europe over the last 40 years. His international reputation is evident in over 500 solo exhibitions in many European countries and the United States. Attersee is a wonderfully versatile artistic personality, encompassing roles as a painter, set designer, filmmaker, musician, writer, object artist, and designer all in one.
EVENT CALENDAR
CHRISTIAN LUDWIG ATTERSEE Exhibition: October 13th to November 13th, 2023
Vernissage: October 12th at 6:00 PM
Photocredits: Galerie bei der Albertina-Zetter