From Sumo Stables to Yuzu Baths, Text: Nina Prehofer
Here we provide a brief insight into the island country's sporting traditions, ancient rituals and new customs.
---
SUMO
//
A FORM
OF WRESTLING
ORIGINATING
IN JAPAN.

A FIGHT
TYPICALLY
LASTS AROUND
TEN SECONDS.
The sumo wrestlers' accommodation
Have you ever been to a sumostable? No? Me neither, because it's not that easy to get into one if you don't speak Japanese. The sumo wrestlers' accommodation is actually called a stable, or beya. It's the name of the team the wrestlers fight for and is training centre and accommodation all in one. If you looked at it kindly, you could call it a residential communityfor men, but in reality it's more like a bootcamp.Training starts early in the morning –warm up, stretch, wrestle. A strict hierarchy is in force, with the youngsters having to make breakfast, do the shopping and clean. The practicesare archaic in accordance with the 2,000-year-old tradition.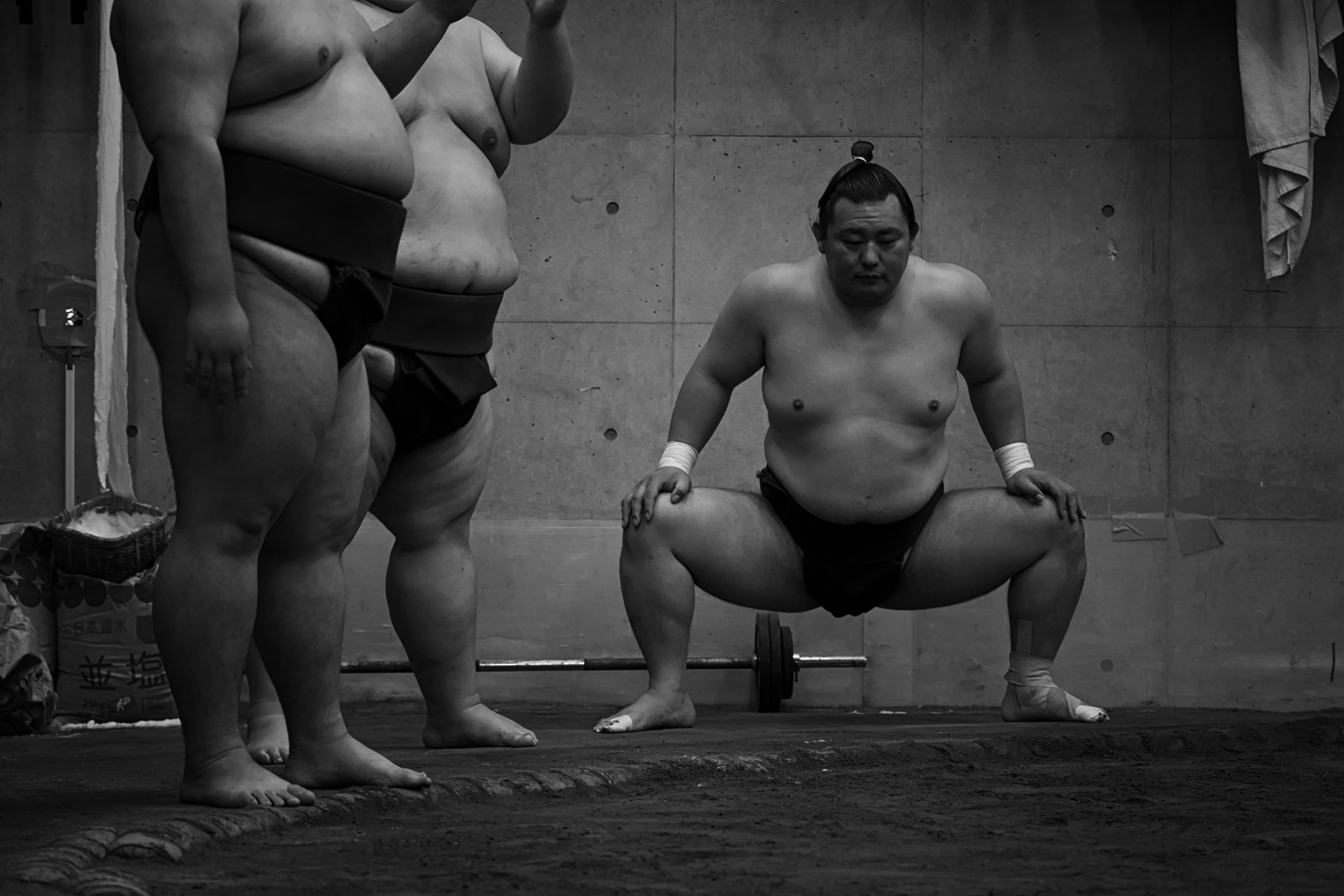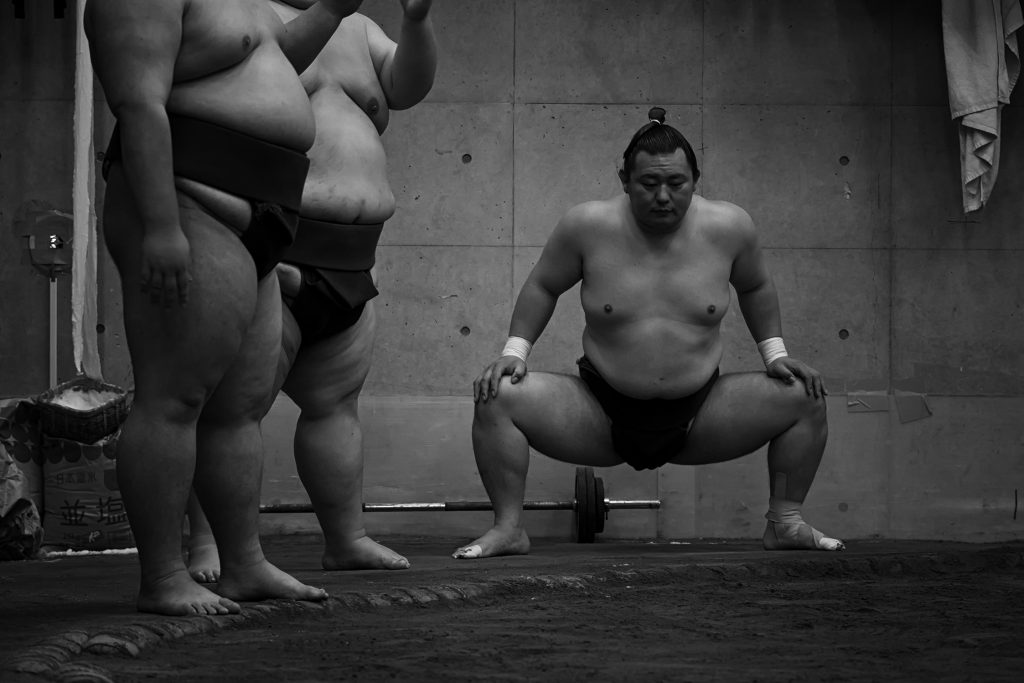 DOHYO
//
THE RING
WHERE THE
FIGHTS ARE HELD.
Medidation
Ancient rituals are still followed to this day, and before a match starts, a lot of time is devoted to religious ceremony. The same can be said for kyudo, the Japanese art of archery. The impressive thing about this is the unbelievably slow sequences of movements that make it seem like a zen ritual. The bow and arrowsare made out of the most intricatelycrafted bamboo.
Kyudo, judo, kendo, sado, shodo–all of them names of sports that end with "do", meaning "path"or "way".
All traditional Japanese "master" training is linked to meditation–you walk a path that you must first find,then master.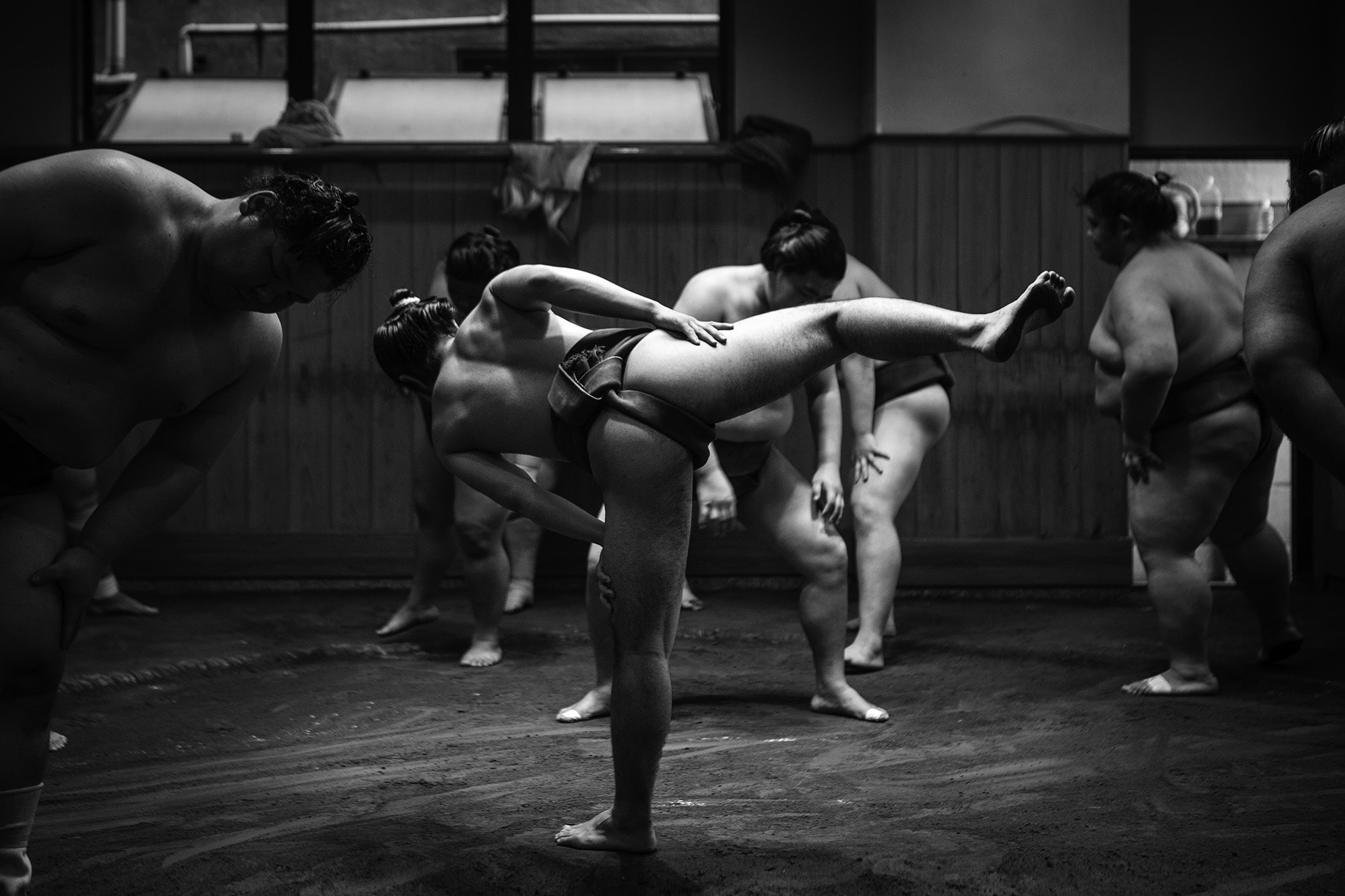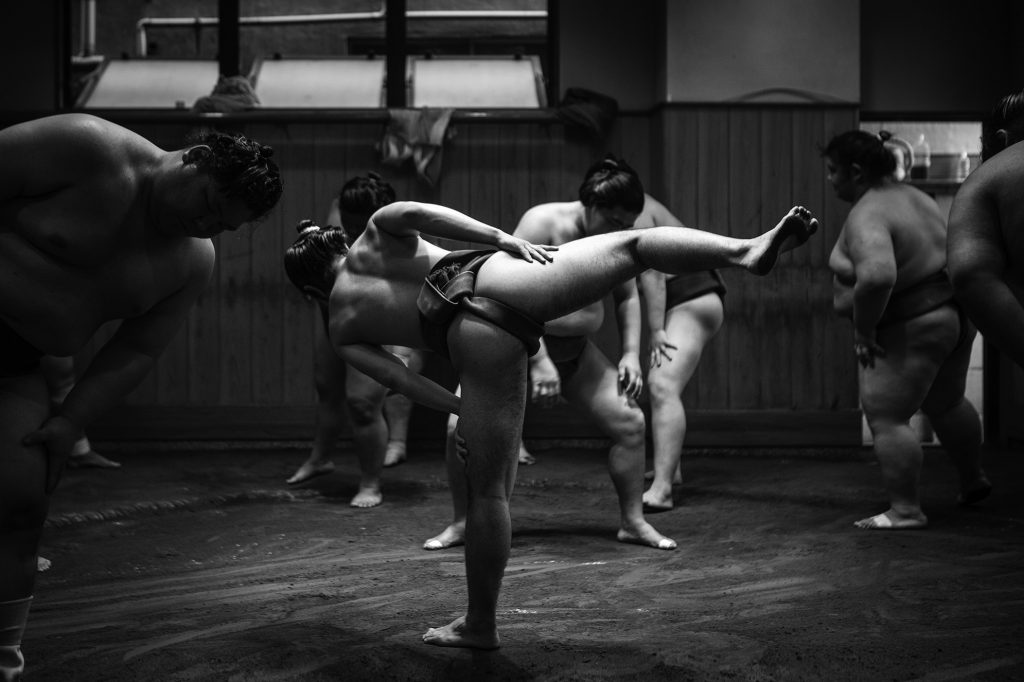 HINKAKU
//
WHAT SUMO
WRESTLERS HAVE
TO DISPLAY.
IT MEANS
DIGNITY.
IT MEANS
NOT CELEBRATING
WHEN YOU WIN,
AND NOT
COMPLAINING
WHEN YOU LOSE.
But the "path" doesn't only need to be followed in sport –you even have to go down it for tea. Introducing sado, the prestigious tea ceremony and ritualised preparation of powdered green tea, or matcha, in the presence of guests. A tea house is always surrounded by a garden that you have to walk through and forms part of the ritual. The ceremony involves many steps and strict processes that need to be observed, including cleaning the mouth and hands to wash away all evils before entering the minimalisttea house, and stooping through alow entrance doorway to show humility. The tea master prepares all of the utensils in a way that aids the harmonious execution of the processes. It's not only tea that will finally be handed out, but small dishes of food as well.
Kyuto-Ryuis a newly established, modern type of tea ceremony that can be held in an office kitchen or a shop during a lunch break. You still kneel on the floor, but the crockery you use is much less valuable –normally an everyday office coffee cup. Despite this, the pared-back variation still offers the opportunity to relax during the hectic working day and provides a caffeine hit for the afternoon ahead.
CHANKONABE
//
ASTEW FOR SUMO
WRESTLERS THAT
IS HIGH IN
PROTEIN AND FAT,
THEREBY PROMOTING
WEIGHT GAIN.
IT CONTAINS
ONLY TWO-LEGGED
ANIMALS, THE IDEA
BEING THAT SUMO
WRESTLERS SHOULD
ALWAYS BE O
TWO FEET AS WELL.
SENIOR WRESTLERS
CAN POLISH
OFF UP TO TEN
LARGE PLATEFULS
IN ONE LUNCH SITTING.
Traditions, rituals and customs
Japan has such an abundance of traditions, rituals and customs that you could probably spend an awfully longtime looking into all the details. They also offer a great number of opportunities for you to put your foot in it when you're there visiting.
Space in Japan is divided up according to what is clean and what is not.
The house is classed as clean, the outside is not, meaning you must always take your shoes off before going into someone'shome. The only room in a house that isn't clean is the bathroom –toilet slippers are provided for this purpose. Just never make the mistake of forgetting to take them offwhen you come out. Or bowing incorrectly in greeting. There is a hierarchy to observe –older above younger, guests above hosts, men above women. Remember not to bow too low to hotel employees, as they will then have to bow even lower the next time they see you. And if you're wondering why there's no room number four, it's because it brings bad luck. If you'reeatingwith others, don't help yourself to another drink,but rather wait for acompanion to serveyou one, otherwise you couldbe seen as a drunk. If you've had enough, leave your glass half full.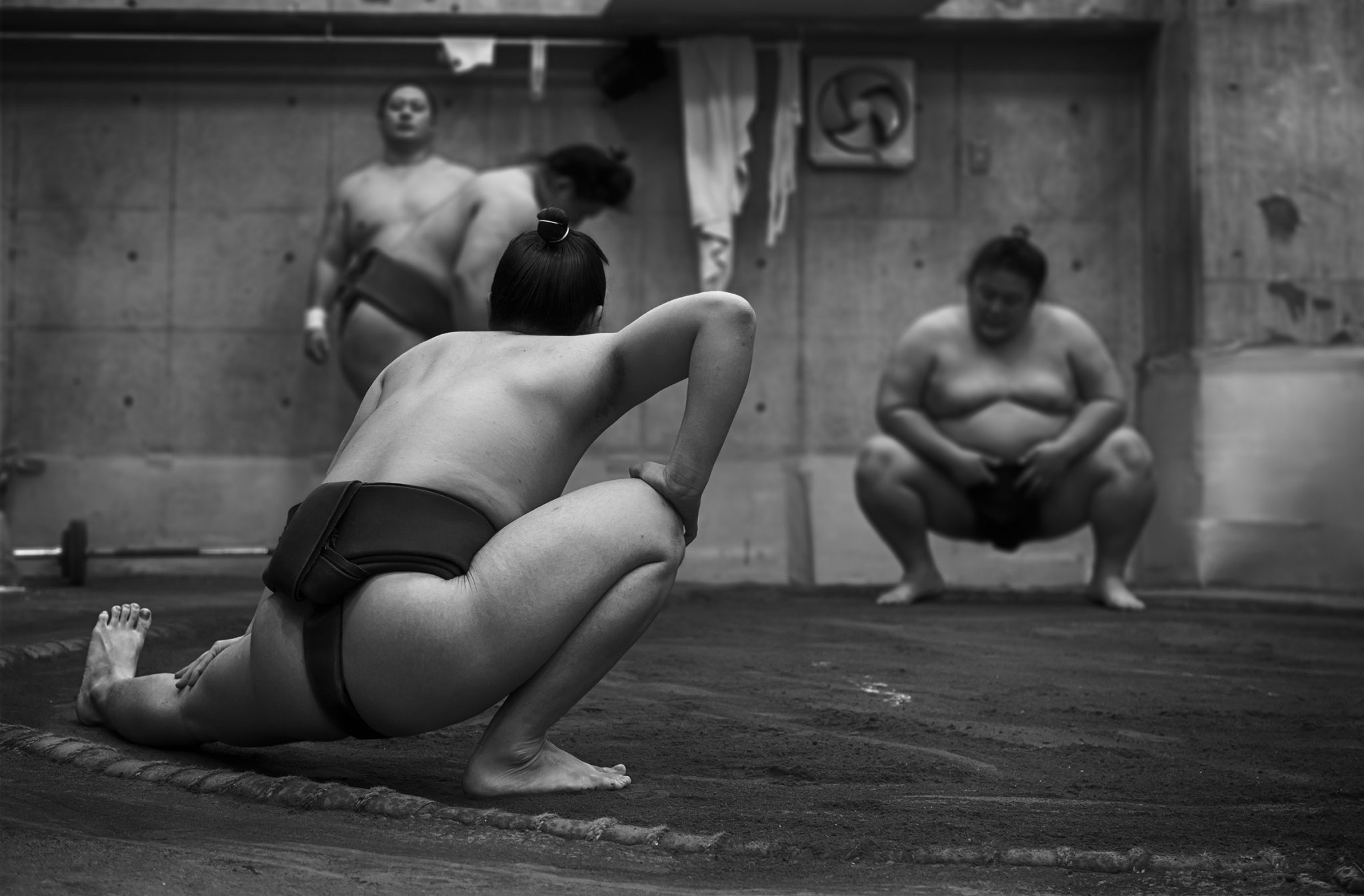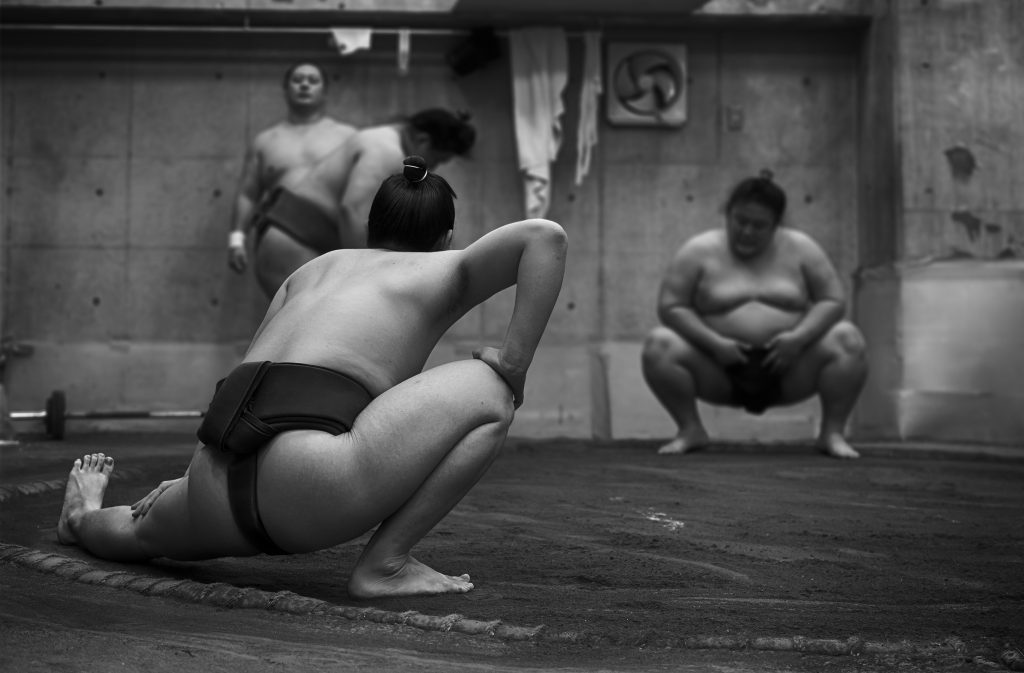 CHONMAGE
//
THE TRADITIONAL
JAPANESE MEN'S
HAIRCUT.
PREVIOUSLY
FAVOURED
BY SAMURAIS,
NOW ALMOST
EXCLUSIVELY
WORN BY SUMO
WRESTLERS.
IT INVOLVES
COVERING
LONGHAIR
WITH CHAMOMILE
OILAND TYING
IT UP WITH
A WAX BAND
IN A FORWARD-FACING
PONYTAIL.
Even while living in Vienna, lamp designer Megumi Ito still follows rituals from her native Japan.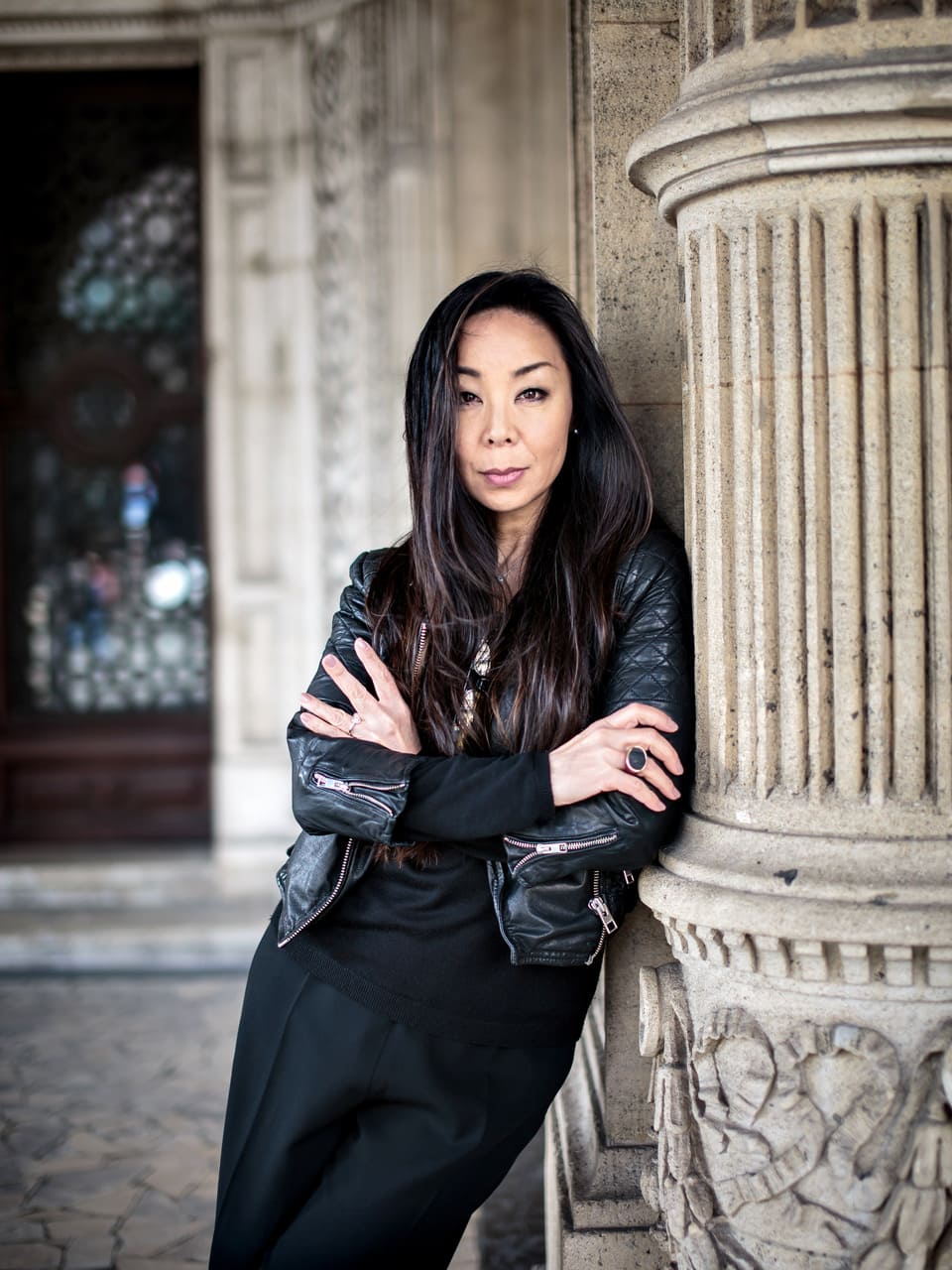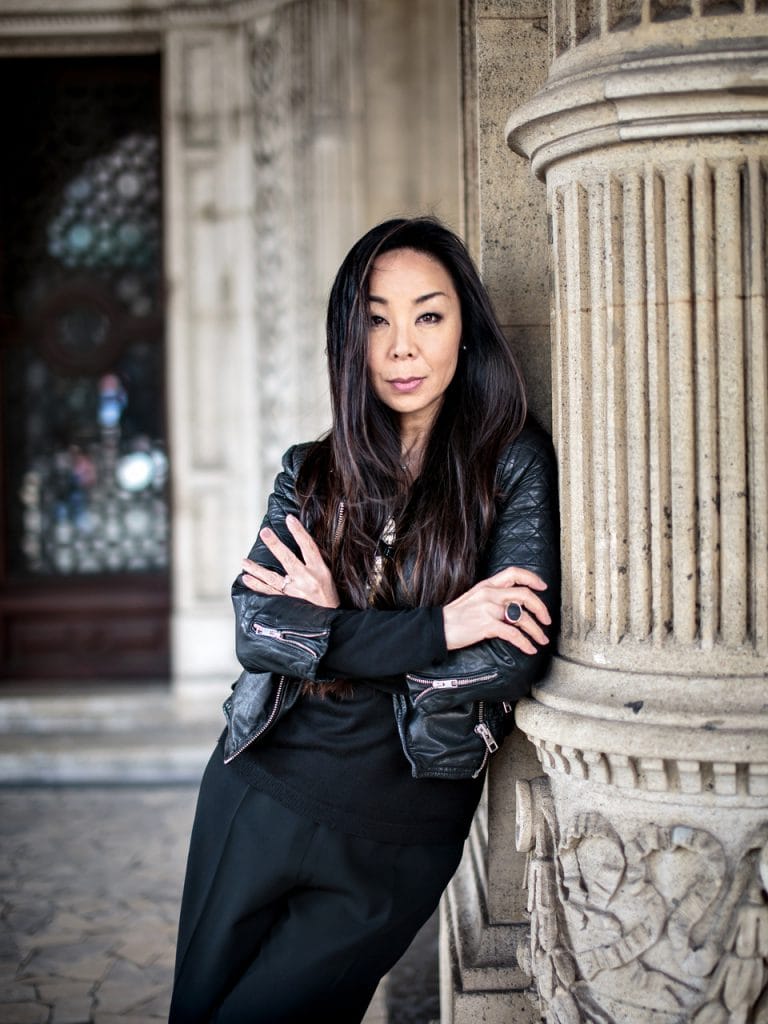 I only start working once my space, the kitchen and the bathroom are clean. I scatter salt in the corridor and in the corners of the rooms to keep bad energy at bay.
In addition to this, Ito cleanses the rooms in the morning with incense sticks and spends every evening in the bath. The most important bath, though ,is the one before the winter solstice, or touji. On this night, it is tradition to take a bath with slices of yuzu, a fruit that is similar to the lemon but which tastes slightly sweeter. It has been recognised for its health-promoting properties for centuries and is packed with vitamins.
During this bath, we soak up the powers of thecitrus fruit and remain healthy throughout the winter months. Yuzu has a cleansing effect and the fragrance is very strong and lasts a long time, so the body stays fresh and free of bacteria,

explains the designer.
Internalised values are just as important to Megumi Ito as the rituals –how to be thankful and show gratitude, how to be gentle and be able to listen and respond, and knowing which words to use, as every word has its own power.
YORIKIRI,
OSHIDASHI AND
HATAKIKOMI
//
DIFFERENT WAYS
OF WINNING
A FIGHT.
THERE ARE
82 DIFFERENT
WAYS IN TOTAL.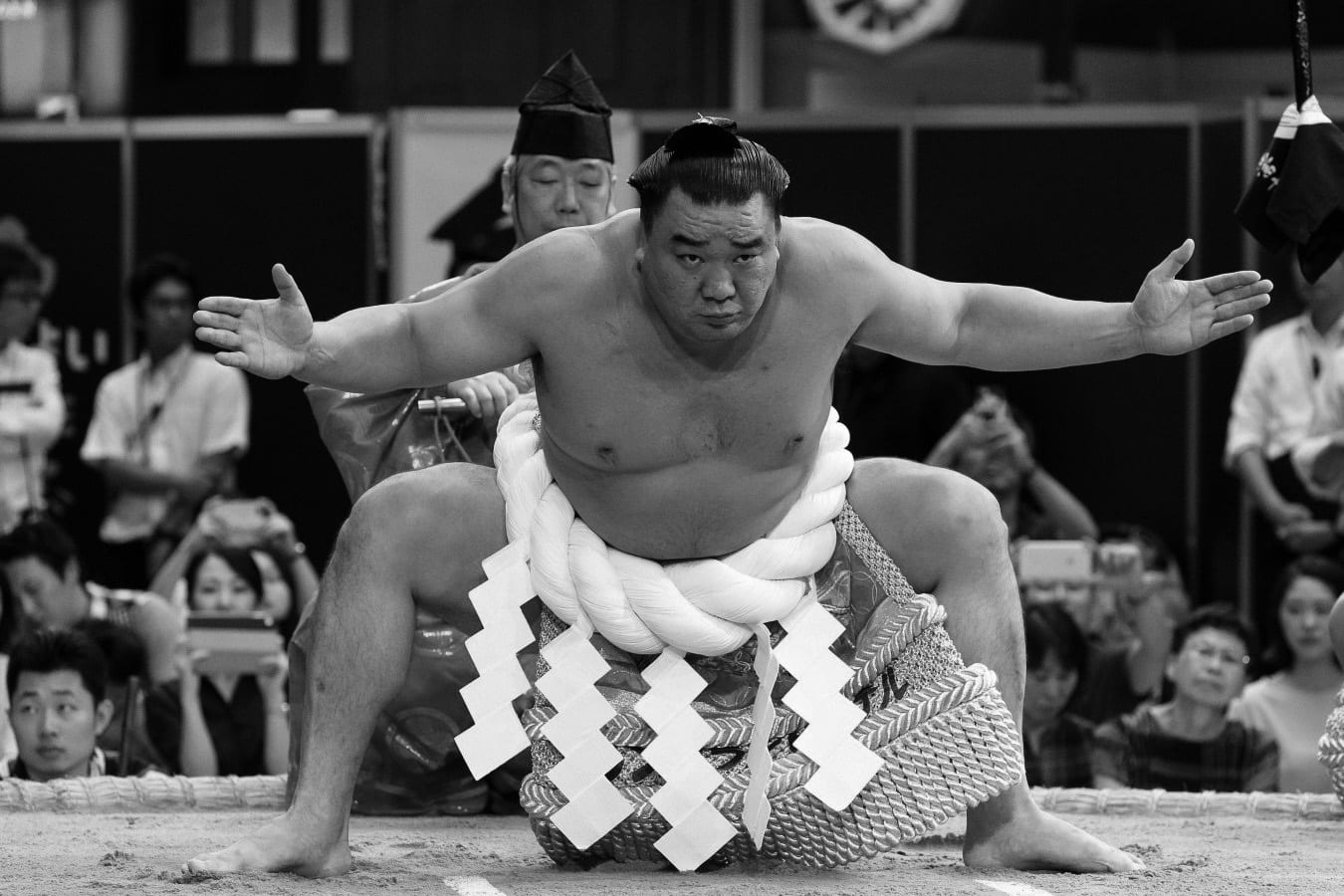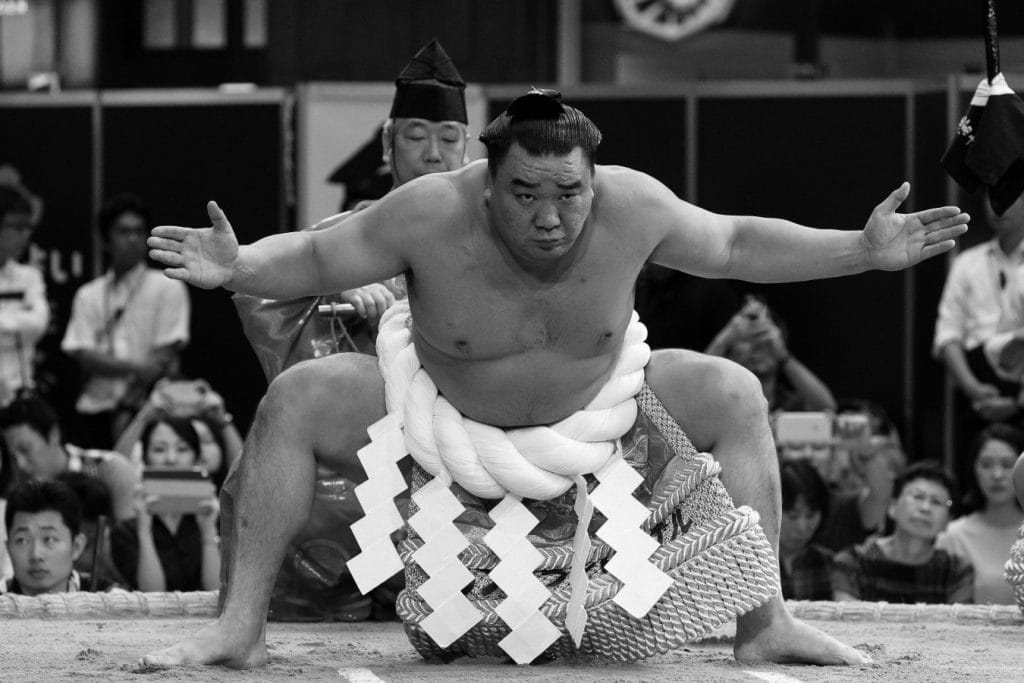 Just one more thing. If you're not happy with the outcome of a sumo fight, you can throw your zabuton cushion into the ring. Just for fun.
YOKOZUNA
//
THE HIGHEST-
RANKINGSUMO
WRESTLER.
HAS TO SHOW
IMMENSE STRENGTH
IN COMBAT.
HE WEARS A
HEAVY ROPE,
OR TSUNA,
AS A SYMBOL
OF HIS RANK.
---
Photos: shutterstock.com, Dziobek / 263 / lusia83, sueddeutsche.de: imago/Rodrigo Reyes Marin