At boot Düsseldorf, Ferretti Yachts presented the first model in the new range that creates a limitless experience of sky and sea.
Once again Ferretti Yachts chooses the perspective of owners to imagine a new and superior cruising experience. Ferretti Yachts InFYnito lets them enjoy life on board as if the yacht were an extension of their home, somewhere to breathe in the light and where the dialogue between interior and exterior gives a feeling of total fulfilment.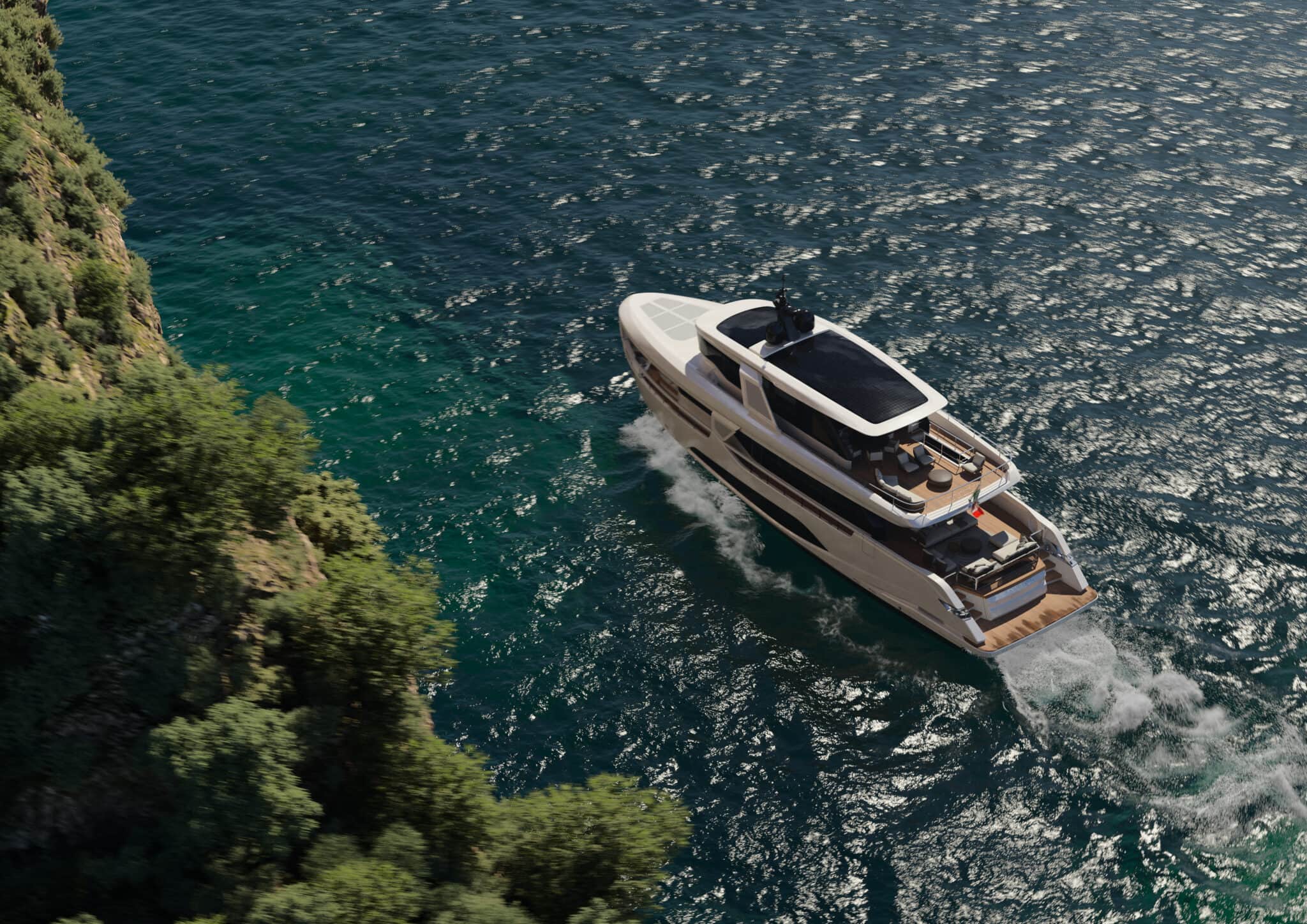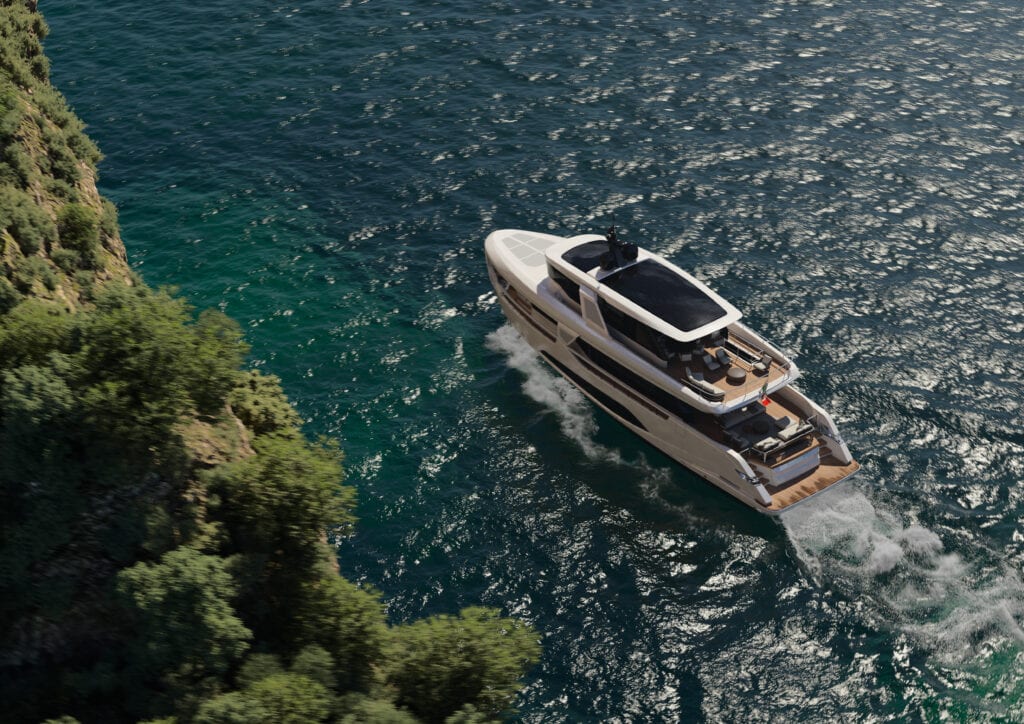 The new range, which contains the brand's initials (FY) in its name, introduces a style that gives shape to owners' new needs: seamless contact with the surrounding environment, more sustainable materials and navigation, custom detailing, and a direct link with the sea and the sky.
The key innovation is visual continuity between interiors and exteriors, connecting the boat to the horizon as never before. This is how the experience becomes infinite: with no more limits and boundaries, the view sweeps far and wide and navigation is more authentic and personal. The understated design is clean and balanced, expressing a more natural and sustainable approach to cruising increasingly embraced by owners.
Ferretti Yachts InFYnito is the result of collaboration between the Strategic Product Committee led by Mr. Piero Ferrari and the Ferretti Group Engineering Department. The exterior design and hulls are by Filippo Salvetti, while the interiors are the work of Ideaeitalia.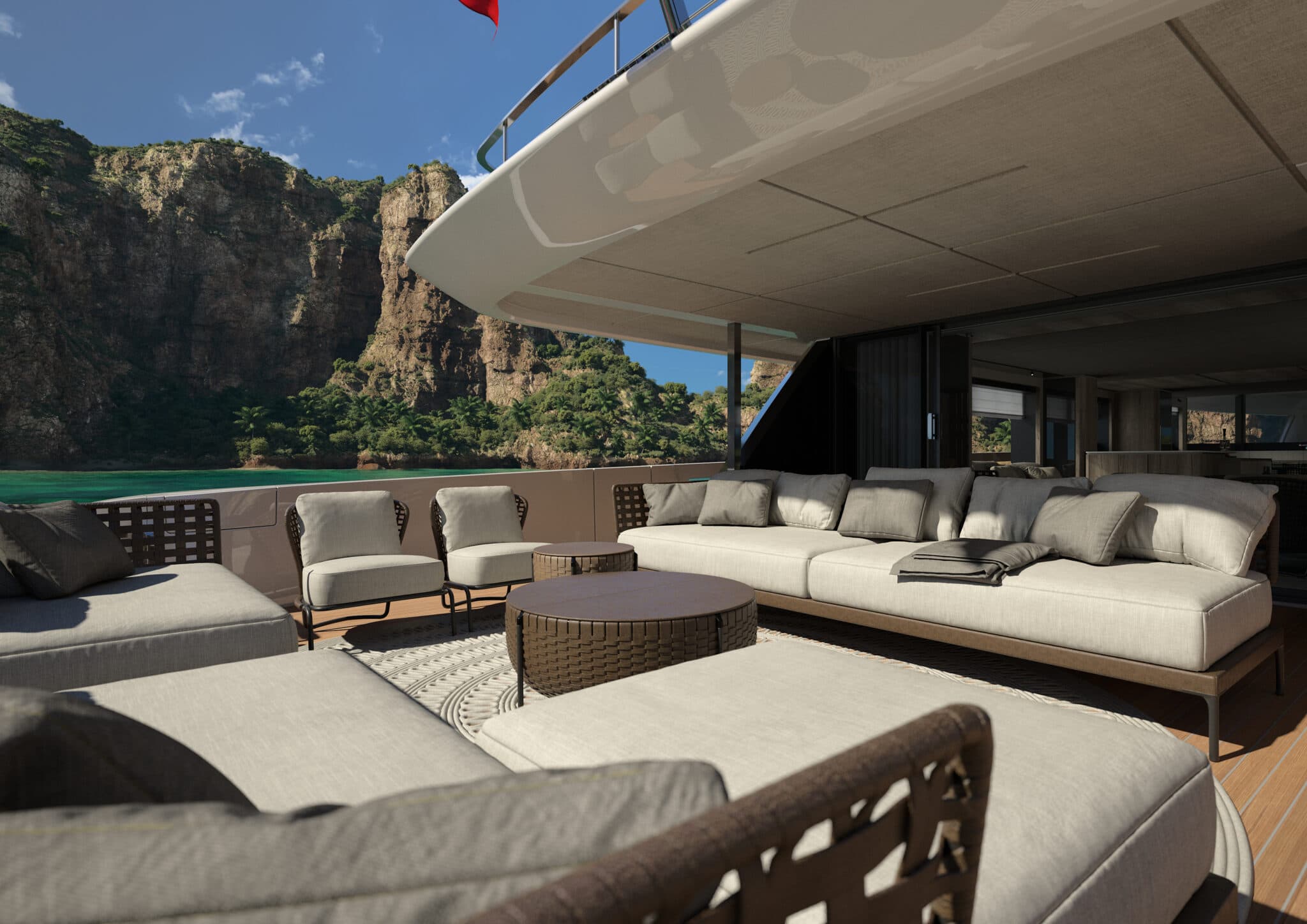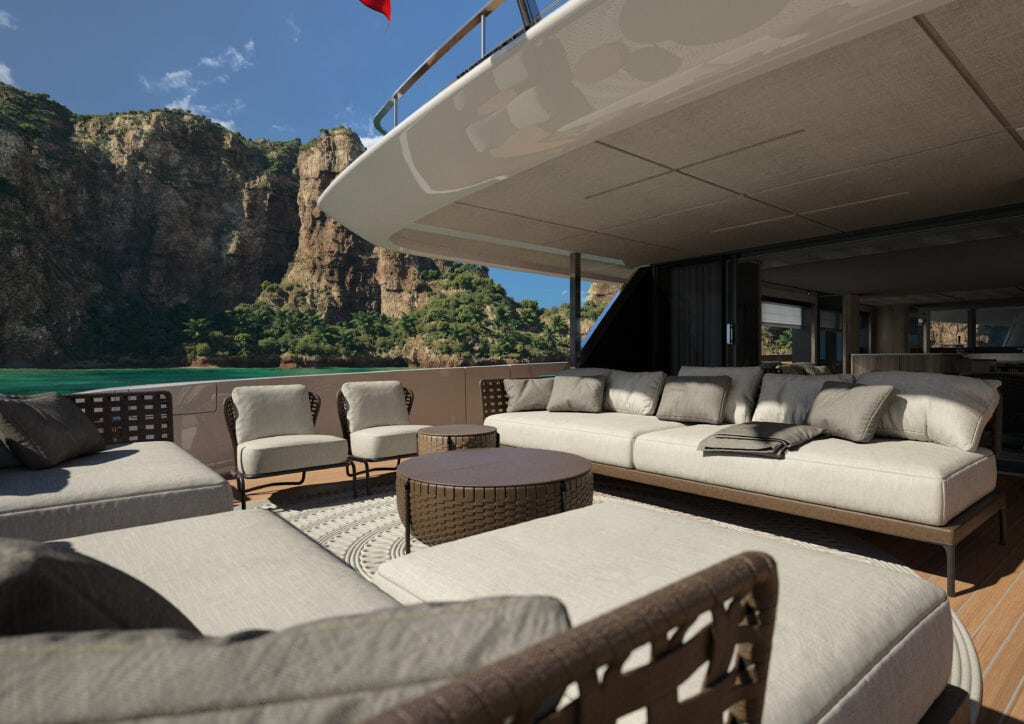 The first model in the new range to debut in 2023 is Ferretti Yachts InFYnito 90. With an overall length of 26.97 metres (88ft 6in) – but Lh under 24 metres and therefore classified as a recreational craft with CE certification – and a maximum beam of 7.33 metres (24ft 1in), the yacht is designed to give cruising enthusiasts an incomparable new experience.
The outdoor and indoor settings blend into one another in an unparalleled continuum, creating spaces that can be customized and are more generous than the standard in the category. With over 100 square metres of open-air living spaces (almost 50% more than the segment average) and over 140 square metres of interiors (over 25% more than the average), including a main deck and a skylounge featuring particularly impressive volumes, the new Ferretti Yachts InFYnito 90 is a clear stand-out in the market.
Owners can also choose between different layouts for each deck, ranging from open-plan spaces to more formal settings reserved for day and night time privacy, offering an experience that can be fully customized according to personal needs. Ferretti Yachts InFYnito 90 can be fitted with a pair of MAN V12 engines rated up to 1,800 mHP (in the optional version), driving the yacht to a top speed of 22 knots and a cruising speed of 17 knots (preliminary data). And with the new high-efficiency hull, the yacht has a range of 1,200 nm at an economy cruising speed of 12 kt.
Ferretti Yachts InFYnito is a range inspired by explorer vessels, boats designed for long voyages and to welcome guests in total comfort, giving the owner that "just like home" feeling in the intimacy, safety and relaxing atmosphere of a space that embodies this concept.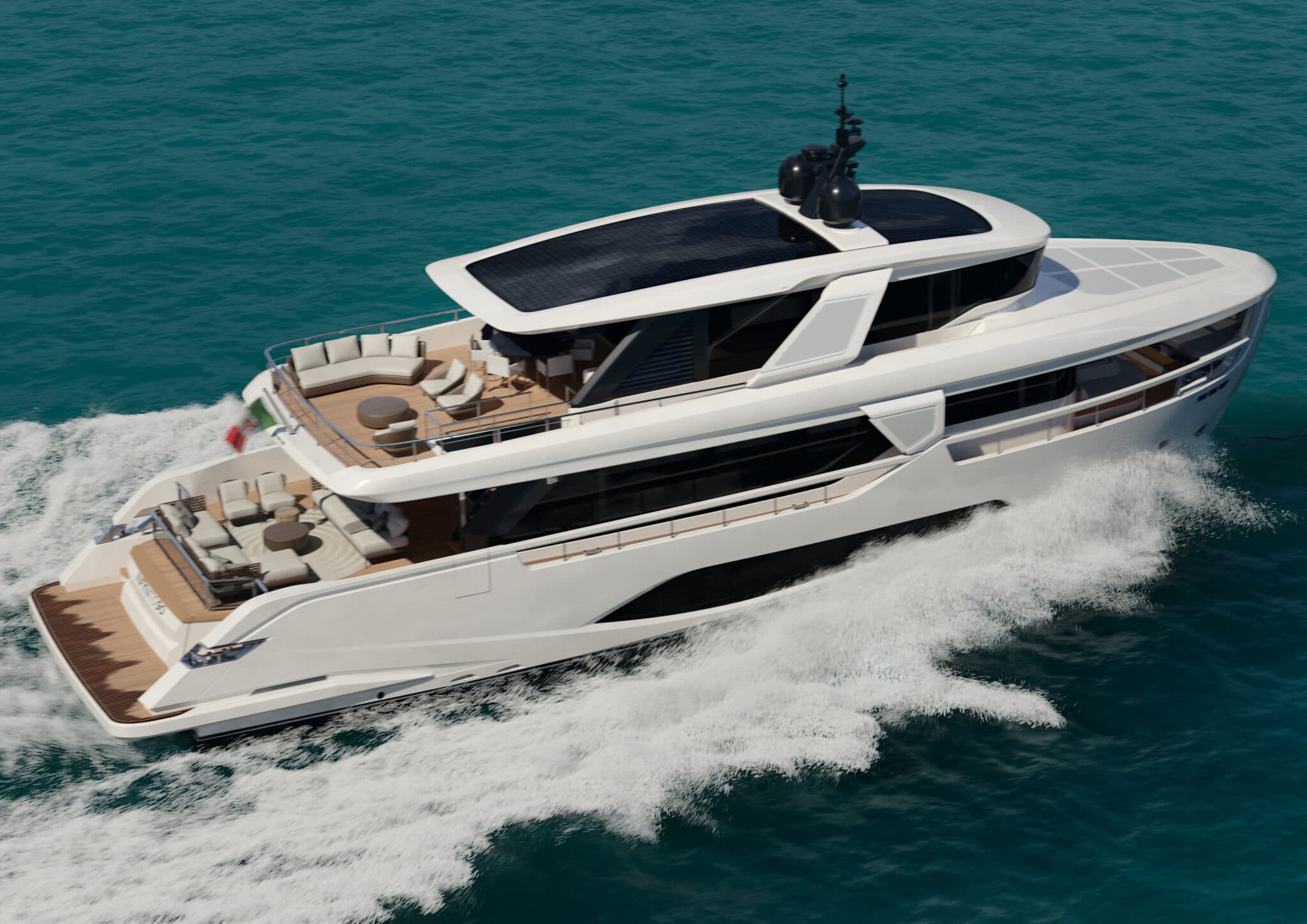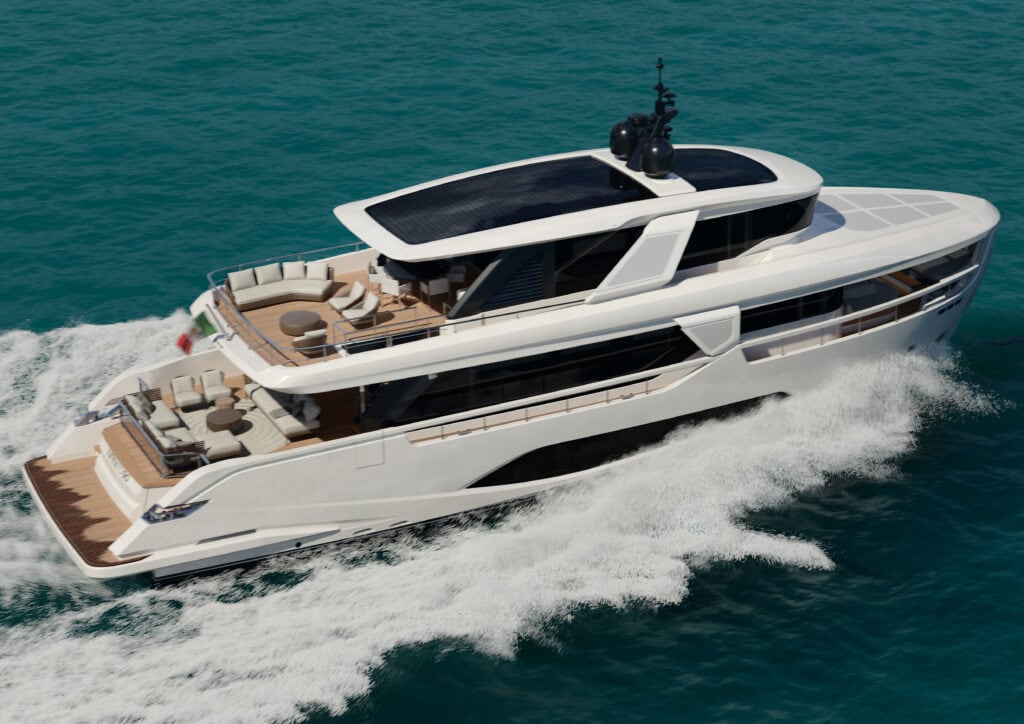 The new range will also introduce F.S.E.A. technology (Ferretti Sustainable Enhanced Architecture) to the industry, a package of environmentally friendly cruising solutions. They include a solar roof that generates electricity and charges a lithium battery pack to power onboard services. This technology lets the owner and guests enjoy the yacht in hotel mode, creating an atmosphere of total relaxation with zero emissions everywhere on board.
The choice of greener materials is also significant: ecological paints, sustainable teak, recyclable fabrics and leathers. The new range will also feature a brand new generation of ultra-high efficiency hulls, offering unprecedented levels of comfort at low speeds and fast displacement performance over 20 knots. The cruising range values are also unprecedented, allowing the owner to reach faraway destinations in total comfort and relaxation.
Another key point of the new range is the development of the Main Deck, where the view sweeps seamlessly from interior to exterior and from bow to stern. The design of this space is one of the Ferretti Yachts InFYnito's most distinctive and iconic features, offering a ground-breaking 'all season terrace' that as well as being spectacular is inviting, atmospheric, hidden from prying eyes at the quayside and functional at sea in all weather conditions.