Ten years after its construction, the Tamedia building in Zurich is still one of the most visionary timber engineering structures in the world. Pritzker Prize winner Shigeru Ban revealed the approach behind the outstanding construction to ubm magazin.
In the middle of the city center, very close to Zurich's main train station, there has been a seven-story wooden building since 2013 that is unique in its construction. At the time of its construction, modern timber construction had not yet really arrived in the cities and hardly anyone understood the innovative character of this building. It is the new headquarters of TX Group AG (formerly Tamedia AG), a private media group in Switzerland. While metal connections are predominantly used in multi-story wooden buildings today, Japanese architect Shigeru Ban with the practical support of timber construction guru Hermann Blumer created his own construction system based on pure wood connections.
No element too much
Even though the image has been conjured up many times by now, in this case the shell actually resembled a structure from the Matador wooden construction kit. The classic toy, invented in 1901, uses wooden rods to connect the components into a stable structure. The Tamedia building was constructed in the same way, only on a different scale and in a different design.
In the construction site photos, the skeletal structure with its round, slightly playful-looking connecting pieces looks more like an artistic sculpture than the functional supporting structure of an office building. And yet no element in this structure is too much, nothing is mere ornamentation or show. Everything has its place and its assigned function.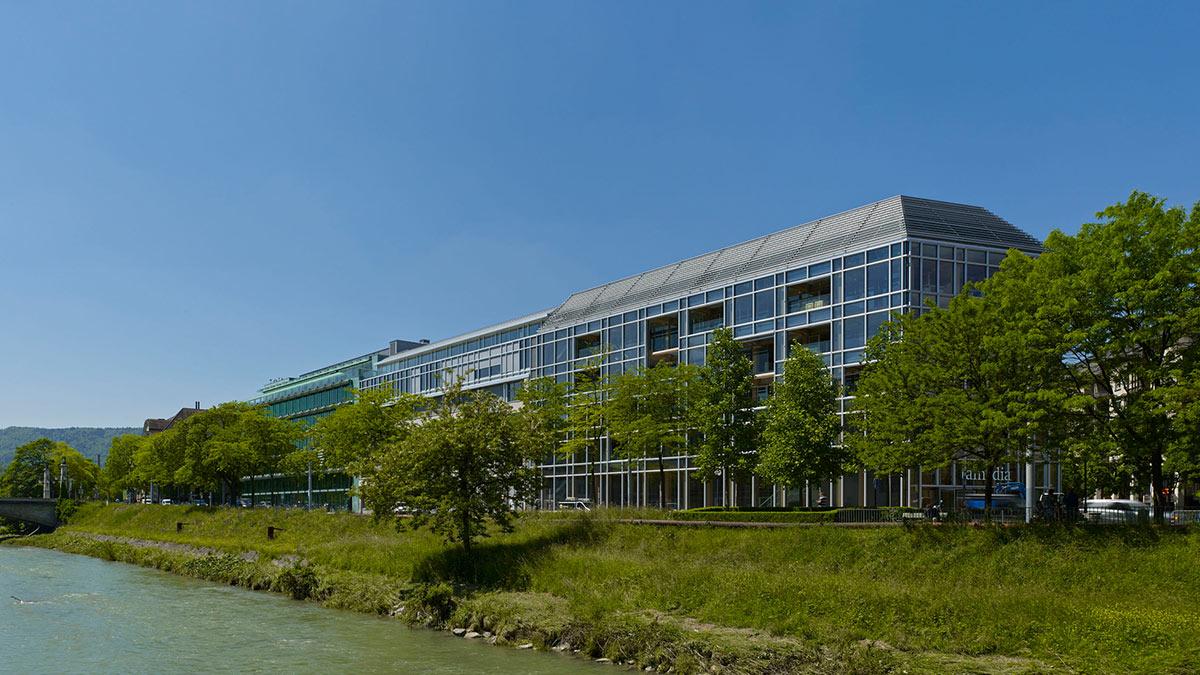 Wood on wood
In timber construction, Swiss woodworking expertise meets the sophisticated wood joints of the Japanese craft of Miyadaiku. This subcategory of carpentry, which originated over a thousand years ago, is traditionally dedicated to the construction of shrines and temples. An important aspect of this wooden architecture is its mono-materiality. This means that neither nails, screws nor glue are used in construction. From the supporting structure to the floors, walls and joints: Everything is made of wood.
As soon as you start using steel, you don't take full advantage of the benefits of wood.

Shigeru Ban, Architekt und Pritzker-Preisträger
A claim that architect Shigeru Ban also wanted to implement in the supporting structure of the Tamedia building. "One of the most important principles in my concept is the independence from steel, which is usually used for connections in wooden buildings," as he explained in an interview with ubm magazin. in Paris. "As soon as you start using steel, you don't take full advantage of the benefits of wood."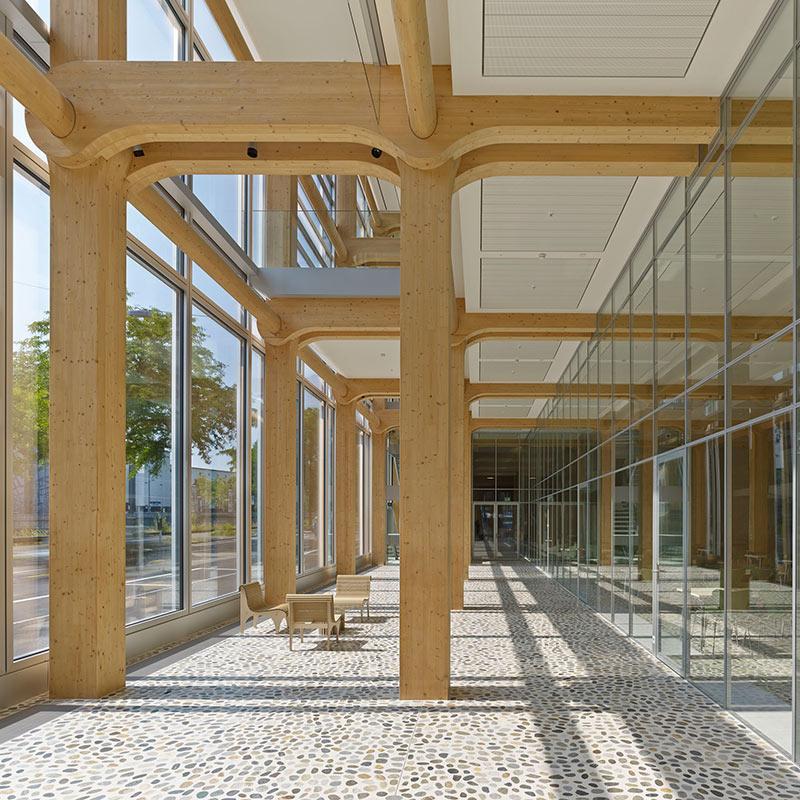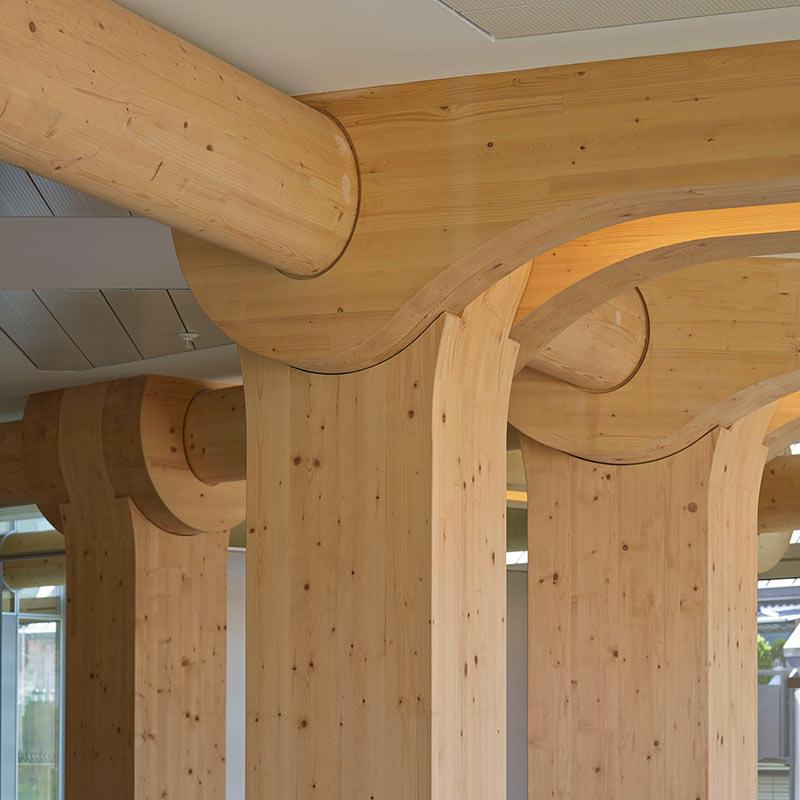 A torsionally rigid connection
The problem lies in the design and conception of timber building projects, most of which are still based on conventional, mineral construction methods, Ban said. "The starting point of many timber buildings is a steel structure whose linear elements have been replaced with wood. My timber structures, on the other hand, can only be built in wood. The Tamedia building would not work in concrete or steel."
My wooden structures can only be built in wood. The Tamedia building would not work in concrete or steel.

Shigeru Ban, Architekt und Pritzker-Preisträger
With his oval-shaped beams, which are anchored in the connectors of the solid glulam columns, the award-winning architect has created his own construction system and opened a new chapter in multi-storey timber construction. Parts of these beams are made of laminated veneer lumber, which is one of the most stable of all wood-based materials. Their oval shape achieves a torsion-resistant connection without the use of metal connectors or screws.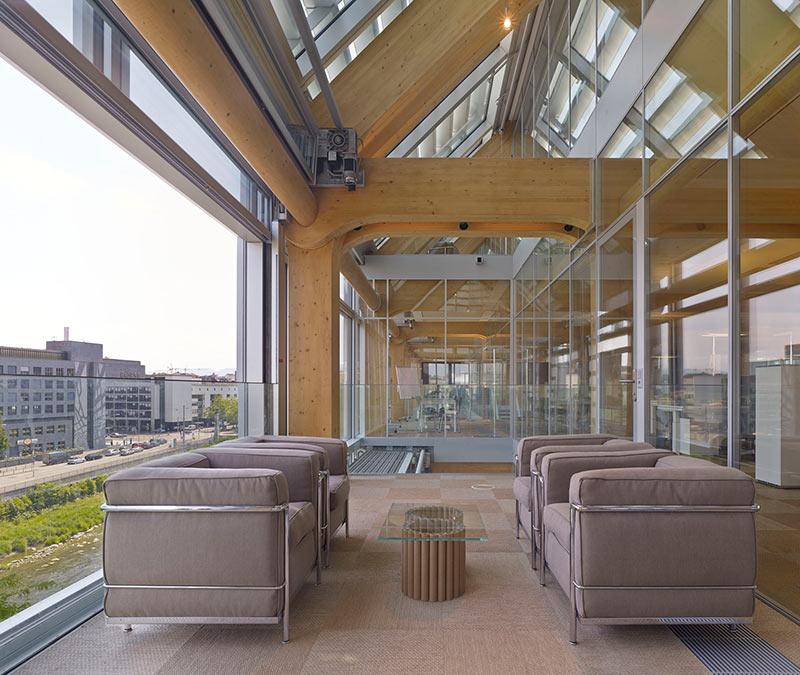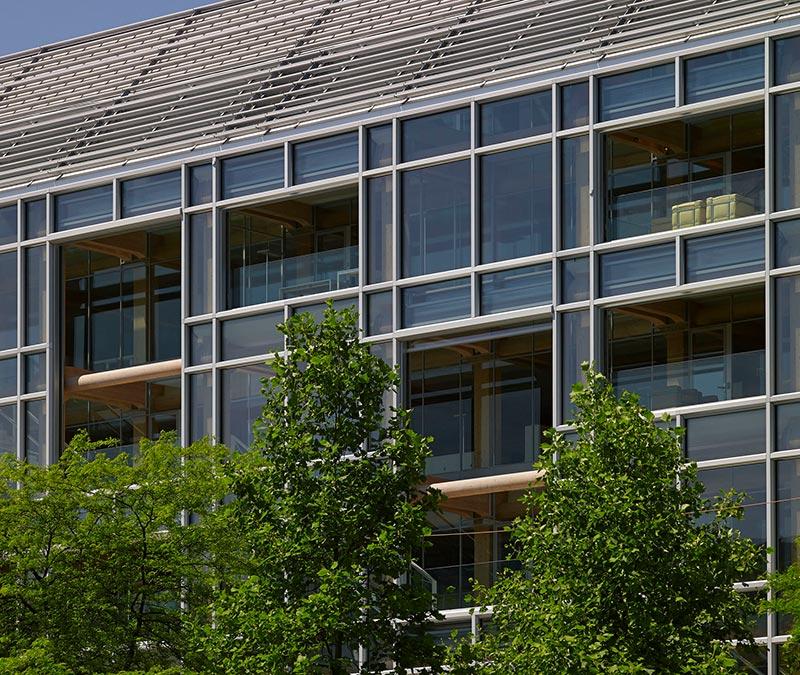 New fire protection for wooden buildings
However, in order for the Tamedia building with its seven stories and mansard roof to be built at all, building regulations had to be circumvented. In Switzerland at that time, only wooden buildings up to a height of six stories were permitted for fire protection reasons. However, the timber engineer Hermann Blumer, with whom Shigeru Ban had already worked on the Centre Pompidou Metz, succeeded in obtaining a building permit for the pioneering project with additional fire protection measures.
Two years after the office building was completed, the fire protection regulations in Switzerland were changed. Since then, buildings of any class can be built there, even above the high-rise limit. One example is the Rocket wood hybrid skyscraper, which is currently being built in Winterthur's Lokstadt district and is aiming for a height of 100 meters.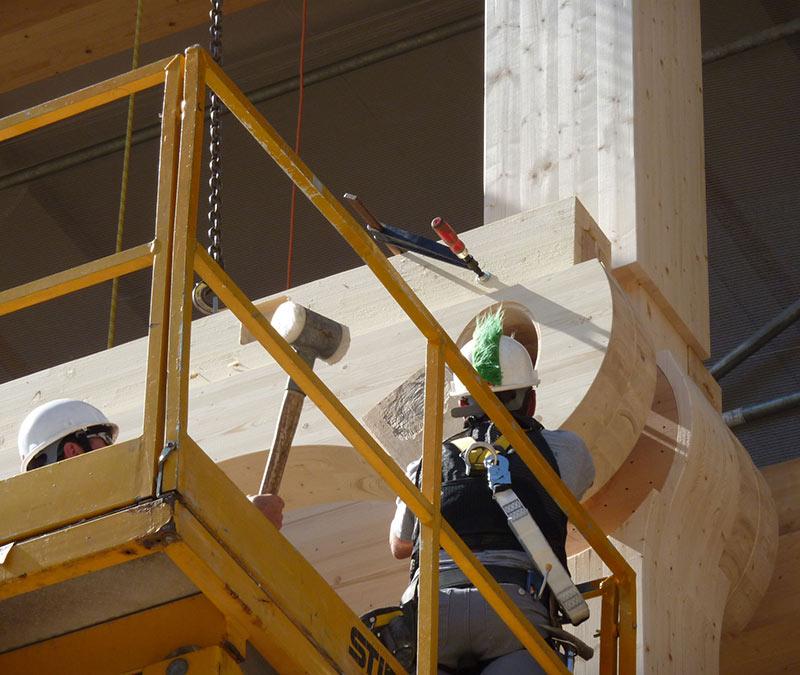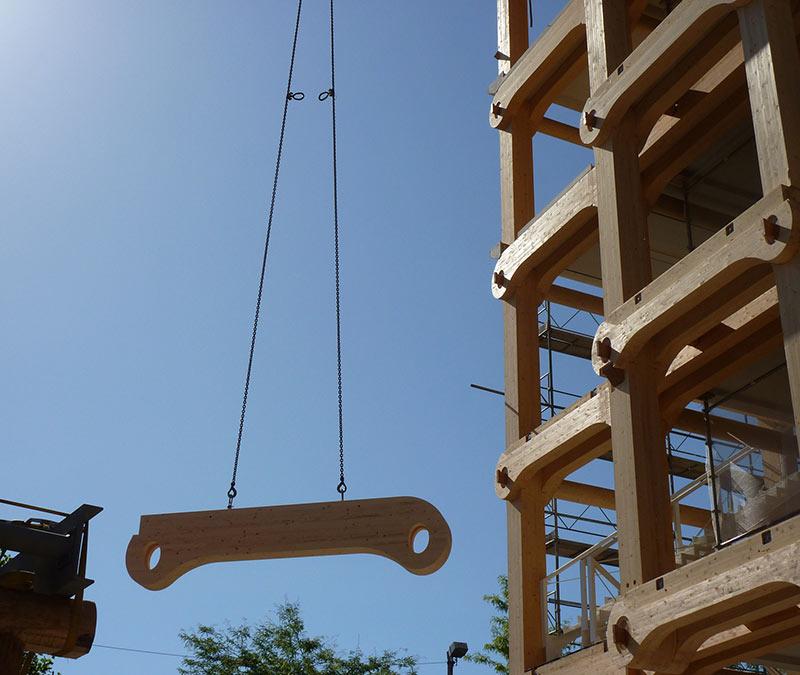 A new form of architecture
With its innovative construction method, the Tamedia building is a prime example of how structural timber engineering can revolutionize building design and tectonics in addition to its climate-neutral properties. It paves the way for a new form of architecture that leaves behind the building laws of concrete and steel.
There is one drawback to the all-wood connections, however, as Ban explains, "I always go for wood connections unless the building is going to be dismantled at some point. In that case, it's better to use steel connections, since those made of wood are not reusable." It's a phenomenon familiar to anyone who has ever tried to disassemble a Matador structure after it has been in place for some time. Once assembled, it lasts forever.
Text: Gertraud Gerst
Foto: Didier Boy de la Tour, Shigeru Ban Architects