Monte-Carlo Société des Bains de Mer, which has been actively promoting a more sustainable and responsible luxury for over ten years, signed its fourth internal charter "Go Sustainable" on October 27, 2022.
Jean-Luc Biamonti, President and CEO, thus committed the S.B.M. Group to twenty-two concrete actions to be implemented by 2026, grouped around four axes. "Go Sustainable" has been setting and expanding micro-objectives every five years since 2008, in particular to meet the challenges of decarbonization by 2030 and 2050 set by the Princely Government and to make Monte-Carlo Société des Bains de Mer a brand of "Grand Art de Vivre" in Europe – in a sustainable and responsible environment.
"Go Sustainable", the brand of commitment of the S.B.M. Group
Monte-Carlo Société des Bains de Mer is a major player in the Monegasque economy and tourism, and has supported the government's sustainable development policies since the beginning. As early as 2008, the S.B.M. Group decided to act and defined an initial set of measures to be implemented within five years to outline the contours of a more responsible luxury. This is how "Go Sustainable," the first S.B.M. environmental charter, came into being. To implement them, the employees of the S.B.M. Group organized themselves into Green Teams. A little more than ten years and numerous advances later, the S.B.M. Group counts eleven Green Teams and signs its fourth charter to go even further and mobilize all its stakeholders (employees, suppliers and customers).
The progress of the third "Go Sustainable" charter (2017-2022)
CORPORATE GOVERNANCE AND CERTIFICATION:
Hotel operations of the S.B.M., the Thermes Marins Monte-Carlo, the Café de Paris Monte-Carlo, the Administrative headquarters of the S.B.M. and, since summer 2022, of One Monte-Carlo; signing of the National Pact for the Principality's energy transition.
CONTROL OF WATER AND ENERGY CONSUMPTION:
Reduction of gas consumption by 48%, electricity consumption by 7% and water consumption by 35% in fiscal 2019/2020 compared to 2006/2007; electricity generation with photovoltaic systems on the Monte-Carlo Bay Hotel & Resort and the One Monte-Carlo; water reduction and recycling after the drought in 2022, especially at the Monte-Carlo Beach Hotel.
RESPONSIBLE PURCHASING:
Priority for products with low CO2 emissions and local producers.
WASTE REDUCTION AND SEPARATION:
Completely eliminate the use of single-use plastic in the front office.
CONSERVATION OF BIODIVERSITY:
Classification of the Pointe de la Vigie as an LPO refuge (Ligue pour la Protection des Oiseaux) and Creation of an underwater dam with positive biodiversity at the Monte-Carlo Beach Hotel.
PROMOTING CLEAN MOBILITY AND REDUCING GREENHOUSE GASES:
Geothermal circuits for air conditioning and heating of the S.B.M. buildings with sea water; Fleet with electric vehicles, etc.. Since 2012/2013, a decrease in "direct emissions" by 29% was found (CO2 balance S.B.M.).
"Our group made a commitment to more environmentally conscious luxury more than 10 years ago, and today we need to step on the gas with our employees and suppliers to deliver a new, sustainable resort experience for our guests."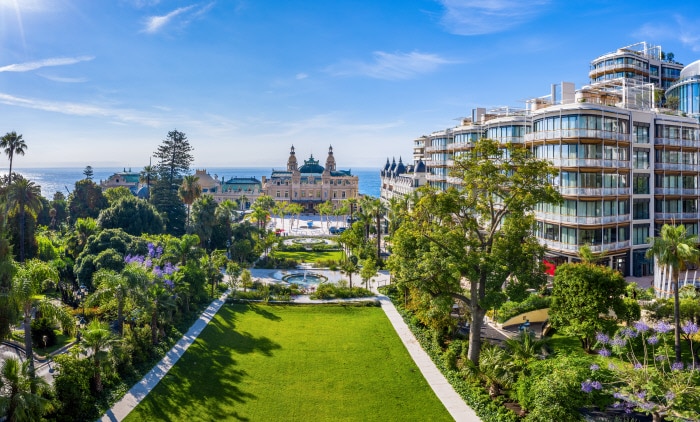 Monte-Carlo Société des Bains de Mer
Since 1863, Monte-Carlo Société des Bains de Mer has been synonymous with a unique lifestyle. A resort unique in the world, representing pure luxury: two casinos, including the prestigious Casino de Monte-Carlo, four hotels (Hôtel de Paris Monte-Carlo, Hôtel Hermitage Monte-Carlo, the Relais & Châteaux Monte-Carlo Beach, Monte-Carlo Bay Hotel & Resort), the Therme Marins Monte-Carlo and 30 restaurants, including four restaurants awarded a total of seven stars in the Guide Michelin. As a stronghold of nightlife, the group offers a wide range of events. The renovation of the Hôtel de Paris Monte-Carlo, the design of One Monte-Carlo (luxury residences, shopping, restaurants, conference center) and the new Place du Casino are helping to make Monte-Carlo the most exclusive hotspot in Europe.