Still looking for an autumnal recipe? With this dish by Olivier Nasti, you can create an impressive menu to delight your friends and family!
Ingredients & preparation
Tartare of venison and caviar (alternatively, sorrel can be used)
150g venison fillet
15g mild onion
15g gherkins
4 medium leaves
wild sorrel
1 dash olive oil
Fleur de sel and pepper from the mill
120g caviar (or sorrel)
Parry and fillet the venison fillet, then use a knife to make a venison tartare. Add the finely chopped mild onion, diced cucumber, chopped sorrel and a dash of olive oil and season to taste. Shape the tartare into a circle 6.5 cm in diameter and top with 15 g caviar per person (do not press the caviar too firmly).
Smoked mayonnaise with wild sorrel
2 egg yolks
18g mustard
Salt, pepper
125g sunflower oil
8g warm Melfort vinegar
125g sunflower oil
2 tablespoons sorrel powder
120g smoked butter
Make the mayonnaise in two stages: first whisk all the ingredients together with hot Melfort vinegar using a hand blender, then finish in a mixing bowl by adding the sorrel powder with a whisk (sorrel powder made earlier in the Thermomix with liquid nitrogen). Before serving, remove 280g of sorrel mayonnaise and add the previously whisked smoked butter (120g).
Wild sorrel ice cubes
100g water
60g wild sorrel
Wash and de-stem the wild sorrel, ice with liquid nitrogen and then process in the Thermomix to obtain 50g of the finest wild sorrel powder. Mix the powder with the water and pass through a sieve. When the mixture is ready, place the sorrel water in the freezer in 65mm diameter circular moulds previously lined with foil to set (7g per circle). Remove from the moulds and store in the freezer.
Parsley oil
200g flat-leaf parsley
200g grape seed oil
In the Thermomix, blend the washed flat-leaf parsley for 1 minute, gradually adding the grapeseed oil previously heated to 140°C, then strain onto ice using a kitchen towel.
Deco
Green, red and golden wood sorrel
Mini sorrel
a dash of olive oil
Parsley oil
Finishing and serving
Arrange the venison tartare with caviar on a plate and add 6 drops of sorrel mayonnaise. smoked mayonnaise. Just before serving, place the sorrel cubes on top and the herbs on top. and herbs on the plate, drizzle with olive oil and flat-leaf parsley and sprinkle with a few crystals of sorrel mayonnaise and add a few crystals of fleur de sel.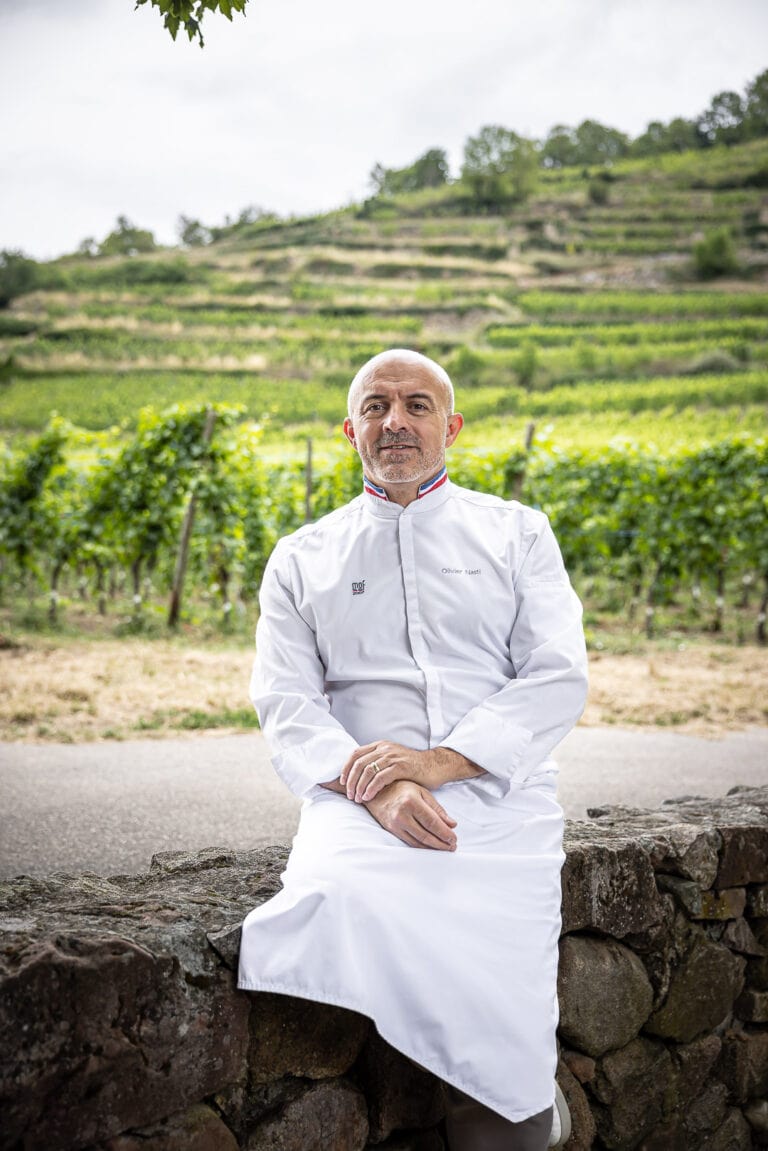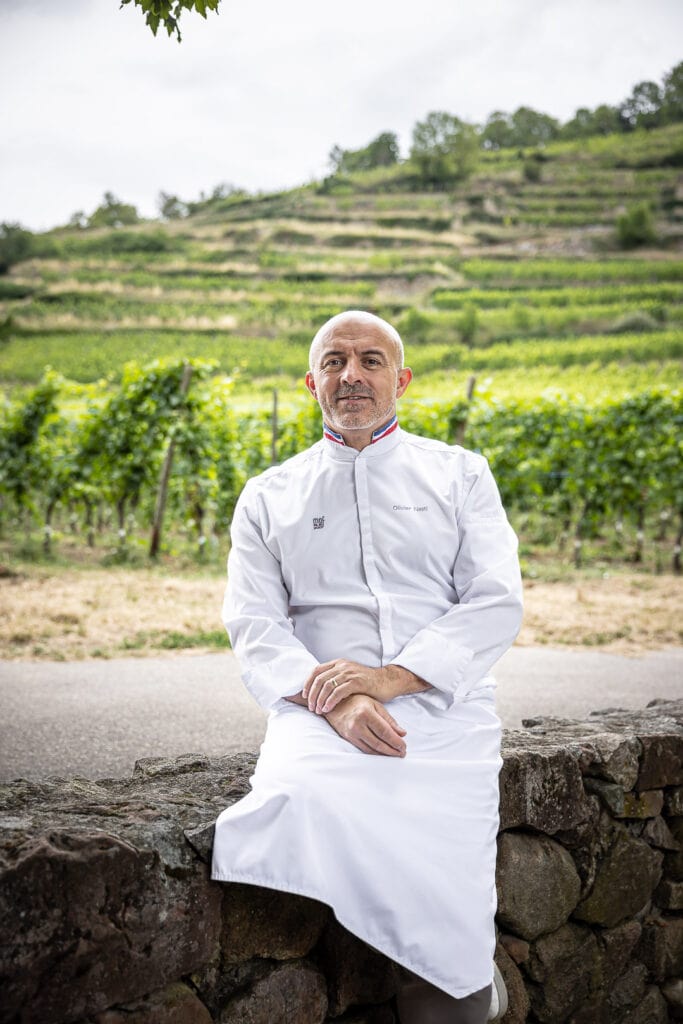 About Le Chambard
We are in the picturesque town of Kaysersberg, about 10 kilometres northwest of the city of Colmar: harmoniously united in a venerable 18th-century estate, we find the charming 5-star hotel Le Chambard, the gourmet restaurant "La Table d'Olivier Nasti", which has been awarded 2 Michelin stars, and the traditional Winstub. The charming hotel has 33 rooms including 6 suites, the cosy Marius Bar with its exceptional Tea Time, a function room and a spa area. All of this together forms a luxurious yet modest ensemble where the Nasti family has fulfilled their great dream: to preserve French art de vivre and pay tribute to Alsatian gourmet cuisine. Since 2015, Le Chambard has also been a member of the prestigious Relais & Châteaux network. And since September 2017, the gourmet restaurant has also been a member of the association "Les Grandes Tables du Monde".
Le Chambard
Hôtel***** / Restaurants / Spa
9-13 rue du Général de Gaulle
68240 KAYSERSBERG
+33 (0)3 89 47 1017 – www.lechambard.fr
Facebook: Le Chambard