The perfection in the imperfect and unique pieces of jewelry can be found at the label LENA KRIS in the studio in the second district of Vienna. Lena Grabher is a goldsmith and silversmith and tells beautiful stories with her creations.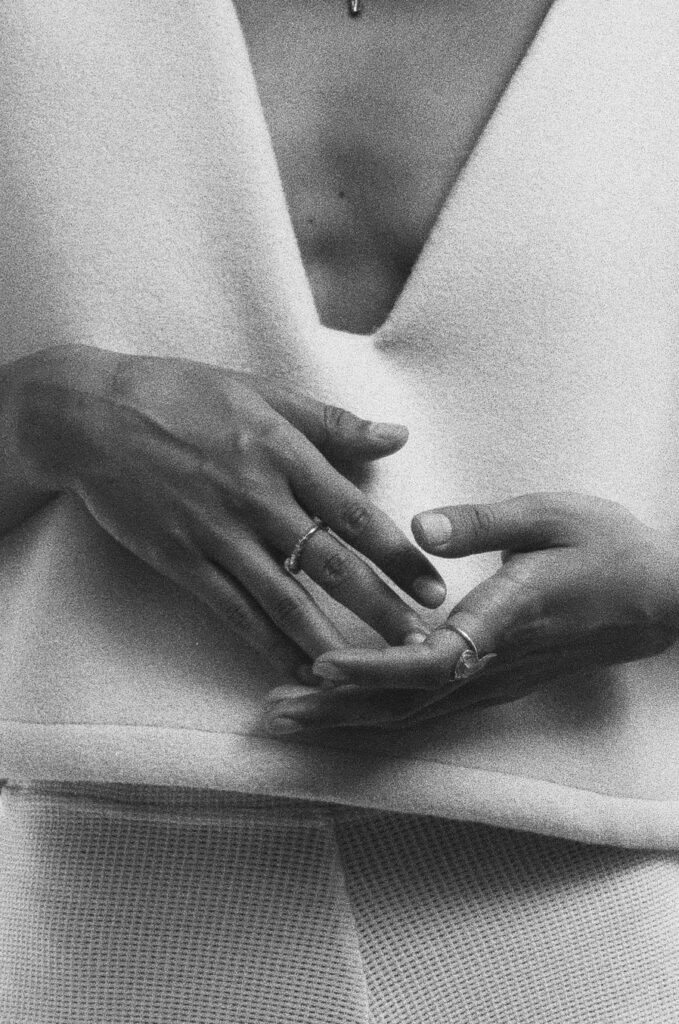 At the forefront of her work is an appreciation of craftsmanship, locality and sustainability. In her jewelry workshops, you learn to experiment with the materials yourself and experience the satisfying sensation of melting precious metal into wonderful shapes that spark the imagination.
Driven by a desire to discover and experiment, LENA KRIS combines traditional goldsmithing techniques with contemporary processes. A fascination with enduring precious metals that magically transform into gently flowing pieces of jewelry is what defines LENA KRIS. Deviating from classic jewelry shapes, the goldsmith creates truly unique pieces.
"The resulting jewelry pieces reflect the search for our roots and the emotions and facets of a period of transformation. Underlining the beauty of the imperfect and the appreciation of the handmade"

Lena Grabher
The philosophy
"I want to capture the opportunity to help shape a future with my atelier that places its focus on slow fashion, craftsmanship, locally produced products and a sustainable attitude. I want to celebrate the time of art and craft where handmade is valued again. Bringing local industries and activities back to the forefront," says the jewelry designer.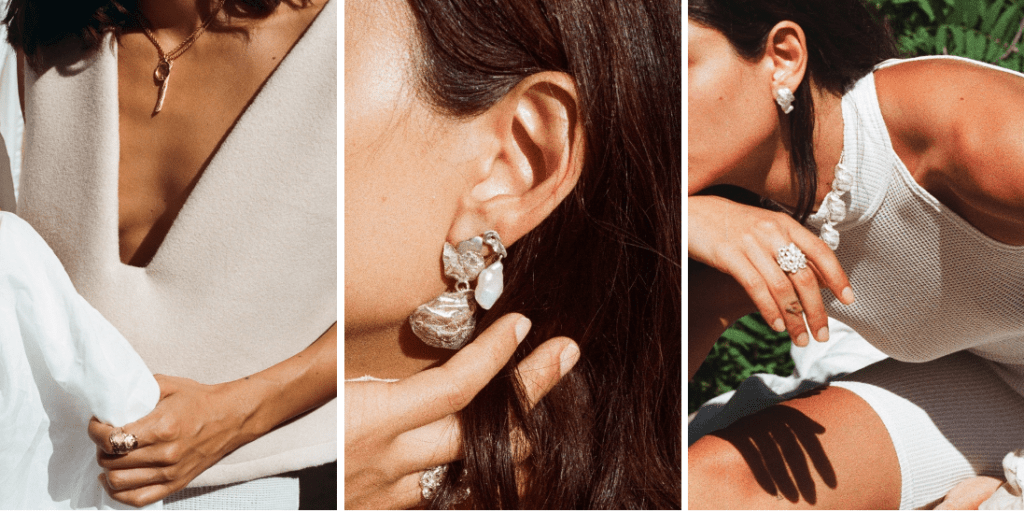 With her new studio, goldsmith and jewelry designer Lena Grabher has created her own jewelry dream world, where every single product is celebrated. Future-oriented and thinking sustainably, LENA KRIS heralds a new age of craftsmanship in which individual craftsmanship, locality and high-quality resources regain value.
"Out of respect for our planet, we cannot continue to produce so much and maintain the abundance of mass industry. With LENA KRIS I want to create again an appreciation towards the special individual piece".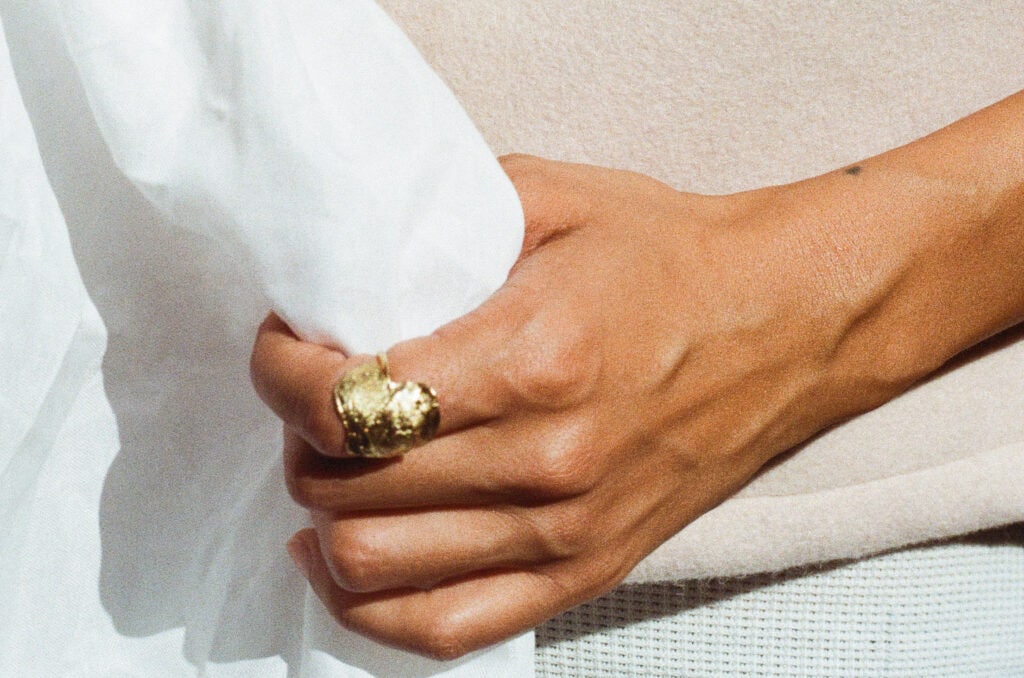 The Viennese studio therefore focuses on manufacturing on demand, rather than pre-production in large quantities. The distinctive one-of-a-kind pieces are lovingly handmade in small series on site.
"My jewelry pieces are made as unique pieces and small series in my studio in Vienna by hand and with a lot of love. They are not pre-produced in large quantities, but are mainly custom-made on request," says Lena Grabher.
Passion for creative craft
Lena Grabher grew up in Vorarlberg and moved to Vienna. There she learned the craft of goldsmithing and silversmithing at the Vienna Goldsmith Academy, where she subsequently completed her apprenticeship. At the renowned ALCHIMIA – the Contemporary Jewelry School in Florence – Grabher pursued her passion for artistic jewelry design under professors such as Ruudt Peters and Peter Bauhuis. In 2013, she graduated with a Bachelor of Fine Arts degree in Italy, which was followed by a Master of Fine degree at the University of New York in 2015.
"Through my educational path and professional experience, I have achieved a high level of technical and craft expertise. However, my passion lies in the artistic-creative and conceptual processes with which I have intensively engaged during my studies in the field of fine art," Lena Grabher aptly summarizes.
Since 2016, Lena Grabher has been working as an independent goldsmith and jewelry designer, as well as teaching gold and silversmithing in Vienna. Her work has already received several awards, including the "Eligius – Jewelry Award of the Province of Salzburg" in 2016. In 2018, Lena Grabher founded the contemporary jewelry label LENA KRIS. Now, two years later, she opens her own studio with workshop offers, in Vienna.
The unique pieces now find their well-deserved realm in the new LENA KRIS studio, in Vienna's second district at Haidgasse 5. With her large repertoire of professional expertise in art and craft, Grabher not only creates jewelry, but also passes on her knowledge as a teacher for gold and silversmithing
Always acting with sustainable awareness and a very special eye for details, the focus of the workshop "Collected Fragments" is on capturing nuances of memory as inspiration for something new. This is how the inconspicuous becomes the magnificent.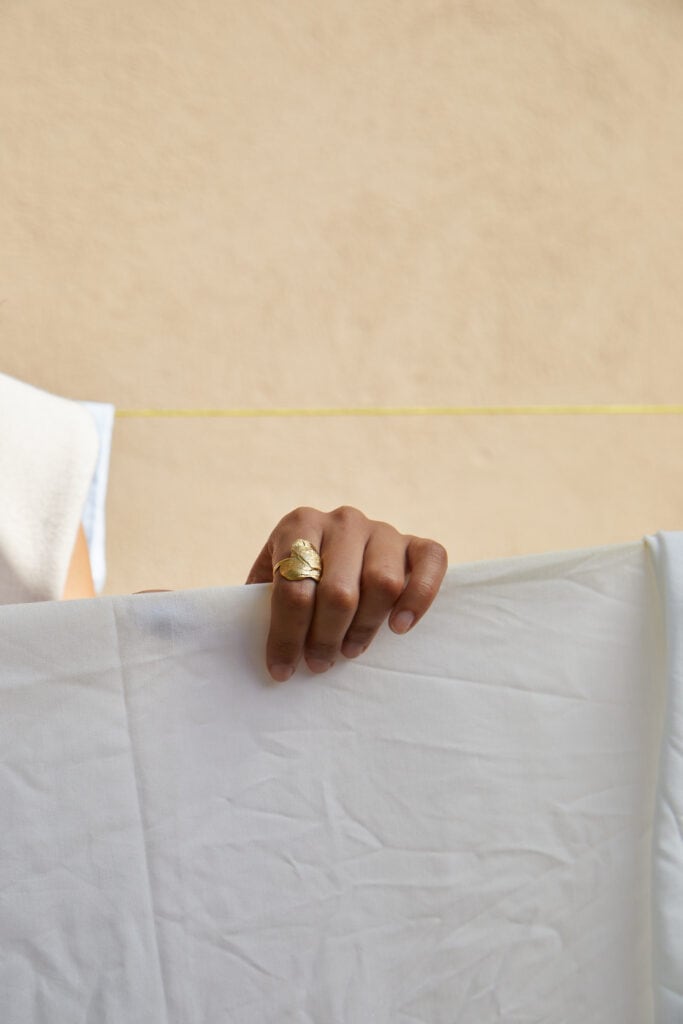 "The LENA KRIS studio offers me the opportunity to absolutely realize myself. In collaboration with artist friends, I have been able to create my own little universe without compromise, putting my love into every detail – from the restoration of the 100 year old herringbone parquet, to the custom made work table."

says Lena Grabher, founder and designer of LENA KRIS.
About LENA KRIS
LENA KRIS' unique jewelry pieces skillfully fuse tradition with contemporary design. Deviating from the norm, recycled precious metals are fused into flowing one-of-a-kind jewelry pieces. At the forefront at all times is an appreciation of craftsmanship, locality and sustainability. Lena Grabher passes on her large repertoire of learned and developed techniques in her own LENA KRIS studio with the help of individual workshop offers.
---
ATELIER & SHOWROOM
HAIDGASSE 5/TOP 7
1020 WIEN
Photos: Maria Ritsch, Lena Kris online >>