The design hotel is characterised by regional elements of nature. Larch constitutes the shell; oak, stone and loden constitute the "filling" of the hotel.
Only the cellar remained from the forme Café Bergland of the post-war period, when the hoteliers Elisabeth and Sigi Grüner started the redesign into the design hotel in 2010 with the help of the Wimreiter architects. The host Sigi could bring his expertise as a trained carpenter, while host Elisabeth is responsible for the stylish interior.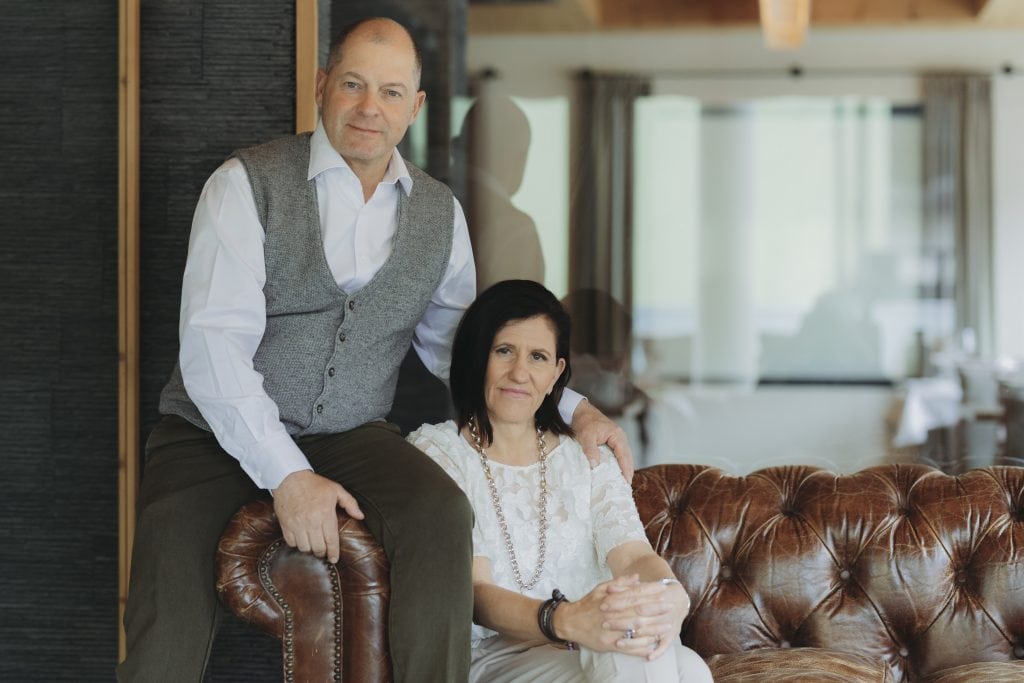 With this new building, we wanted to consciously take a great step forward into the future. The old building had always gradually been expanded, so it was very contorted, and the rooms were too small for our plans.

Elisabeth Grüner
But this is no longer the case: Even the Junior Suite has an area of 38 sqm; the exclusive top suite covers 212 – together with a fireplace room with walls completely covered in loden. They emit a cosy warmth and discreetly absorb noise.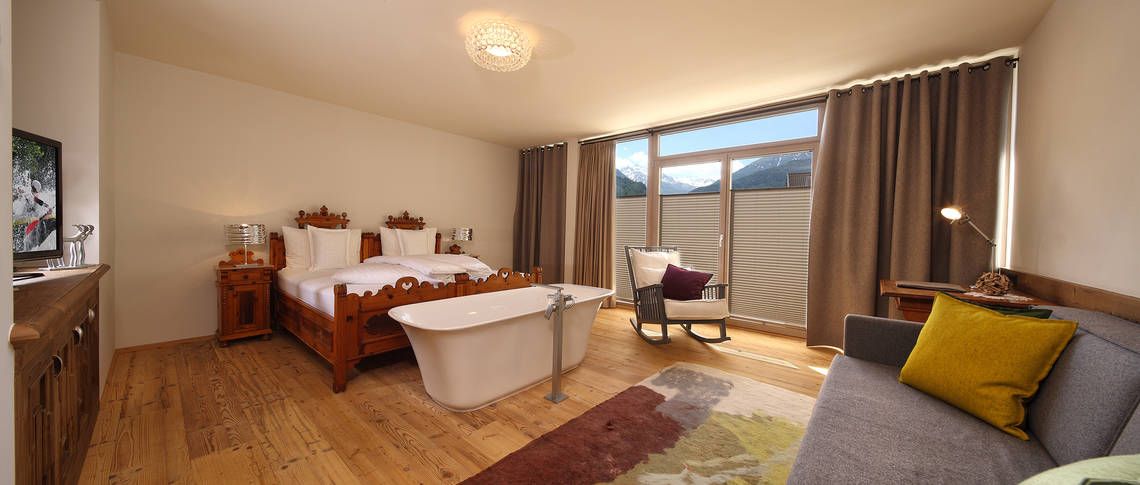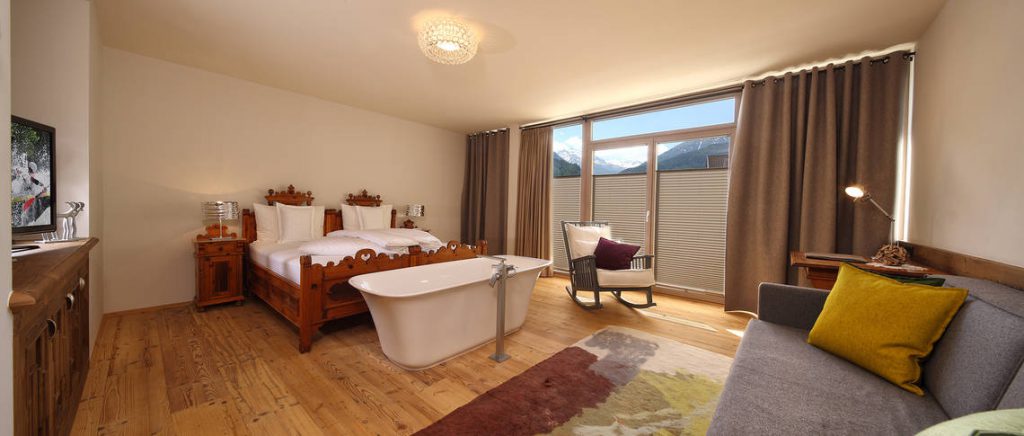 Emotionally attached
The Grüners also have an emotional attachment to loden, as they went into sheep breeding themselves, which was even awarded an innovation prize.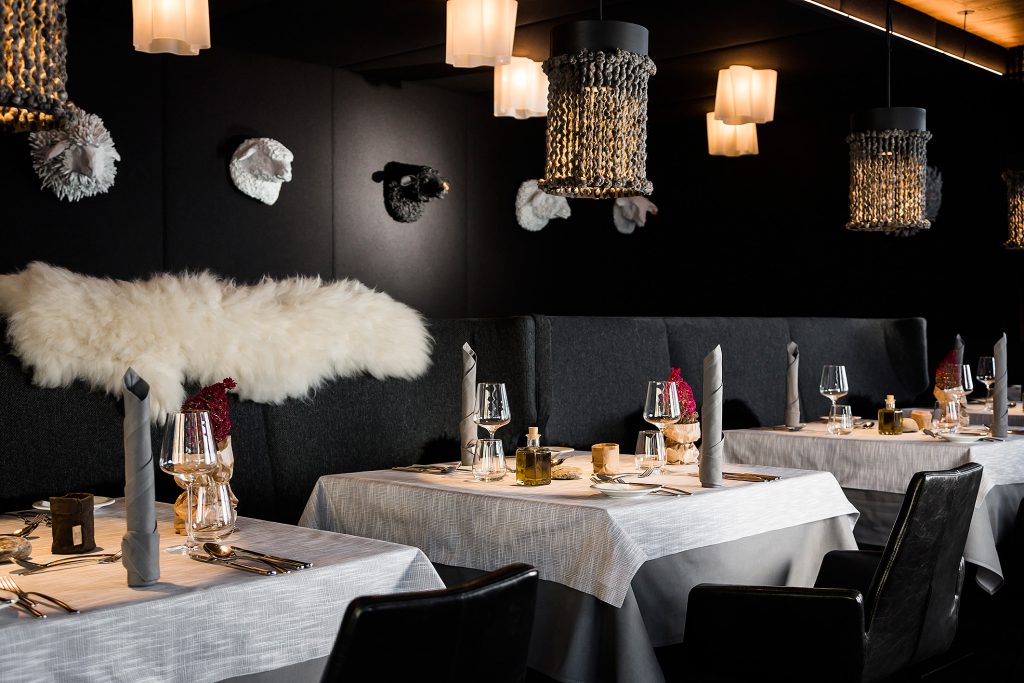 Their closeness to nature was also ultimately what provided inspiration for the style of the entire hotel design. Even the architecture competition for the new building had the motto "Bringing nature into the home".
There are beautiful houses all over the world. We wanted to create a regionally inspired and unique house where each season can be experienced directly,

Elisabeth Grüner explains.
In the center of Sölden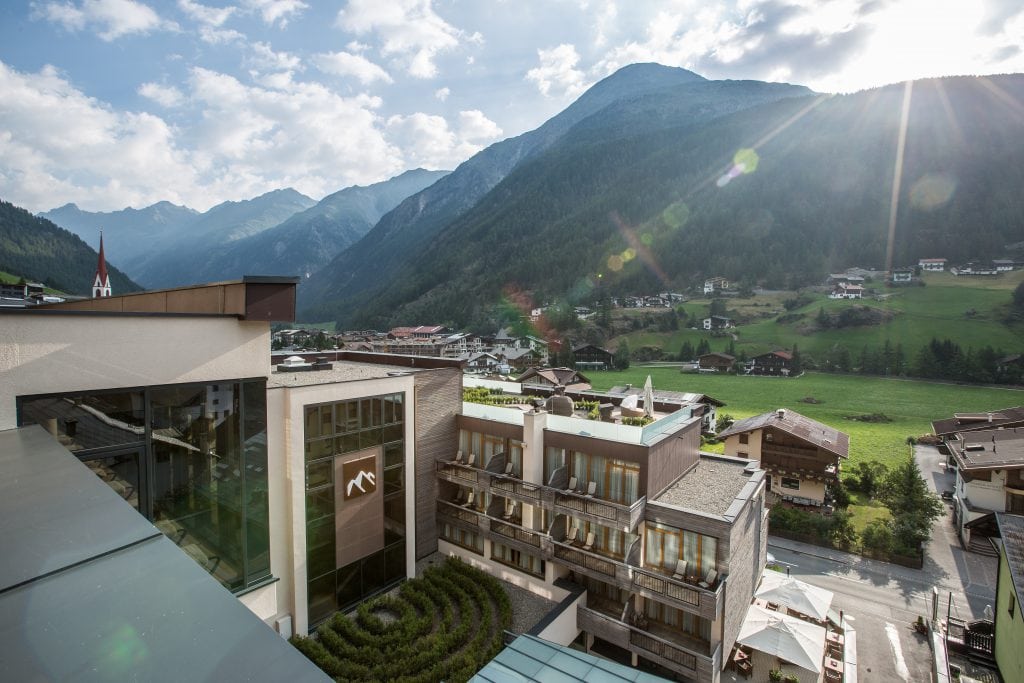 The Hotel Bergland Sölden, located in the center of Sölden on the Dorfstraße, is snugly nestled into the mountainside lying behind it. The view to the east impresses guests of the hotel both in the summer and in the winter, and the rooms nearest the mountainside to the west are also reached by daylight. The Bergland Sölden was one of the first hotels to place the spa area on the roof, offering heavenly views of the Nederkogel and its rocky brothers from the pool and the glazed sauna.
Place of strength in tranquillity
At the top, you can also find one of the finest places of strength of Bergland Sölden: the room of tranquillity.
We took down an old barn for this and rebuilt it indoors.
The quiet area is fitted with hay beds, conjuring a summer feeling in your soul with their incomparable smell. The mattresses are filled with the same hay the Grüners reaped from their pastures and dried in the sun following the old tradition. Not even music distracts you from the essence of life in this oasis of relaxation.
A culinary adventure
The vibrant life in the fireplace bar and the restaurant "Black sheep", in which the interiors are entirely matched with the Grüners' favourite animal, offer a successful contrast to this. The fine dining restaurant offers an exquisite cuisine and a great wines selection.
---
Bergland Design- und Wellnesshotel Sölden is a MEMBER OF LIFESTYLEHOTELS