Art Paris is celebrating its 25th anniversary with an edition that will bring together some 134 galleries from 25 different countries at the Grand Palais Éphémère from 30 March to 2 April 2023.
Art Paris – which was founded in 1999 – is organised by France Conventions, a French family-run business. Thanks to the efforts of its owners, Julien and Valentine Lecêtre, together with fair director Guillaume Piens, in the space of 25 years, Art Paris has become a leading spring arts event, an innovative art fair that fosters discovery, setting out to explore in depth the world of modern and contemporary art.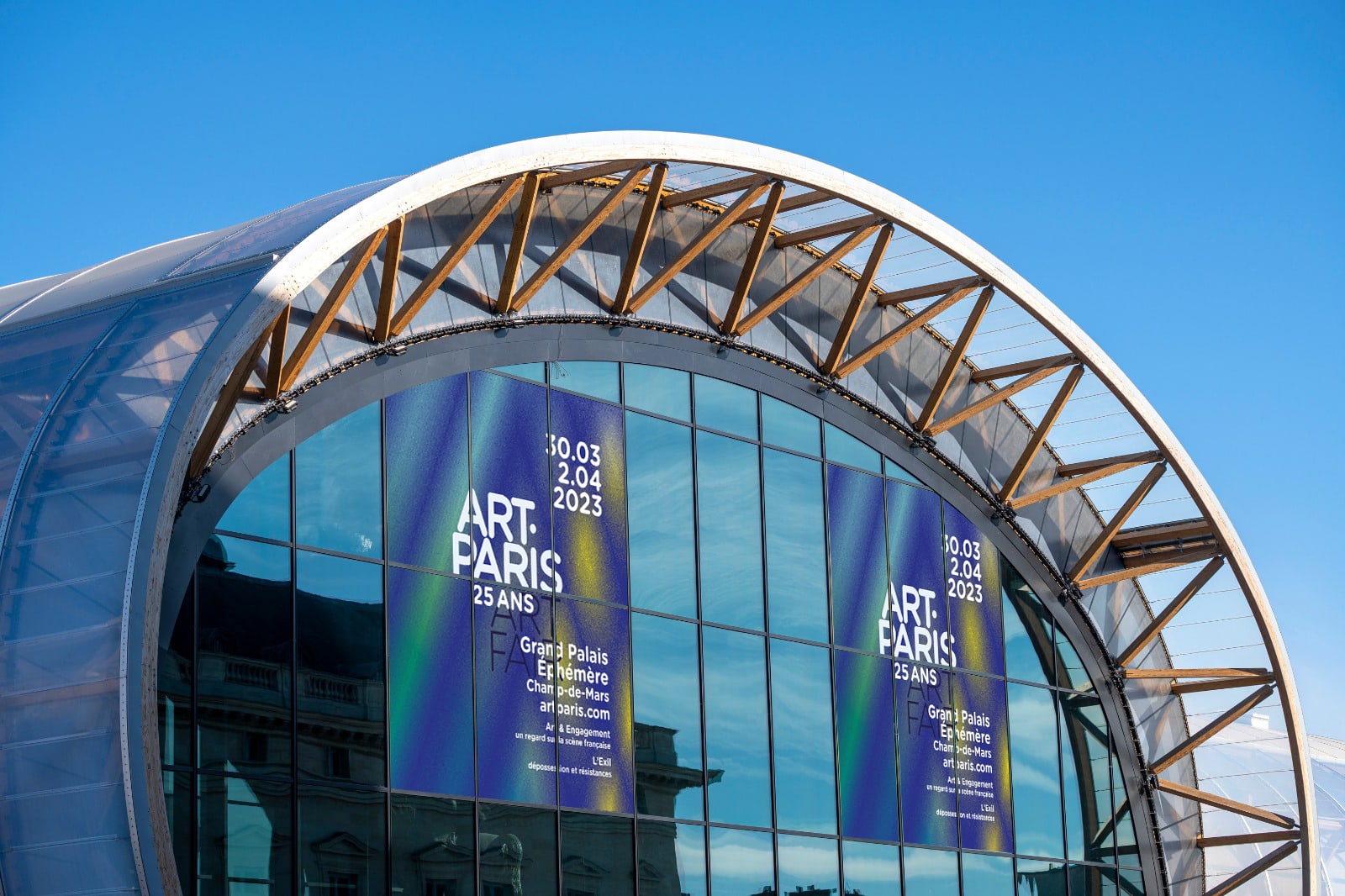 A regional, national and cosmopolitan fair, Art Paris has put the spotlight on many countries or continent's art scene: Russia (2013), China (2014), Singapore and Southeast Asia (2015), Korea (2016), Africa (2017), Switzerland (2018), Latin America (2019) and the Iberian Peninsula (2020). In parallel, Art Paris is committed to supporting the French scene. Since 2018, it has been asking an exhibition curator to turn a subjective, historical and critical eye on a selection of specific projects by French artists from among the participating galleries. A specific theme is chosen and the focus is accompanied by a text presenting their work. In 2018, François Piron considered those artists whom history had passed by. This was followed in 2019 by A Gaze at Women Artists in France curated by Camille Morineau and her association AWARE, Common and Uncommon Stories by Gaël Charbau (2020), Portraiture and Figuration by Hervé Mikaeloff (2021) and Natural Histories by Alfred Pacquement in 2022. This year's theme is Art & Commitment with Independent exhibition Marc Donnadieu.
"Solo Show" and "Duo Show"
Sixteen solo shows spread throughout the fair allow visitors to discover or rediscover in depth the work of modern, contemporary or emerging artists:
Arcangelo, Galerie Tanit
Louise Barbu, Galerie Françoise Livinec
Vincent Bioulès, Galerie La Forest Divonne
Jérôme Boutterin, Galerie Marc Minjauw
Robert Couturier, Galerie Dina Vierny
Jean Dewasne, Galerie Patrice Trigano
Andrea Galvani, Fabienne Levy
Alain Josseau, Galerie
Claire Gastaud
Yann Kebbi, Galerie Martel
Yann Lacroix, Galerie Anne-Sarah Benichou
Nabil El Makhloufi, L'Atelier 21
Luc Ming Yan, Apalazzo
Alexandre Benjamin Navet, Galerie Derouillon
Nils-Udo, Galerie Pierre-Alain Challier
Jean-Pierre Pincemin, Dutko
Gérard Schneider, Alexis Lartigue Fine Art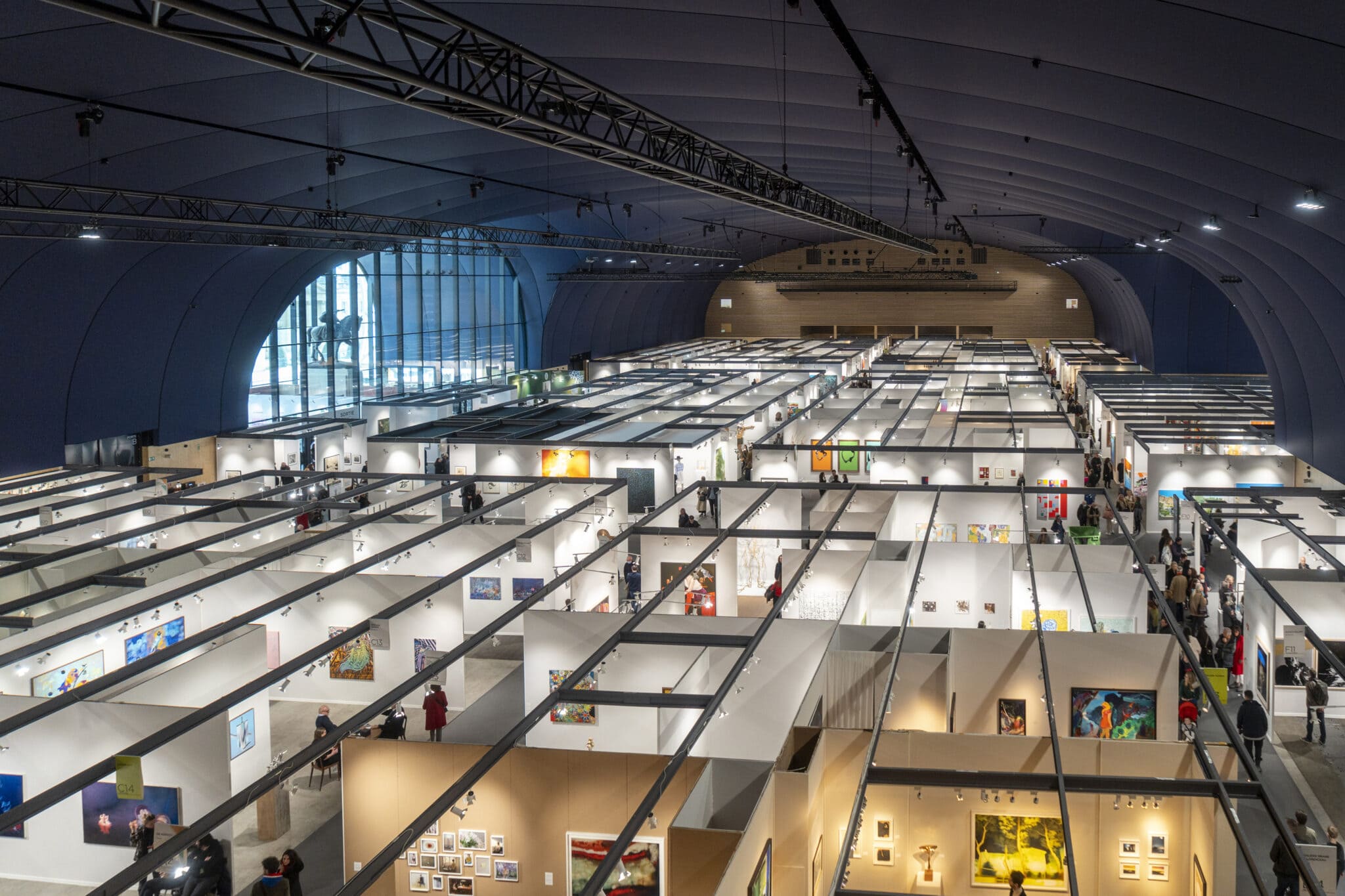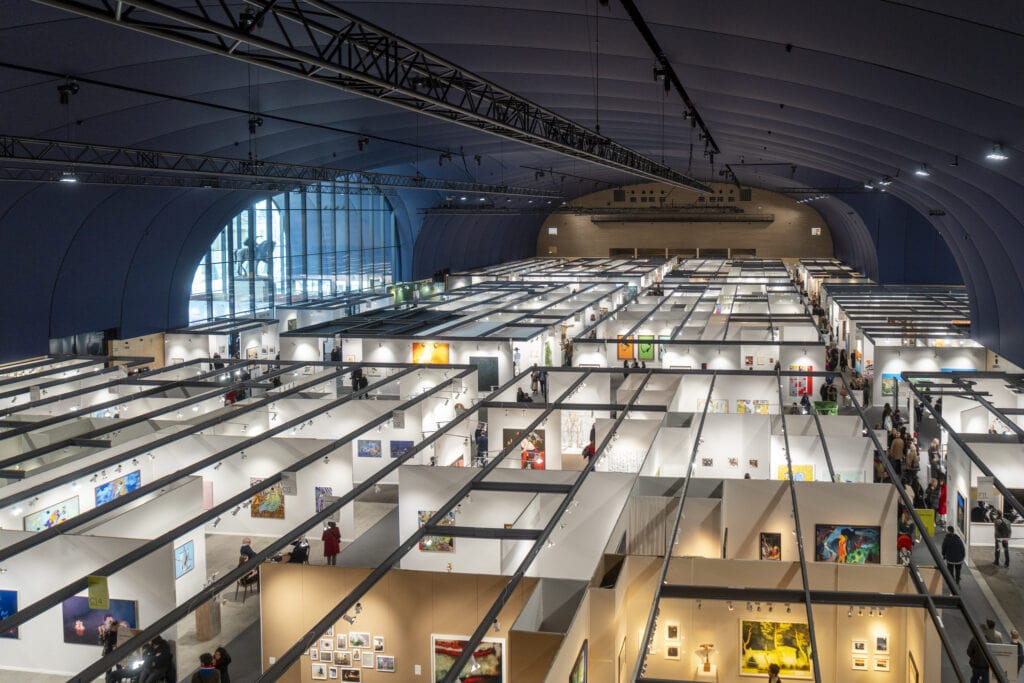 Fine Art In addition, ten or so galleries have opted to put on duo shows that establish a dialogue between artists of the past, for example by juxtaposing the work of two Belgian surrealists, René Magritte and Marcel Mariën (Galerie Retelet) or between different generations. Examples of the latter include:
Dix couples d'œuvres with Vincent Beaurin and Antony Donaldson, a historical figure of British Pop Art (Galerie Strouk) and Acts of resistance with Mircea Stănescu and Damir Očko on the stand of Romanian gallery Gaep.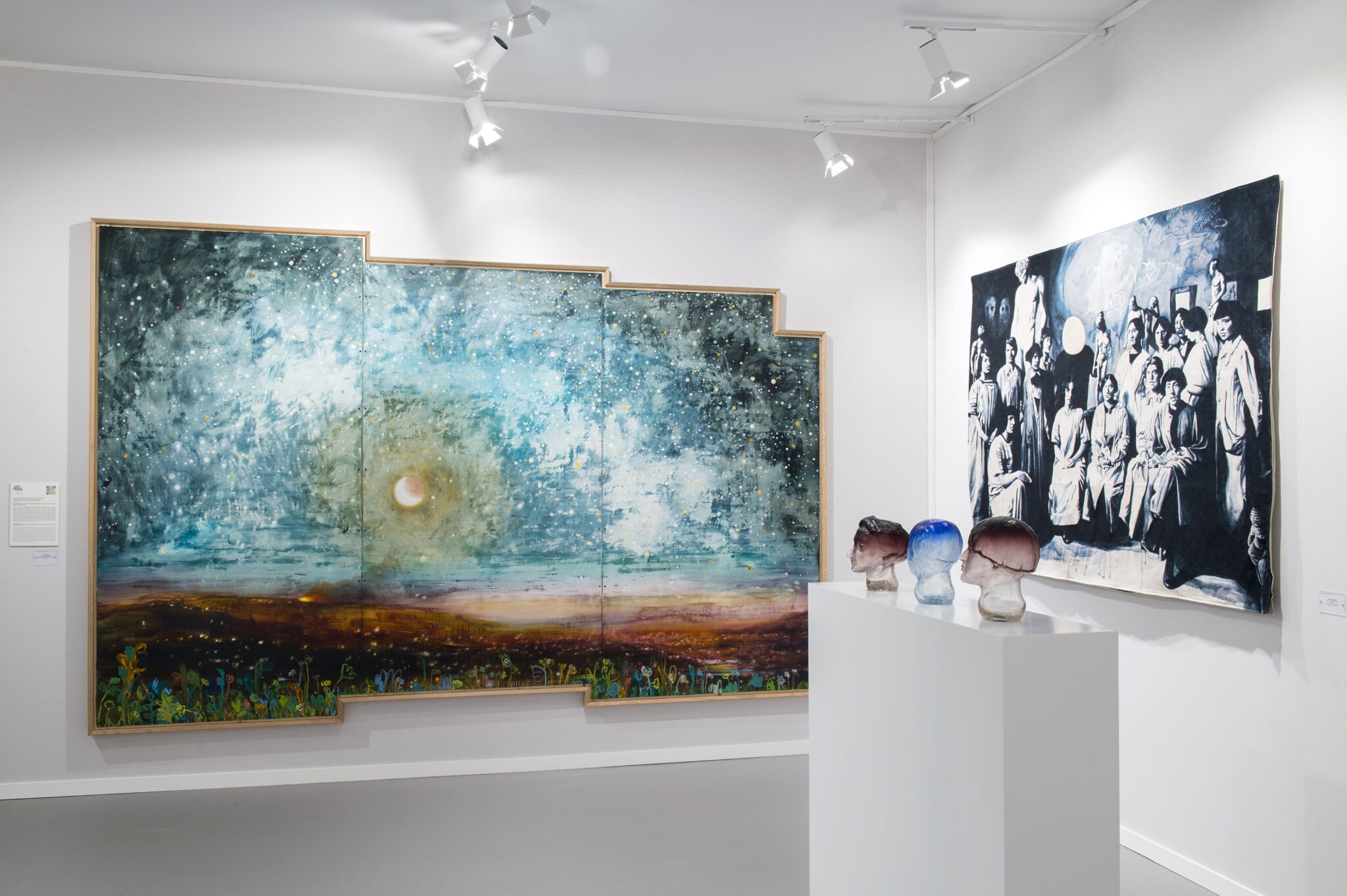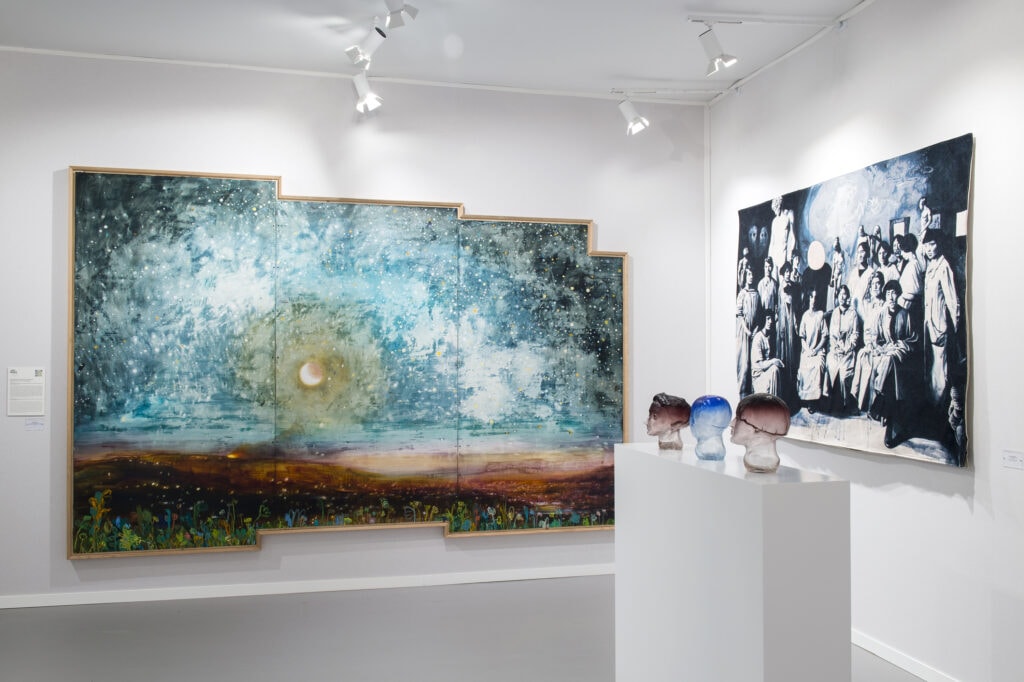 "Promises": a sector supporting young galleries and emerging artists
"Promises", a sector focusing on young galleries created less than six years ago, provides a forwardlooking analysis of cutting-edge contemporary art. Participating galleries can present up to three emerging artists and Art Paris finances 45% of the exhibitor fees. International galleries are largely represented in this sector that is constantly renewing its exhibitors from one year to the next (67% in 2023). This year Promises plays host to nine galleries:
Baert Gallery (Los Angeles)
Anne-Laure Buffard Inc. (Paris)
Enari (Amsterdam)
Gaep (Bukarest)
Galerie Felix Frachon (Brüssel)
Hors-Cadre (Paris)
La Galería Rebelde (Guatemala City)
The Spaceless Gallery (Paris)
This Is Not A White Cube (Lissabon)
Paris – the place to be for contemporary art!
Paris is in the midst of an exceptional period of cultural and artistic renaissance illustrated by the opening of new galleries and venues, the renovation of existing cultural institutions and the inauguration of new ones. The activities on offer as part of the VIP programme, reserved for invited collectors and art professionals, bear witness to the rebirth of Paris as the place to be for contemporary art.
Art Paris 2023 in figures:
A total of 134 25 galleries from different countries 44 galleries are either first-time exhibitors or past participants returning this edition 33% new exhibitors compared to 2022 60% French galleries 40% foreign galleries
PRACTICAL INFORMATION
Grand Palais Éphémère Place Joffre 75007 Paris
Opening times
Thursday 30 March from 12 to 8 pm
Friday 31 March from 12 to 7 pm
Saturday 1 April from 12 to 8 pm
Sunday 2 April from 12 to 8 pm

www.artparis.com