That's the Almmonte Präclarum Suites in the heart of the Salzburg mountain landscape – where holidaying is brilliantly simple, just as we like it.
Maybe it's the raw materials taken from nature: the dark stone next to the light wood, rough linen next to soft velvet, protective curtains in front of large glass façades.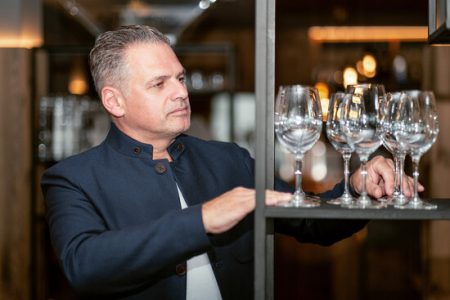 Harmony and contrasts don't cancel each other out. Nature is proof of that,

explains hotel owner Andreas Hutz.
Photo: Matthias Dengler
Architecture & design
Hotel owner Andreas Hutz invested blood, sweat and tears in the architecture and design of the building. The Almmonte Präclarum Suites owe their laid-back serenity and discreet elegance to him. This illusory contrast is what makes it so easy for us to be in the moment here.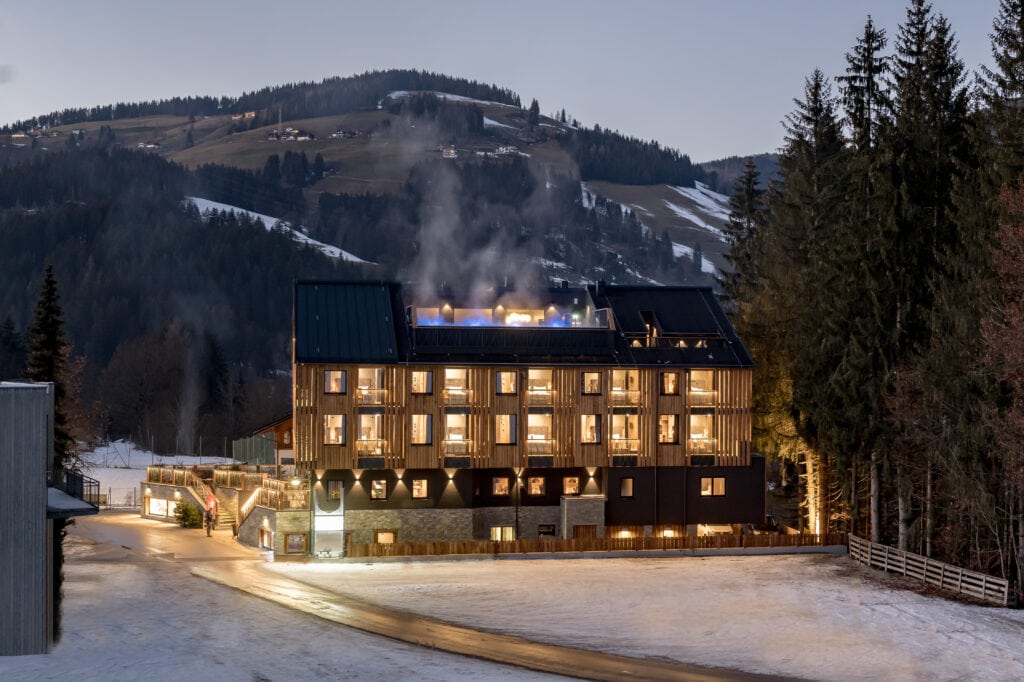 The moment when we wake up in our cosy box spring bed. The moment we enjoy the panoramic view of the mountains from the heated outdoor infinity pool.
And the moment we're served regional specialities in the restaurant.
Simply timber
Before we even enter the lobby, suites, restaurant or the spa, we're struck by the nature-inspired appearance of the building. Its façade seems to bring the surrounding forest closer thanks to its effective timber cladding. Organic shapes such as vines and nets emphasise this effect and generate a feeling of warmth and comfort, even from the outside. A feeling of "I want to go in there".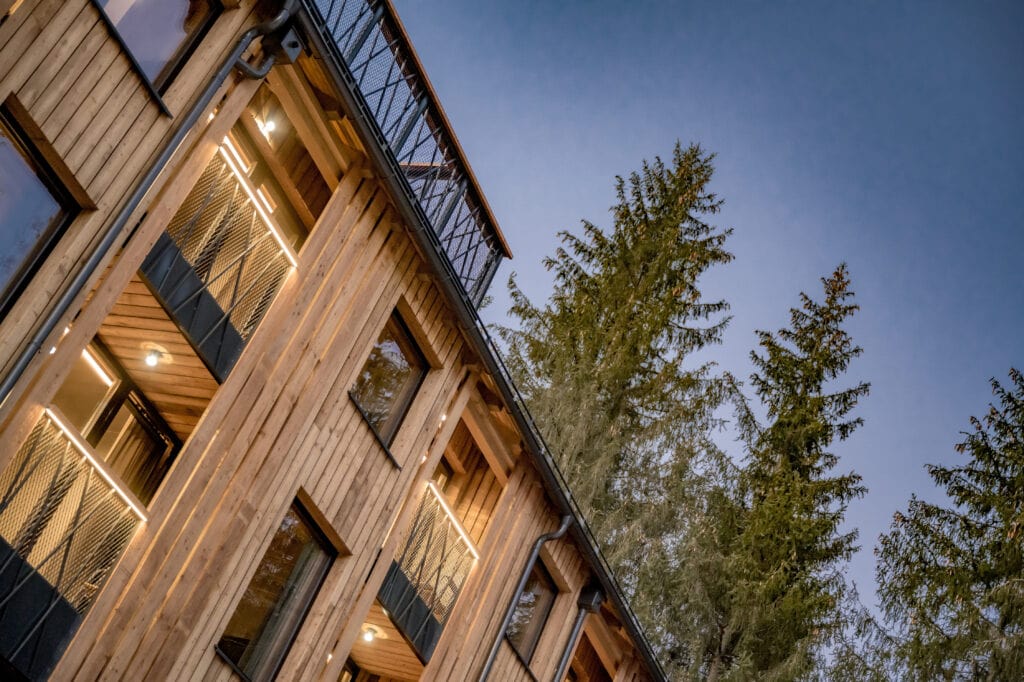 We're happy to accept this unspoken invitation and soon notice that the concept continues seamlessly in the interior with minimalist wooden furniture and subtle decorative pieces. Wood is used in combination with another mountain material in all areas: stone.
Simply stone
We encounter it in the form of granite floors with the classic salt and pepper pattern, we discover it in the dark shadows on the walls and ceilings and marvel at the contrasts resulting from the interplay with the markings of the wood. Although stone can often seem cold in the mountains, that's not the case in this environment. At the Almmonte Präclarum Suites, it invites us to take a closer look. It's like it's urging us to touch it: beneath our feet in the bathroom and with our hands on the wall. And actually, it feels warm and comforting.
Simply nature
The harmonious silhouettes lend the building its own personality. Every area appears to tell stories, maybe our own, maybe one from the tourist region of Wagrain, which is known for its traditions and connection with nature.
Our goal is to create experiences from the needs of our guests,

summarises Andreas.
And experiences are waiting here for us: both in the hotel and in the surrounding area.
Photos: Almmonte Präclarum Suites
---
Almmonte Präclarum Suites are a MEMBER OF LIFESTYLEHOTELS