The Avani Chaweng Samui Hotel & Beach Club, which is set to open in early August 2022, is set to rekindle the fun-loving vibes in the island hotspot of Chaweng on Koh Samui – with sun-drenched beaches and high-octane ambiance.
The new Avani Chaweng, Koh Samui's first mid-century inspired hotel, offers a bold and fresh design that takes cues from the halcyon days of the 1950s, referencing iconic American destinations such as Palm Beach and Miami.
The architecture focuses on social hangouts with a central large and inviting swimming pool and only three stories. Thus, the hotel comprises 80 glamorous rooms and suites, staying true to the 1950s retro-chic design inspiration.
SOHO Hospitality, a renowned Thailand-based studio known for their innovative restaurant concepts, designed the space with modern touchpoints to create spaces ideal for relaxing and socialising in style. High contrast geometric patterns and curves, as well as an abundance of metallic and opulent fabrics, evoke a 1950s vibe.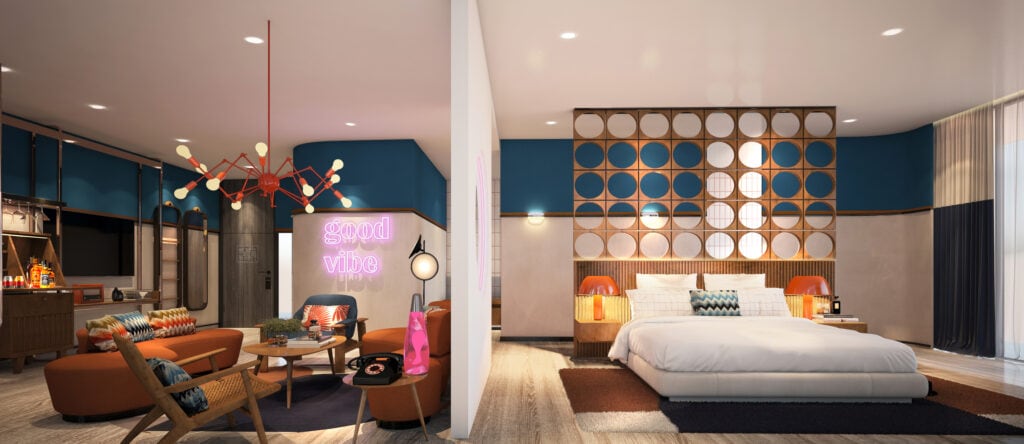 The chic accommodations add to the vibe, with the 61 square metre Groovy Sea View Suite and 90 square metre Double Groovy Sea View Suite offering plenty of space to unwind and retro touches – like a vinyl record player and cocktail making stations.
About Avani Hotels
Launched in 2011, Avani Hotels is part of the global hospitality group Minor Hotels (BKK: MINT) and was designed for the millennial-minded traveller whose priorities are style, value, and comfort. Avani is an upbeat and contemporary hotel concept that delivers the perfect balance, with a focus on good sleep, designed social spaces, locally inspired sustenance, and friendly service.
Avani welcomes guests to over 30 properties in Thailand, Vietnam, Laos, Cambodia, Malaysia, Sri Lanka, Australia, New Zealand, Seychelles, Mozambique, Botswana, Lesotho, Namibia, Zambia, the United Arab Emirates and Portugal, with a rapidly growing pipeline across Asia, the Indian Ocean, and the Middle East.
Photo credits: Press Kit Avani Chaweng Koh Samui