Summer ist the perfect time to entertain friends. The auction house im Kinsky offers some wonderful objects in its after-sale to enhance your dining table or dining room. Tables, dishes or decoration – every piece has been made by well-known masters.
im Kinsky, 132. Auktion, Lot 654
Pair of tureens from Maria Beatrix von Savoyen, Duchess of Modena
Vienna, 1819
Silver
H. 34 cm, Dm. 42 cm; 7.716 g
Estimate: 25 000 – 50 000 €
An amazing sight are the exquisite tureens hailing from Maria Beatrix of Savoy, who was married to the archduque Franz IV. of Austria-Este. They were made in Vienna in 1819 and have generous proportions. It would be a shame just to look at them actually – why not use them to serve a large portion of spaghetti…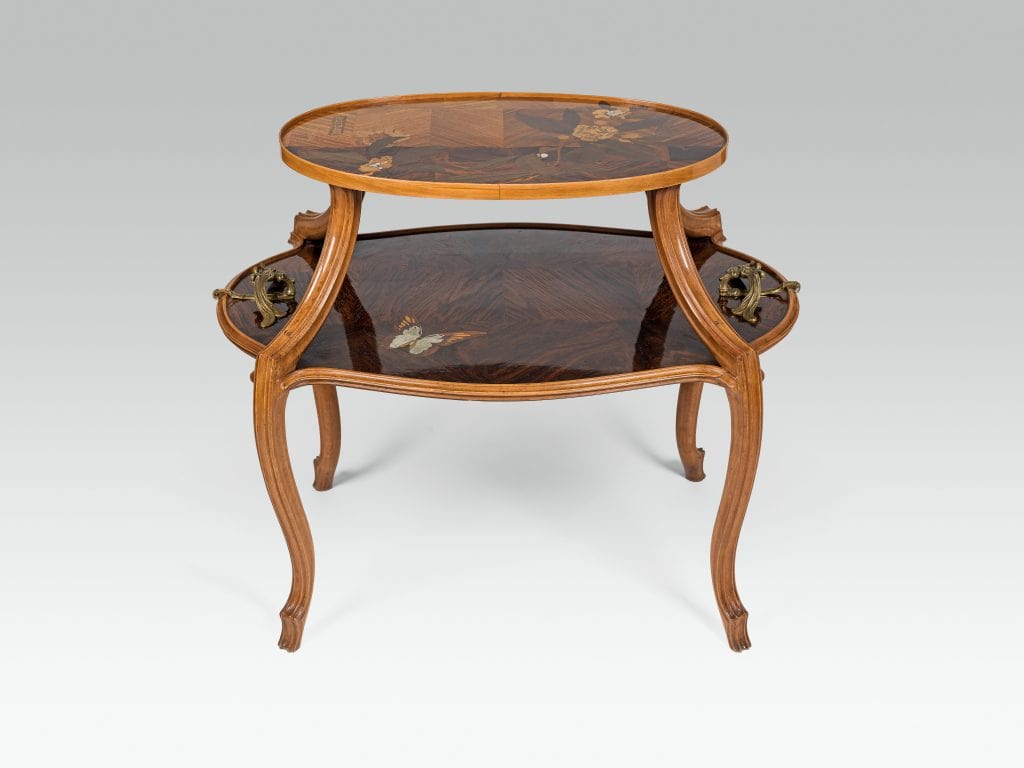 im Kinsky, 132. Auktion, Lot 1084
Emile Gallé (1846 – 1904)
Table "Thea Bonea"
Wood, Marquetry
Estimate: 7 000 – 12 000 €
These tureens could be placed on this rare table by Emile Gallé. The famous glass artist was inspired by nature, especially animals and flowers fascinated him. This is very evident in this table; not only are the two brass fixtures shaped like dragonflies, but there is a butterfly and various blossoms made out in marquetry. The way these motives are done hails back to the fashion of Japonism, which was very current at the time. Gallé's mastery is especially apparent in the combination of local and exotic woods used for this table.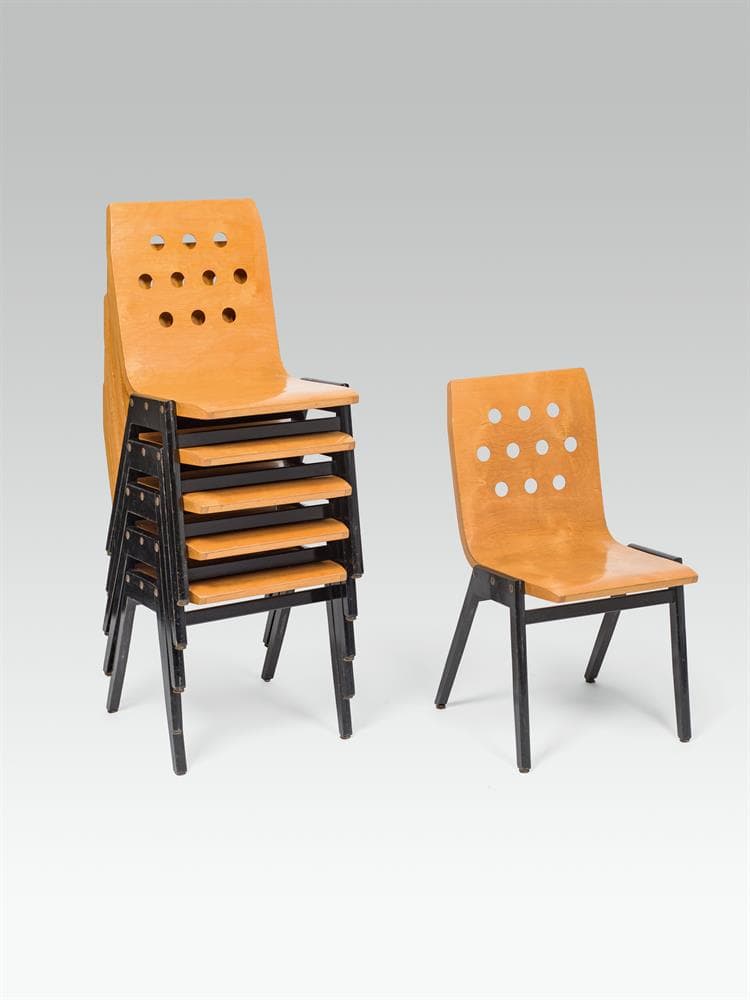 im Kinsky, 132. Auktion, Lot 1091
Roland Rainer (1910 – 2004)
6 stacking chairs Nr. 3/4/3
Beechwood, tranparent lacquer, black lacquered chair legs
H. 83,5 cm; Sitting height 44,6 cm
Estimate: 5 000 – 9 000 €
Should you prefer more modern furniture, look no further than this Austrian icon of the fifties: the chairs of Roland Rainer. The famous Viennese architect and builder of the Wiener Stadthalle created these stackable chairs in 1952, they are even called the "Stadthallen-chairs". They are testament to the clarity and simplicity that guided the architect in all his designs. The chairs are matched by a dining table for 8 people, also available in the after-sale.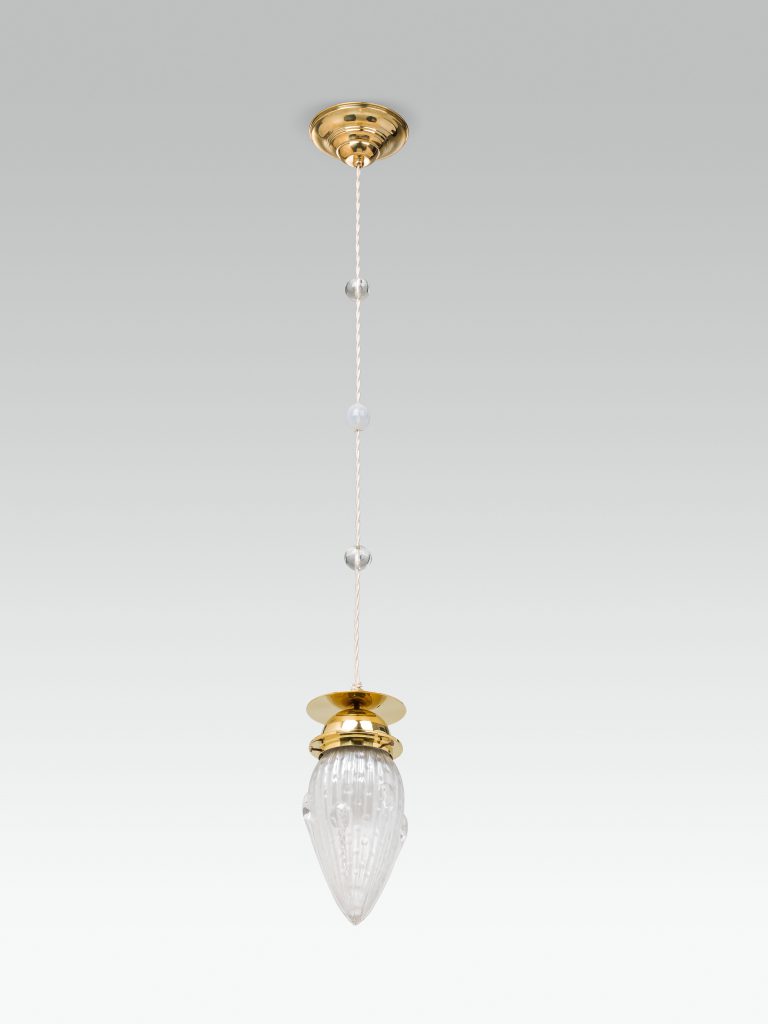 im Kinsky, 132. Auktion, Lot 1023
Johann Lötz Witwe
Drop light
transparent crystal glass
H. 101,5 cm
Estimate: 800 – 1 600 €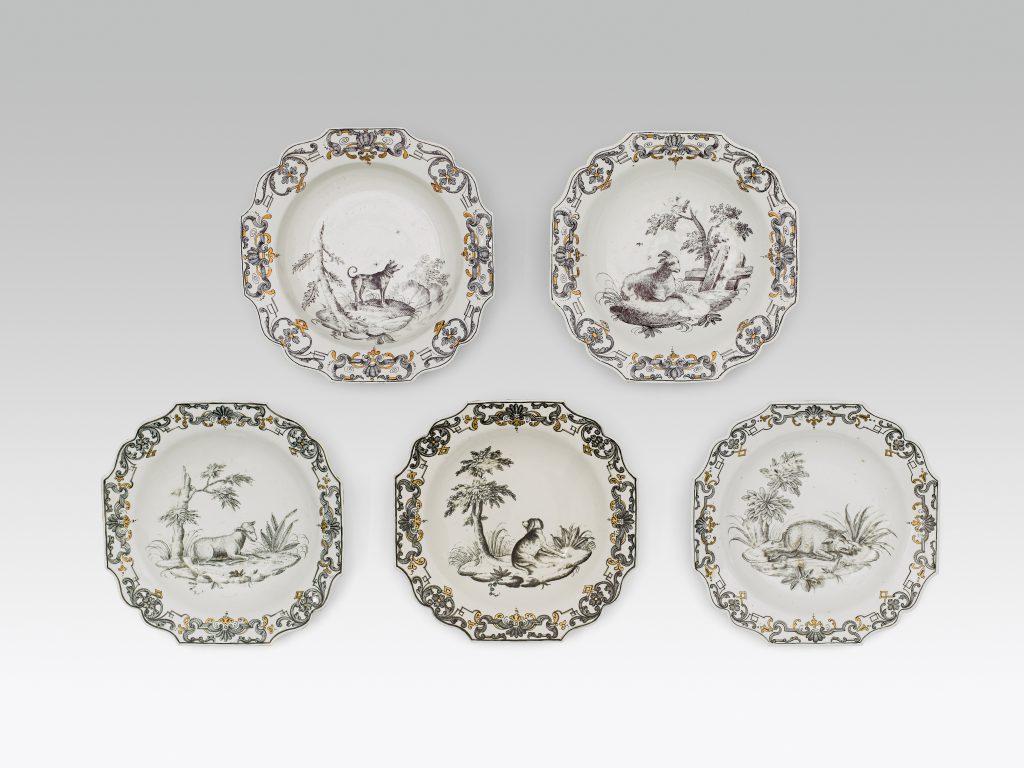 im Kinsky, 132. Auction, Lot 669
5 plates from the Liechtenstein hunting crockery
Vienna, 1750-1755
Dm. 22 cm bis 22,5 cm
Estimate: 6 000 – 10 000 €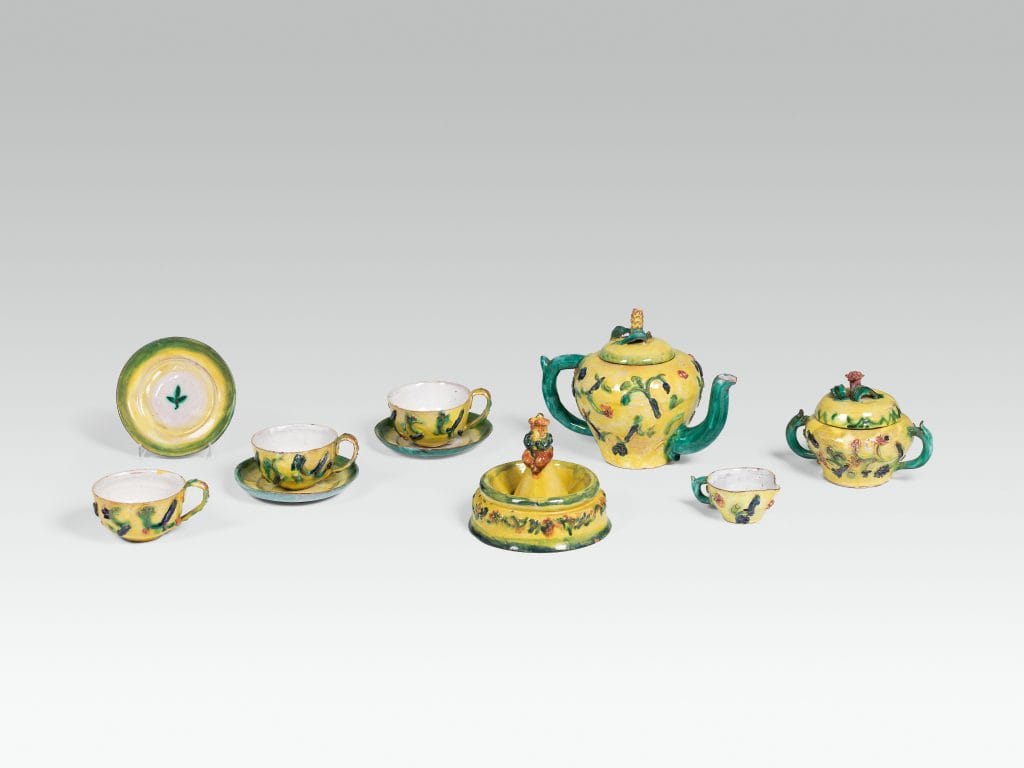 im Kinsky, 132. Auction, Lot 907
Vally Wieselthier (Wien 1895-1945 New York)
Tea service
Wiener Werkstätte, um 1922
Estimate 2500-4000
Contrasts are engaging – therefore a modern table deals very well with a more classic light fixture, like this one from the company Johann Lötz Witwe. As dishes, one could use the china plates from the hunting crockery of the Liechtenstein family. If one should prefer more vibrant colors, there is the tea service from the artist Vally Wieselthier, made around 1922 by the Wiener Werkstätte. This eleven-part crockery would enhance any table!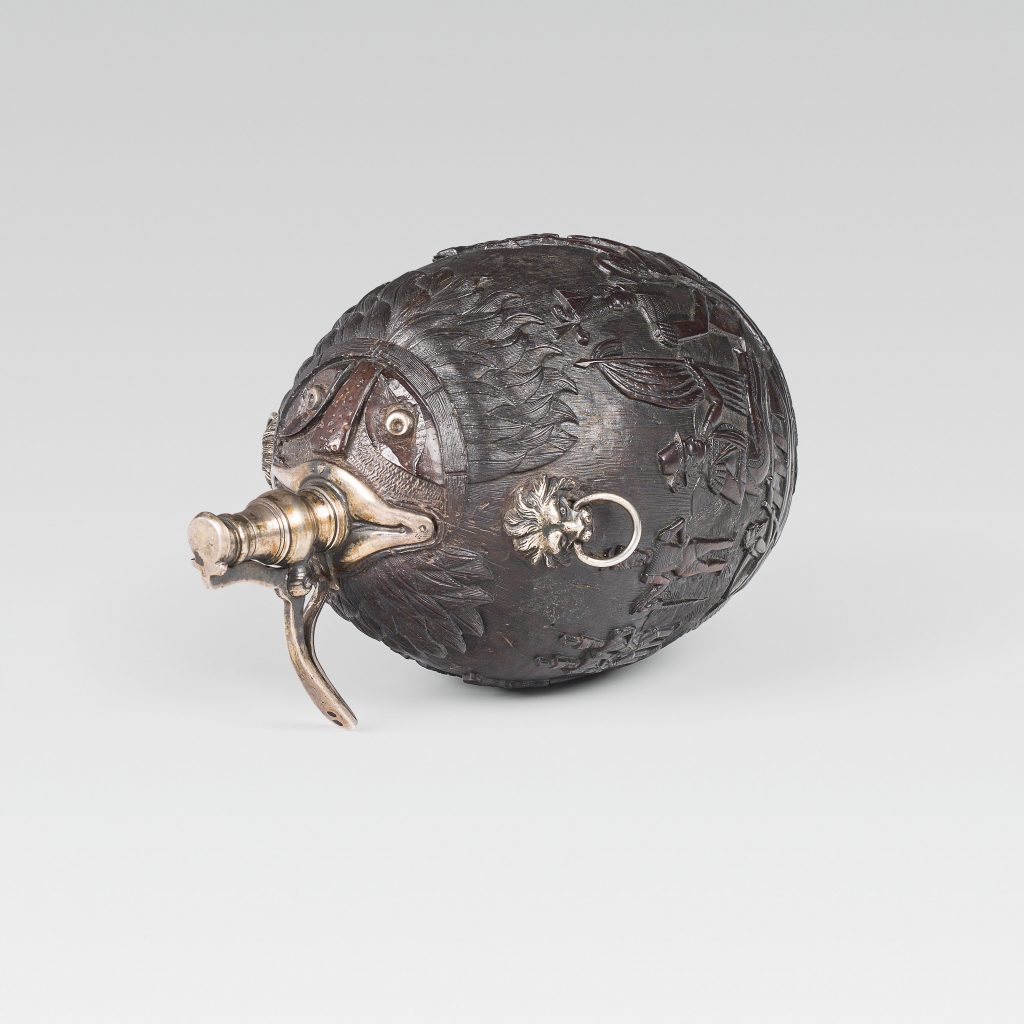 im Kinsky, 132. Auction, Lot 509
Coconut gun-powder flask "Napoleons arrival in Elysium"
France, after 1832
Coconut, carved, silver
H. 16,5 cm
Estimate: 4 000 – 8 000 €
Last but not least, one needs some conversation pieces. One of those surely is the gunpowder flask made out of coconut after 1932, a true collector's piece from France. It depicts the arrival of Napoleon Franz Bonaparte, duke of Reichstadt, King of Rome, in Elysium, where he is greeted by his father Napoleon I. and some of his marshals in the outer world. Franz was the much awaited male heir of Napoleon. After his father's exile, he lived with his mother Marie-Louise in Vienna, and died at the young age of 21 years in Schönbrunn from tuberculosis.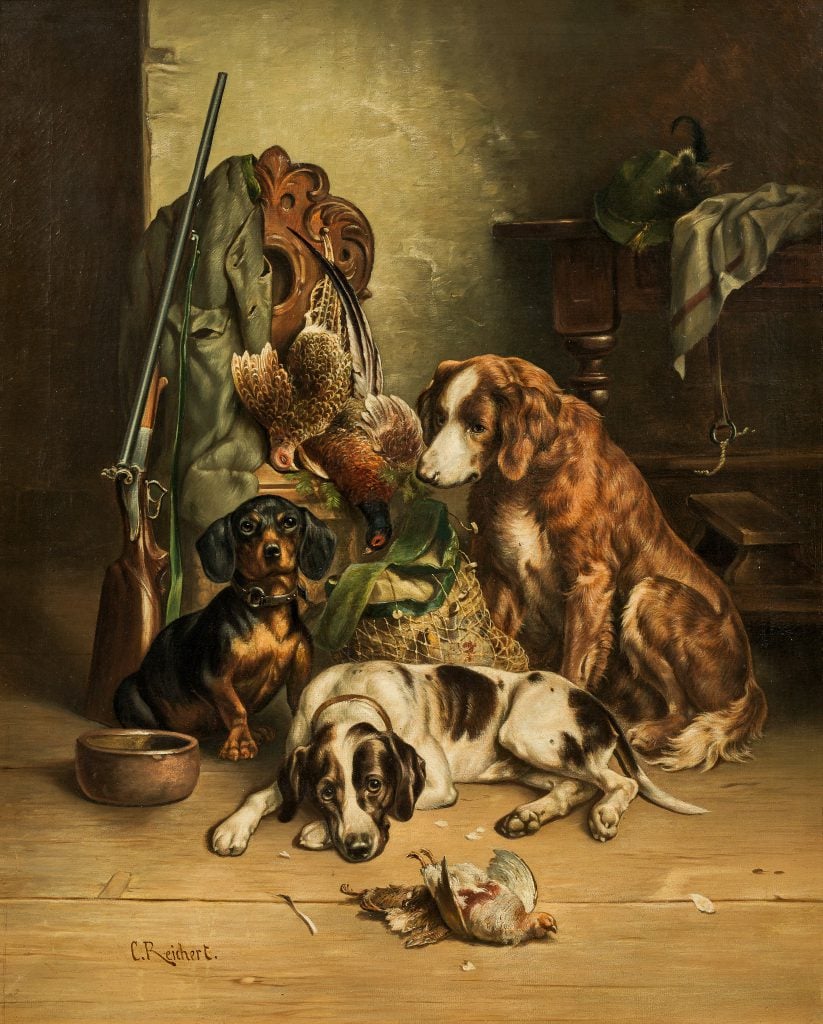 im Kinsky, 132. Auction, Lot 349
Carl Reichert (1836 – 1918)
Hunting dogs with their prey
Oil on canvas
70 x 55,5 cm
Estimate: 12 000 – 20 000 €
Carl Reichert's Oil painting depicting hunting dogs builds the bridge back to the Liechtenstein family hunting plates… The famous Austrian painter was especially well-known for his animal representations, of which he accomplished more than 580. His favorite motives were dogs and horses.