Coverstory, Issue 03/2019, beyond borders
Text: Nina Prehofer
A border marks the edge of an area and is therefore a dividing line or delimitation. Borders separate people, countries and thoughts. Yet even if they restrict us, we need them. Not least so that we recognise freedom.
ENTSCHULDIGEN SIE, IST DAS DER SONDERZUG NACH PANKOW
ICH MUSS MAL EBEN DAHIN, MAL EBEN NACH OST-BERLIN *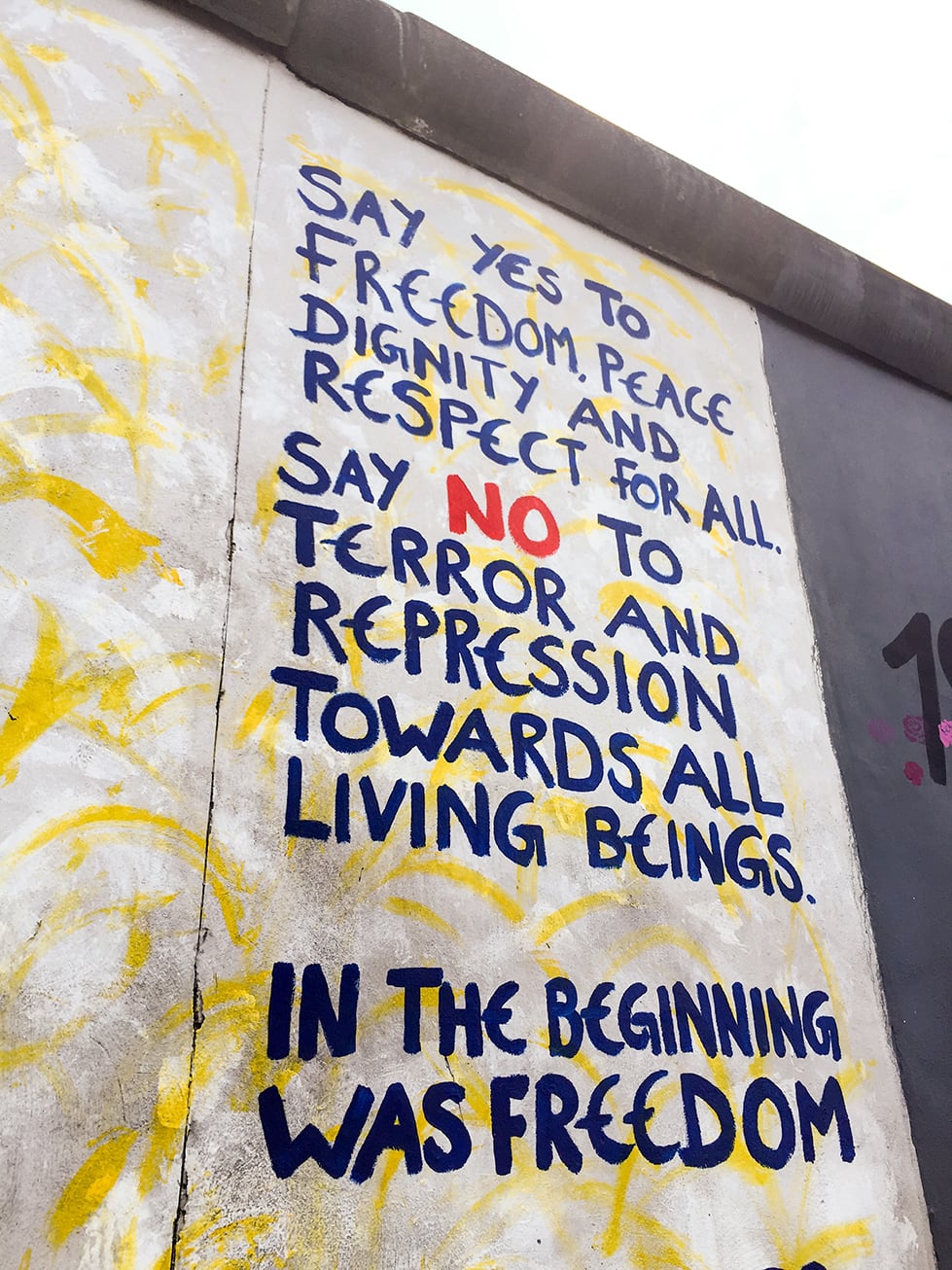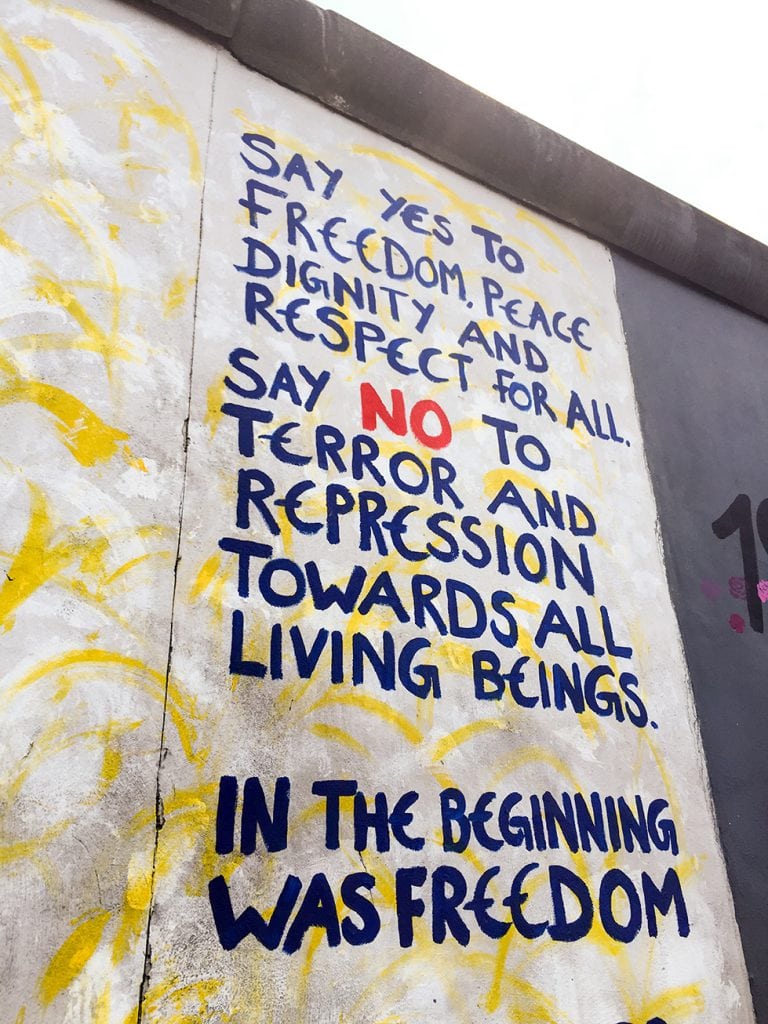 "Freedom cannot emerge without borders, without limits. Not least because a person can only feel free if they are able to sense the difference between that freedom and its absence. No human search for freedom is conceivable without overcoming existing borders, boundaries or barriers." These were the words of the philosopher Konrad Paul Liessmann in an interview with the magazine brand eins.
The Berlin Wall
One border was overcome 30 years ago. The Berlin Wall fell on 9 November 1989 and united two parts of a whole that had been separated for decades and ought never to have been divided. A wall running through a European city is a concept that is hard to grasp, and yet it is now a popular one in today's world.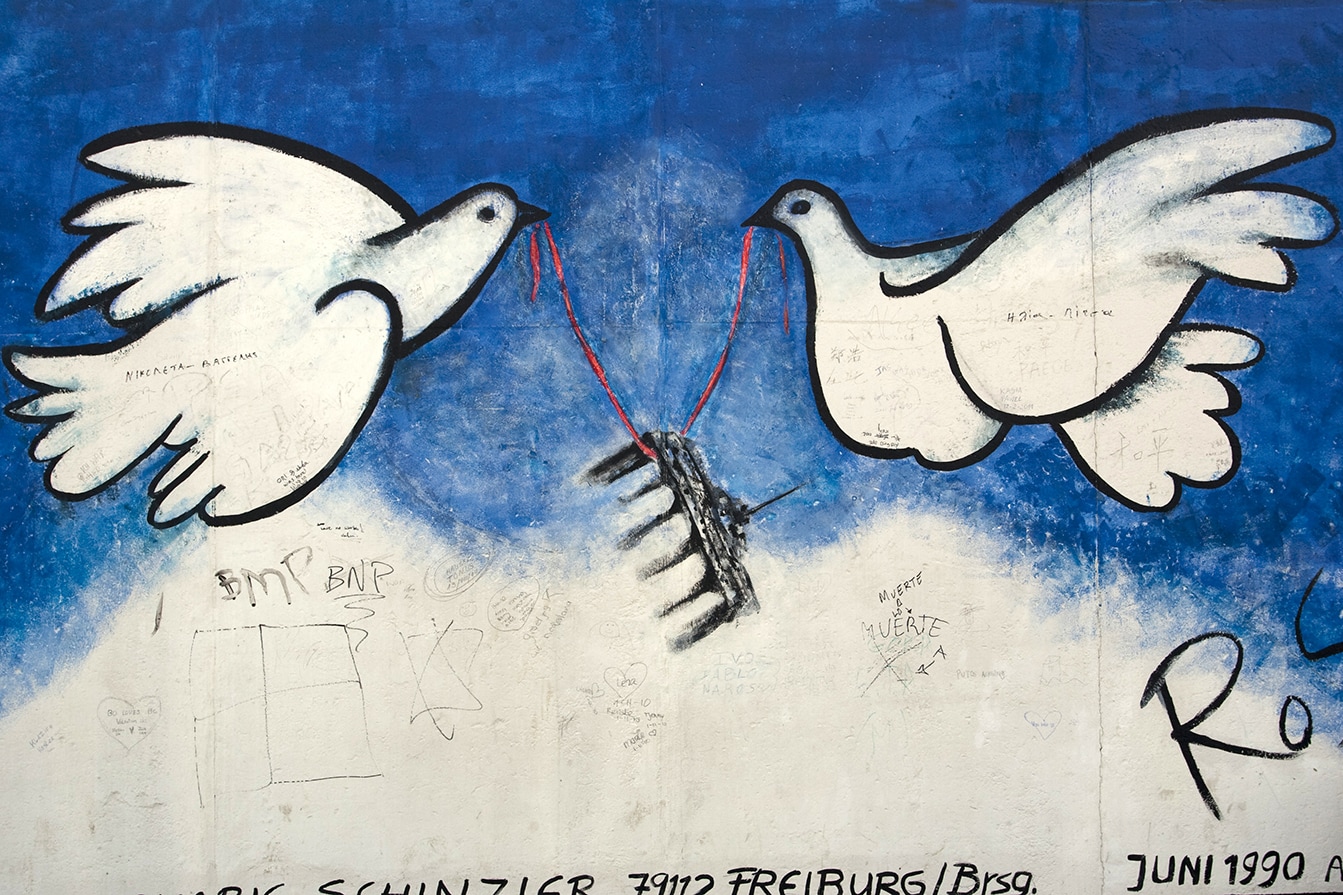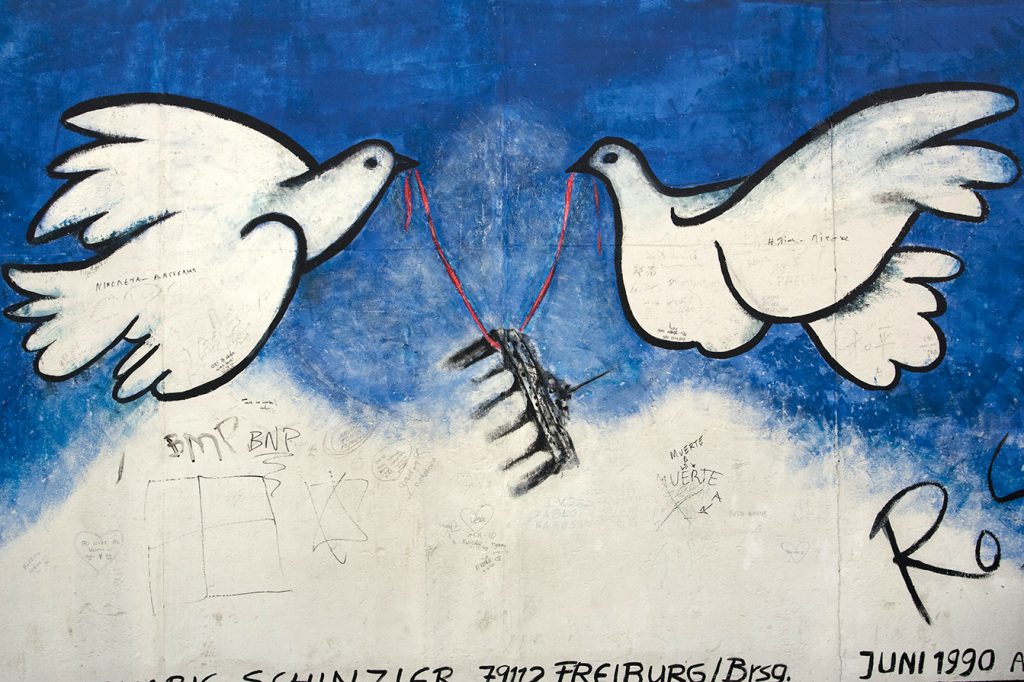 What did the wall mean in Berlin?
A man-made border that split families, friends and lives and created two worlds out of one. Suddenly, a country that – even if devastated by the Second World War – belonged together, was torn in two. And the border was even more restrictive and immovable for one side than it was for the other. Whilst you could travel from "the West" to "the East", going in the other direction was a lot more difficult. The East-West German border became one that still has an impact on people and life in Germany today. I can remember the wall too; I was a child at the time. I remember driving over to visit our family in Berlin. In West Berlin. When we arrived at the border, I was woken up by a heavily armed border guard who wanted to check that I really was the child indicated on my mother's passport. That was in 1989, the same year in which the Berlin Wall eventually came down. Although I was not yet five years old, that memory remains imprinted on my mind.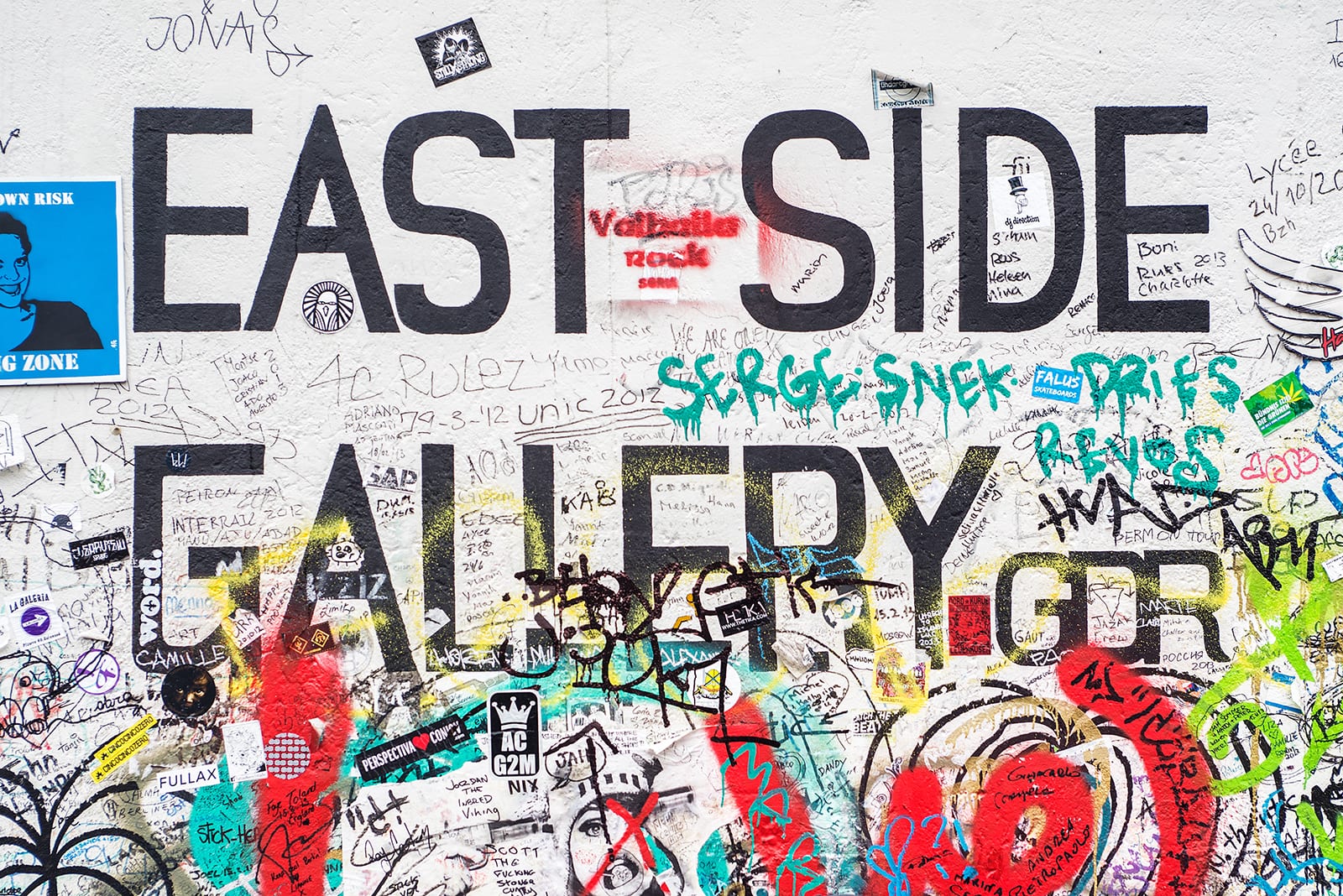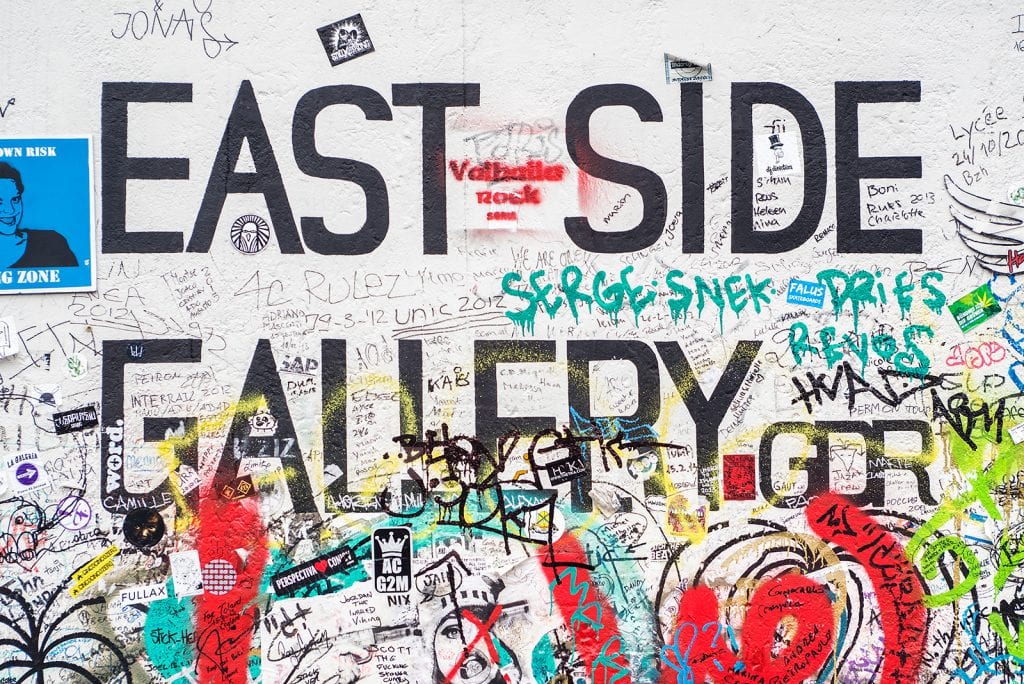 I remember, too, the nervousness of my aunt, a Berliner who never wanted to travel to the East. Every time, she was terrified that my parents and her brother would not be able to return from one of their trips to the other side of the wall. She tried to hide it from us, from the children, but we could see that something was not right.
Something troubled me as well, although of course I did not really grasp that we were in a divided city. Later, as young teenager who knew slightly more about that time but was hugely naive, I wished I were old enough to have had a more direct experience of the time. I imagined it all as an exciting adventure: driving to the East and passing through Checkpoint Charlie, entering a different world and getting to know the people on the other side of the wall. I still did not understand what that wall had really meant for people – and for the history of an entire country.
ICH MUSS DA WAS KLÄREN, MIT EUREM OBERINDIANER
ICH BIN EIN JODELTALENT, UND ICH WILL DA SPIELEN MIT 'NER BAND *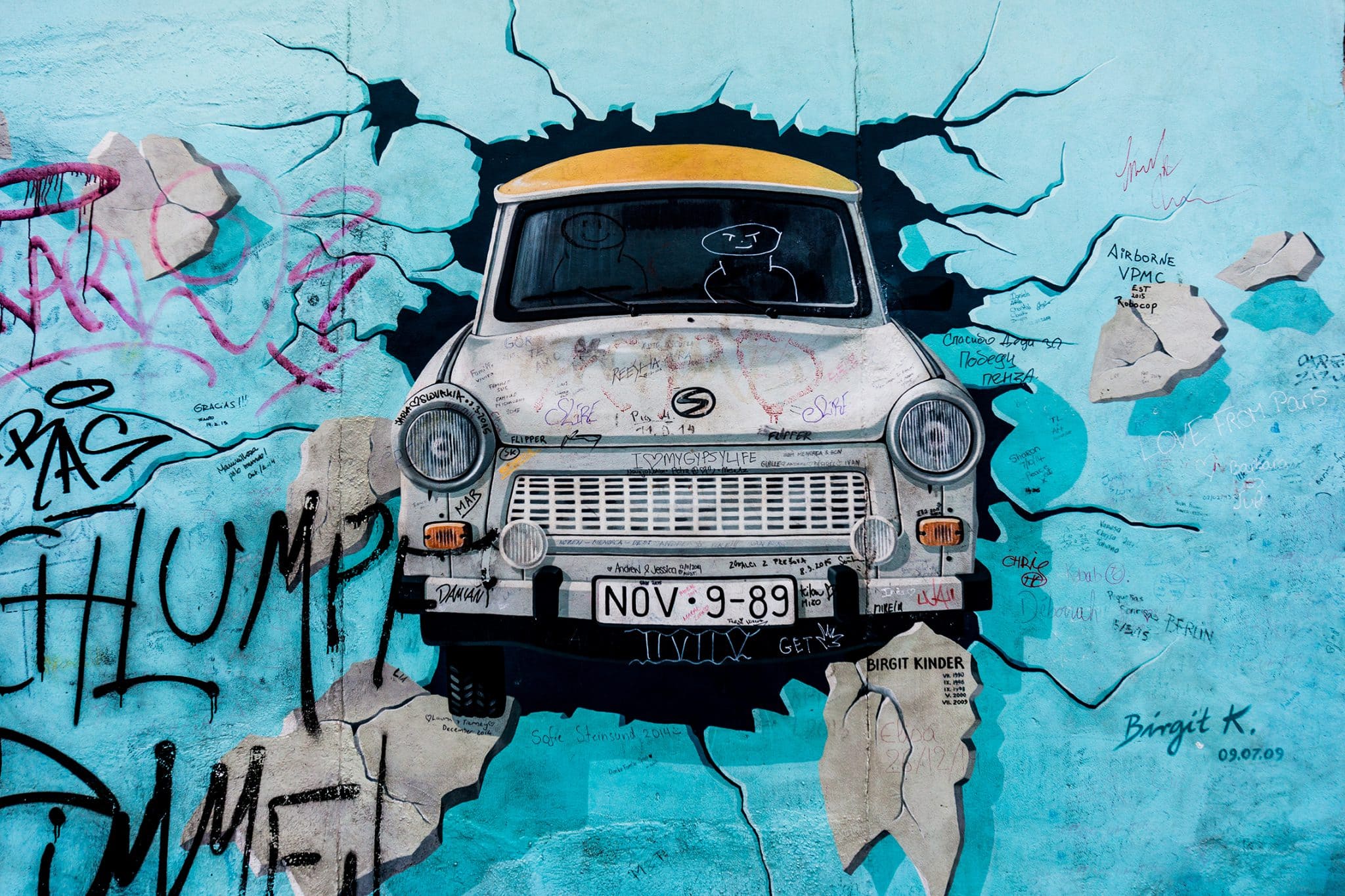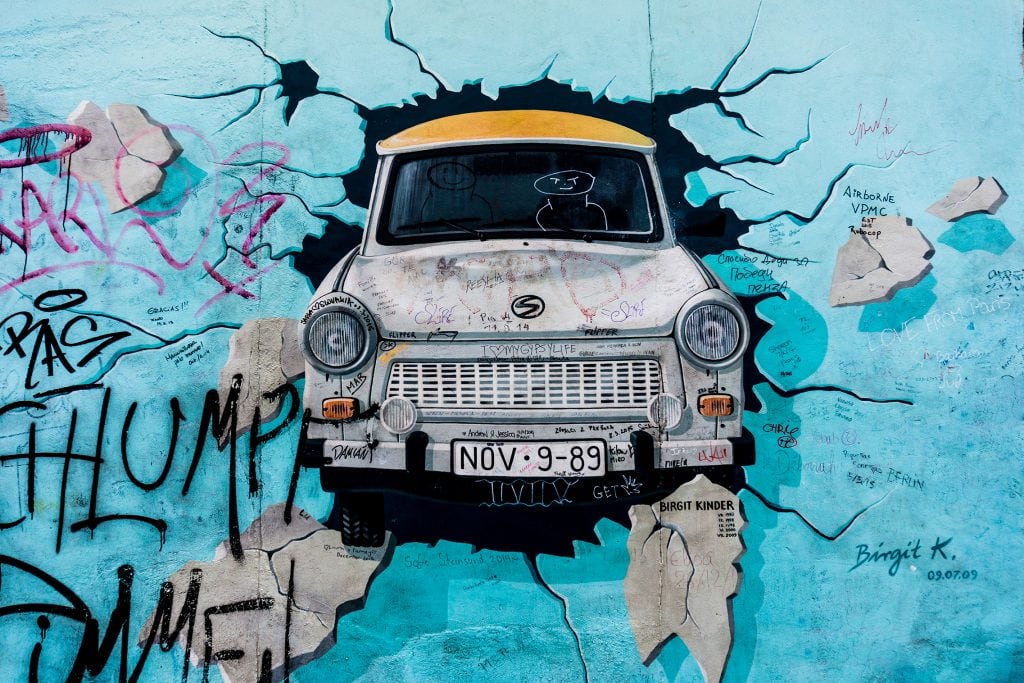 On 9 November 1989, the Berlin Wall came down and the images of that day were played around the world. This year, we mark the 30th anniversary of those events. We celebrate overcoming a boundary, crossing a border.
People removed this division that the majority of the population did not want. Yet whilst we celebrate the end of one border, calls for new borders and walls elsewhere are growing ever louder. Many have already been built.
ICH HAB'N FLÄSCHCHEN COGNAC MIT UND DAS SCHMECKT SEHR LECKER
DAS SCHLÜRF' ICH DANN GANZ LOCKER MIT DEM ERICH HONECKER
UND ICH SAG, EY, HONEY, ICH SING' FÜR WENIG MONEY
IM REPUBLIK-PALAST, WENN IHR MICH LASST *
Border crossings
When thinking about what images to use with this text, I simply entered "most beautiful border crossings" in Google. Not because I was expecting to find photos of idyllic border towns and regions, but simply out of curiosity: I wanted to know what kind of a world this would open up. There are a few outrageous and encouraging images on the geo.de website, but a search for borders and border crossings clearly reveals that border regions are not only not beautiful, but are in fact first and foremost places of immense pain, where suffering, sadness and anger are part of daily life.
Since the arrival of President Donald Trump and his much-publicised campaign to get funding for a wall, the border between Mexico and the USA has been on the public agenda. Yet how many of us are familiar with the border between Africa and the EU in Morocco? There, on the African continent, in an African country, lie the two Spanish cities of Ceuta and Melilla, surrounded by walls and fences. Every day, thousands of people wait for their moment or try their luck here as they seek to find some way over that fence and into the EU. To that "better" life that is right before their eyes and yet inaccessible. What irony that the towns are themselves so beautiful.
ALL DIE GANZEN SCHLAGERAFFEN DÜRFEN DA SINGEN
DÜRFEN IHREN GANZEN SCHROTT ZUM VORTRAGE BRINGEN
NUR DER KLEINE UDO, NUR DER KLEINE UDO
DER DARF DAS NICHT, UND DAS VERSTEHEN WIR NICHT *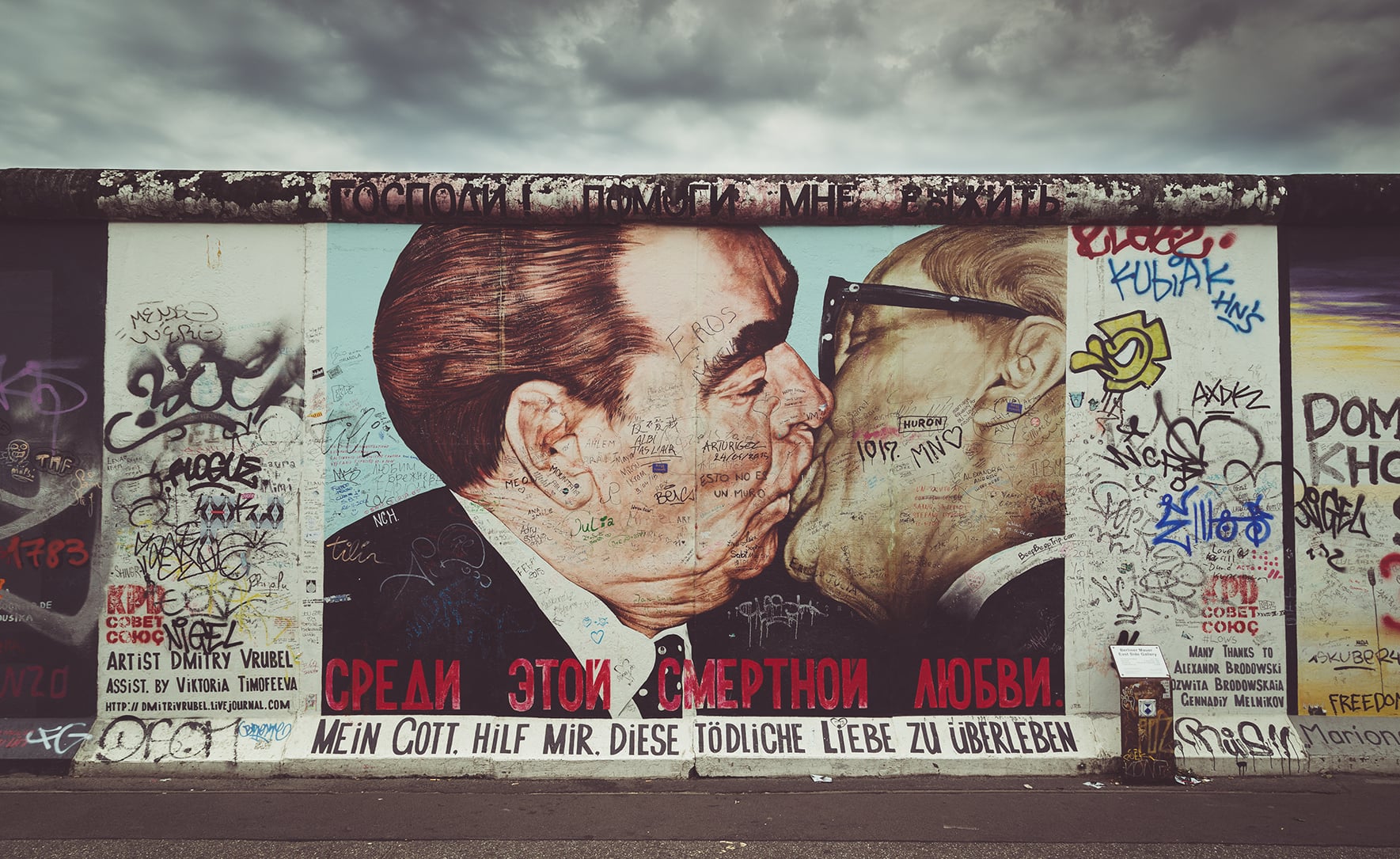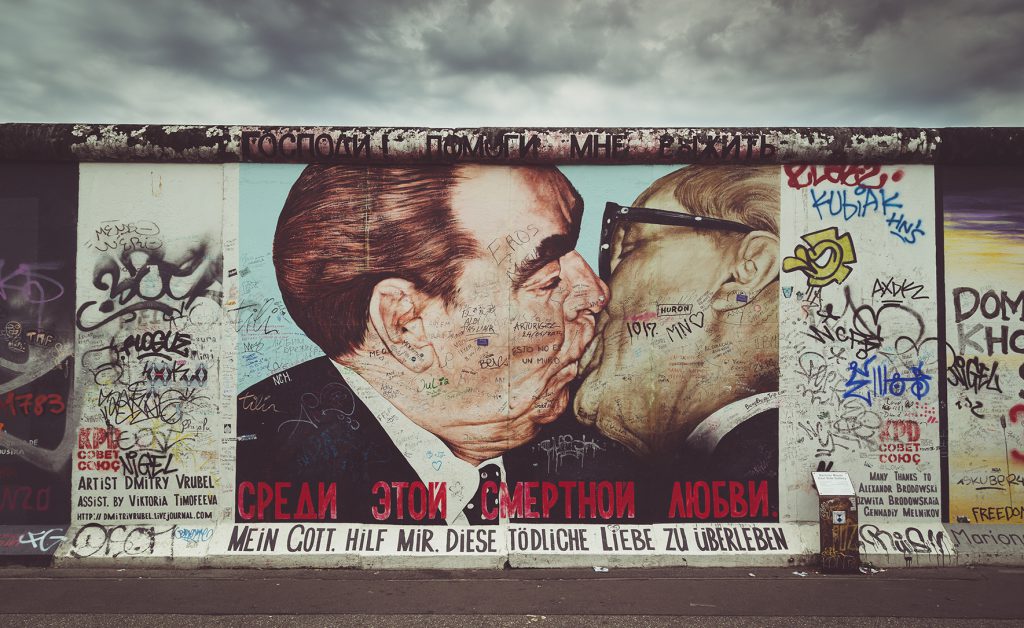 No limits
However, we don't just want to talk about what divides. When borders are broken down and barriers overcome, we see what connects and unites us. All of a sudden, we start to engage with each other. When we travel and cross borders, we realise what might separate us from another culture, but we also recognise what we have in common. And if we open ourselves up and get to know other places and people, we come closer together.
The photographer Elfie Semotan is famous for her successful efforts to remove the distinction between fine art and fashion photography. She has connected two disciplines that in many people's minds had little to do with each other. Or take the US author and journalist Hunter S. Thompson, for example, who with one story blurred the lines between journalism and literature. His "Gonzo" style created a whole new genre. Thompson's gonzo style became a form of professional anarchy with drugs and self-created chaos, which you are probably most likely to remember from the film "Fear and Loathing in Las Vegas" with Johnny Depp as Thompson. The German author and journalist Helge Timmerberg who writes hugely entertaining travel stories might be considered as one of Thompson's successors in style.
ICH WEISS GENAU, ICH HABE FURCHTBAR VIELE FREUNDE
IN DER DDR UND STÜNDLICH WERDEN ES MEHR
OCH, ERICH EY, BIST DU DENN WIRKLICH SO EIN STURER SCHRAT
WARUM LÄSST DU MICH NICHT SINGEN IM ARBEITER- UND BAUERNSTAAT? *
Athletes regularly push their physical limits in competition. The Kenyan runner Eliud Kipchoge recently broke the two-hour mark for a marathon, running the distance of 26 miles 385 yards in a record time of 1:59:40 hours. Asked why he was so determined to do it, he responded "I wanted to inspire people. I have shown that no-one has a limit."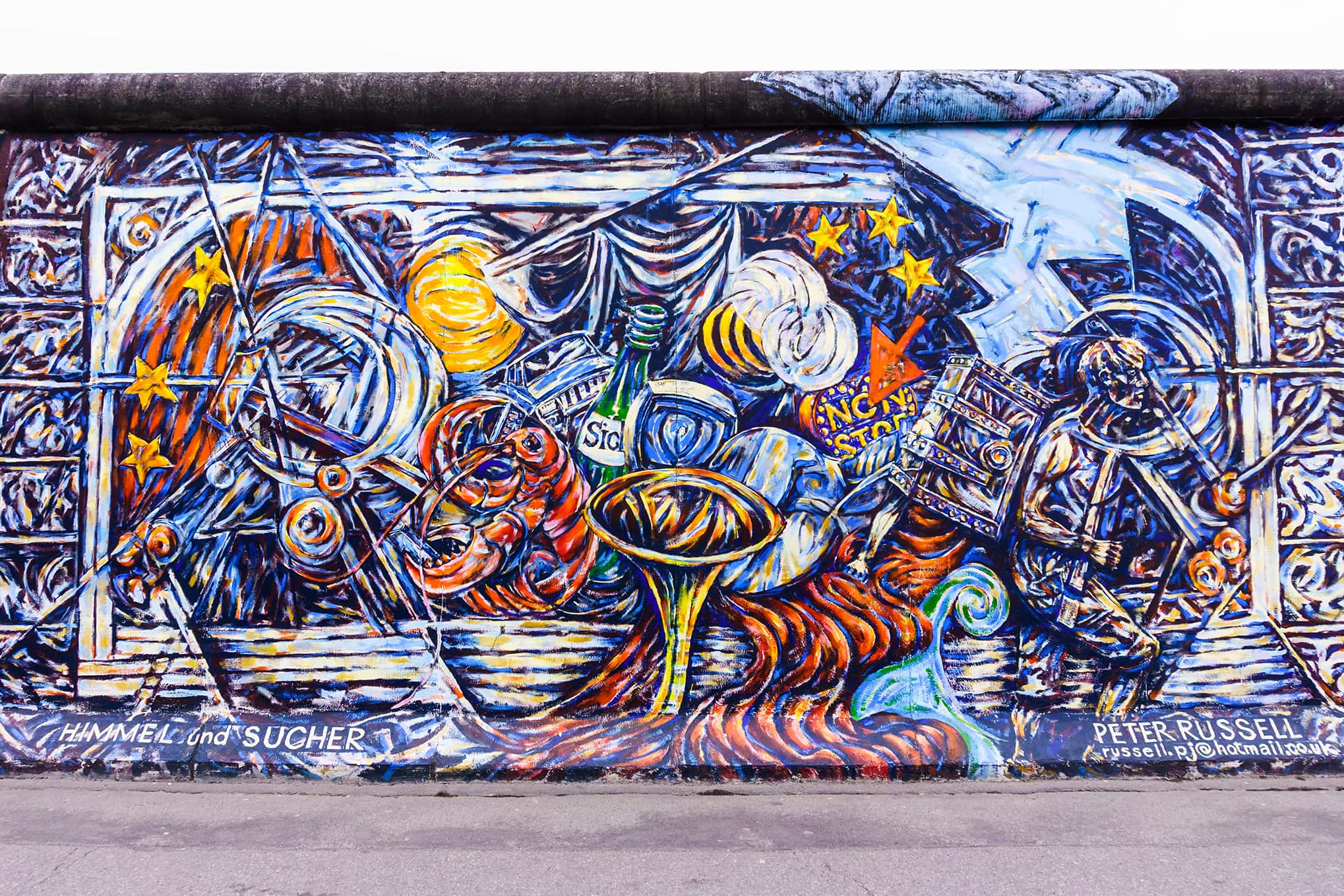 Limits or barriers are created in our heads; they are man-made. So we finish as we started, with a quote from Konrad Paul Liessmann. "We could not perceive anything without borders or limits. They are the basis for each human insight, for each insight starts with a decisive act: understanding that this is not that. However, and this is part of every experience of borders or limits, we can also draw distinctions that are wrong. It is not the border or boundary that is the problem, but rather whether that border or boundary is sensible and necessary in that place." We should therefore never stop examining the rationale for and necessity of borders.
HONEY, ICH GLAUB', DU BIST DOCH EIGENTLICH AUCH GANZ LOCKER
ICH WEIß, TIEF IN DIR DRIN, BIST DU EIGENTLICH AUCH'N ROCKER
DU ZIEHST DIR DOCH HEIMLICH AUCH GERNE MAL DIE LEDERJACKE AN
UND SCHLIEßT DICH EIN AUF'M KLO UND HÖRST WEST-RADIO *
* Quotes from the lyrics of "Sonderzug nach Pankow" © Sony/ATV Music Publishing LLC, Universal Music Publishing Group, Songtrust Ave. Sung by Udo Lindenberg.