Although we live in a materialistic world, "things" have a surprisingly bad reputation: they are seen as dead and soulless, and inferior to the organic world of plants, animals and humans in every respect. Anyone devoting themselves too enthusiastically to "things" is quickly suspected of being superficial. You might find that somewhat hypocritical considering we all invest a lot of energy in the quest for beautiful and valuable things, and in order to buy them we have to earn that thing called money…
We obviously expect more from these things than the simple gratification we get from fulfilling basic needs such as food and shelter, as otherwise our passion for material items is difficult to explain. It's often a case of a vain attempt to fill an empty void in the soul with material things, whereas actually our yearning for meaning can only be satisfied within and by ourselves. I think we need to urgently put a stop to this vicious slandering of the humble "thing"!
For me, objects are anything but soulless:
Some things have an aura, they speak to us and tell stories. We only have to pick up the pebble we collected on a faraway beach to be able to hear and smell the crashing waves, and feel the sun on our skin. The dried branch that was once part of a bunch of flowers is much more than just a dead plant – it's a symbol of a special occasion long ago, a relationship, a goodbye. Other great examples are relics from the Middle Ages to which you could attribute not just value but even healing powers.


Maître Jardinier – Eau de Parfum, Photo: Romin Favre – C'est la Vie Agency
How do we explain this?
Is it just our human way of thinking that imposes our hopes and expectations on mere objects? Or can a stone really store memories and emotions – even love?
Physicist Hans Peter Dürr said:
There is no such thing as matter, there is only the in-between.
If you imagine that the size of the nucleus in an atom is the same proportion as a grain of rice in a football stadium, you'll begin to get an idea of the extent of this in-between. Physicists say that objects consist of collapsed waves that are only held together because of the relationships between them. So matter isn't static, but rather a continuous process of bonding. Dürr therefore also referred to it as "solid spirit". Because of this, a stone also has a small amount of consciousness – albeit it less than that of an amoeba and infinitely less than (most) people.


Maître Joaillier – Eau de Parfum, Photo: Romin Favre – C'est la Vie Agency
My layperson's brain only comprehends this on a purely suggestive level, but in my version of quantum physics, a stone has ample space for stored memories and feelings.
I also believe that objects are influenced by the things that contributed to their formation.
Let's take something glamorous, like the ukulele that Marilyn Monroe played Running Wild on in the 1959 film Some Like it Hot. This object doesn't just contain the musicality and innovative spirit of the entire history of stringed instruments, all the way back to a caveman stretching a dried piece of a saber-toothed tiger's intestine across a fork in a branch. It also resonates, quite literally, with the life story of the instrument maker that created it, the atmosphere and the smell of his workshop, his mood on the day he started working. And of course also with every growth ring of the mighty tree that was felled for this little ukulele, and the feelings of the people who wrested the waxy resin from a population of scale insects to give the instrument its beautiful shine. Last but not least, the fact that it was played by Marilyn and was pressed close to her heart is also a prominent factor!


Maître Chausseur – Eau de Parfum, Photo: Romin Favre – C'est la Vie Agency
It's a similar thing with perfumes.
Perhaps to an even greater extent, as a fragrance often contains dozens of ingredients that are sourced from very different parts of the world where they are planted, harvested and extracted, before the genius of a perfumer ultimately brings them together to form part of a greater whole in laboratories in Geneva, Grasse or New York. They become part of the narrative of the perfume, in which the personal vision of the créateur is rooted. And even the synthetic molecules that often lend perfumes their elegance and intensity were discovered or created by an expert. Then consider the design and creation of the bottles, the packaging, the brand identity, and it becomes clear that by pressing down the spray nozzle, you are transmitting an immensely complicated interplay of people, technology and nature onto your skin. And when all of these elements have rubbed off on the aura of an object, with just one spray, we're linked with all parties involved:
"things" are touched by countless hands and hearts – and in turn touch us.


Maître Céramiste – Eau de Parfum, Photo: Romin Favre – C'est la Vie Agency
A perfume brand that has turned the magic of the creation of things into their main focus is Extrait d'Atelier. They have already made a lasting olfactory monument to the craftsmanship of tailors, jewellers, shoemakers, potters and gardeners. Their fragrance Maître Couturier, for example, conjures up the atmosphere of a light-filled studio and incorporates the charm and the smell of the materials and tools at the same time.
Maître Couturier – Eau de Parfum, 100ml
Unisex, elegant, clean and sophisticated perfume.
Scent of precious silky fabrics, steamy air, wooden tables and metalic tools.
Fragrance: aromatic, woody, musky
Top: ozone and aldehydes accords
Heart: lavender flowers and african violet
Base: white musk, birch wood, laurel and guayaco
€ 160.00
Co-founder Chiara Ronzani has a poetic way of describing this as follows:
Copper thimbles, steel scissors, wooden tables; old sewing machines creak, a thread passes through the fabric; the orchestra of the needle.


Maître Couturier – Eau de Parfum, Photo: Romin Favre – C'est la Vie Agency
More columns by Helder Suffenplan >>
---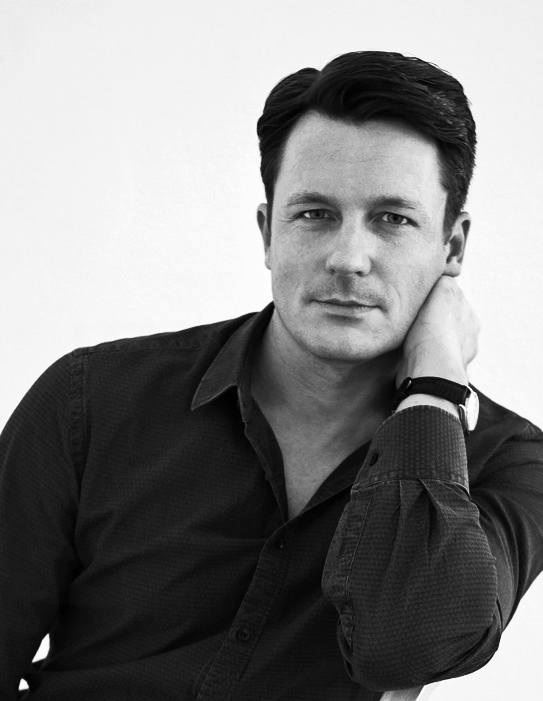 HELDER SUFFENPLAN
is an independent journalist and creative consultant from Berlin, and has had a particular passion for perfumes since he was a child. With his successful 2013 launch of SCENTURY.com – the very first online magazine for perfume storytelling – Helder has become a recognised authority in the global world of fragrance. He has been on the jury for events such as The Arts & Olfaction Awards in Los Angeles and the Prix International du Parfumeur Créateur in Paris. As a writer, he combines his passion topic of fragrances with a range of fields such as contemporary art, popular culture, literature, film and geopolitics.
Photo: Holger Homann