The women at the Kinsky aren't shrinking violets! Whatever different art periods they may come from, they're confidently looking out into the world. Please find a selection of fascinating ladies, painted by strong artists, below.
Women in the arts – sensitivity and mastery
Faistauer's wife Ida has melancholically rested her chin on her left arm, dreaming and withdrawn, she is shown in a slight profile view from the right. They were married in 1913, and unto her early death in 1919 the artist painted her sixty times. The portrait is a very sensitive characterization of the model and shows at the same time the masterful use of color in his early portraits.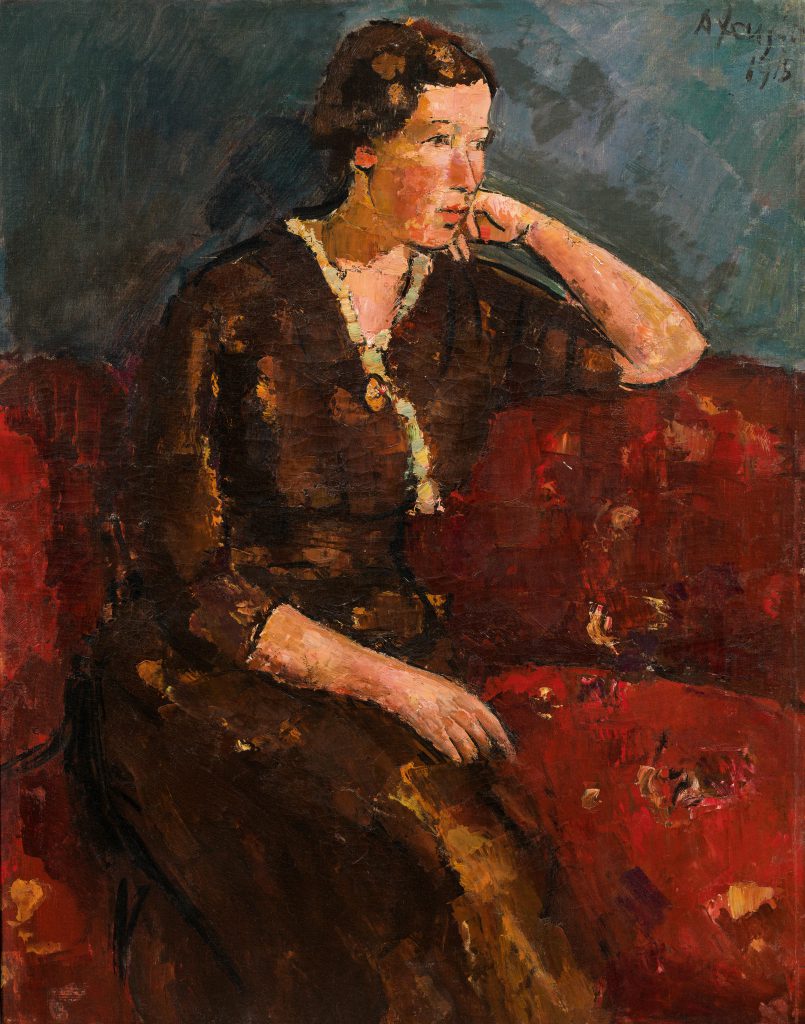 133. Auktion, Lot 1283
Anton Faistauer (1887 – 1930)
Young woman in red dress on red sofa (Porträt of Ida, the artist's wife), 1915
Oil on canvas
101 x 78 cm
sold for: 45.000 € (hammerprice)
The artist is also renowned for his frescoes. In 1926, with the help of some assistants, he completed the Foyer of the Salzburger Festspielhaus, which became his international breakthrough.
---
"The Jew's daughter" is a poem from a collection by Achim von Arnim and Clemens Brentano regrouping old German Lieder. It speaks of a beautiful Jewish girl, who does not want to get baptized, event though some men tell her to. She drowns herself in the sea to escape. Kokoschka illustrated throughout his whole life poems and works of literature. Often, these would be published in Herwarth Walden's magazine "Der Sturm". This drawing is the title sheet for Walden's music piece "The Jew's daughter".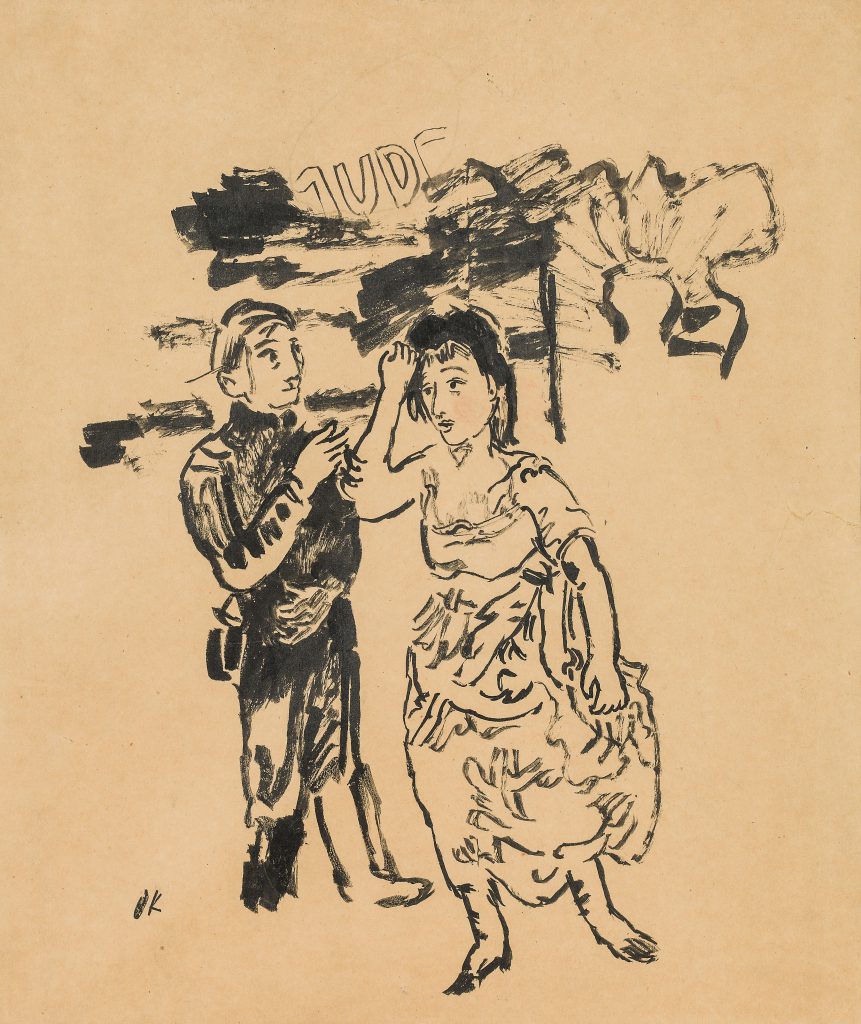 133. Auktion, Lot 1211
Oskar Kokoschka* (1886 – 1980)
The Jew's daughter, 1916
Ink on paper
35 x 29,5 cm
Estimate: 35 000 – 70 000 €
The work is separated in two styles. The wide and thick brushstrokes used for the man and the background are typical for drawings and oil paintings at the beginning of the 20-ies. The female figure seems fine, almost translucent thanks to small brushstrokes and many spare spaces. On the one side fragile and fleeting, on the other strong and decisive – this distinguishes these two figures. This work is a fascinating translation of the poem into art. Kokoschka displays his virtuoso drawsmanship and aplomb in the depiction of emotions.
---
Women in the arts – beauty and power
Especially in his early work, Putz centered on the image of the beautiful woman, in different variations. His wife, the landscape painter Frieda Blell, often posed as his model. The third Reich though deemed his art as "entartet" (degenerated) and put a work ban on him.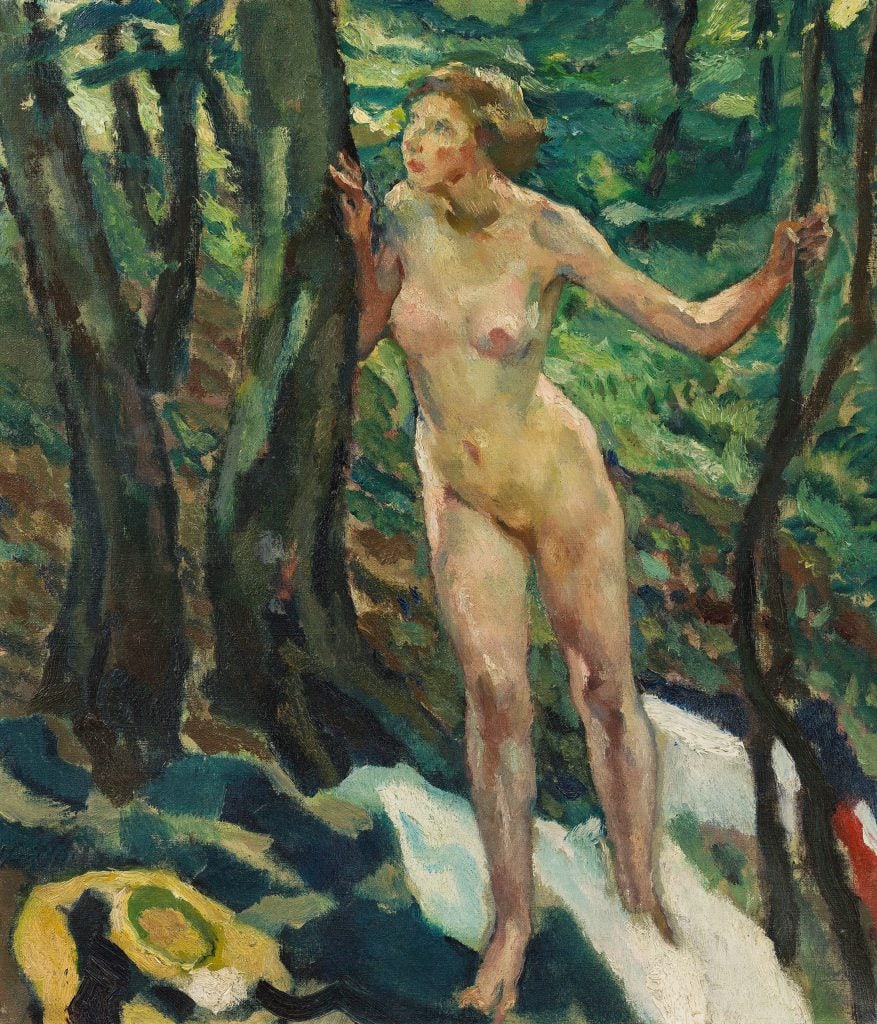 133. Auktion, Lot 1379
Leo Putz (1869 – 1940)
Female nude with trees, around 1910
Oil on Canvas
65 x 57 cm
Estimate: 35 000 – 70 000 €
After having been interrogated by the Gestapo a few times, Putz escaped to South Tyrol. There, he mainly painted castles and landscapes. He died in 1949 in his birth city of Meran.
---
The figurine of Judith with the head of Holofernes has probably been shaped according to the example of Conrad Meist from 1525/1528 which is kept in the Bavarian National Museum.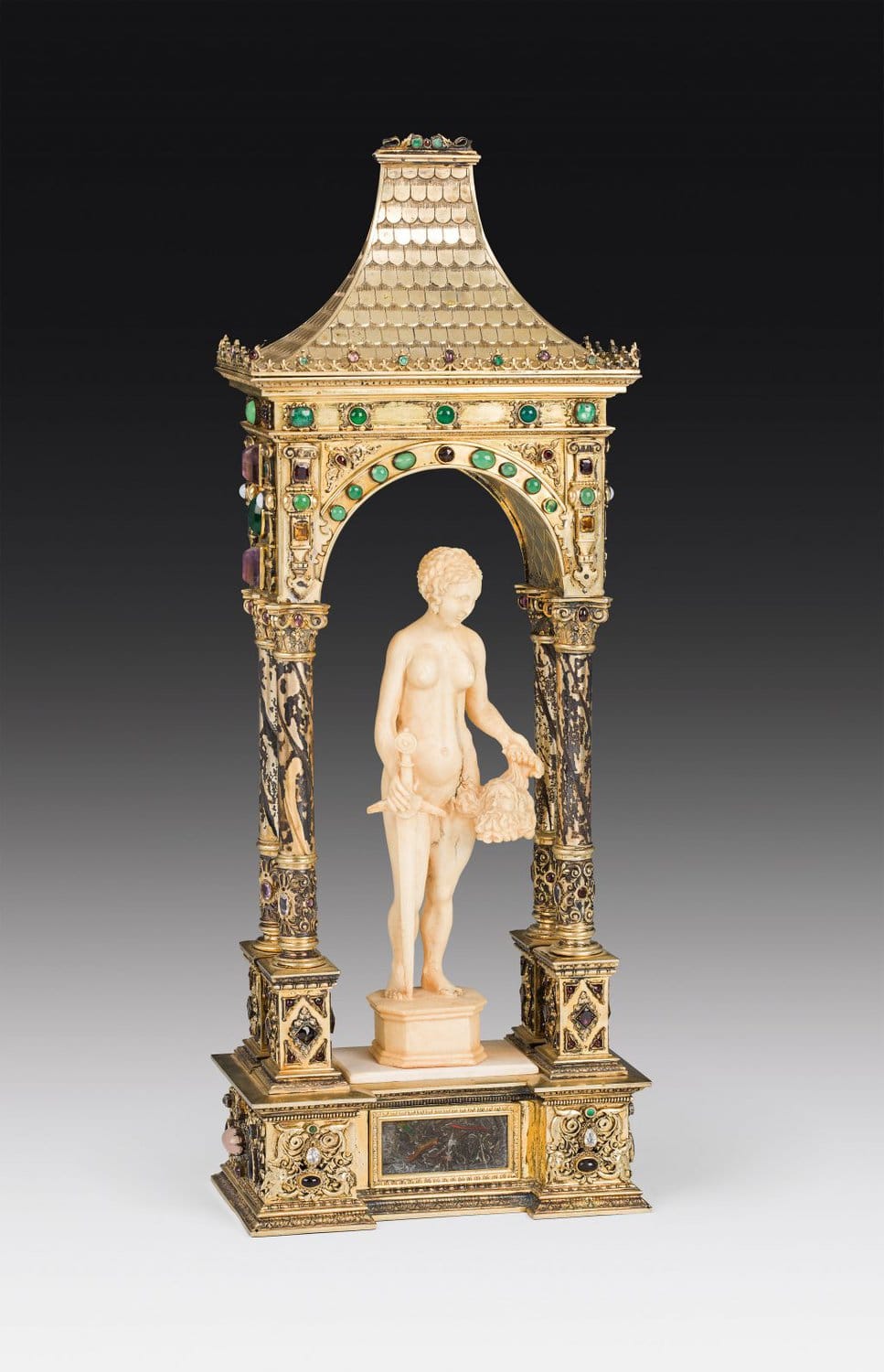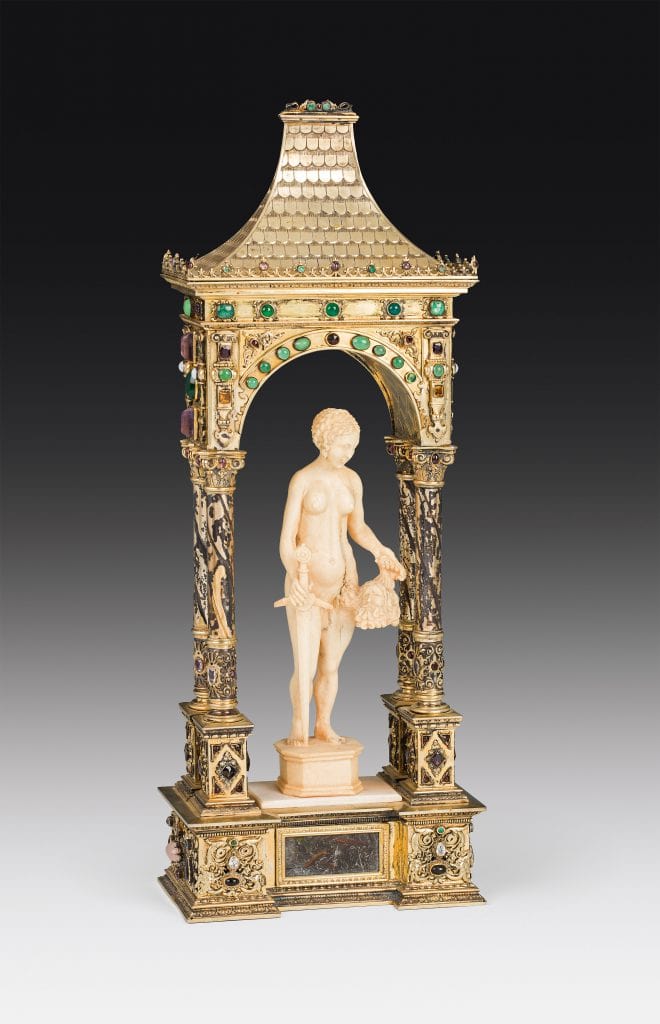 132. Auktion, Lot 522
Shrine of museum quality in gothic style, 19th century
Ivory, silver, gilded.
H. 42 cm
Estimate: 15 000 – 25 000 €
Judith saved the inhabitants of her hometown by killing the enemy commander Holofernes in his sleep. Contrary to the story, Meist and also our artist depicted Judith in the nude. However, this is not about an erotic representation, the bodily beauty of the woman is to be seen as a voucher for her moral integrity.
---
Frauen in der Kunst – fashion and naked skin
A very different side of his artistry is shown by Alfons Walde in this drawing. He presented in 1921 a first collection of nude representations, but his erotic depictions did not find the recognition he was hoping for. He therefore kept them away from the public and worked on them aside from his popular, "official" art.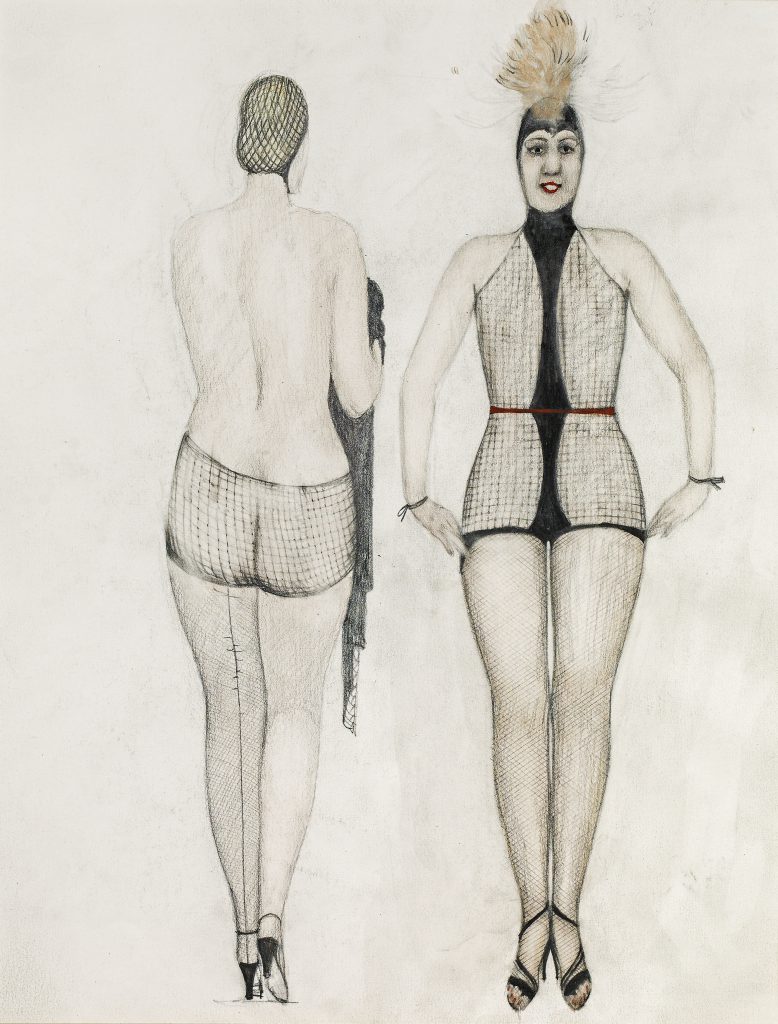 133. Auktion, Lot 1246
Alfons Walde* (1891 – 1958)
Women in Fishnet clothing, around 1940
Mixed media on paper
37 x 28 cm
Estimate: 18 000 – 36 000 €
Only very seldom they made their way to collectors. Waldes' female models are nude or only sparingly clothed with fashionable, sexy accessories like shoes or fishnet stockings. Especially due to their intimate character, these erotic subjects count among the most interesting creations of Walde's Oeuvre. Without doubt, they enrich the work of the "snow painter" by a very special artistic and peculiar side. It is here that the painter could realize his private obsessions, all the time winking at the viewer. The theme of the female nude is one that was always on the artist's mind, however, it was only relatively late that the painter indulged in it.
---
Bruno Zach is especially known for his painted small statues in the style of the art deco. He liked depicting tall, athletic, dominant women, including all their female attributes. Here, the wind is lifting the lady's dress, we can see her high heeled booties and slender legs. Another interesting detail is that of the umbrella handle: it represents a monkey's face.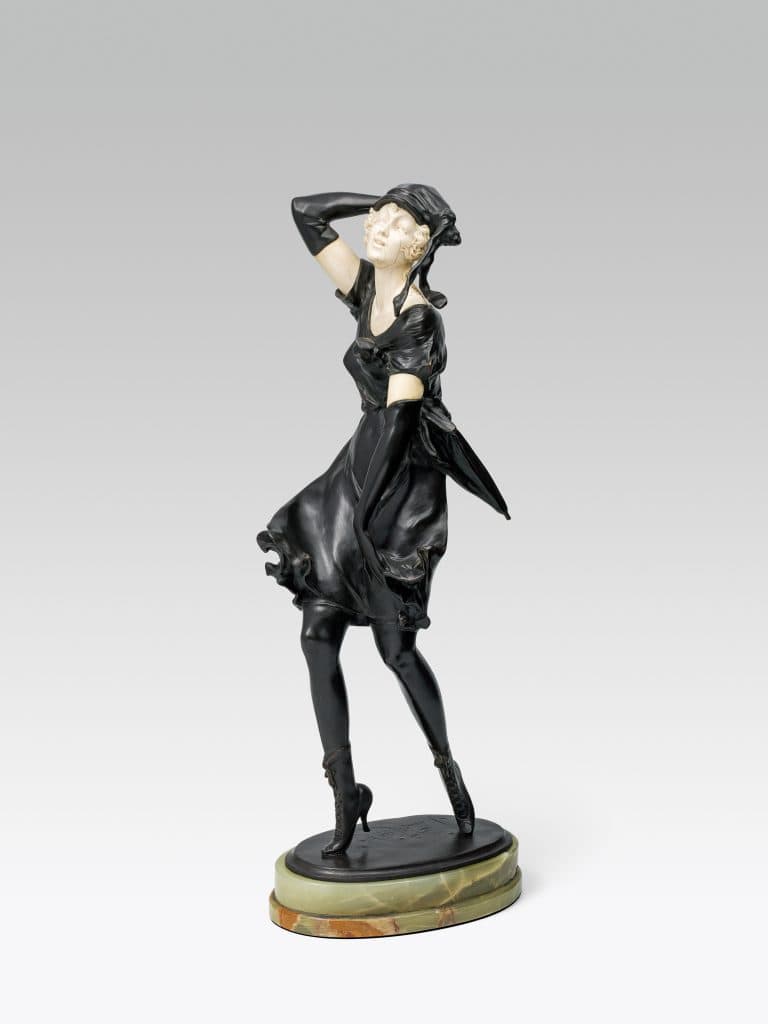 Lot 1068
Bruno Zach
(Schytomyr 1891-1945 Wien)
"The High Wind"
Vienna, around 1925
Ivory, carved, Bronze H. 62 cm (inkl. plinth) Estimate: 20.000-30.000 €
---