Pierre Cardin. Fashion Futurist
September 19, 2019 – January 5, 2020
KUNSTPALAST
Ehrenhof 4-5
40479 Düsseldorf
A journey to discover the creative world of Pierre Cardin:
the Kunstpalast Museum in Düsseldorf dedicates the first personal exhibition in Germany to the experimental genius who with his avant-garde style has marked the history of fashion.
Even today, at the age of 97, the Italian naturalized French designer continues to amaze with his creations. The same year as the release of the documentary on Cardin's life, House of Cardin, the Kunstpalast Museum pays tribute to him with an exhibition: "Pierre Cardin. Fashion Futurist".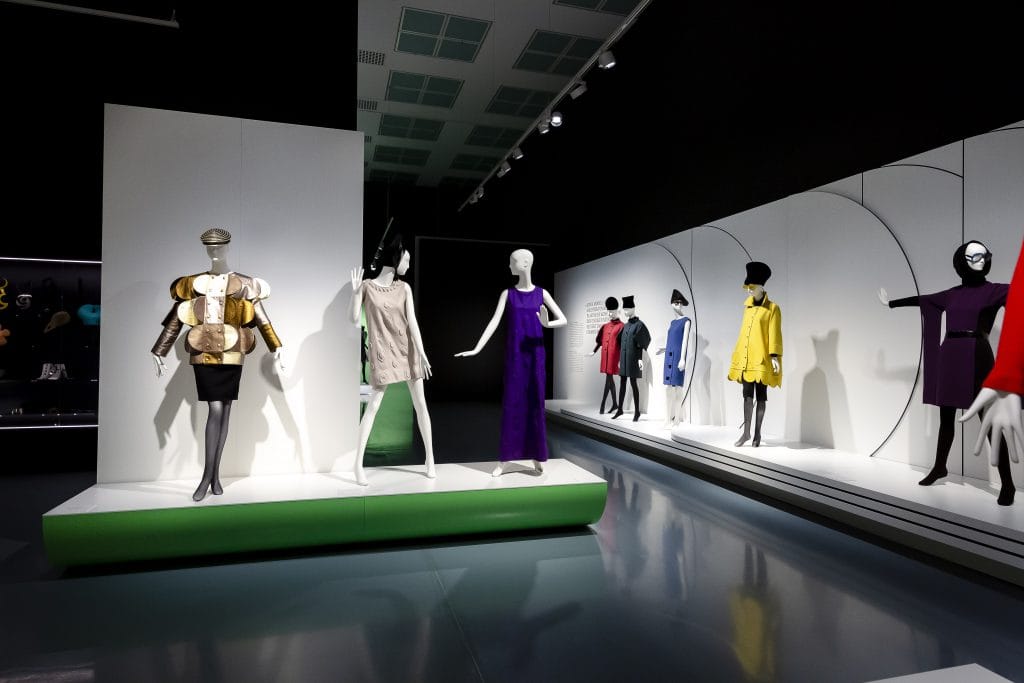 Over 80 haute couture dresses
Over 80 haute couture dresses, men's and women's accessories, photographs and films, narrate the avant-garde style of Pierre Cardin and the evolution of his ideas: from the beginning to the most recent years, from androgynous looks to sci-fi style, to elegant evening dresses. The exhibition reflects Cardin's main working methods, "visionary – futurist", "sculptural – geometric", "young – innovative", "glamour – spectacular", with particular attention to the 60s and 70s; the period in which, with the introduction of new materials, Cardin was able to revolutionize the international fashion scene like no other.
Cardin's works are displayed on Bonaveri mannequins: 65 figures from the Schläppi 2200 female and Schläppi 3000 male mannequin collections – standing proud and elegant –, in opaque white to further highlight Cardin's vast geometric and formal vocabulary.
The Creative World of Pierre Cardin
From the early 60s, Cardin began his conquest of the international fashion market with his undeniable innovative design.
Cardin has created an unmistakable aesthetic. He works virtually three-dimensionally, like a sculptor, using cuts that are developed right on the body and do justice to the fabrics used,


says Barbara Til, one of the two curators of the exhibition.
During the Swinging Sixties, Cardin's fashion creations revelled in international success. His creations exuded a provocative look that accentuated the bodies that wore them and were made with innovative materials (often times new to the world of fashion such as plastic and vinyl), bold colors and striking cuts.
Cardin's fashion offered women, but also men, a great sense of freedom at a time of political and sexual upheaval. With looks combining mini skirts, flat boots and helmet-like hats, he created a fashion of protest: young, sexy and courageous,

says curator Maria Zinser.
The exhibition
The Kunstpalast exhibition emphasizes the modern, innovative and provocative aspects of the designer's creations. On display are clothes from the legendary and futuristic 1966 Cosmocorps collection, made up of close-fitting and colorful garments reminiscent of space suits, as well as the iconic Cardine mini-dress, made from the use of a new thermoplastic chemical fiber that breathes life to its unique and extraordinary shape. The Space Age in fashion was followed in the 70s by a style focused on strong contrasts: extremely short dresses and skirts combined with long jackets and tunics or colored leotards. During this period, Cardin blended elements such as tussles, slits and cutouts with geometric design to add dynamism to forms. His innovative creations were worn by movie stars such as Lauren Bacall, Raquel Welch and Jeanne Moreau.
In the 80s and 90s, Cardin expanded his formal collection with tapered elements: the pleated sections on the back of jackets and coats became a distinctive element and the sheath dress, integrated with circles, took on a new and surprising sculptural appearance. For the men's collection, instead, Cardin offered squared leather jackets combined with sports trousers with stirrups.
Pierre Cardin remains the sole owner of his empire and is considered a pioneer of the globalization of fashion, and along with his haute couture creations, has earned his world-renowned reputation for over seven decades.
---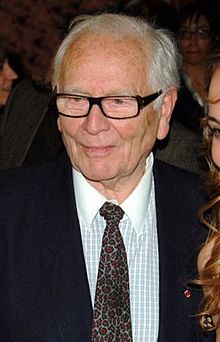 Pierre Cardin
Born in the province of Treviso in 1922, Pierre Cardin, born Pietro, moved to France with his family in 1924. At the age of 14, he began his adventure in the fashion world, with an apprenticeship with a tailor in Saint-Étienne. Cardin arrived in Paris in 1945 and two years later began working with Dior, collaborating in the creation and success of the "New Look". In 1950, Cardin presented his personal fashion label, pursuing forward-thinking fashion from the very beginning: "The clothes I prefer are the garments I invent for a lifestyle that does not yet exist– the world of tomorrow ".

In 1959 Cardin was one of the first courtier to present a fashion show in the Parisian department stores Au Printemps, a firm believer that high fashion should be available to everyone.
Photo: wikipedia
---
Bonaveri mannequins
Cardin's works are displayed on Bonaveri mannequins: 65 figures from the Schläppi 2200 female and Schläppi 3000 male mannequin collections – standing proud and elegant –, in opaque white to further highlight Cardin's vast geometric and formal vocabulary.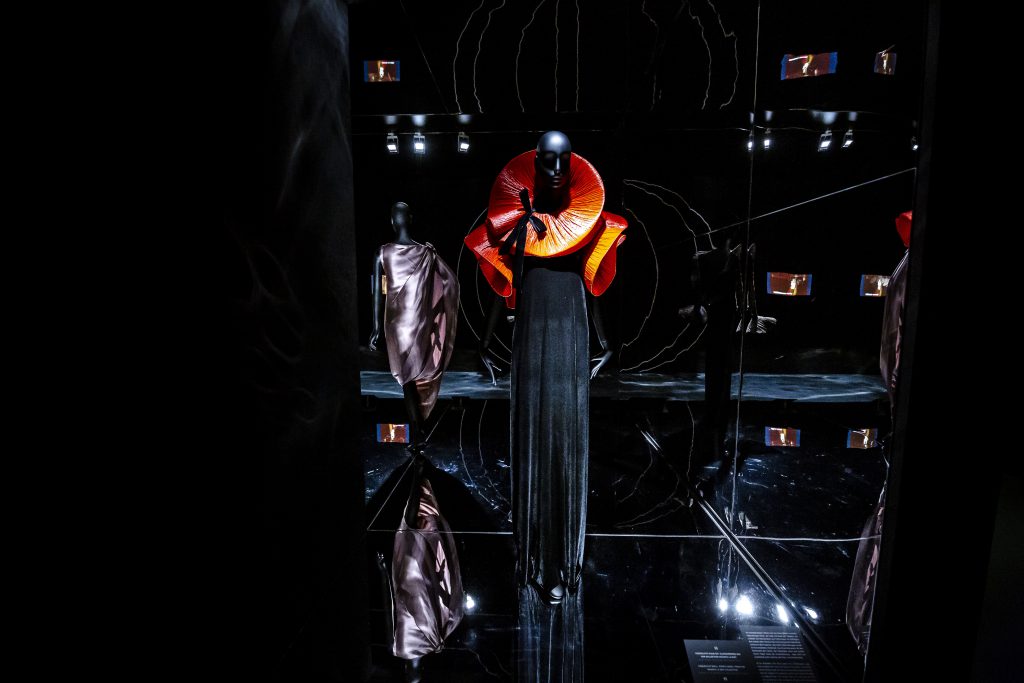 Bonaveri
Founded in 1950 in Renazzo di Cento, in Ferrara, Italy, Bonaveri is synonymous with mannequins of excellence, and wherever quality fashion lives – in a shop, in a museum, set up on a stage – there stand Bonaveri mannequins. Through the company's keen ability to combine manufacturing capacity with a studied vision for the sense of form, Bonaveri has been able to accompany the dawning, definition and affirmation of the fashion industry. Today, Bonaveri produces approximately 20,000 mannequins per year, divided into the Bonaveri Artistic Mannequins, Schläppi and B by Bonaveri lines, where aesthetic research, craftsmanship and innovation meet. The company headquarters in the town of Renazzo di Cento is a journey of automation and inspiration. Visitors of the company are welcomed to visit the state-of-the-art laboratories where digital scanning of bodies take place, as well as visit the sculpture studio that echoes the spirit of a Renaissance workshop with sculptors that model clay and plaster to create figures.
The relationship with major fashion brands has enabled the company to excel in scope and excellence in the creation of personalized mannequins, for the ability to combine the needs of wearability with those of aesthetics. In 2016, Bonaveri became the first company in the world to present a biodegradable mannequin, developing a new bioplastic – the BPlast, a bio-based polymer made up of 72% of sugarcane derivative – treated with BPaint paints: a range of paints made exclusively with pigments and natural solvents. Ethics and aesthetics have never been so close.
---
Photos exhibition: Anne Orthen