Star chef Paul Ivić brings the taste of winter to the plate and provides with his personal winter highlights the proof that vegetable cuisine always has surprising and extraordinary recipes full of vitamins and flavor to offer.
By taking an interest in where my food comes from and who produced it, I show respect. Respect for nature, for the animals and for the people who deal with it.

Paul Ivić
The quality of the products is just as important to him as the handling of food. Thus, he processes only natural products from the vegetable treasures of winter. All recipes are easy to follow for an amateur cook. And for the numerous special occasions and celebrations in winter, there are the best menus with a guarantee of success!
PLAY NOW!
instagram contest
Vegetarian revisited: wholesome, seasonal, sustainable.
Paul Ivić has revolutionized vegetable cuisine. Combining different flavors and cooking traditions, he alternates local, Mediterranean, Asian, and Middle Eastern influences. Warming soups and stews, crisp winter salads, finger foods, sweet trifles and drinks show how diverse vegetarian and vegan recipes can be.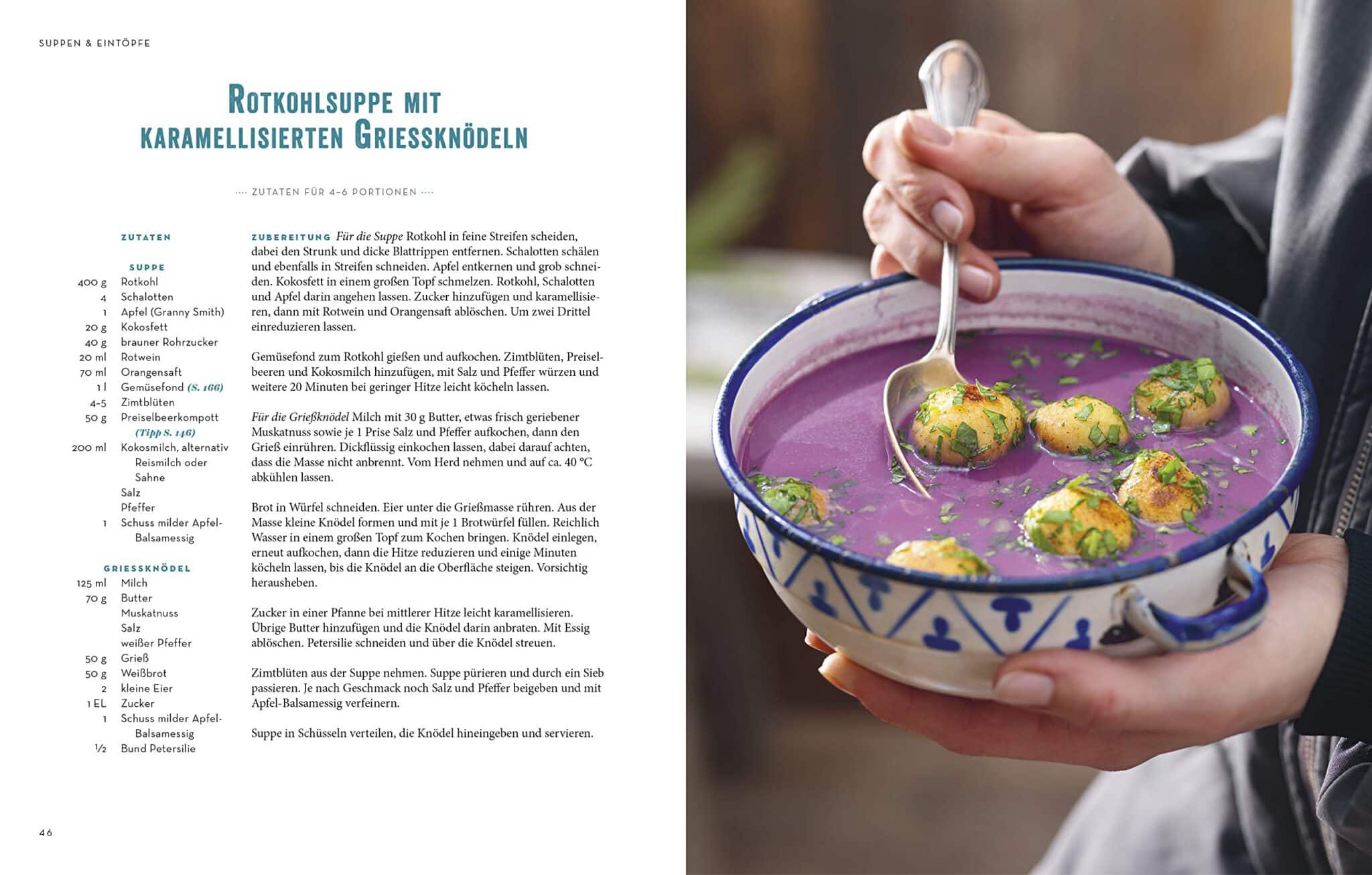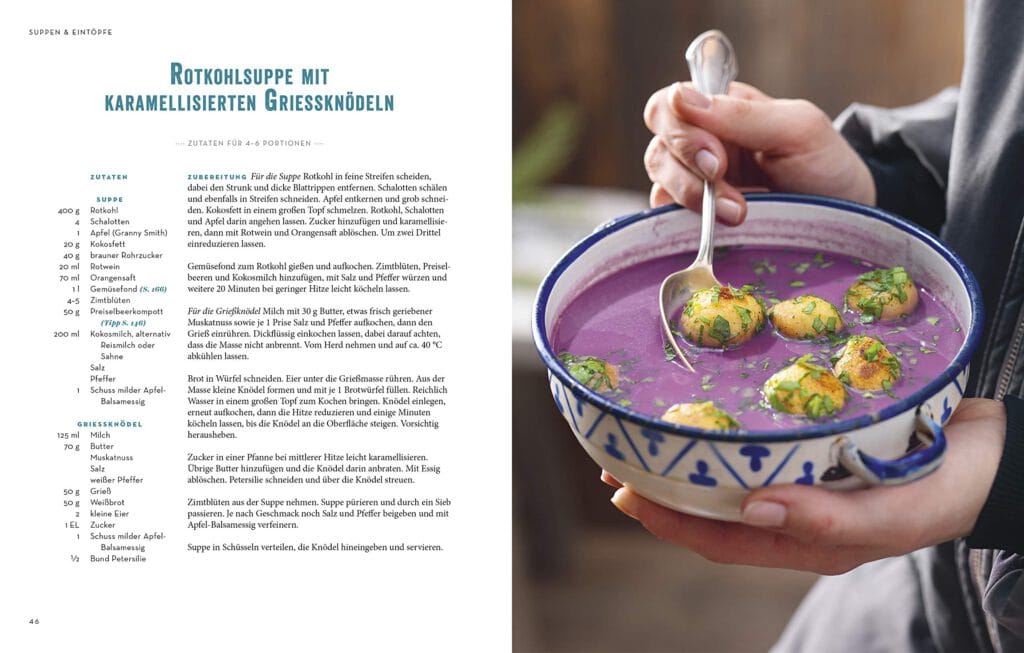 5 FAQs | Paul Ivić
Q — … about his uncompromising pursuit of quality.
First of all, I have to say that I couldn't have dreamed of a better team. Just like me, my staff will not compromise on the quality of the food. And without their determination, our journey here would not have been possible. We work with many suppliers who share the same philosophy as we do: an unstoppable focus on quality. And without their phenomenal products, the TIAN menu would not be the same. With vegetables, you have to work with the very best products to achieve the best taste. One of my suppliers is Robert Brodnjak from "Krautwerk", a farm near Vienna. He specialises in rediscovering old species. Not only do we use his products, but we work together to find the right time for harvesting and to capture the change in flavour of the plants over the seasons. Another of my suppliers is Johannes Wiesmayer. He specialises in Jerusalem artichokes. He works meticulously with different varieties and it is always a pleasure to see the smile on his face when he has discovered something new. And that smile is truly contagious.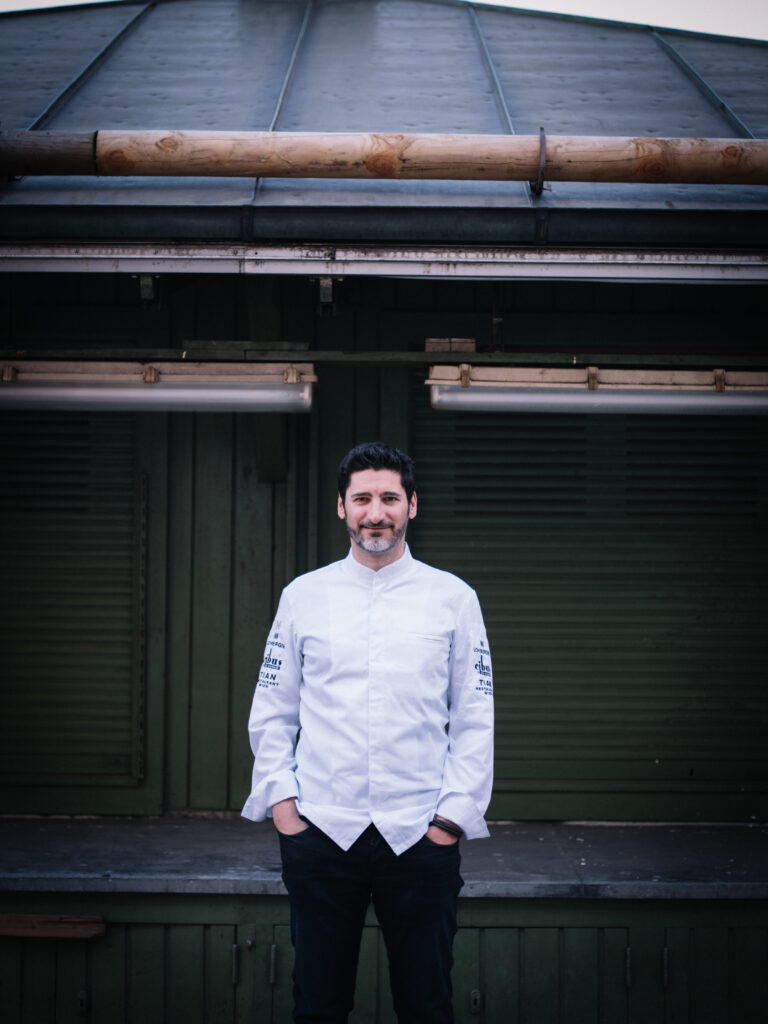 In his apprenticeship as a chef, it was important for the current chef and managing director of TIAN, Paul Ivić, to stick to rules and regulations and to do things in a very specific way. This is how he learned the basics of cooking.
Today he enjoys his independence and the freedom to cook the way he wants. At the same time, he remains curious and develops new combinations, discovers new taste experiences.
Q — … about how his vision comes to life in his creations.
The dish "Chanterelle | Pea | Lemon".
I love the textures and the taste sensation of this dish, plus it reflects my philosophy exactly. We use outstanding ingredients with the best seasonal quality. For example, we use peas that one of my friends grows in his field. They taste exactly like the peas from my grandmother's garden. And then there's the incredibly woody smell of wild mushrooms. The smell alone is unbeatable. When we have time, we look for and pick them ourselves, otherwise our great wild foragers do it for us. For this dish we use all the ingredients. That means there is absolutely no waste, we process them from root to leaf. Other ingredients in the dish are pine nuts and Amalfi lemons, which my friend Luca supplies from specialist producers in Italy. All this fits perfectly with my philosophy. The circle on the plate comes from the juice of the pea pods. We don't throw them away, but process them in creative ways. We also use the skin of the peas. This is dried for 24 hours. Then it is processed into couscous and flour. We use the peel of the Amalfi lemon for its fragrant aroma. The sweet-sour juice balances the taste. The white skin of the lemon is used to make a cream that gives the dish a velvety, bitter note. So here, too, we use the whole fruit. The flavour of the sauce is extracted from the forest mushrooms, but we also want to reproduce an additional earthy flavour that echoes the smell of the forest floor. This aroma is created by toasting the wonderful pine nuts; this rounds off the dish. I hope I have been able to explain my thought processes in more detail with this.
For me, cooking is a passion and a mission to which we playfully and uncompromisingly give quality and unceasing energy.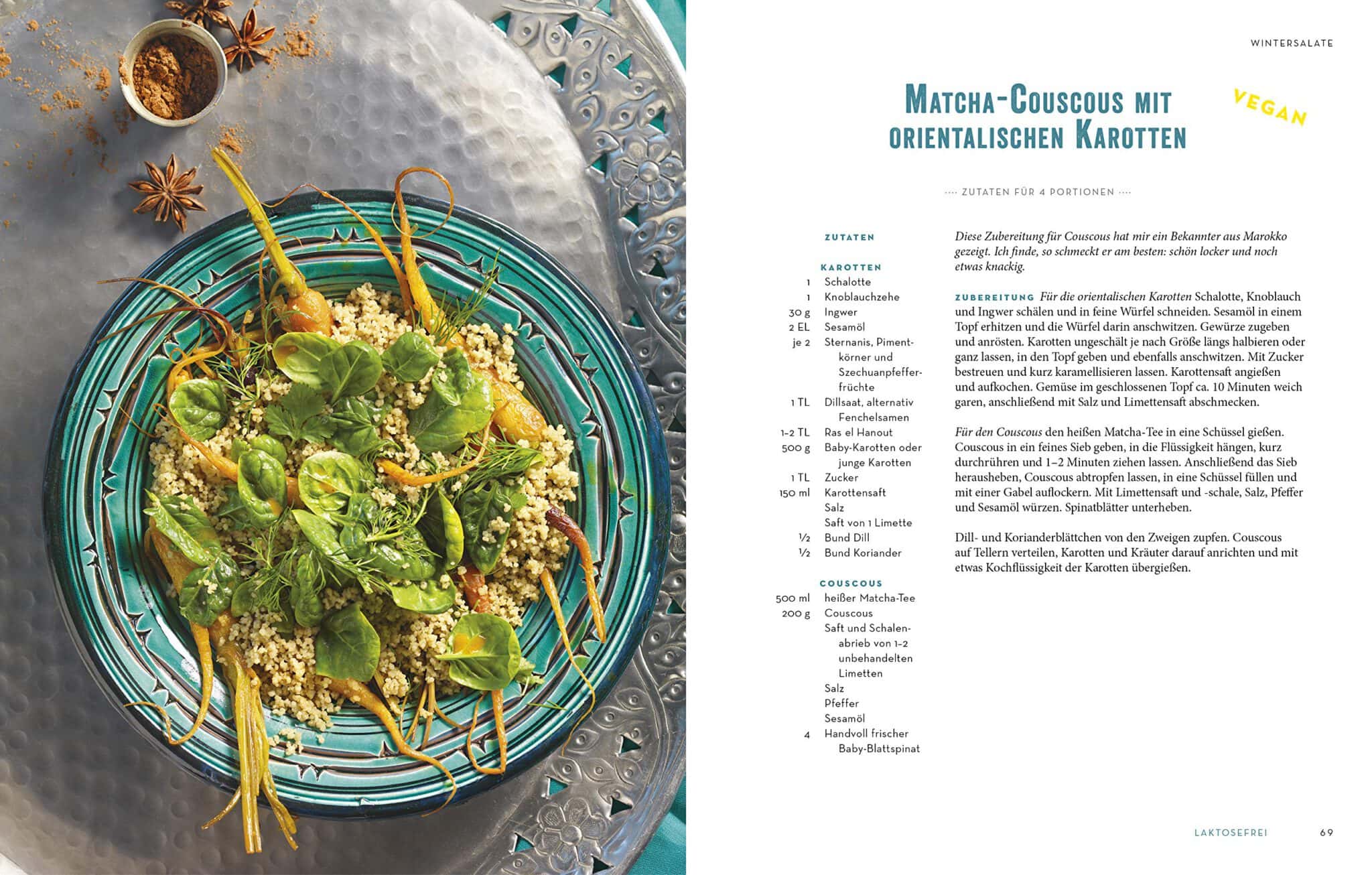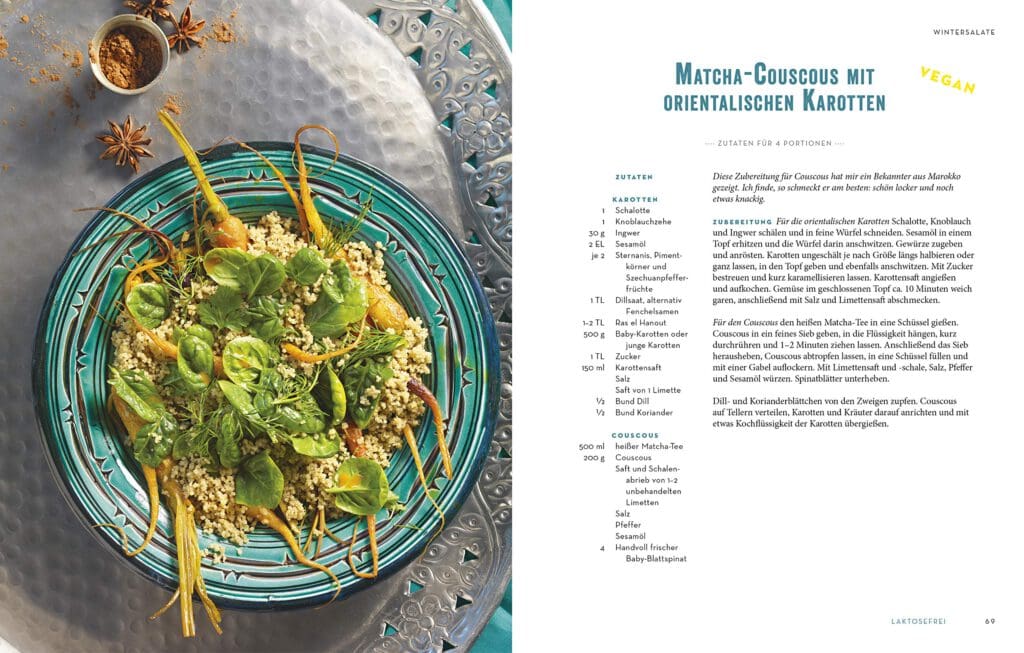 Q — … about the creative process of creating a new dish.
When we work with everything from root to leaf, we have to experiment and find out how to create something that tastes great from ingredients that would otherwise have been thrown away. We work with old and new techniques and with that we discover new flavours and new ways of cooking. I'm very lucky that my team is still curious and so we try things out, we taste and we combine. For a chef, there is nothing better than the moment when you put the spoon in your mouth and you suddenly know exactly, "This is it! We've found the right combination!" When it comes to inspiration, we don't really follow trends. We let the seasons inspire us. We work with what the seasons provide us with. So we work very closely with nature, even though our restaurant is right in the city centre.
Q — … about the optimal wine pairing for vegetarian dishes.
Normally, wines are paired with meat or fish. But with us there is neither, so it is not easy for sommeliers to choose the right wines. In the restaurant, we consider the wine pairing very carefully because we want to offer our guests an incomparable experience. Most of the time we serve natural wines because their nuances complement our dishes perfectly.
Q — … about people's reactions to not being served meat and fish.
Many colleagues appreciate what we do and they congratulate us on our courage. Because clearly we could make our lives much easier. But we have taken on this challenge and we fight for it every day. Of course, there are also people who leave the restaurant as soon as they hear that there is no meat or fish on the menu. For us, it feels like a stab in the heart, because we have worked so hard and now they don't even want to try our food. But sometimes we can persuade them to stay. And when we manage to do that, no one has ever gone home unsatisfied! Most people apologise afterwards for their behaviour and are happy about the taste experience they just had. And what better could you ask for?
Q — … about the most extraordinary comment from a restaurant visitor.
A few years ago, a girl came to our restaurant with her parents. It was her wish for her 10th birthday. She had read an article about me and the restaurant in a magazine. At the end of the evening I went to her table and asked her if she liked it and she just looked at me and said, "No, I loved it." It was a very special moment for me, because children are the most honest people.
Q — … about the key to success.
Steve Jobs once said: "Great things can never be done by one person. It takes a whole team to do it." I can relate to this quote 100%. I am lucky to have such a great team around me. They share my view – my drive to use organic, local produce, my philosophy of uncompromising quality and my drive to process the whole product from root to stem. On top of that, we've become really good friends over the last few years and sometimes we spend our days off together trying out new restaurants. Without them, I wouldn't be where I am today.
Read more FAQs here >>
Photos: TIAN Restaurant
---
In cooperation with: