The new Pacific collection, designed by Patricia Urquiola for Moroso, provides an intimate seating experience that is like being wrapped in a protective and relaxing cocoon. With its rounded, oversized shapes, it evokes the relaxed atmosphere of the American West Coast, from which it takes its name.
Patricia Urquiola is a Spanish designer born in Oviedo in 1961. Initially attracted to architecture, she began her studies at the Universidad Politécnica in Madrid. She graduated from the Milan Polytechnic in 1989 with a thesis entitled Abitare come sistema. The young designer was mentored by Achille Castiglioni, who directed her talent towards product design. Her career began with a series of collaborations with Castiglioni, Eugenio Botticelli, Maddalena De Padova and Vico Magistretti, who introduced her to Lissoni Associati.
Studio Urquiola
Studio Urquiola was founded in 2001 in Milan by Patricia Urquiola and her partner, Alberto Zontone, and it operates in the fields of industrial product design, architecture (hotels, retail spaces, residences, exhibitions and installations), art direction and strategy consulting. Her work is inspired by the materials, techniques and figurative traditions from her homeland, reinterpreted in a contemporary and innovative way. She often uses recycled materials like glass, terracotta, plastic and fabrics to create products combining excellent artisanship with technological innovation. Her creations reflect a traditional and familiar aesthetic, at the same time characterised by originality and uniqueness.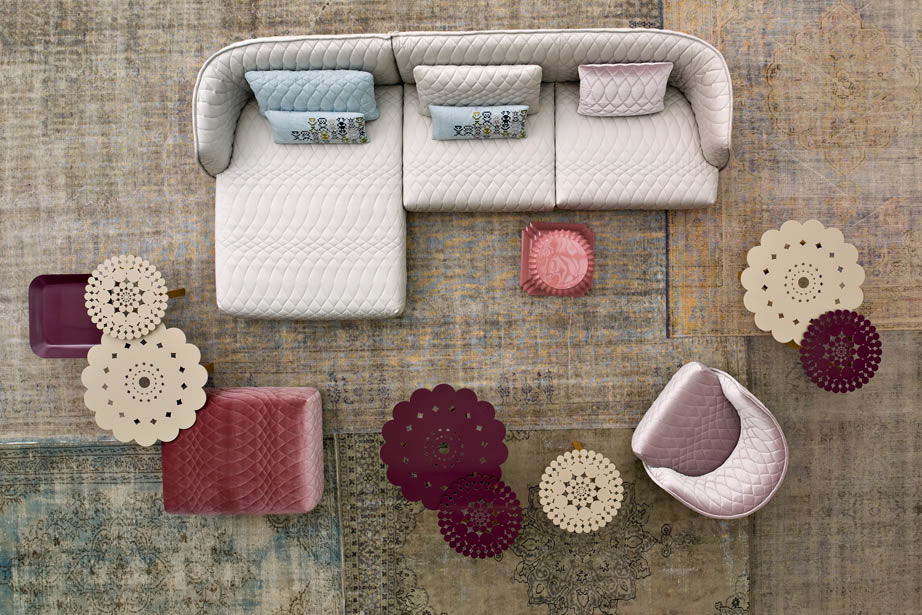 In 2015, she became artistic director of Cassina, for which she designed products like the Floe Insel sofa and the Bowy Sofa modular seating system. Urquiola collaborates with some of the most important design brands, creating iconic products like the Comback chairs for Kartell; the Antibodi chaise longue for Moroso; the Objet Nomades for Louis Vuitton; the Tuffy Time sofas for B&B; the Azulej terracotta collection for Mutina. Other brands she has collaborated with include Alessi, Molteni, Boffi, Driade, Flos and Axor-Hansgrohe. Urquiola has also designed exhibitions – under the skin at the Design Museum in London; A Castiglioni at the Triennale in Milan, and shows for Ferrari – and projects for hotels like the Mandarin Oriental in Barcelona; Das Stue in Berlin; the Sereno hotel in Como.
Redondo – Lounge Chair
A collection with a distinctive two–part shape, the padded shell embraces the huge seat cushions. Its curves are shown off by the total absence of sharp corners and the softness of the fabric, and the quilted decoration where the thread, like the lines of a pencil, draws an elegant three-dimensional form to call to the senses. In its design, Redondo is inspired by 1950s and 60s American cars- their upholstered interiors, the soft curves of their bodywork, and on-the-road comfort for long coast-to-coast drives. To the observer, it is the stage for scenes for everyday life.
Urquiola's works are exhibited at MoMa in New York; the Design Museum in Zurich; the Vitra Museum in Basel; the Stedelijk in Amsterdam; Les Arts Decoratifs in Paris; the Triennale Museum in Milan. She has received awards and recognitions throughout her career, including the Medalla de Oro al Mérito en las Bellas Artes (Gold Medal in Fine Arts) awarded by the Spanish government, the Order of Isabella Catholic, awarded by His Majesty King Juan Carlos I of Spain. She was named Designer of the Decade by two German magazines, Home and Häuser, and Designer of the Year by Wallpaper, Ad Spain, Elle Decor International and Architektur und Wohnen Magazine.
Pacific – Lounge Chair
Pacific is the continuation of a design process begun in 2010 with the iconic Redondo collection by Patricia Urquiola.
It's the evolution of a collection that over recent years has been very successful not least for its use of innovative, luxurious finishes. With Pacific, we focus more on the shape, restoring generous, curved lines.
In the Pacific sofa, hard edges are banned while the soft shapes are enhanced with the use of "couture" details. The soft, woolly upholstery was chosen to give an extraordinarily tactile experience, with a choice of sophisticated boucle, plush wool or luxurious velvet.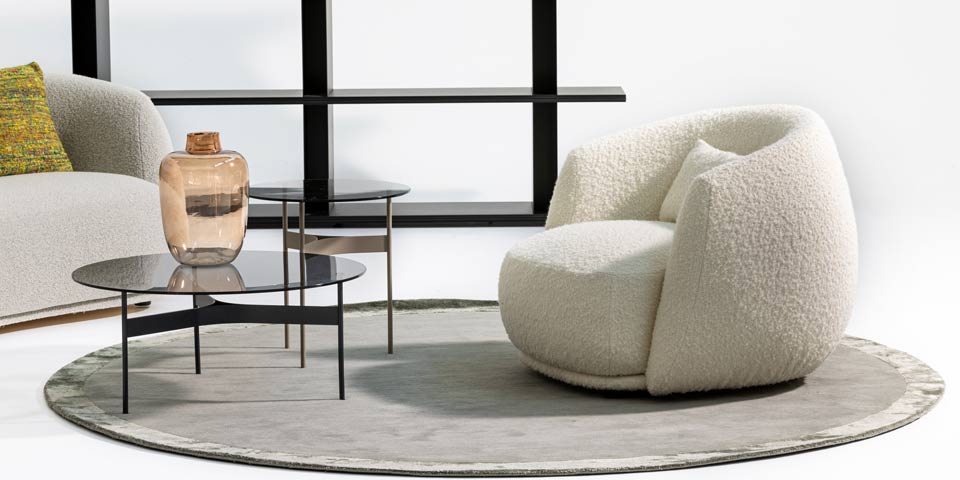 Studio Urquiola has now a team of around 70, composed of 43 architects and interior designers; 15 product designers, textile designers and model makers; 12 at financial, administration, PR & press department. 18 nationalities are represented and 15 foreign languages are spoken, a very international community with designers and architects collaborating in the most interrelated possible way.
About Moroso
Under the creative direction of Patrizia Moroso, the brand combines its manufacturing expertise (especially in sofas and seating) with creative input from leading designers such as Patricia Urquiola, Ron Arad and Nendo to create a broad range of furniture of unmatched quality and creativity. Moroso products work well for both private and public spaces and are ideal for making a strong design statement.
---
Selected design objects by Patricia Urquiola for Moroso can now be purchased in the new THE Stylemate webshop:
More selected design objects by Patricia Urquiola: