Born from a fruitful collaboration between Louis Vuitton and Maison TAMBOITE Paris, an artisanal Paris-based bike-maker established in 1912, the LV Bike is perfect for both a two-wheel city adventure and a countryside exploration.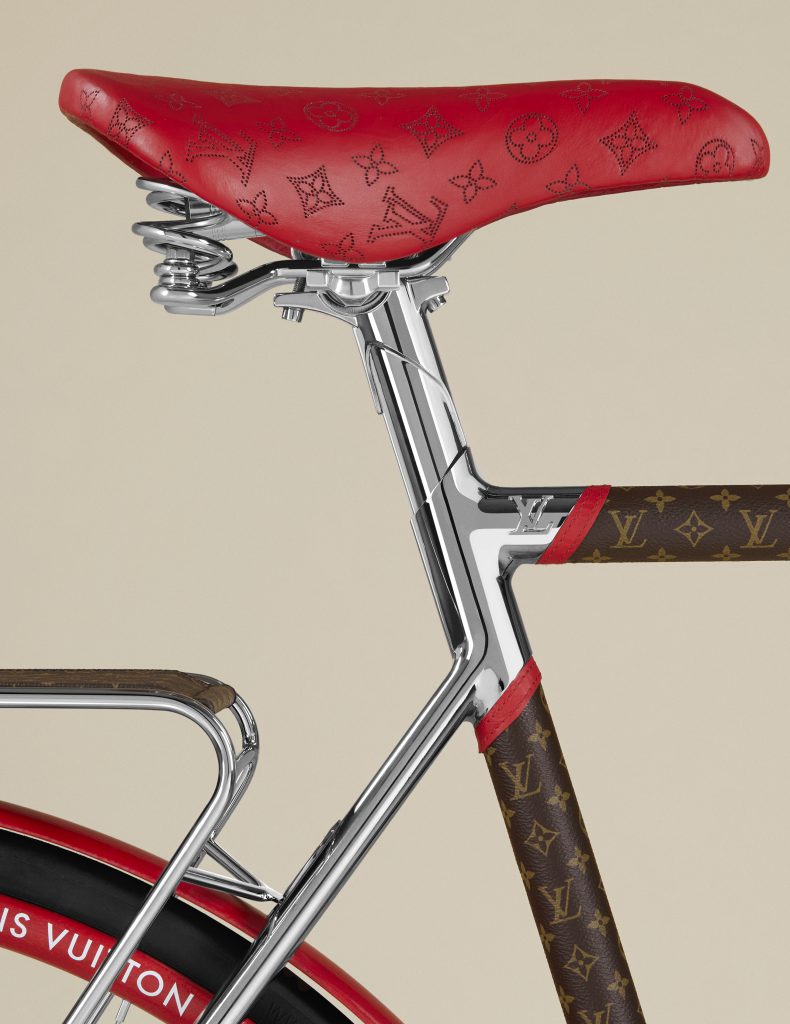 A reinterpretation of Maison TAMBOITE Paris' classic model, the first-ever LV Bike fuses both Houses' common yet unique know-how of leather craftmanship and woodwork. Hand-crafted in Paris, using savoir-faire proper to Maison TAMBOITE Paris, the metal framework is made of enamelled and chromed steel, stretched and lightened, strengthening the bike and allowing for an invigorating and smoother ride. Key signatures, including a Monogram flower chainset and an interlocking 'LV' shaped frame, nod to Louis Vuitton's heritage. Carefully selected leather envelopes each saddle, handlebars, and cables while iconic Louis Vuitton materials are found on the luggage rack of the closed-frame LV Bike and on the frontal basket of the step-through frame LV Bike.
True to Louis Vuitton's know-how, wood has been used for the tyre rims as well as the mudguard, sporting a graphic Louis Vuitton signature. The saddle in refined leather boasts shock-absorbent springs for added comfort. To ensure both the bike's and rider's safety, an integrated tracker allows for same-time location tracking via a dedicated smartphone app. For evening rides, discrete LED lights have been fitted under the saddle and on the luggage rack, easily activated through simple touch.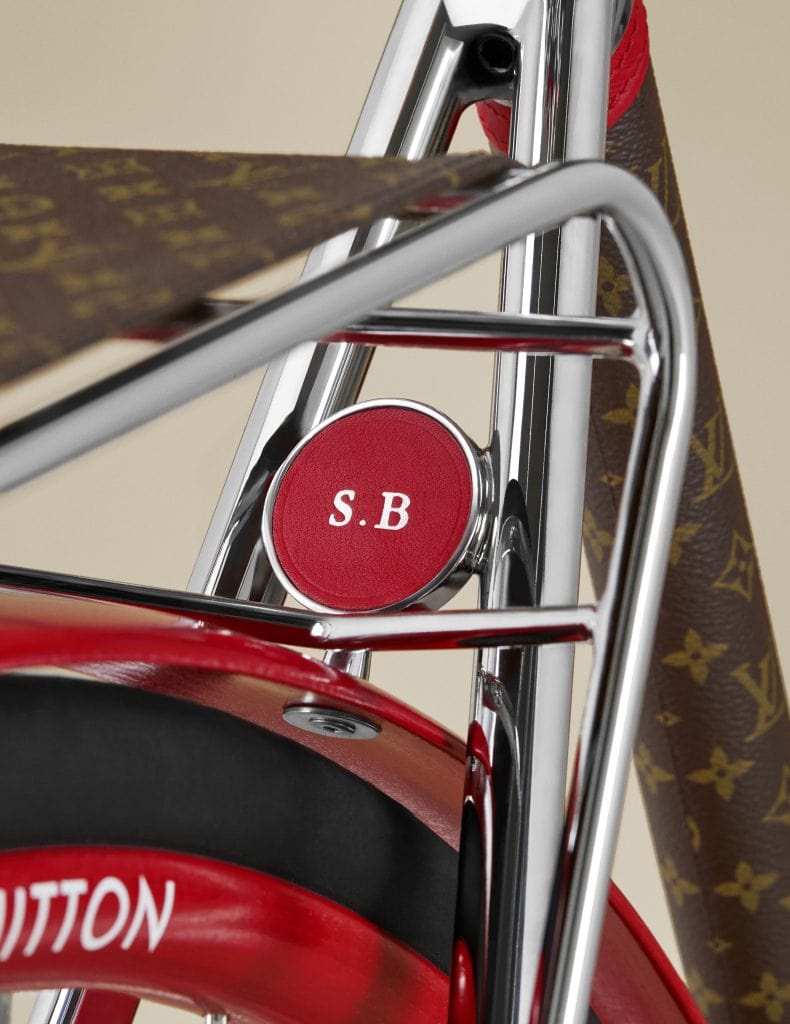 A two-wheeler with particular savoir-faire, the LV Bike is both dynamic and elegant in its stature. Four models of the LV Bike are available with either a step-through or closed frame, all equipped with a two-speed drivetrain. The Monogram bicycle, with red leather detailing features a red saddle fitted with iconic Louis Vuitton perforated Mahina leather. The Damier Graphite bicycle mixes shades of black and grey with bright yellow leather details.
The eye-catching Lime Yellow bicycle as well as the Damier Graphite and Monogram bicycle can all be personalised with one's initials across the frame or through the hotstamping of one's initials below the saddle. The LV Bike also comes in the new "Since 1854" Monogram created by Nicolas Ghesquière, Artistic Director of Women's Collections. This version can be also personalised with one's initials below the saddle. In a continuum of the Art of Travel, the LV Bike invites each curious cyclist, beginner or experienced, to comfortably meander any landscape, exploring horizons at their very own pace.
Available for order in Louis Vuitton stores worldwide.
---
About Maison TAMBOITE Paris
For four generations, the Maison TAMBOITE Paris collections have celebrated the know-how of French artisans, with a certain idea of art at the service of urban and countryside mobility, and Parisian elegance. More than ever, for Maison TAMBOITE Paris and its master frame builder and designer, Mr. Hugo Canivenc, aesthetic research, technological innovation, and the perfection of execution are the fundamental springs of a very exclusive ideal of sensations and emotions to which all its creations aspire. Maison TAMBOITE Paris represents a French cycling lifestyle that is both timeless and eminently modern. For further information: maisontamboite.com
About Louis Vuitton
Since 1854, Louis Vuitton has brought unique designs to the world, combining innovation with style, always aiming for the finest quality. Today, the House remains faithful to the spirit of its founder, Louis Vuitton, who invented a genuine "Art of Travel" through luggage, bags and accessories which were as creative as they were elegant and practical. Since then, audacity has shaped the story of Louis Vuitton. Faithful to its heritage, Louis Vuitton has opened its doors to architects, artists and designers across the years, all the while developing disciplines such as ready-to-wear, shoes, accessories, watches, jewellery and fragrance. These carefully created products are testament to Louis Vuitton's commitment to fine craftsmanship. For further information: louisvuitton.com