In the first half of the 20th century, holiday resorts were advertised with impressive posters as were the means of transport that took people far away. The auction "Rare & Important Travel Posters" of Swann Auction Galleries in New York in October 2018 showed how excitingly designed these vintage posters were.
One exemplary poster for St. Moritz was created by Walter Herdeg in 1934. Herdeg, a graduate of the Zurich Kunstgewerbeschule, was Art Director for this famous Swiss ski resort in the 1930s. Herdeg was convinced that abstract designs would not appeal to people. In his posters, he therefore wanted to create an atmosphere full of sensuality, that would awaken in viewers the desire to breathe in fresh air, enjoy the warm sun, and ski. Herdeg worked with photo montages, to which he applied spray gun techniques. For the first time, a holiday resort was given a corporate design. Herdeg's trademark, a brightly shining sun, is still used today. His poster with two skiers, a shining sun, an English po liceman, and the red St. Moritz logo was valued for auction at 4,000 to 6,000 US dollars. Also auctioned were posters for other traditional skiing regions, such as Davos, Cortina, the Arlberg and Lake Placid.
SHIPS AND AEROPLANES
When it comes to means of transport, big ocean liners are prominently featured in the posters. A pink steamer can be seen floating as it were between dark skyscrapers on a poster by Kenneth D. Shoesmith. Estimated value: 7,000 to 10,000 US dollars. Also represented were many posters of trains with striking "snouts" hurtling through the landscape. Early works with airliners but also airships were up for auction too.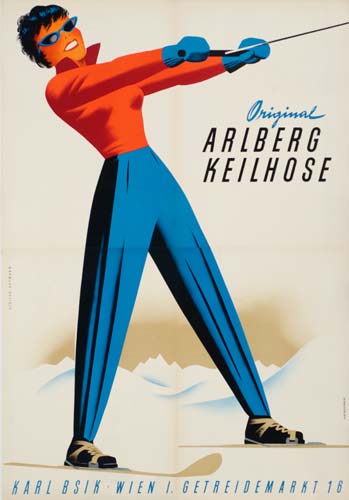 EXPERTISE IN MANY AREAS
The expert in vintage posters at Swann Galleries is the owner Nicholas Lowry himself. His favourite objects include a poster for Aspen by the Austrian Bauhaus graphic artist Herbert Bayer, who emigrated to the USA. According to Lowry he is one of the most famous artists ever to have created a poster for an American skiing region.
Swann Galleries is continuously organising auctions that have one thing in common: The theme is always choice print art, mostly modern or contemporary.