The recently completed research and development centre for MAM Health & Innovation by INNOCAD architecture is one of the honoured projects of the 2022 Best of Year Awards of the American Interior Design Magazine in the category "Medium Corporate Office". The award ceremony took place in New York City on December 8th where editor-in-chief Cindy Allen announced the 2022 Best of Year projects in different categories. This project that summarizes INNOCAD's and 13&9 Design's holistic design approach, has been also THE PLAN Award 2022 honoree, Bauherrenpreis 2022 nominee as well as World Architecture Festival Awards 2021 finalist. In this interview Martin and Anastasija Lesjak discussed the holistic approach.
Interview mit Anastasija und Martin Lesjak
Great research and care went into creating a sustainable space. What is the main essence of this holistic project in terms of architecture and interior design?
Martin Lesjak: The awareness and the knowledge fostering people's wellbeing with their psychological, physiological, cognitive, and social needs flowed into the design process. From an urban planning perspective, the building´s three interlocked sections respond to the terrain and gently blend into the undulating landscape. With the movable facade´s bronze shimmering aluminum lamellae and the green roofs MAM research and development center becomes part of the landscape.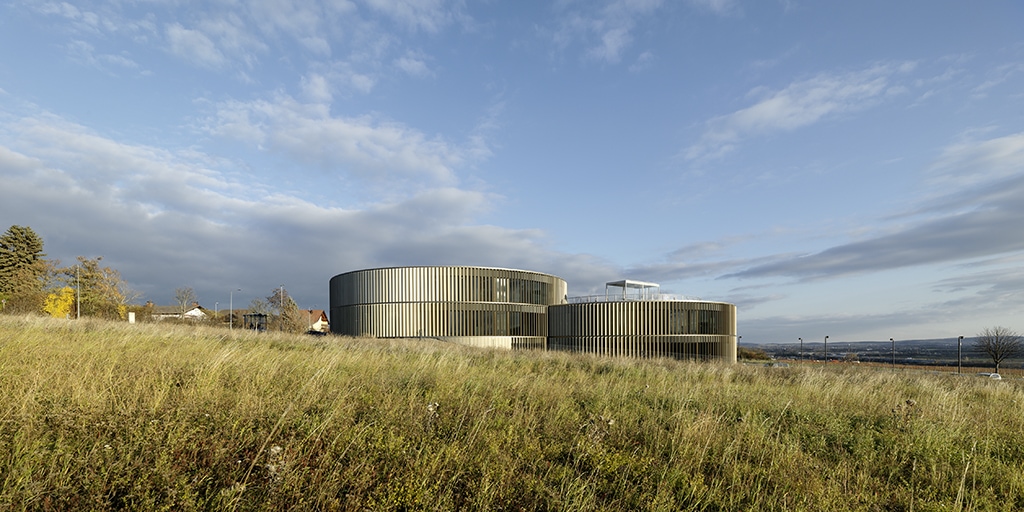 The research and development center consists of three interlocking cylinders – what was the project inspiration?
Martin Lesjak: Since MAM is similar to a growing organism, its new competence center resembles one as well, with the intention of developing over the years and responding to increasing spatial needs. The building´s concept answers this complex scope of consistent growth through the principle of cellular division, by intersecting circles with green atria as "nuclei" that originate in inspiring, serpentine space patterns while being sustainable. Proceeding from the first stage of construction, which consists of three circular interlocked volumes, new parts with similar programmatic information are separated again and again into a total of five cylinders, while remaining connected to their predecessor.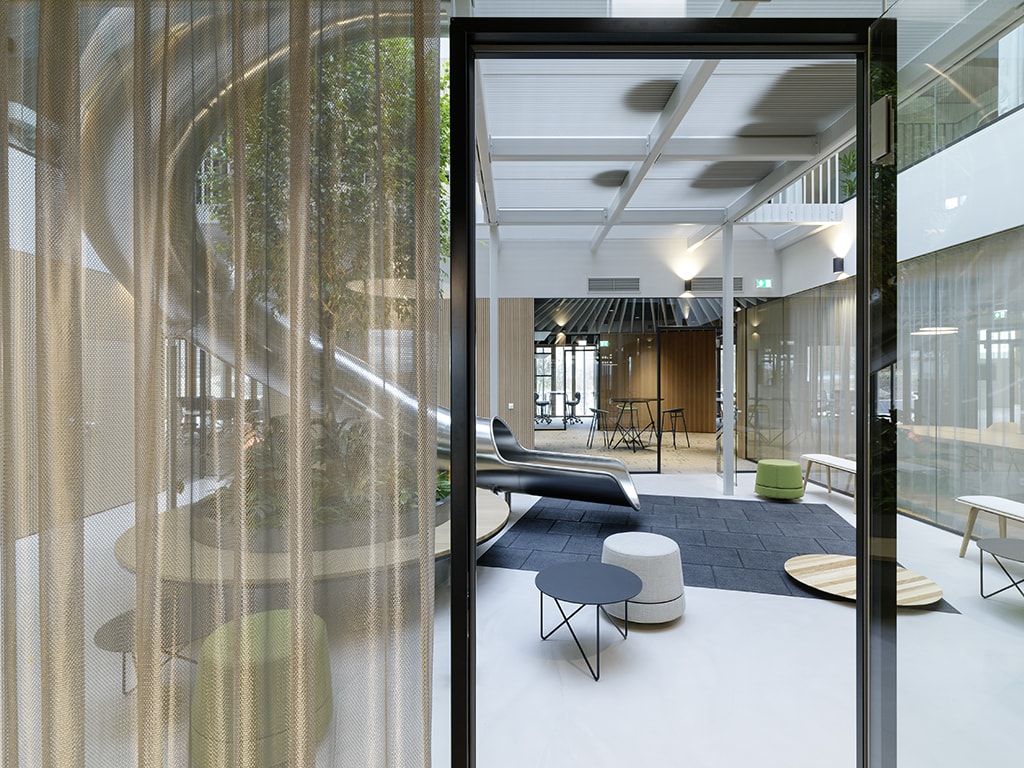 Design of the space focuses on people – how did you implement that?
Martin Lesjak: Each building´s cell nucleus creates a two-story atrium with a greenhouse-like roof and plantation that offers the employees a hybrid between inside and outside. Despite the building´s depth, this weather-protected area allows natural light access from within and acts as a spatial link between floors. Around this indoor garden, the building´s central functions are arranged, followed by collaborative zones, offering open communication and temporary work areas. Alongside the facade are work desks and rooms for retreating and focused working, with a single access ring of circulation connecting all zones. Thus, the building embodies a highly efficient system in terms of volume and movement.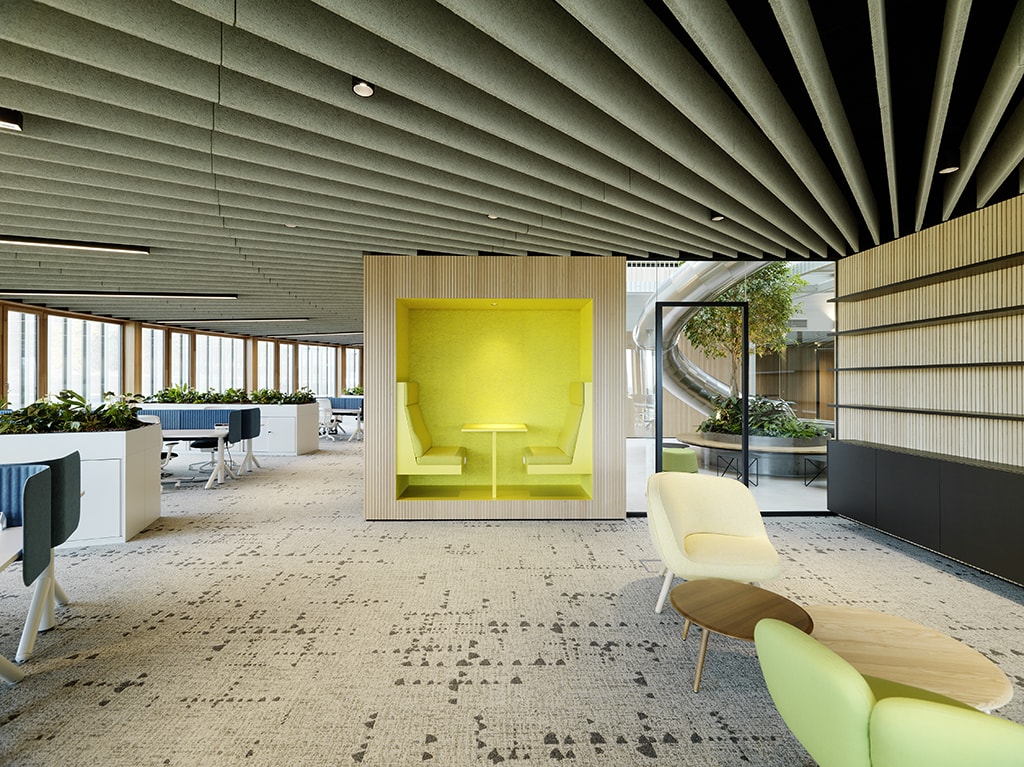 Could you summarize your biophilic approach to this project?
Martin Lesjak: This project unifies the teams transdisciplinary work, years of research and analysis with experts focusing on holistic and humanistic approach to design. In collaboration with M.O.O.CON we developed through intensive communication with the employees an optimized space programming. The result is a building with a democratic concept, which offers users the same spatial quality, daylight, and connection to nature – no matter where one is in the headquarters. Based on science-informed biophilic design strategies concluded in the study '14 Patterns of Biophilic Design' published by Terrapin Bright Green, the architectural design forms with natural materials and patterns, dynamic and diffused light as well as optimized acoustics in an organic work environment.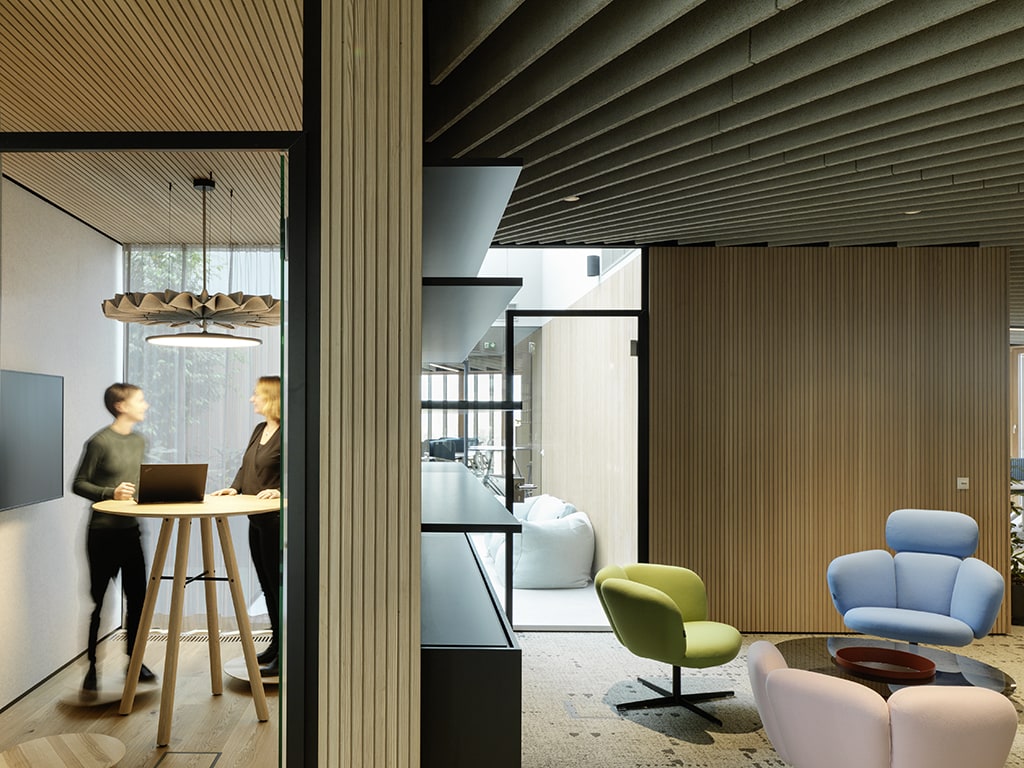 How was your collaboration with Prof. Richard Taylor and Mohawk Group in terms of biophilic design interventions in this project?
Anastasija Lesjak: Manifold biophilic interventions throughout this office's interior promote health and wellbeing, which can be seen in the flooring's science-based fractal patterns that induce stress-reducing effects or the outdoor workspace on the rooftop endorsing further connectivity with nature. Relaxing Floors are a great example for those interventions – as one of the largest surfaces in the room we saw the possibility of a high impact on the space. Our manufacturing partner Mohawk Group was an essential link between interface of science and design and product development. For our team it was an innovative working process with scientists and psychologists – from the University of Wales and Professor Richard Taylor's team from the University of Oregon – to bring their scientific findings into the real environment.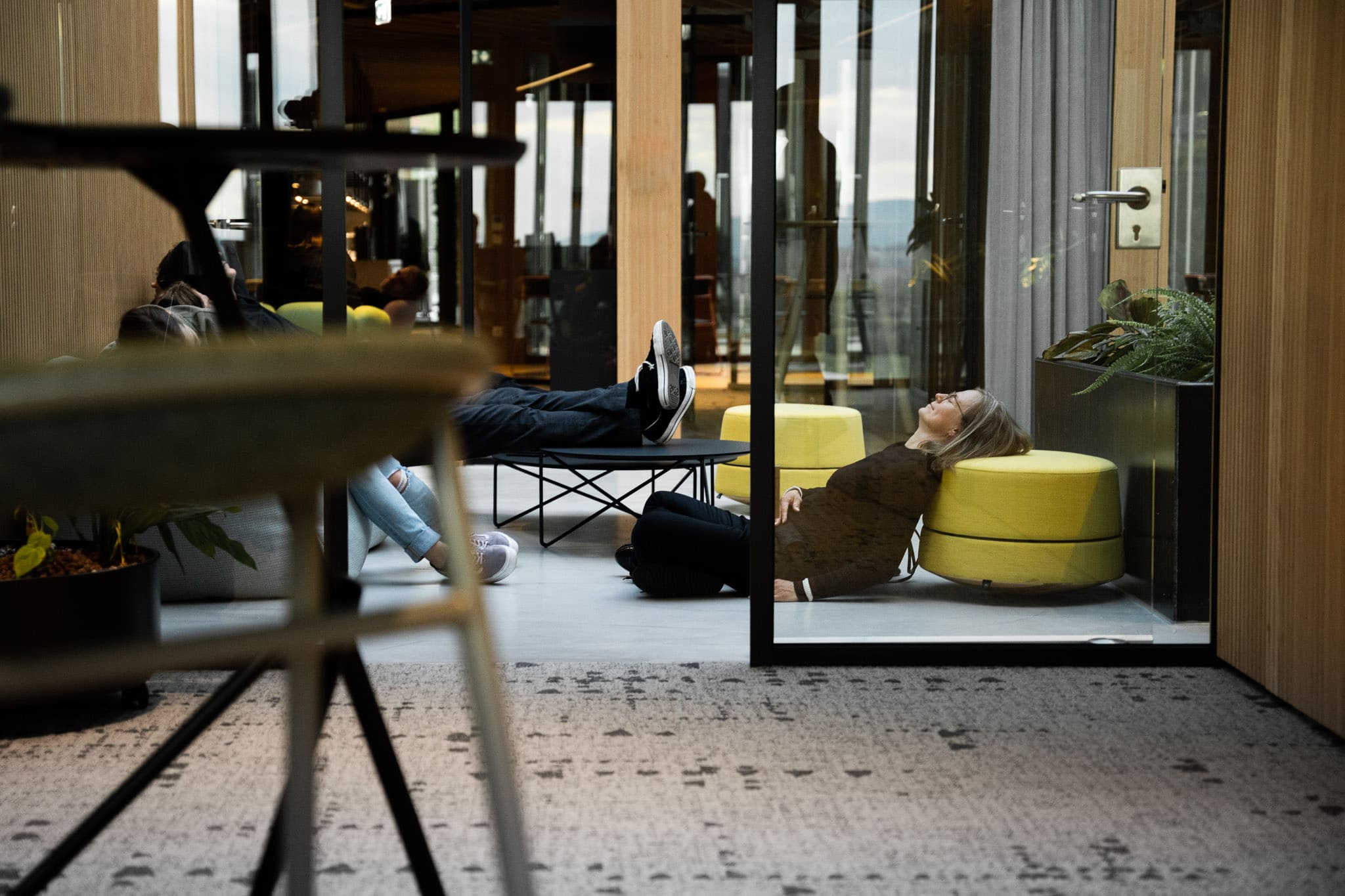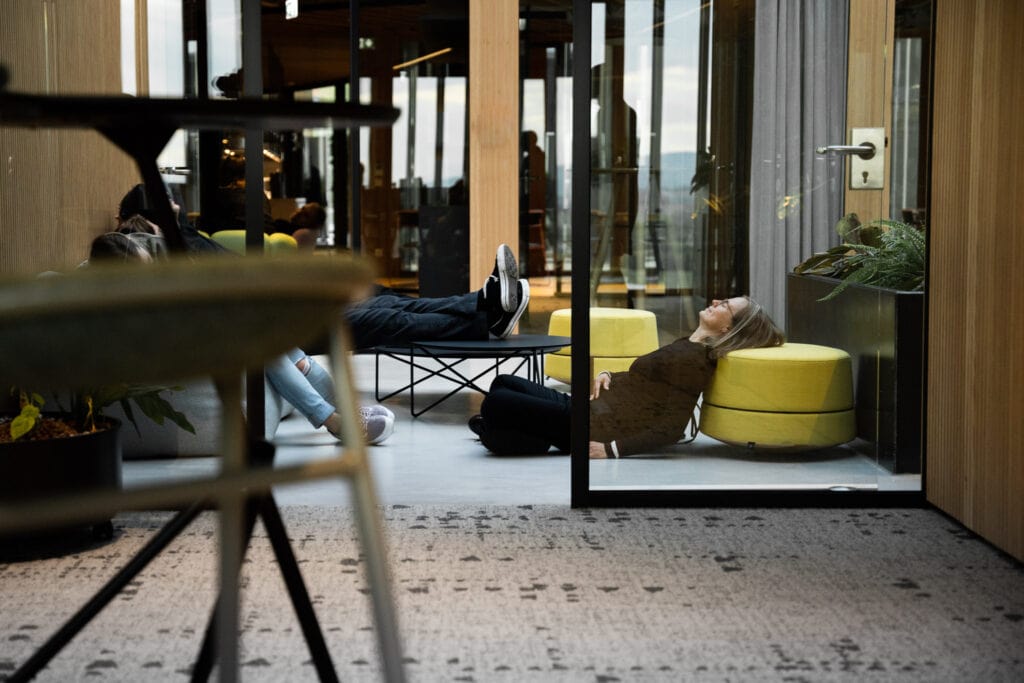 Please tell us about the new product applications, flooring tiles developed with Mohawk Group as well as acoustic ceiling tiles for Fact Design? Meanwhile they have been used in many international projects as an example of science-based biophilic design.
Anastasija Lesjak: Together with Dr. Richard Taylor, Head of the Physics Department at the University of Oregon and Fractals Research, we continued to work on new developments such as the Fractal Fluency flooring collection as well as the CALM acoustic ceiling and wall tiles, both officially launched at NeoCon in Chicago 2022. These collaborations are based on the fractal fluency model, that declares that human vision has become fluent in the visual language of nature's fractals, helping to reduce stress in the built environment. The flooring collection was announced Sustainability Winner of The Nightingale Awards 2022 by Healthcare Design magazine in partnership with the Center for Health Design and The Healthcare Design Conference + Expo.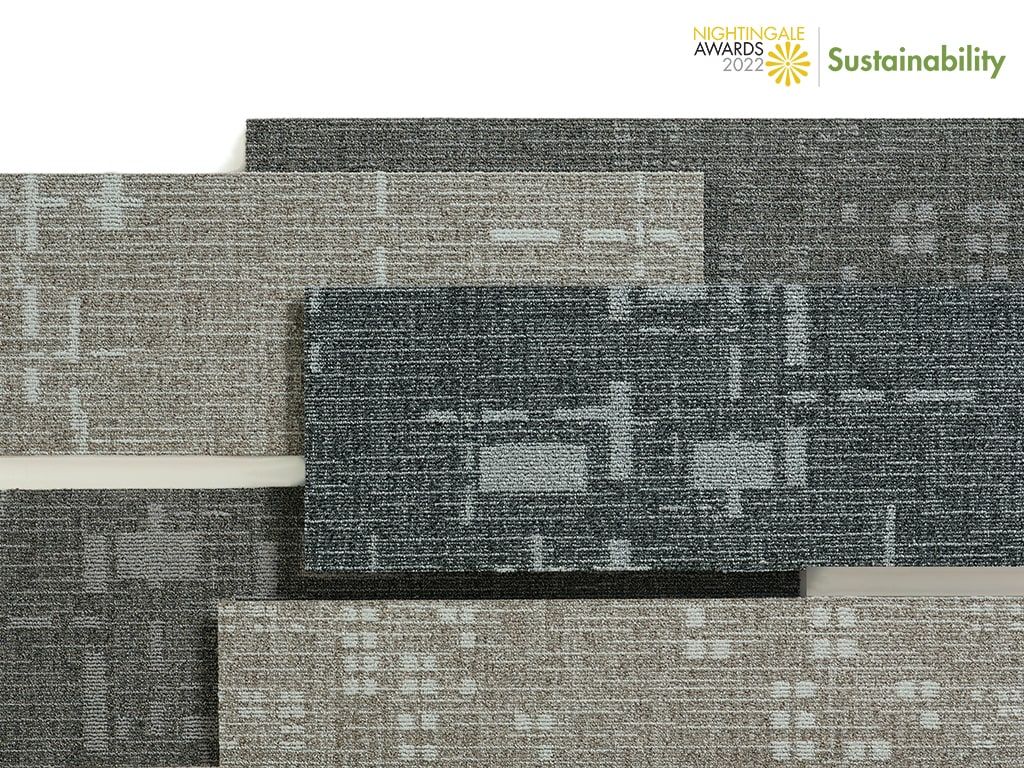 About 13&9's ScienceDesignLab
As head of concepts and product development at 13&9, Dr. med. Anastasija Lesjak and architect Martin Lesjak work with their team to pursue design strategies that are based on the scientifically well-founded analysis of stress-reducing concepts in a space. One of their main areas of focus concerns research into perception and the effects of specific patterns that occur in nature. These patterns have the greatest significance in the built environment, where people have little to no access to nature. From this scientific interest, came the collaboration with one of the leading scientists and physicists in this field, Professor Richard Taylor from the University of Oregon and Fractals Research Laboratory (USA). This collaboration, called Science Design Lab, has highlighted an exciting new cross-discipline approach, the result of which has been numerous invitations to speak, various awards, mentions in the press including the cover article of the American scientific journal Nonlinear Dynamics, Psychology, and Life Sciences and publications in PubMed Health and The Journal of Sustainability in 2021. The platform Frontiers in Psychology, publishing studies of psychological processes engaged in encounters between people and the built and natural environment, also released the scientific paper "Aesthetics and Psychological Effects of Fractal Based Design" in 2021.