All Images: © IA London
What would you do
If you had only three minutes?
The Hourglass is ticking.
–
One minute to kiss the child,
One minute to sip coffee,
One minute not to finish the drawing.
IA London's Fall 2021 presentation for London Fashion Week February 2021 – Hourglass (Trilogy).
The pandemic made us reconsider the crucial things in life and what we choose to spend our time on. IA London's Fall 2021 "Hourglass" sharpens this reconsideration by limiting the time to "as long as the Hourglass is ticking". The narrative, divided into three episodes, presented through the perspective of Ira Iceberg, IA London's founder and designer, whose family was affected by COVID-19, is sharpening the designer's own feeling of impermanence.
Each episode corresponds with a designer that holds personal significance for Iceberg:
ONE WOMAN SHOW: 01 (Hourglass trilogy)
"The One Woman Show" – designed in dialogue with Martin Margiela 1st runway show
MY FREEDOM COMES FROM ART: 02 (Hourglass trilogy)
"My Freedom Comes From Art" – proposing an extension to Rei Kawakubo's "My Energy Comes From Freedom"
HOURGLASS: 03 (Hourglass trilogy)
"The Hourglass (Transformer)" – after Alexander McQueen's and Nick Knight's "The Bridegroom Stripped Bare"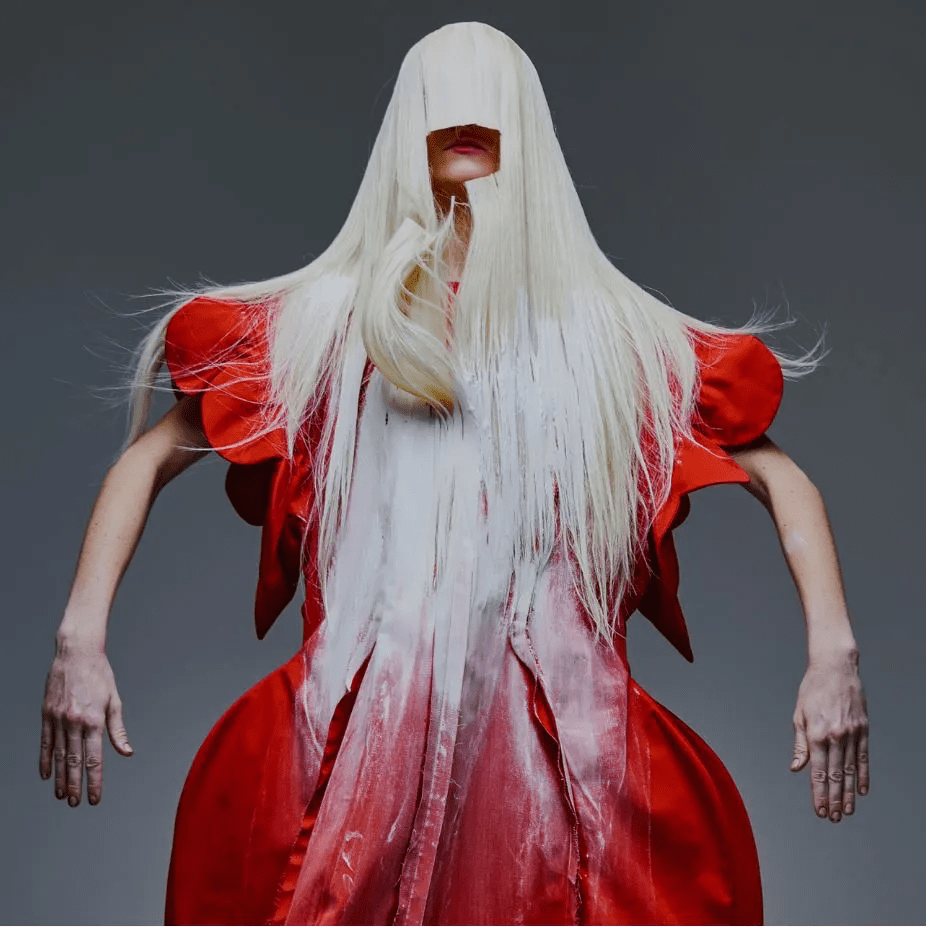 Ira Iceberg uses iPhone to shoot the campaign, to add an Avantgarde edge.
The Collection:
IA London shows sculptural black pieces tailored in London, so exquisitely crafted that showing them inside-out makes no difference. Alongside these signature pieces, IA London puts forward its new, more relaxed items, embracing staying-at-home lifestyle and comfort alongside out-of-the-box design: "My NeighbourHood" – an enormous hoody with a cuddly bunny on the front – "to hug with"; oversized "Moon" T-dresses with oversized pets prints; transparent stretchy pieces with images of our half-broken, distorted, cloud ZOOM-selves. The collection is printed and manufactured in the UK, using GOTS Organic and OEKO-TEX Standard 100 certified fabrics and eco-friendly textile printing processes.
"The Hourglass" is IA London's 2nd collaboration with Drawing Cabaret Couture, an independent life drawing production company, creating Haute Couture performative drawing classes and immersive art events across the globe. Drawing Cabaret Couture was founded by skilled dancer, performative artist and choreographer Janet Mayer and painter, set designer and art director Matthew Lawrence.
We're delighted to collaborate with IA London for the 2nd time, exploring our creative dialogue, with a new direction and fresh creative vision.

JANET MAYER & MATTHEW LAWRENCE, Drawing Cabaret Couture co-founders.
IA London was honoured and delighted to join the official London Fashion Week February 2021 schedule, proving that exceptional creativity survives and flourishes even in the most challenging circumstances.
IA London is interested in progressive aesthetics and challenging convention through distinct visual forms. Mental health, female empowerment, unconscious bias, belonging, the definition of beauty are all reoccurring themes in my collections and hopefully contribute to the diversity, openness and inclusion that the British Fashion stands for.

IRA ICEBERG, IA London founder and designer
IA London
IA London is an award-winning Avantgarde label founded in 2017. The brand designs and manufactures sustainable and ethically-made womenswear with a strong artistic identity. The collections are entirely made in England. The brand was founded by Cambridge-based award-winning designer Ira Iceberg. Although not formally trained as a fashion designer, Ira studied fine art and printmaking. IA London's creative vision focuses on progressive design and aesthetics that challenge conventional notions of form, beauty and function.
The visual identity of IA London is one of distinction and is driven by Ira Iceberg's preoccupation and experimentation with two key elements: form and imagery. Combining these elements has led to the creation of a distinct visual identity that makes IA London stand out and has gained the recognition and support of many leading British Fashion professionals. In 2019 IA London received the "Ones To Watch" Award by the London Fashion Scout, followed by the launch of an exclusive collaboration with TONI&GUY, celebrating 15 years at London Fashion Week.