Hotel & Villa Auersperg, Text: Nina Prehofer
There are places where you feel as if you have found perfection. One such place is the Hotel & Villa Auersperg in Salzburg's vibrant Andräviertel district. Bettina Wiesinger and her husband, interior designer Mark, have created a beautiful hotel with style, charm and a wonderful ambience.
Salzburg is well worth a visit at any time of year. Those looking for a perfect hideaway here will find it in the Hotel & Villa Auersperg, where you can relax and revitalise in the very heart of the city. The family-run city hotel bears the name of the beautiful mid-19th century villa in which it is housed. Bettina and Mark Wiesinger are the third generation of the family of owners, and their "Auersperg style" is already widely known and loved.
From the fashion industry to interior design
"Bettina and I met on a dieting course. That was how it all began", explains Mark Wiesinger. That was in 2001, when Mark was still living in Vienna and had a successful career in the textile industry.
When Bettina became pregnant with the first of our three sons, I felt it was time to move to Salzburg. That was the start of our professional collaboration.
Initially the "site supervisor" for conversion projects, Mark rapidly became the creative brains behind the overall design concept for the hotel. He had always had a passion for architecture, and had originally wanted to study architecture or production and set design. "Design has always been important to me. My mentor was my drawing teacher Prof. Christian Perrelli, who taught at Vienna University of Applied Arts, and my role model was the production designer Ken Adam. From the textile industry, I gained a feel for colour combinations and materials."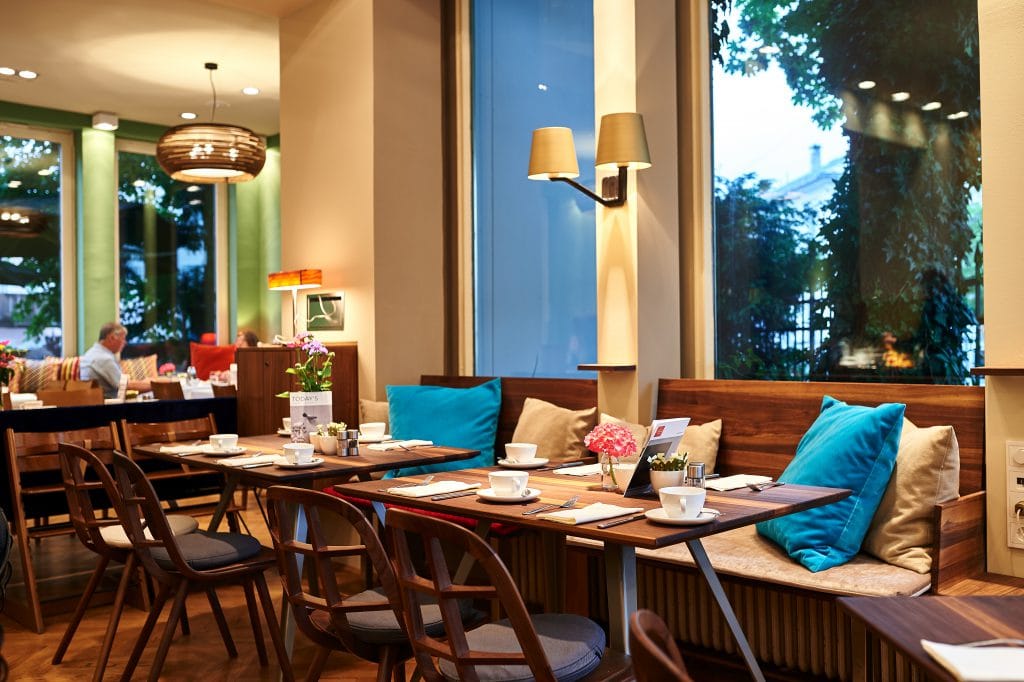 Stanley Kubrick, James Bond…Auersperg
Bit by bit, Mark put his design stamp on the hotel: elegant and individual, classic and modern. Quality wood and natural stone, soft leather and wonderful fabrics are perfectly matched with selected wall paints – some daring, but all chosen with unerring taste. The overall combination of unusual light fittings, furnishings and Mark's own creations produces that very special Auersperg atmosphere. Not to mention an ambience in the new A*Bar & Lounge that is perhaps reminiscent of early James Bond films or a Stanley Kubrick set. The feedback from many guests that they are finally staying in the "perfect" hotel room is surely one major reason why the Auersperg has so many regulars.
Yet, Bettina and Mark Wiesinger's work is never done.
The hotel is constantly developing. Of course, we have a basic concept, but we make countless adjustments every day.
That includes changes to the roof terrace spa, the garden and fountain, the many hidden seating areas and relaxing sun loungers. Surrounded by lush greenery is the best place to dream. The commitment to quality is clear throughout the Auersperg – from the down duvets to high-quality natural materials in the bedrooms.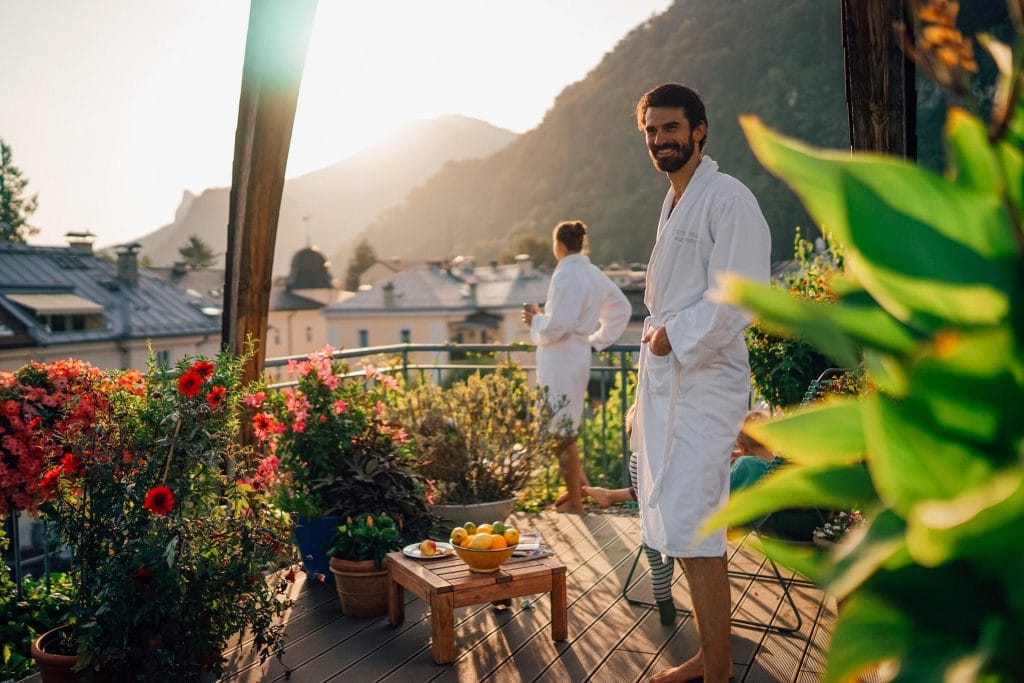 And if you are lucky, Mark and his business "Mark's Plan" will also find time for the odd project for customers who want to take a little of the Auersperg style home with them. "The priority is of course always Bettina and the Auersperg, because without them, I would never have found my passion."
---
Hotel & Villa Auersperg is A MEMBER OF LIFESTYLEHOTELS