Geinberg5, Text: Nina Prehofer
Dreams of the perfect holiday come true in the exclusive suites at the Geinberg5 Private SPA Villas – with your own butler and jacuzzi included.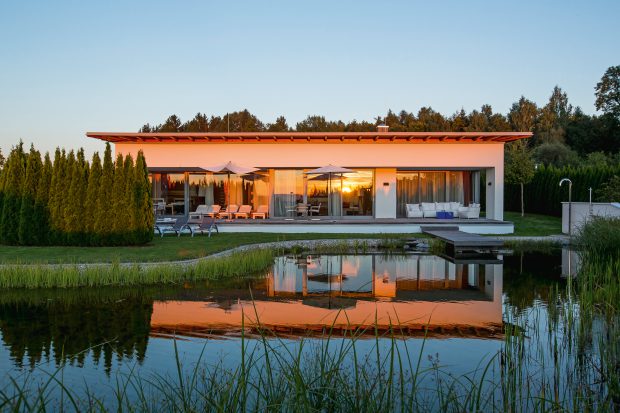 Privacy is the main focus at the Geinberg5. The 21 suites and villas provide the perfect environment for you to enjoy tranquillity in an idyllic setting, where you'll be prone to dreaming even during the day. Yet despite the peace and quiet of this special retreat, there's no chance of getting bored. If you're still looking for something to do after a wellness session in the private sauna or a relaxing dip in the outdoor jacuzzi on your terrace, your own personal butler will chauffeur you on request to a performance at the Salzburg Festival, to Europe's largest golf resort in Bad Griesbach or to a falconry display in Obernberg.
Dreaming of flying
The helicopter flights promise yet another spectacular experience. Be it for the purpose of a transfer to the airport or for a breath-taking sightseeing trip, the Bell 206 helicopter will allow up to four people to take in a bird's eye view of the stunning landscape surrounding the Geinberg5 Private SPA Villas. Your personal butler is again active in making this dream a reality, by chauffeuring guests in luxury and silence to the airfield and back in an electric Mercedes.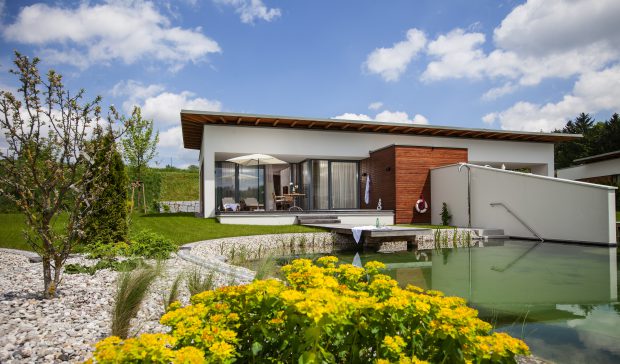 Dreams from one thousand and one night
For anyone looking for a quieter stay but also wanting to leave the little wellness oasis of their suite every now and then, you can make a detour to the Private SPA, which is exclusively available to guests at the Geinberg5 Private SPA Villas. Here you'll be able to relax away from the crowds and enjoy a holistic programme of pampering treatments. And if the isolation of the past year has you longing to visit far-flung destinations, Oriental World in the SPA Resort Therme Geinberg will go some way towards satisfying your wanderlust by whisking you away to the Far East with its delicate scent of olives and cleansing steam. Soap lather massages with evocative names like Jewel of the Sultan and A Day in the Desert turn the magic of a warming hammam treatment into an unforgettable experience.
Dreaming of unlimited enjoyment
Because even this blissful idleness will make you hungry, foodies are also well catered for at the Geinberg5 Private SPA Villas. The resort restaurant AQARIUM boasts top-notch cuisine from chef Peter Reithmayr, who showcases regional flavours and international delicacies in his dishes, which your private butler will be happy to serve you in your suite or villa should you wish. Dining by candlelight on your own terrace will make every day feel like Valentine's Day. No matter whether you choose to eat in the restaurant by the water lily pond, in the SPA bar or in the lobby, or even in your own suite – the gourmet menus at the multi-award winning Geinberg5 restaurant offer nothing but culinary delights that are perfectly complemented by the national and international premium wine choices of the sommelier.
Looking for a place where dreams come true? Then it's time for a stay at the Geinberg5 Private SPA Villas, where you'll be swept away day and night, and sometimes not even able to tell if it's all real or just a dream.
---
Geinberg5 is A MEMBER OF LIFESTYLEHOTELS