Japanese architectural firm UENOA has created a wooden office that has no need for bearing walls. Folded origami-style, the ceiling construction gives a whole new lightness to cross-laminated timber.
Cross-laminated timber (CLT) is not a term that has ever been associated much with the Japanese art of paper-folding. Rather, it is a building material that consists of several layers of wood glued at right angles – a byword for new, urban timber construction. Its dimensional stability means that even high-rises are now being built using this sustainable wood form. Japanese architects Fumie Horikoshi and Yoshinori Hasegawa from architectural firm UENOA have demonstrated to impressive effect just how innovatively these CLT panels can be used.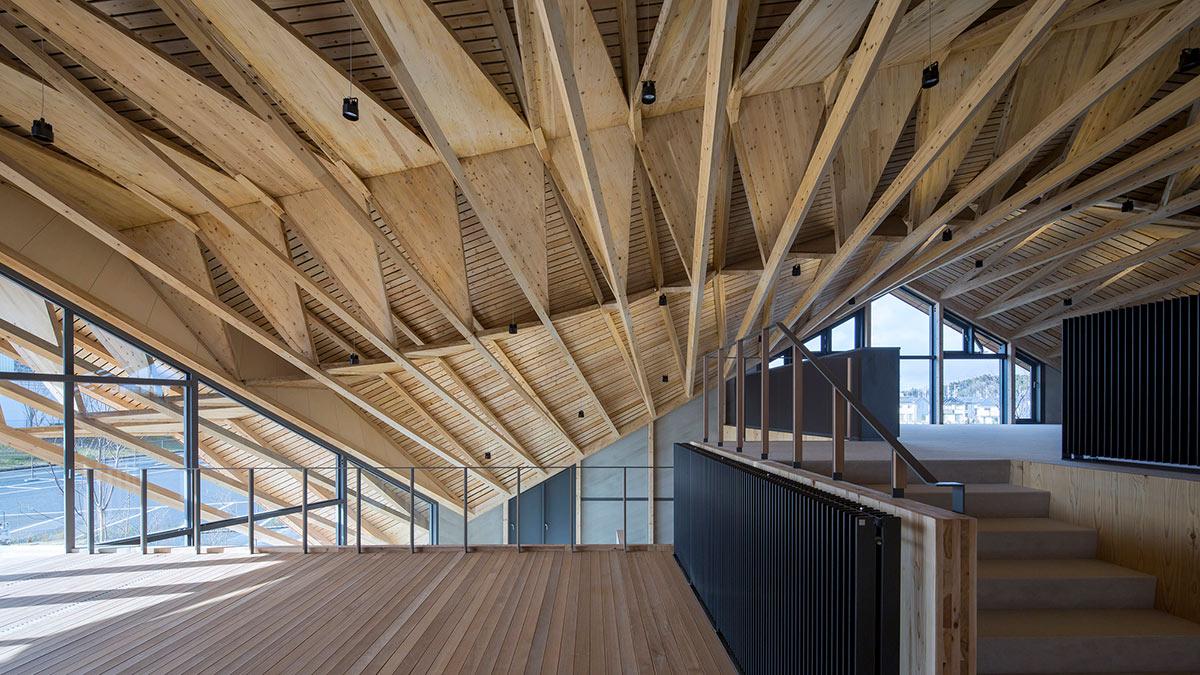 Not just eye candy
For its new company headquarters in Miyagi Prefecture, structural screw manufacturer Synegic commissioned an "advanced architecture that [would] expand the possibilities of wooden structures". The architects rose to the challenge by coming up with a truly extraordinary concept: an open-type building design that does away with bearing walls entirely.
The roof construction is a striking feature that calls to mind the art of origami.

Fumie Horikoshi and Yoshinori Hasegawa, architects
The folded roof construction spans 18 metres and extends down towards the ground at four outer points. The intricately designed ceiling can even be touched in places. However, it is not just eye candy and has a practical function aside from its impressive form. The three-dimensional construction consists of flat trusses and triangular CLT panels arranged in a kind of cascade.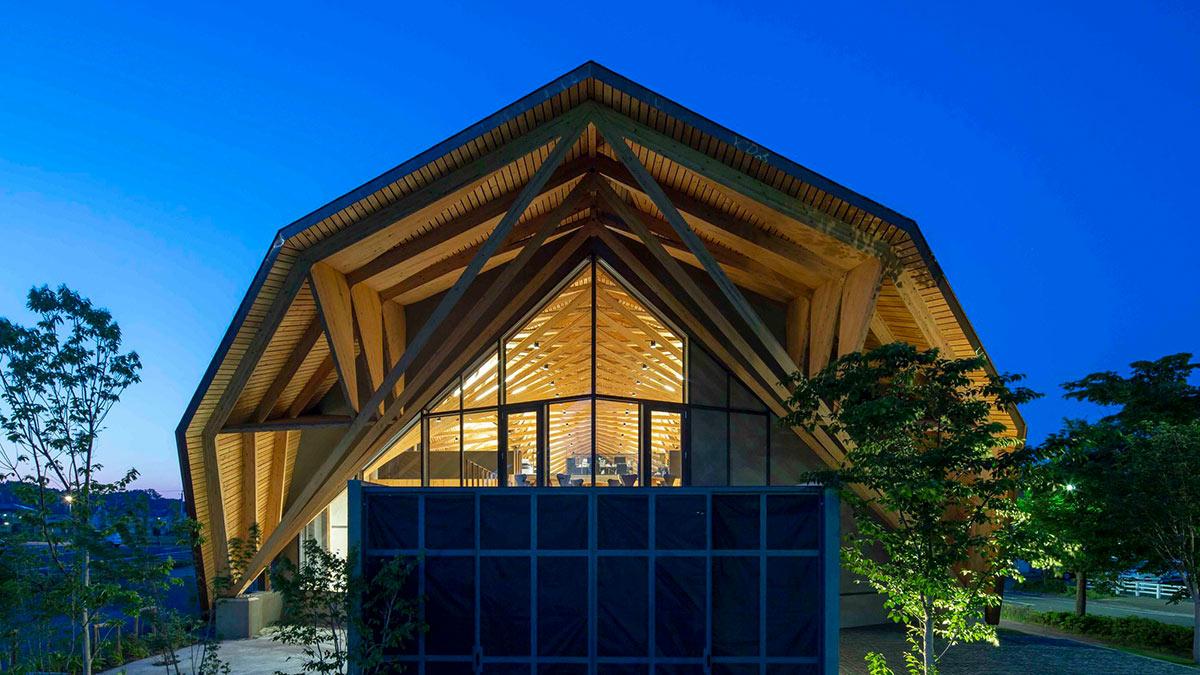 The UENOA architects described their approach as follows: "By using CLT panels to fasten the trusses, we were able to avoid the need for joints and connections, which are very complicated to produce. The high degree of prefabrication means that the elements only need to be screwed together on site."
Working under the origami roof
If the architects proved one thing with this design, it is that cross-laminated timber no longer needs to be hidden behind panelling or plaster. In fact, the way the CLT elements are arranged elevates them to a kind of aesthetic status of their own. This is how the architects describe their concept: "The roof construction is a striking feature that calls to mind the art of origami. The folded CLT panels form a cascade, transforming the interior into an expansive, highly expressive space."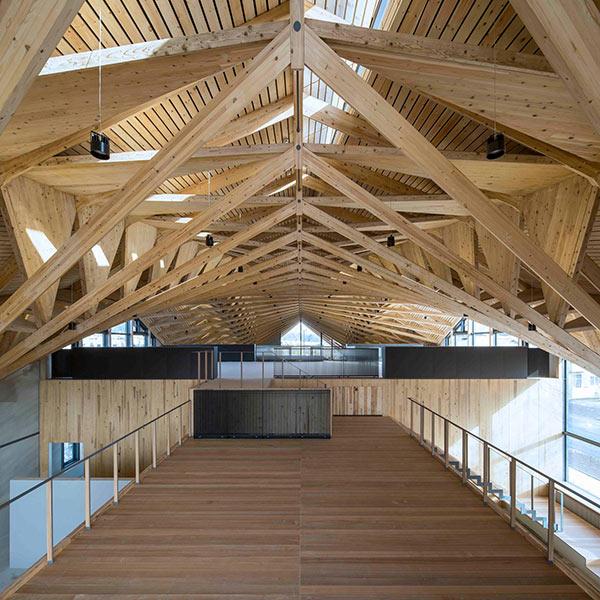 The office spaces of the Synegic headquarters are set up on two floors and a mezzanine. All kinds of work activities – from traditional desk work to creative collaborations with external specialists – are catered for here. In keeping with the declared aim of facilitating a lively dialogue among employees and fostering a sense of community, there are no partition walls.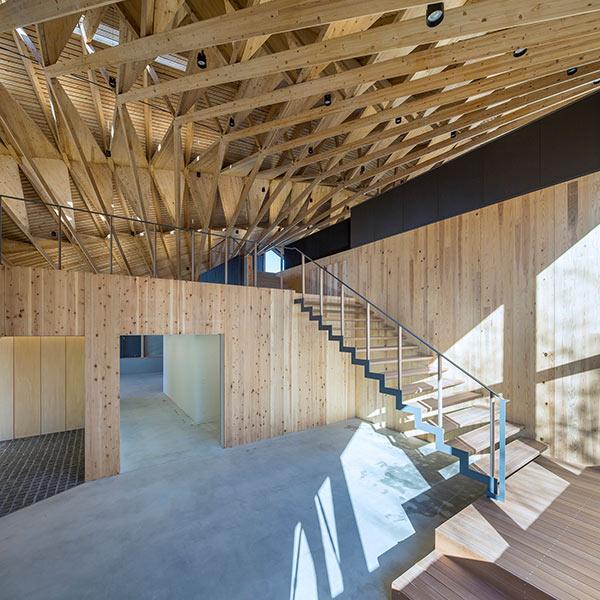 The lightness of being
Arguably the greatest artistic triumph of Horikoshi and Hasegawa's work is how they succeeded in giving a massive material like CLT such an unexpected lightness.
CLT is usually found in walls and floors. Using it in the roof construction demonstrated that it can also have a lighter touch,

said the UENOA architects.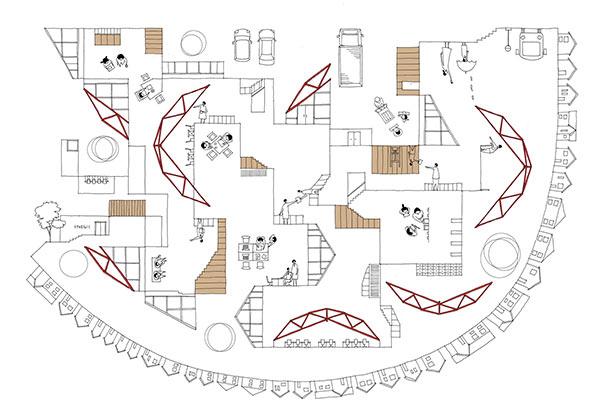 The Japanese company's employees not only benefit from the warm atmosphere created by the wood but can also let the meditative effect of the origami roof work its magic on them. "In some parts of the building, visitors can admire the roof construction in all its splendour. This is where the beauty and subtlety of the design shine through."
---


---
Text: Gertraud Gerst
Translation: Rosemary Bridger-Lippe
Photos: Hiroyuki Hirai, Uenoa